Francis Blake and Philip Mortimer first showed up in 1946, in Tintin magazine. Ingenious and staunchly British, a secret agent and a physicist, they save the world from mad scientists, evil empires and apocalypse. The pair's real weapon is a scientific curiosity so powerful it foresaw the Apple Watch and the hologram. Now it's brought them back as stars of a Paris show, Scientifiction, the Musée des arts et des métiers (Museum of Crafts and Technologies).
Blake and Mortimer came from the pen of Edgar Pierre Jacobs (Edgard Félix Pierre Jacobs, 1904-1987). Like Georges "Hergé" Remi, with whom he collaborated, Jacobs hailed from Brussels. Also like Tintin's author, he endured not one but two German occupations. Both men had to consider working under the Nazis and both are founding fathers of the European "ninth art". But when Edgar Jacobs took up comics, he was turning forty.
Ever since René Pellarin's Futuropolis in 1937, BD science fiction has taken many forms. Yet Edgar Jacobs' Blake and Mortimer tales stand apart. The inspirations behind them are mostly obvious, especially the German Expressionist movies their author loved. But the form of storytelling Jacobs forged is all his own. It was responsible for two great classics: Le Mystère de la Grande Pyramide (The Mystery of the Great Pyramid, 1954-1955) and La Marque Jaune (The Yellow 'M', 1956).
Jacobs' first Blake and Mortimer tale was Le Secret de l'Espadon (The Secret of the Swordfish). Serialized in Tintin from September 1946, it was an epic production that ran for almost four full years.
Jacobs' relationship to Hergé and Tintin shaped his life. He was, as writer Romain Brethes put it, "at one and the same time, Hergé's disciple, his rival and his friend". Yet despite the Hergé-like harmonies in much of his art, Jacobs' work doesn't really count as ligne claire. As the Belgian critic Thierry Bellefroide says, "Ligne claire was devised by Hergé and he imposed it on everyone at Tintin… He wanted total clarity and that was the aim of his system. Everything in it relies on contour – line offset by simple, flat colors that have no gradients. But Jacobs' art and his manner of working were actually different. He relished light and shade and he loved to manipulate shadows and masses of black."
If Hergé wanted his audience to follow and understand, Jacobs preferred that his feel and experience.
With his co-curator Eric Dubois, Thierry Bellefroide structured the new Paris show. Scientifiction features sixty of the artist's originals, almost none of which have been shown before. They appear with fifty museum pieces, real examples of those tools Jacobs fetishized. Visitors can see vintage lab equipment, trans-Atlantic cables and a 19th century model of the Paris sewers.
Jacobs died in 1987 at 83, having produced Blake and Mortimer only between 1946 and 1973. This legacy comprises eight tales and ten albums. Nine years after their author died, however, Dargaud brought back his duo. Since then, numerous pens have kept Blake and Mortimer going. The franchise attracted names like Bob De Moor, Ted Benoit, Teun Berserik, Jean Van Hamme and Peter Van Dongen. Now they are joined by megastar François Schuiten, who is a lifelong devotee of Jacobs' work. Schuiten is behind the new, eighty-page Blake and Mortimer tale Le Dernier Pharaon (The Last Pharaoh).
Le Dernier Pharaon is a tribute in story form that, as I write, has topped BD best-seller lists for seven weeks. Schuiten, who created Les Cités Obscures with Benoît Peeters, assembled a trio of collaborators for it: film director Jaco Van Dormael, writer Thomas Gunzig and the exceptional colourist Laurent Durieux. This quartet spent four years pondering Jacobs' question What does it mean, in one's own time, to save the world?
Sometimes consciously, sometimes reflexively, such dilemmas infuse Edgar Jacobs' work. Their roots lie in a life that was dogged by disappointments. As a child, he remembered, "The only real recreation I had was drawing". Jacobs pored over illustrations by Caran d'Ache, Albert Robida and Arthur Rackham. He also loved les illustrès, children's weeklies such as L'Epatant, Le Petit Illustré and L'Intrépide. Jacobs bought them by the bunch, but always secondhand.
The boy's other passion – unheard for his social class – was the opera. At thirteen, Edgar and his his policeman father braved the elegant Théâtre Royal des Galeries. There, as they shared a single seat in the balcony, Jacobs first heard Faust. Its fantasy and melodrama swept him away, as did the elegance of his surroundings. At the same age, Jacobs made a best friend in his schoolmate Jacques Van Melkebeke. "Van Melk" loved art and music just as much as Jacobs and he knew more about both. He lived in the Marolles district, where his mother helped run a cabaret. Since it was an area known for crime and prostitution, Edgar was forbidden to have Jacques in his room.
But together the adolescents queued for hours to see the opera. They haunted local museums and swapped works by Conan Doyle, H.G. Wells and Rudyard Kipling. They searched out the dark films of Fritz Lang and F.W. Murnau and, in wide-brimmed hats, long hair and ankle-length capes, played at being Gothic dandies. The friends would remain close all their lives and Van Melkebeke was Jacobs' model for Mortimer.
From the start, Edgar Jacobs' taste was shaped by earlier eras. As a child, he loved medieval tales and worshipped Napoleon. In his 1981 memoir, Un Opéra de papier (An Opera of Paper), he revealed a strangely old-fashioned ambition: he wanted to be a history painter. "I envisioned painting grand, sweeping scenes, epics with titles like 'The Crusaders Take Jerusalem'."
Such anachronistic leanings helped turn Jacobs' psyche into a quirky B-sphere. But they also made (and kept) him a reactionary. Between the 1880s and the 1960s, Belgium's colonial project poured forth ethnic stereotypes. The nation's ideas of its "civilizing" mission, energetically endorsed by the Catholic Church, were ubiquitous throughout Jacob's childhood. His lifelong Anglophilia plus his love of genre scribes – writers like Sax Rohmer, Edgar Wallace and J.S. Fletcher – proved a perfect recipe for armchair colonialism.
Often, in Jacobs' work, non-white characters occupy more or less the same ground as their Caucasian colleagues.[1] But the importance of white, European rule is implicit. Ethnic representation in Belgian comics, as academic Idesbald Goddeeris notes, has habitually been discussed around Jewish and African characters.[2] But, if the depiction of Asians is less debated, Blake and Mortimer had a genuine impact on it.[3]
By page ten of Le Secret de l'Espadon, World War III has started – via an all-out attack by the "Yellow Empire". ("The Yellow Empire, that heart of mysterious Asia" has plans to "defeat the decadent peoples and use them for slave labour.") The Empire annihilates Paris, Rome, Bombay, New York and London. Only Blake and Mortimer, with their secret 'Swordfish' plane, can defeat them.
The saga makes no actual references to Japan or China and the overlord "Basam-Damdu" rules from Tibet. But the story's East Asians are clearly a 'Yellow Peril' and are always referred to as "the yellow fellows". Their governing council includes Fascist look-alikes and Damdu's dais is decorated with swastikas. Individual characters, such as "Dr. Sun Fo", combine a Fu Manchu-style mendacity with "oriental" obsequiousness. (These characteristics are scorned even by their white ally, the villainous Olrik. While Mortimer calls Sun Fo a "cursed marmoset", Olrik dismisses him as "This macaque in glasses").
Such a composite portrayal of East Asians, signaled by yellow skin and pejorative traits, remained in Belgian comics through the 1960s.
Jacobs' colonial viewpoint never really shifted nor did he re-edit anything to pretend it did. But, for him, politics were really a departure point. What engaged his interest was always drama. Whether a moment involved dinosaurs or death rays, this artist had only one register: the histrionic. Blake and Mortimer may be positioned as symbols of the rational, but their real-life predecessors weren't men of science. They were 18th century entertainers who made dead frogs twitch with electric current.
Jacobs came by this naturally, thanks to the 20th century movement le merveilleux-scientifique. This was a literature of scientific speculation whose growth almost exactly paralleled his own. From 1900 until the early 1930s, the genre populated French-language novels, newspapers, cartoons, children's reading, early film, popular science writing and advertising.[4]
It produced everything from neo-Gothic horror through detective fictions. But its practitioners saw themselves as the heirs of Zola and not Jules Verne. At the heart of their plots, they insisted, were genuine physical laws. These "scientific laws", however, were always tweaked – in order to allow for men who could walk through walls, create synthetic skin or read people's thoughts.
Le merveilleux-scientifique was in part a response to famous breakthroughs. The French public was enthralled by events like Wilhelm Röntgen's discovery of X-rays (1895), the Curies' detection of radium (1898), Landsteiner's revelation of human blood groups (1901), Einstein's special relativity (1905) and Ernest Rutherford's model of the atom (1911). But whether some new and invisible power came from microbes or "Hindu fakirs", there were always many who had misgivings about it. They were the public for le merveilleux-scientifique.
In 1909, the year Edgard Jacobs turned five, French writer Maurice Renaud celebrated le merveilleux-scientifique with a manifesto.[5] It had united, he wrote, "all our works of picturesque conjecture". Renaud (1875-1939) was a popular author known as "the scribe of miracles". One of his biggest hits was the 1920 Les Mains d'Orlac ("The Hands of Orlac"). Filmed numerous times, the serial produced two classics: Robert Weine's 1926 silent Orlac's Hände and Karl Freund's 1935 Mad Love, which stars Peter Lorre.
Major authors of le merveilleux-scientifique include J.H. Rosny the Elder (1856-1940), Gustave Le Rouge (1867-1938), Albert Robida (1848-1926) and Théo Varlet (1878-1938). (Varlet also translated Jacobs' favourite authors H.G. Wells and Robert Louis Stevenson). Since it often featured in cartoons and caricature, the genre also interested countless artists and illustrators. Most of their names – like "Valvérane" (1870-1943) and "G. Ri" (1853 – 1940) – are now obscure. But their visuals shaped imaginations.[6]
Jacobs tried art school but his stay was brief; his real ambition was always the opera. He paid his rent, however, through illustration: commercial drawings of lace, embroideries and jewelry. His best employer was Les Grands Magasins de la Bourse, a department store for whom he worked on catalogues.
The artist got stage engagements but they were often sporadic. He sang in various choruses and understudied roles, some of which he went on to perform. Jacobs also worked on costumes, sets and makeup. By 1923, partly through Van Melkebeke, he belonged to a small circle of young artists. This was led by a painter, Jacques Laudy, who was the son of a famous portraitist. Laudy too liked to demonstrate artistic temperament. Rather than travel around by tram, he rode a horse and, instead of electricity, he drew by candlelight. He would be the model for Jacobs' Francis Blake.
In 1929, Edgar Jacobs married Ninie Bervelt, a pretty but temperamental actress. The same year, he won a medal for vocal excellence – and landed himself a place at the Lille Opera. But this would be the summit of his lyric achievements. For, with economic depression spreading through Europe, France took measures to curb her "foreign workers". By 1935, Jacobs was back in Belgium, once again working for the Grands Magasins.
In May of 1940, the Nazis conquered Belgium. Jacobs, who had been briefly mobilized, was stunned. "There was an almost total absence of reaction... There seemed to be no anger, no humiliation … It was like everyone had been anesthetized."
The occupiers commandeered Belgium's major paper, Le Soir, which became known as Le Soir Volé (the "Stolen Soir"). Van Melkebeke, who was now a professional painter, placed some drawings in it. Soon Jacobs, too, found himself forced to adapt. When his singing engagements ended, the artist – now the sole support of his wife – took what work he could find. One job was propaganda drawings for Terre et Nation.
The weekly Terre et Nation (Land and The Nation) was published by the CNAA, the Corporation nationale de l'Agriculture et de l'Alimentation. This was an institution created by the Nazis to oversee Belgian agriculture, food and rationing. Jacobs was far from the only artist involved with it; the weekly's letterhead was drawn by Georges "Hergé" Remi.[7]
Hergé was already famous. As his biographer Benoît Peeters notes, he already represented "the essence of Belgian comics." Yet Remi, too, had lost the future he envisioned. La Vingtième Siècle, the paper for which he created Tintin, was refused permission to republish. A children's weekly, Bravo!, did approach the artist.[8] But, despite the fact it had no obvious politics, Bravo! was a product of the Belgian socialist party. Remi couldn't face such left-wing connotations and, instead, he took a job at Le Soir Volé.
Jacobs wasn't famous enough to face such major dilemmas. Nor, thanks to Jacques Laudy, did any arise. Laudy recommended his friend to Bravo!, where he was taken on as an illustrator. Published in Flemish since 1936 and in French from 1940, Bravo!'s central draw was syndicated American comics. Full-color printing gave it a growing popularity and, when Jacobs' work appeared, one reader who noticed his talent was Hergé.
By 1942 America had entered the War – putting an end to comic syndication in Belgium. At Bravo!, this left Flash Gordon (Gordon L'Intrépide) stranded in mid-story. The editor, Jean Dratz, called on Jacobs to finish it. (In Italy, the young Fellini was given a similar task). For the Germans, however, the strip was still "too American". But since Gordon L'Intrépide was his readers' favourite comic, Dratz commissioned Jacobs to come up with a facsimile. He devised a series entitled Le Rayon U ("The U Ray"), in which every character echoed one from Flash.
This off-the-wall saga would be the matrix of Jacobs' art.
Sadly, it's now hard to see why. In Bravo!, Le Rayon U occupied two-thirds of a page and a different, single-row, comic ran beneath. Le Rayon U was republished in 1974 – but when the tale reappeared it looked completely different. Each page now had three rows of frames, the color had been "modernized" and the text was re-written to facilitate speech bubbles. This meant fusions, transpositions and repetitions, most of them implemented by Jacobs himself. But not only had the artist needed money. His alterations were also made out of fear he was falling behind in a changing industry. The result was that Jacobs almost destroyed his most revealing work.[9]
The reprint's most disastrous loss was his original colors. François Schuiten sees the problem throughout Jacobs' oeuvre. "He was one of the greatest colorists in BD history. That can't be said often enough. But the subtleties of Jacobs' colors are now missing and that's something which has murdered a lot his art."
Scientifiction gives you glimpse of the artist's gifts and the biggest surprise is Jacobs' delicacy. He is known for deeply atmospheric pages that, at a first glance, seem semi-monochromatic. But they are orchestrated with surprising combinations – Tyrian purples, verdigris or inky blues offset with Dutch orange, acid green, khaki and mustard yellow. Jacobs often favored very fragile colors – like salmon pink, mauve, russet, rose, tangerine and teal. The trained painter in him (or the adolescent who made all those trips to study Tiepolo, Rubens and Ingres) pretty much sticks to Western color symbolism. Reds, for instance, still largely signal danger. But Jacobs created buff-colored buildings that blushed when tension rose, then suddenly blazed vermillion if a battle broke out.
Such exquisite combinations – termed "a repro man's migraine" by the critic Frédéric Soumois –were achieved using a range of supplies. Jacobs worked with gouache, Dutch Ecoline inks, various kinds of watercolor and, sometimes, even pastel.
The 1974 Rayon U has a preface by Greg (Michel Louis Albert Régnier). Régnier describes the tale as: "Baroque… melodramatic… superficial… Le Rayon U is all of those. The miracle is how it transforms such qualifiers into endorsements, how it turns such faults into assets."
It's a perfect summary. Le Rayon U jumbled together capes, tights, 1940s frocks and MesoAmerican robes. The quest at its centre comes from the need to power an ultimate weapon and it stars a "uradium"-seeking scientist, Professor Marduk. Marduk is accompanied by his assistant Sylvia Hollis and the gentleman explorer Lord Calder. In their wake follow Calder's "Indian friend" Adji, and two secret service agents: Major Walton and Sergeant MacDuff. There's also a villain, Captain Dagon.
During their search, the team encounter huge, evil fig trees; hostile fighter jets; a bridge that bursts into flames; a pre-Columbian graveyard; a tribe of angry ape-men; a live volcano; a lair of Amerindian mummies and the subterranean kingdom of "Prince Nazca". They also suffer non-stop attacks by a range of monsters: a brontosaurus, a Tyrannosaurus, a horde of hungry pterodactyls, a giant octopus, a tiger and an enormous serpent with fearsome breath. Sylvia is fawned over by suitors in tights and menaced by lecherous ape-men, yet her couture remains impeccable.
Jacobs stole everything about Le Rayon U: from Flash Gordon, King Kong, William Rice Burroughs, Conan Doyle's The Lost World and the ethnographic holdings of Brussels' Musée du Cinquantenaire. Yet if all his plagiarisms are evident, so is that grandiloquent flair he brings to using them.
The real eye-opener, however, was those colors. "Right from the start," say the artist's biographers Benoît Mouchart and François Rivière, "Jacobs understood just what a story had to gain from the interplay of colors… By limiting his chromatic range to only two or three shades, he worked out four-color printing's most expressionist possibilities … He was the first such artist in Belgium to realize just what dramatic effects could come out of color."
Laurent Durieux agrees. Durieux was the colorist on Schuiten's Le Dernier Pharaon and he is famous himself for stunning, subtle movie posters. (Among their collectors are Francis Ford Coppola and Steven Spielberg.) In studying Jacobs' colors, Durieux says he discovered "There is an extraordinary tension between them … most people now simply don't have that kind of obsession with color."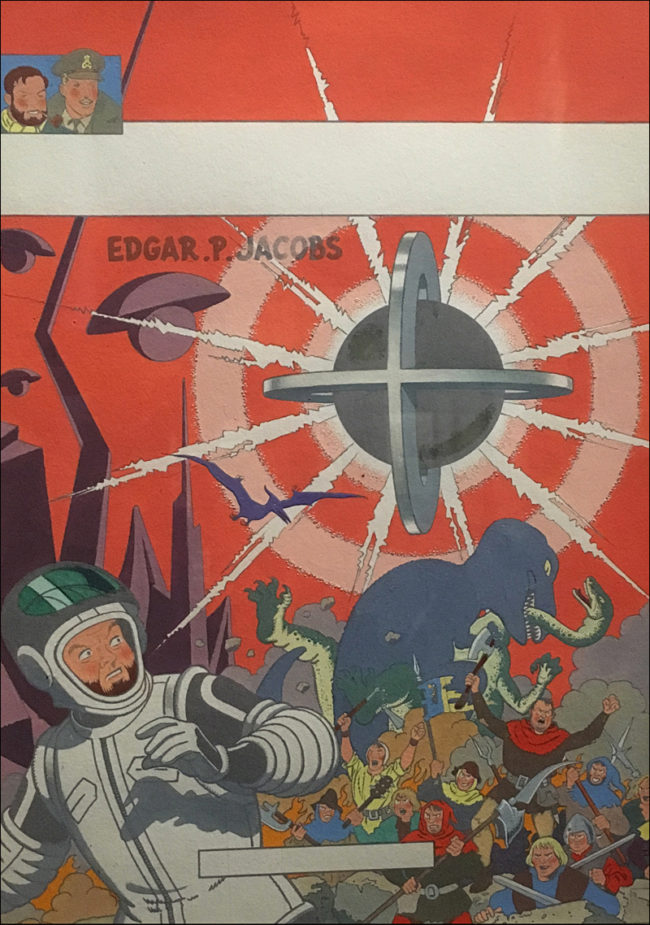 It was his panache with a palette that drew Edgar Jacobs into Hergé's world. Under the Occupation, sales of Le Soir Volé had soared, bringing Remi's boy reporter fame on a brand-new scale. Casterman, Hergé's publisher, wanted to reprint all his books. But, with color competition, sales of his black-and-white albums had declined. So the publisher induced Remi to go back and add color. This would compensate for a reduced pagination which, given the war's paper shortage, was necessary. The change meant re-thinking, then redrawing, everything.
Hergé visualized doing it with Jacobs who, via Jacques Van Melkebeke, he had already met. Jacobs had yet to tackle a strip, but Remi adored the color use in his illustrations. Edgar, by contrast, knew nothing at all about Tintin – and he declined the first offer of work. When Le Rayon U appeared, however, Hergé redoubled his pleas. Jacobs agreed to help him part-time.
The pair's relationship endured for forty-two years and it spanned almost as many different emotions. In the beginning, it was a fruitful partnership. But, as the time passed, Hergé saw only competition – and Jacobs began to feel Remi was blocking Blake and Mortimer.
The reality was that the pair were almost opposites. Hergé's drawing always privileged movement and readability. But Jacobs was a baroque mannerist, who loved drilling down on detail. Once Jacobs started to handle Hergé's color and décor, Remi himself started seeing his work differently. Said one of Jacobs' replacements Jacques Martin, "To indicate a street and a wall, Hergé was used to drawing three lines and two bricks … But Jacobs added posters that were actual posters…and when he drew a cinema entrance, it actually looked like one… He brought Hergé's settings a real sophistication".
Hergé was hyper-aware of his colleague's singularity and, under Jacobs's influence, reapplied himself to research and rendering. In 1971, he told an interviewer, "To understand Edgar Jacobs' level of application, you would have to see him drawing. It wasn't the painstaking touch of a perfectionist; he had the religious devotion of a priest."
On September 3, 1944, Belgium's liberation began. Edgar found some whiskey and celebrated with Hergé. But the party was short-lived. Remi's ties to Le Soir Volé had marked him out for retribution and, post-War, he became persona non grata. Arrested on four occasions, Remi escaped imprisonment. But he was officially declared an "incivique" (non-citizen). He could quite easily never have worked again. But a former member of the Belgian resistance, Raymond LeBlanc, stepped in to clear his name. LeBlanc was determined to launch a magazine starring Tintin and, in September of 1946, he did.
Tintin magazine began with a tiny staff. Its editor was Jacques Van Melkebeke, its art director Hergé and its other artists Jacobs, Jacques Laudy and a young Paul Cuvelier. Layouts were handled by Hergé's longtime friend Eugène Van Nijverseel, who was known as "Evany". When the team asked Jacobs to furnish something modern, he came up with Blake and Mortimer – modeled on Laudy and Van Melk but descendants of "Calder" and "Marduk".
One surprise for Tintin readers was Jacobs' copious texts, which came out of his fixation with the theatre. The artist called these commentaries "counterpoints". But even an erudite fan like Pierre Sterckx finds them curious: "What is Jacobs really trying to do in a sentence like, 'With the leap of a tiger, Nasir throws himself on Mortimer's attacker,' when the drawing itself leaves no doubt at all about the action or its participants?… It's like he has no faith in his actual image… But voilà, that's him. He subscribed completely to this semi-farcical solemnity, these redundant texts right in the heart of the image."
Explaining the plots they relate is more than exhausting; it's also fruitless. That's because no summary will explain why Jacobs' stories work. The artist prized laboriousness and walked it like he talked it. He spent months on research and produced numerous iterations of every element and every page. Even François Schuiten found it overwhelming: "It's one of the reasons I felt gauche taking on Blake and Mortimer. To arrive at such a simplicity, his process was unbelievably complex."
Nevertheless, especially when it comes to his greatest works – 1950's Le Mystère de la Grande Pyramide and 1953's La Marque Jaune – the secrets are simpler. Jacobs is unpredictable about unpredictable things. He makes wonderful color choices and uses oddball framing. He has incongruous images erupt at unlikely moments. Yet, in terms of composition, proportion and rhythm, his grasp of visual storytelling is faultless. Despite his stubborn devotion to odd conventions, Jacobs' work was well ahead of its time.
The 2017 book Les secrets des chefs d'oeuvre de la BD (The Secrets of Comics Masterpieces) called Le Grande Pyramide "one of twenty-two bandes dessinées that defined the form". Here's part of what they wrote: "Le Grande Pyramide is a masterpiece that held readers spellbound over two years, a kind of Hollywood blockbuster whose narrative and tempo were unparalleled in the comics of its time and one whose daring page layouts, many years later, found an unexpected echo in… Philippe Druillet".
For many, Jacobs' finest hour will always be La Marque Jaune (The Yellow M). Set in a rainy, dark London, it exploits atmospheres familiar since Jack the Ripper. Its saga features a mystery criminal known by his cryptic "autograph". Some of its tricks and twists recall le merveilleux-scientifique, but its dominant ambiance came from Dr. Jekyll and Mr. Hyde, Sherlock Holmes and the James Whales' 1930s Frankenstein films. A slightly stranger influence was Curt Siodmark's Donovan's Brain, a pulp best-seller endorsed by Jacobs' pal Van Melk.
La Marque Jaune really is Jacobs' "opera of paper". (Audio proof of this exists in a radio adaptation, two minutes of which will convince even listeners who don't know French.) Its story became a BD cult classic – complete with one of the form's most-frequently parodied covers. When it appeared in Tintin in August of 1953, young readers were soon scrawling its sinister "mark" everywhere. This encircled Mu – the Greek letter for "M" – most probably came from Fritz Lang's famous film. But critics have also speculated it came from Zorro or from the "V's for "Victory" chalked on Belgian walls under the Occupation.
Bédéiste Jacques Tardi was one of those Tintin readers. "That was the first time I saw Edgar Jacobs' work," he told French radio. "His drawings had nothing in common with any other bande dessinée ...plus, they had so many more elements of mystery!.... When it appeared as an album, I saw it in a window and I still remember standing there, glued to the pavement."
* * * *
Edgar Jacobs' graphic control masked upheavals. At the most hopeful moments of his life, the subtext was always ambiguous. His stint at the Lille Opera meant the fulfillment of a dream. But it brought Jacobs face-to-face with a shattering fact: that, outside of marginal roles, he had no future in opera. Then, when his tumultuous first marriage exploded, Hergé's home studio provided an unexpected refuge. Yet the job deflected him – for good, as it turned out – from the artistic independence he enjoyed at Bravo!.
Even Tintin's launch, the focus of so many hopes, took place under terrible tensions. For a start, its editor was a wanted man. Tried for collaboration in 1946, Jacques Van Melkebeke received a ten-year prison sentence. Yet he simply kept on coming in to work. When LeBlanc was tipped off that police were on their way, the exasperated publisher kicked him out for good. Yet Van Melk just dyed his hair, took up using pseudonyms and, at one point, lived in Edgar Jacobs' attic. He continued to edit Tintin and contribute to all its series.
This difficult situation endured through 1947 when, in December, Van Melkebeke went to jail. The same year, Jacobs gave up working with Hergé. Officially he did it to focus on Blake and Mortimer but, as he told Benoît Peeters three decades later: "A few months before I quit, Hergé had asked me to work with him full-time … I said I would stay if both our signatures appeared on the books. Hergé seemed surprised and asked for a couple of days so he could think it over. A week later, he came back and told me the editors at Casterman didn't like the idea. But I think it was him who was bothered."
For Hergé, the loss of Jacobs worsened a growing depression. As it took hold, he began dropping out of sight unexpectedly. (At one point, he also envisioned moving to Argentina). Hergé simply couldn't face coming in to work and the beleaguered staff at Tintin were panicking. Remi's then-wife Germaine begged Jacobs to reason with him.
Jacobs sent his friend a letter filled with clumsy, masculine frankness. If its concern was real, however, so was its self-absorption. "I'll wager you four storyboards of L'Espadon plus a cover," he wrote, "that if you'd only spent a few years as a starving artist you'd be acting differently.… Look around you, old chap. See, for example, the aging imbecile that I am: forty-five years old with the eyes of seventy-five (says the oculist). My whole youth was spent under a rod of iron, never a night out or any money to spend. Then twenty-five years, the best years of my life, were wasted nose to the grindstone with never a vacation or a pause."
Less than two years later, Jacobs himself suffered a depression. He became paralyzed by the fear of a third World War: exactly what he had staged for Blake and Mortimer. Over three solid months, he couldn't work.
This time it was Hergé who wrote the encouraging letter and, yet again, its lines unmasked the author: "Come, come, let's have no more of such black thoughts. Try to be reasonable. You've made enormous efforts and the results are clear; on the one hand, there's the total success of your art and, on the other, the price of that success: a genuine breakdown … But war and so on… It's possible, of course; one can never know. But, speaking for myself, when I have no influence over events, I force myself to ignore them. Otherwise, we become prey to our enemy… worry."
Hergé tried to rally Jacobs about his upcoming album, Volume 1 of L'Espadon. Then he added, "I do understand why it might leave you indifferent… The thing one wants the longest and craves the most deeply, the thing one most pines for… when it finally happens, always brings disappointment. Always there's a feeling of 'All that, for this?'"
Four months later, L'Espadon was in the stores. It was an enormous hit and rapidly sold out. This feat was not lost on its author's erstwhile comforter. Hergé took publisher Raymond LeBlanc aside and warned him against creating "a useless competition" for Tintin.[10]
In 1957, Jacobs followed La Marque Jaune with the Lost World epic L'Enigme de l'Atlantide (The Atlantis Mystery, 1957). In 1959 came his S.O. S. Météores! (S.O.S. Meteors), in which Earth's weather goes out-of-control. In 1960 he produced Le Piège diabolique (The Time Trap), which revolves around Mortimer's accidental trip through time. Piège combined two recurrent themes, prehistoric terror and nuclear catastrophe. But Jacobs threw in a people's revolt in the Middle Ages and, for the first time, he had to have help. He found it from Fred and Liliane Funcken, co-creators of a medieval epic called Le Chevalier Blanc (The White Knight).
Jacobs' next and final books – 1965's L'Affaire du collier (The Affair of the Necklace) and 1971's Part I of Les Trois Formules du Professeur Satō (Professor Satō's Three Formulae) – were done with great hardship. For L'Affaire du collier, some of the work was confided to artist Gérald Forton. On both, Jacobs' outsourced color to the Studios Hergé.
Some of the artist's problems came from his age and finances. But the most devastating blow came from censorship. Circulation in France had always been vital for Belgian comics and, after the War, that importance increased. For, by the mid-1950s, almost a third of the French nation were under twenty. (By 1957, some BD weeklies in France had higher circulations than major newspapers).[11] These numbers worried both French educators and politicians, who didn't want all those young minds corrupted or "colonized".
In order to prevent this, a "Commission of Surveillance and Control" policed the whole of the French juvenile press.[12] Functional from 1950, they were often – sometimes rightly – faulted for protectionism. These censors always paid close attention to Tintin and took a dim view of Edgar Jacobs' work. They had considered banning Volume 1 of L'Espadon and they did, albeit briefly, ban Volume 2. Jacobs' publisher, Lombard, appealed that verdict and won. But the French commission followed it with a formal warning and, in subsequent years, they placed several of the artist's stories "under surveillance".
In 1962, Jacob's luck ran out and French publication of Le Piège diabolique was banned. Five years passed before it came out in France. (Even when it did, the author was once again reproved for harmful scenes. His publisher was also warned to desist from "issuing similar stories in the future".)
After this blow, as one biographer puts it, Jacobs began "a time in the desert". The Collections de Lombard, his longtime imprint, disappeared. He hoped to move Blake and Mortimer – products, after all, of Tintin – to Hergé's publisher, Casterman. But Casterman demurred without an explanation. Jacobs was convinced their veto came from Hergé.
His public losses were made worse by private ones: savings lost through bad advice and the sad task of identifying Ninie's body – found in a lonely flat surrounded by empty bottles. After the late 1960s, Jacobs' health also declined. One of his hips became crippled by arthritis and his hand grew much less steady. His eyesight, never good, started getting worse.
It was the Jacobs of this sombre era, says François Schuiten, who was the key to his Blake and Mortimer. In Le Dernier Pharaon, the duo – now much older – have drifted apart. "I based my Mortimer on what I felt from Jacobs. Because by that era he had a certain bitterness, a sense of never having been recognized. I even drew from photographs of Jacobs."
In Scientifiction, visitors get to see the real Edgar Jacobs. It's 1977 and he's speaking on Belgian TV. At 73, he's paunchy and pasty-faced and yet still dressed like a dandy. His jaw almost disappears behind a huge bow tie, chocolate brown and sprinkled with giant golden flowers. His freshly-dyed hair is a late-Elvis black. It's easy to see why, when his back was turned, many colleagues mocked Jacobs' awkwardness and pretensions.
But if not as suave as his heroes, he was just as tough. The obstacles life placed in Jacobs' path were not flamboyant. But they were almost as unremitting as the blue grottos and scarlet hills of Le Rayon U. Jacobs faced up to them all – poverty, loss, rejection, obscurity, ill health and solitude. His band was even smaller than the one that went to look for uradium and both were stuck in a time of few certainties. But Edgar P Jacobs saved the world with the best of them.
[1] In Le Secret de l'Espadon, Hindu and Muslim resistants help Blake and Mortimer to fight the "Yellow Empire".
[2] Goddeeris, Isebald, "The Japanization of China, Chinese Images in Belgian Comics of the 1930s and 1940s", Rechtsextremismus, Rassismus und Antisemitismus in Comics, Berlin, Archiv der Jugendkulturen (2011)
[3] What Hergé spared the Chinese characters in his 1934 The Blue Lotus, Japanese characters often inherited. By the late 1940s, Belgian creators like Marc Sleen and Willy Vandersteen were applying negative "Japanese" traits – yellow skin, long teeth, toadying behaviour – not just to the Chinese again but to more generalised "East Asian" figures.
[4] Le merveilleux-scientifique proved a stopgap term which failed to endure. But, as Arthur Evans noted in Nov 1994 in Science Fiction Studies, when it appeared there were only "two widely-accepted terms for this sort of writing. One was the British phrase 'scientific romance', the other the Francophone roman d'anticipation ('futurist novel')".
[5] Maurice Renaud didn't coin the term merveilleux scientifique; he just hyphenated it. The phrase came from physiologist and philosopher Joseph-Pierre Durand de Gros in 1894.
[6] In French, the pseudonym G. Ri (that of Victor Mousselet) sounds like the phrase "I laughed".
[7] Lambeau, Frans, Dictionnaire illustré de la bande dessinée belge sous l'Occupation, André Versaille Editeur, 2013; Goddin, Hergé, chronologie d'une oeuvre, Vol 4: 1939-1943, Moulinsart, Brussels, 2002
[8] Lambeau, Frans, Dictionnaire illustré de la bande dessinée belge sous l'Occupation, André Versaille Editeur, 2013
[9] Renaud Chavanne wrote an entire book about Jacobs' composition. "At the time of Le Rayon U," he says, "Jacobs' machinery was pretty much classic. But it's clear he was keen to institute new strategies… They became the very techniques that – in terms of composition – bring his best works such an elegance and such increased complexity".
[10] LeBlanc also remembered Hergé fuming that "Every album of Blake and Mortimer sold is a Tintin I'm not selling!" Mouchart and Rivière, La Damnation d'Edgar Jacobs, Seuil/Archimbaud, 2003
[11] "Tarzan Under Attack", Richard Ivan Jobs, French Historical Studies, Duke University Press, Vol 26, No 4, 2003
[12] The Commission de surveillance et de contrôle des publications destinées à l'enfance et à l'adolescence was created by the Law of 16 juillet 1949