Hi,
Me and my lady both draw comics. Here's Marian's site if you haven't seen her stuff:
With both of us working at home all day we decided to get 2 places in the same building, so we're not all up in each other's shit all day every day. It's the first place I've ever had to myself in my 34 years and I'm thrilled.
I've got a string with clothes pins above my desk so I can keep an eye on all the pages leading up to the one I'm working on.
On the left a shelf of reference -- full of National Geographic issues, photography books, '90s Delia's catalogs and Dwell magazine.  I like having paper reference.
On top of the reference shelf are these stuffed versions of the cat and marmoset from King City that Marian made for me. Above that is an old photo of my childhood pal Ludroe painting a train --whose Cosmic Monkey drawing I put up yesterday.

Across the room next to my computer I've got a shelf of comics I look at a lot.
It's got a lots of '80s manga lots of Shirow and Pope and that new Moebius Arzach.
Here's my fridge.
I just got that rabbit drawing from my pal Gabriel Basutsta.
Most of my comics and the stacks of pages I've drawn go in this tiny stashbox room. It's a mess in there, I'm still sorting it all out. There's also fire and dice painted on the low end of the walls from the last dude that was here.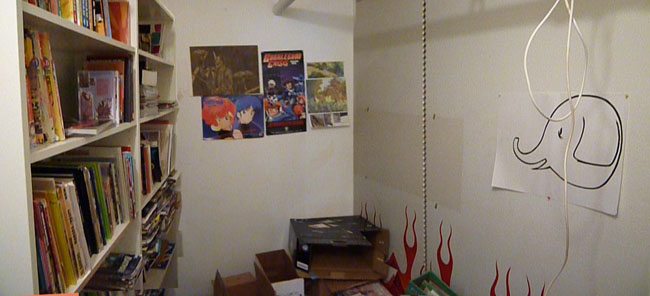 Outside of my window I can see this chrome bear with sunglasses named hang loose bear.I like this dude. No matter what is going on with the weather or the world he is chilll.
-----
what I did today.
Here's that Elephantmen cover I was working on all done--or near done. I haven't added the issue # yet.
That was fun to do. It felt like drawing sci-fi Babar.
And Marian drew this dude for me. He is a duke who is fair when he gets his way.
I read a comic called Five Glasses of Absinthe that I got at the Seattle con. Really fun adventure comics. Here's some panels I liked.

You can read the whole thing up here:
And I was looking at an '80s Y Tagami manga (he did the great series Grey in the '80s). I like this panel a lot.
In the hallway I saw this Bastard.
My pal Robin who does the Inkstuds radio show called and invited me to go with him to a talk that Scott Hampton was giving. When I was a teenager I was really into a cover Hampton had done for Tapping the Vein #2 . Nicely creepy with April O'Neil '80s hair.
Here's Robin and a totem pole that I took on the walk to the bus.
The talk was cool, I'm always interested in how comics are taught since I dropped out of  in high school. It's an alien way to see something I know well.
This was drawn on the back of the chair in front of me.
It was cool being able to look though all origonal pages. Such pretty stuff.
After the talk I sat in on an interwiew Robin did with him for Inkstuds. That's Hampton and me in my weird cowboy pajamas shirt.
,
I'm biased as hell about all my friends work but being friends with Robin has really opened my eyes to the important role of true comics journalists. We need honest critiques, people who will ask real questions and aren't trying to use journalism as a stepping stone into the business of making comics. I'm so glad comics has him.
Here's his site
Then me and Robin went out for food. He got booze and I got marble rye toast that I spent way too long trying to arrange in the shape of a star.
Later on my pal Claire came over with her dog Happy. Happy got really introspective after reading some Warren Ellis.
And now it's 5 in the am and I've got another 3 hours to work on Multiple Warheads before I pass out.
Brandon Graham is the creator of King City and Multiple Warheads.