A few months ago I made mention of Raijin Comics, an ill-fated 2002-04 effort by California's Gutsoon! Entertainment at releasing a weekly manga magazine in North America. The Japanese entity in charge of Gutsoon! was Coamix, which had only just been founded in '00, mainly by veterans of the mighty boys' weekly Shōnen Jump: former EiC Nobuhiko Horie; Fist of the North Star artist Tetsuo Hara; City Hunter creator Tsukasa Hōjō. As you perhaps can tell from such veteran names, Raijin did not traffic in the latest and most popular in youth entertainment, appealing instead mainly to adult readers; completely weird book releases of patriotic seinen thrillers like the terrorism-themed Revenge of Mouflon and The First President of Japan seemed to fly directly against the popular thrust of bookstore manga, so deeply reliant on youth appeal in those boom years. It was guaranteed some cult affection, and fated a quick demise.
What you may not know, however, is that Coamix is still very much active in Japan, packaging the monthly phonebook-sized seinen anthology Comic Zenon and running the Silent Manga Audition, a wordless comics contest with a global outlook and a strong online component. And now, seemingly as accessory to the Audition, Coamix has put together a very modest English edition of Comic Zenon in the form of three free digital serials - basically, it's a very tentative Raijin Comics 2.0, with subjects for future translations to be determined via online vote.
Of course, you can hardly show up to play without at least one of the famous Coamix artists on board, and so inevitably the serial placed up top is Ikusa no Ko, a historical project on the largely undocumented (and thus creatively unrestrained) youth of the famous warlord Oda Nobunaga, drawn by co-founder Hara from scenarios devised with co-founder Horie, the latter employing his "Seibō Kitahara" pen-name from the Bonolon series of children's picture books him and Hara worked on a while back. Immediately we can see that the English edition is committed to replicating the authentic Japanese reading experience, right down to the clashy multi-colored lettering fonts:
The first chapter Ikusa no Ko dates from 2010; it was a launch feature for Comic Zenon itself, which had replaced an earlier, weekly Coamix magazine, Comic Bunch. I'm pulling the Japanese pages from a contemporaneous digital sampler, which offers an interesting point of comparison:
The English edition, as you can see, omits mention of Hara's support studio - perhaps this is in keeping with North American expectations, but I think most readers understand that it's not very feasible for the 50-ish Hara, who is nearly blind in one eye, to both draw a continuing monthly serial on his own while also overseeing the multiple ongoing Comic Zenon offshoots of his Hana No Keiji historical series, which dates all the way back to 1990 - as with Ryōichi Ikegami, these historical swordsman dramas have proven a reliable vehicle for Hara's particular sense of dramatics, though they are not typically the fare we see translated to English.
Still, if you've seen really any of Hara's pages in the past, you'll know basically what to expect. These are heavy, busy pages, almost damp-looking from pools of ink, and augmented with heavy applications of (now-digital) tone. Most everyone's skin seems to have been patted down to gleaming with oil, and even young children stand as rippling masses of muscle - see how the hot-blooded young lord murders fish and fowl alike with mighty hurled stones, the admonitions of nearby adults nothing in the face of his hot-blooded spirit, yearning already for victory! It may be a while coming, given the seven-volume extent of the series already in Japan, but Hara & Kitahara gallantly offer us some closure right up top as the grown Nobunaga is seen literally dancing his way into the conflagration of immortality, gutsy and virtuous as Joe Yabuki sitting dead and smiling in a boxing ring at the close of Ashita no Joe.
This raises a separate issue. While ostensibly a seinen magazine, Comic Zenon is not so focused on aging readers as a Big Comic, nor as prone to seasoning its fare with sensational violence or softcore sex as a Manga Action (to pluck a pair of long-lived titles out of the air); instead, it's the kind of seinen that's content to straddle the boys' comics border, effectively reserving the right to delve into 'mature' themes or a meditative mood if necessary. The second English serial offered is Nobo and Her?, the debut of which dates from 2012; Molico Ross, the creator, was a successful Silent Manga Audition entrant, so I'm guessing the presence of his serial is to feed back into the promotional mission of the Audition itself. It's a cute, high-concept comedy about the scion of a notable temple who moves into an apartment haunted by what western observers might call a poltergeist; unexpectedly, ghost and man become very fond of each other, to the point of setting up a domestic (indeed romantic) arrangement, which naturally must be hidden from nosy neighbors and the like in the tradition of Bewitched or whatever Japanese equivalent I can't identify at the moment.
Basically, it's a sitcom, and the position of comics in Japan is such that despite the shrinking audience (we're told) for magazines like Comic Zenon, individual seinen serials may nonetheless operate by the dictates of undemanding evening television without much of any expectation for more; such is the comfort of established mass media for adults.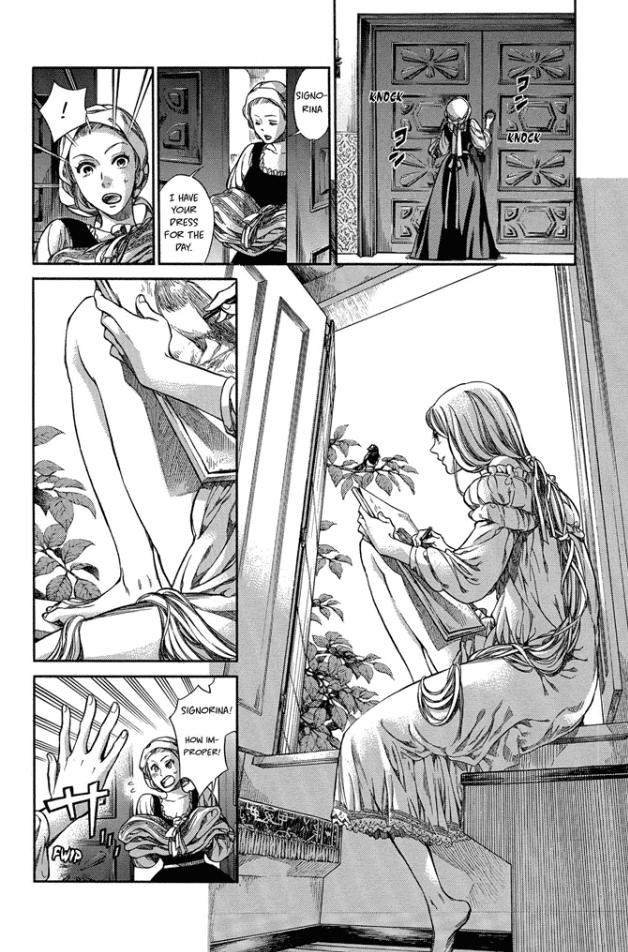 And then, there's Kei Ohkubo's Arte, which I believe started in 2013. Set amidst the Italian Renaissance, the story follows the exploits of a young noblewoman determined to make it as an artist, despite her mother's efforts to marry her off as a means of salvaging the family's declining fortunes and society's general distaste for women participating in the necessary apprenticeship system. Faced with such insurmountable gendered odds, the heroine publicly rejects femininity itself, catching the attention of a brooding master who assigns her impossibly grueling training as a means of breaking her what he assumes is a privileged girl's fancy - yet, hands bleeding, she endures.
It does not take an enormous amount of historical grounding to recognize the acute presence of shōjo manga in this scenario. Indeed, the blurring of gender lines dates back to Tezuka's Princess Knight -- and this trope will be seen in its quintessential form when Riyoko Ikeda's The Rose of Versailles arrives in English via Udon Entertainment next year -- while the heroine's torturous practice at the hands of a demanding mentor/coach recalls '70s classics like Suzue Miuchi's Glass Mask and Kyōko Ariyoshi's Swan. So, why is this a seinen manga? The easy answer is "because it's running in a seinen magazine," which often is rationale enough, but I think it's also worth paying attention to the visual approach which Ohkubo employs. Heavy with scenic literalism, the artist eschews much of the psychological, impressionistic approach which characterizes the grammar of girls' comics - she is not drawing in a shōjo style, and thus her exceedingly shōjo thematics can nonetheless translate neatly to a magazine notionally aimed at men and older boys, though really none of these categories are hard and fast. Especially when you're suddenly posting these comics online, for a dispersed global English audience; in that case, you might as well select a piece that's done some traveling already.
***
PLEASE NOTE: What follows is not a series of capsule reviews but an annotated selection of items listed by Diamond Comic Distributors for release to comic book retailers in North America on the particular Wednesday identified in the column title above. Be aware that some of these comics may be published by Fantagraphics Books, the entity which also administers the posting of this column. Not every listed item will necessarily arrive at every comic book retailer, in that some items may be delayed and ordered quantities will vary. I have in all likelihood not read any of the comics listed below, in that they are not yet released as of the writing of this column, nor will I necessarily read or purchase every item identified; THIS WEEK IN COMICS! reflects only what I find to be potentially interesting.
***
SPOTLIGHT PICKS!
Prison Island: A Graphic Memoir: Being a new 192-page memoir from writer/artist Colleen Frakes, an Ignatz-winner from the very first graduating class of the Center for Cartoon Studies; she also received a Xeric grant around that time, which strikes me as sort of a straddling of self-publishing/small press generations. The publisher here is San Francisco's Zest Books, and the subject matter is the author's youth in a remote territory dominated by a jail and the employee support apparatus surrounding it. Samples; $16.99.
Sacred Heart: This one's what I believe is the bookshelf-format debut of Virginia-based artist Liz Suburbia, a front-to-back revision of her webcomic, involving punk teens in an adult-free zone "trying to keep their makeshift society together until their parents return." Fantagraphics publishes this 312-page softcover; $24.99.
--
PLUS!
Chicago: A Comix Memoir: Your second Fantagraphics release for the week, this one from last week's Cartoonist's Diary contributor Glenn Head, who's been a fixture of anthologies ranging from Weirdo to Zero Zero to Snake Eyes to Hotwire (he edited on the latter two). It's a decades-spanning autobiography in 168 pages, embodying "the old school, Zap-era comic style" per Julia Wertz, one of a varied crew of artists repping the project. A 7.5" x 10" hardcover. Preview; $24.99.
Spoko (&) Gigant: A pair of books here from European locales not often considered in the 'Eurocomics' calculation. Spoko is specifically an anthology from the UK-based Borderline Press -- 48 color pages in an 8.7" x 8.7" square -- but the majority of its contributors hail from the Czech Republic (Tomáš Prokůpek & Tomáš Kučerovský), Poland (Joanna Sanecka & Sylwia Restecka) and Slovakia (Petr Včelka). Jamie Lewis rounds out the themed proceedings, focusing on "Birds". Gigant is a 2014 solo work from Danish artist Rune Ryberg, 80 pages on a hero "thrown into a bizarre journey within another dimension in an attempt to rescue his girlfriend who has been swallowed by a thousand-eyed monster." The North American publisher is AdHouse. Gigant preview; $7.95 (Spoko), $14.95 (Gigant).
Ann Tenna: A metaphysical SF media satire about a website gossip maven confronted by the cosmic manifestation of her spoiled potential is not quite how I expected writer/artist Marisa Acocella Marchetto to follow up 2006's Cancer Vixen, but that is just the 240-page color Knoph hardcover we are getting this week (and I don't know what I expected anyway). Preview; $30.00.
Ninja Slayer Kills Vol. 1: A beautiful story of wholly fabricated international cooperation awaits in our manga pick of the week. Ninja Slayer began life on Twitter as a series of jokes by writers Yu Honda & Leika Sugi, purportedly 'translating' excerpts from outrageous ninja craze exotica novels by gormless American authors Bradley Bond & Philip "Ninj@" Morzez. Soon, a popular line of 'full' translations was in print, a zany bargain-basement anime iteration began running online, and no less than three manga adaptations had materialized. This is the Kodansha version, drawn by Kōtarō Sekine, up to vol. 2 in Japanese; another manga, Yūki Yogo's & Yoshiaki Tabata's Ninja Slayer: Machine of Vengeance, will begin appearing in English via Vertical next month, so look forward to not only a Japanese presumption of the American consumption of Japanese culture, but multiple sources' impressions of that presumption; $10.99.
8house #3: Kiem Part One: This, the newest release in a line of shared-universe fantasy stories published as Image comic books, probably warrants some explanation. At some point, this was put forward as the first issue of the first series of the project, written by Brandon Graham & Xurxo G. Penalta and drawn by the latter. However, two issues of Arclight, a storyline by Graham & Marian Churchland, were ultimately released first. Now -- to summarize a recent explanatory post by series contributor Emma Ríos -- we get the first issue of Kiem, the Graham/Penalta storyline, labeled as 8house #3. Issues #4-5 will switch over to a Fil Barlow/Helen Maier story, then #6-9 will cover an entire Ríos/Hwei Lim story, after which the other three stories will conclude, presumably in the order the creative teams finish. While this is happening, a *second* 8house-related series will also be running: From Under Mountains, by Claire Gibson, Sloane Leong and the aforementioned Churchland. None of this is to be confused with Island, the ongoing Image anthology series to which many of these artists have (or will) also contribute(d). Above all, I'd expect allusive fantasy storytelling with a strong emphasis on visual impact. Preview; $2.99.
Heavy Metal #276: In contrast, I'll presume Heavy Metal needs no introduction in terms of past, present or future, as the distant arrival of Editor in Chief Grant Morrison has been hyped even more than the luridly-colored Jack Kirby art cover-featured in this issue, but I just want to draw your attention to the fact that Massimiliano Frezzato has a very extensive (47-page) piece featured too. Frezzato was one of the core 'names' of the Kevin Eastman post-Tundra period, a very lush and detailed stylist of the sort easily approachable by mainline comic book readers hungry for an epic serial fantasy like his Keepers of the Maser series. The magazine has been cagey about what exactly this new presentation is, but I don't think it can help feeling like a potential last hurrah for the album-length French comics translations which formed the magazine's core for so long. Enki Bilal is on hand as well; $7.95.
The Z Word: And here's some stuff with origins in Métal Hurlant, specifically the brief '00s revival of the anthology brand. Debuting in North America the very same month as The Walking Dead, Jerry Frissen's & Guy Davis' The Zombies That Ate the World took a very bleakly satiric position, elaborating greatly on the idea of zombies as a function of consumer culture. The series continued in album form until 2008, and then enjoyed a brief revival in 2014 via Frissen and new artist Jorge Miguel. It now appears there will be a movie version directed by François Simard, Anouk Whissell and Yoann-Karl Whissell of the recent Turbo Kid, so it will be handy to have a 300-page all-in-one hardcover edition around, title change notwithstanding. Samples; $39.95.
Aliens: Salvation (&) Neil Gaiman's Teknophage Vol. 1: Other reprints from the annals of oddball franchise projects. Salvation is a slim (56-page) Dark Horse hardcover, 6 5/8" x 10 3/16", reprinting a 1993 xenomorph yarn penciled by newly-minted Hellboy creator Mike Mignola, with inks from Kevin Nowlan and a script by Dave Gibbons. Teknophage debuted from Tekno Comix in '95 and while Gaiman did not have much to do with its talking-reptile-as-arch-capitalist-as-science-villain scenario, the acutely post-underground creative team of Rick Veitch (script), Bryan Talbot (drawings) and Angus McKie (colors) nonetheless brought a good deal more in the way of mean humor than you'd expect from a project of such mercenary origins; I was delighted to see a not-dissimilar scaly archfiend show up in Talbot's most recent Grandville album. A multi-format Super Genius release, this 232-page book reprints the original storyline along with subsequent material from Paul Jenkins & Al Davison; $10.99 (Salvation), $14.99 (Tekno softcover), $24.99 (Tekno hardcover).
Miracleman by Gaiman & Buckingham #1: Also a reprint, albeit one that is actually written by Neil Gaiman, who took the reins of the famous superhero interrogation from Alan Moore, the Original Writer, in 1990. This Marvel release should match up with issue #17 of the Eclipse run, with art by Mark Buckingham and -- if I am not mistaken -- revised colors by D'Israeli (as opposed to Steve Oliff, who re-colored earlier issues). The same creative team is slated to finish their intended run on the title after the reprint stock is extinguished in 2016. Preview; $4.99.
Walt Disney's Donald Duck: The Daily Newspaper Comics Vol. 1 - 1938-1940: Finally, a perhaps-inevitable collision between IDW's Library of American Comics and Disney's vintage holdings, this 272-page, 11" x 8.5" hardcover showcases early duck strips from artist Al Taliaferro (written by Bob Karp and Homer Brightman), who also did some work with Floyd Gottfredson over on Mickey Mouse. Supplementary text by David Gerstein; $39.99.