Sometimes I don't have an awful lot to say about the comics I happened to page through last week. For example, above we see some real-life horror from artist David Hine, who would eventually become a genre specialist as writer/artist of the series Strange Embrace, and then writer of a great number of horror-tinged works, including my personal favorite superhero comic of 2012 thus far, The Bulletproof Coffin: Disinterred. He also recently returned to art in Richard Starkings' Elephantmen #41 -- all of the comics I've mentioned so far are with Image right now -- and just recently began to begin an association with Avatar, as writer of an upcoming Night of the Living Dead project and a storyline for Crossed: Badlands (as of #14).
Before all of that, however, was the above Tony Allen-scripted comics essay for Crisis (#45, 1990), the politicized Mature Readers counterpart to 2000 AD some years ago. I am particularly struck by Hine's use of a television inset panel in the above detail; that's a big '80s move if there's ever been one in comics, memorable from Frank Miller's The Dark Knight Returns as a means of accompanying the action with a banal stream of subjective commentary. Allen & Hine utilize the same technique as a way of demonstrating literal propaganda efforts, which speaks brightly of the comic's place in history; do you recall a time when a 'mainstream' comics outlet was apt to publishing comics-format essays of any sort, let alone a commentary on a foreign affair? It was a brief moment in time Crisis occupied, very soon to be more totally eclipsed by U.S. efforts at what we've come to permanently associate with "the '90s" in pop comics... call it a lingering ideal.
***
PLEASE NOTE: What follows is not a series of capsule reviews but an annotated selection of items listed by Diamond Comic Distributors for release to comic book retailers in North America on the particular Wednesday, or, in the event of a holiday or occurrence necessitating the close of UPS in a manner that would impact deliveries, Thursday, identified in the column title above. Not every listed item will necessarily arrive at every comic book retailer, in that some items may be delayed and ordered quantities will vary. I have in all likelihood not read any of the comics listed below, in that they are not yet released as of the writing of this column, nor will I necessarily read or purchase every item identified; THIS WEEK IN COMICS! reflects only what I find to be potentially interesting.
***
SPOTLIGHT PICKS!
The Voyeurs: This is both a new 160-page collection of autobiographical work by Gabrielle Bell -- culled from her Lucky strips with 30 pages of new stuff, all newly colored by Bell and Daryl Seitchik -- and also I think the first hardcover book release from cartoonist Tom Kaczynski's Uncivilized Books, previously (and still) a purveyor of upper-end minicomics. Always nice to see a publisher of neat stuff expand - I remember them collecting email addresses in exchange for little comics at one con or another; $24.95.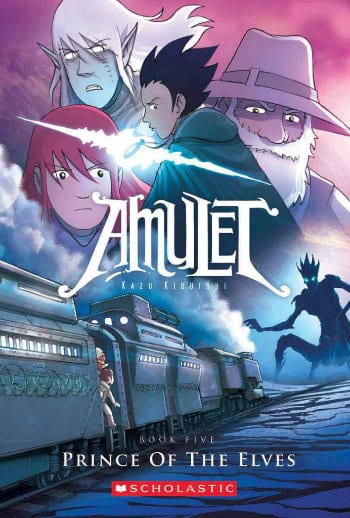 Amulet Vol. 5: Prince of the Elves: Sometimes I like to cast the spotlight here on 'mainstream' comics, by which I don't mean the ostensibly popular comics that function according to time-tested rules of comic book distribution, but books that will probably hit many more eyes and stash many more publishing dollars (as opposed to merch money) with 1/30th the inner circle promotions, i.e. stuff like this Scholastic-published YA monster by Kazu Kibuishi, formerly of the eight-volume pretty things anthology Flight. It's grooving on the same cartooned quest narrative kick as Jeff Smith's Bone, though I'm told there's also a certain amount of Miyazakian flavor that grows more pronounced as things move forward; dropping a new 200+ page color volume every year like clockwork makes it surprisingly easy to fall behind. Anyway, this one's 208-pages, and vol. 6 is already in production; $12.99.
--
PLUS!
Harvey Horrors: Not just one book here, but what looks to be close to an entire series launch hitting Diamond on the same day through the magic of imports. The publisher is the UK-based PS Artbooks, which appears to have occupied itself mainly with a series of comprehensive hardcover compilations of pre-Code horror and horror-ish comics by Harvey and American Comics Group - the books in question today are vol. 2 of Chamber of Chills and vol. 1 of Witches Tales, Tomb of Terror and Black Cat Mystery, each one weighing in at 256 or 288 pages, with introductions by various parties (Ramsey Campbell on the Witches Tales) and profiles of prominent contributors. Shorter softcover volumes will eventually appear in this very ambitious effort; $47.99 (each).
The Infernal Man-Thing #3 (of 3) ($3.99)
Mudman #5 ($3.50)
Prophet #28 ($3.99)
Spaceman #9 (of 9) ($2.99)
B.P.R.D. Hell on Earth: The Return of the Master #1 (of 5) ($3.50)
Crossed: Badlands #12 ($3.99)
Popeye #4 ($3.99): Yes, there's so little in the way of interesting new releases this week I'm just gonna totally swipe a Tom Spurgeon move here and list a bunch of continuing series of possible note, a lot of which are wrapping up. The Man-Thing, for instance, is a much-delayed Kevin Nowlan collaboration with the late Steve Gerber which should be seeing a collection soon. Mudman is Paul Grist, while Prophet is Brandon Graham & Giannis Milonogiannis, with Farel Darymple set to return in #29. Spaceman concludes the new series by Brian Azzarello & Eduardo Risso, both of whom are working on the now-expanded Before Watchmen endeavor (Risso is on a Moloch series with J. Michael Straczynski). B.P.R.D., to my dismay, is not a Manos: The Hands of Fate tie-in, but instead a new Tyler Crook-drawn storyline that will see the series transition to continuous numbering with #100 on Halloween. Crossed is something probably gross by David Lapham & Jacen Burrows. And Popeye once again sports a Tom Neely-drawn backup, with Vince Musacchia drawing the main script.
Locke & Key: Grindhouse: This is a self-contained spin-off issue of a popular Joe Hill/Gabriel Rodriguez horror series at IDW; I haven't read very much of it, but what I've seen has some panache, like an above-average Vertigo offering. It's a kids-in-a-haunted-type-locale kinda scenario, which is simplified, and anyway this particular comic sees other characters in that locale, but maybe it's an okay place to start? I know it's the first of several side-stories that will go on past the finite nature of the main series, which is gearing up for its final storyline soon; $3.99.
Gon Vol. 7 (of 7): A manga pick, completing the most recent (now Kodansha-facilitated) restoration of Masashi Tanaka's much-loved wordless dinosaur series to print. It is now a television cartoon; $10.99.
A History of Underground Comics: Your book-on-comics for the week, a Mark James Estren project that's been around in some form or another since 1974, the year prior to the launch of Arcade; it's an illustrated analysis, covering themes, context, etc. The publisher is either Ronin Publishing or Open Court Publishing -- accounts vary -- and the release is marked as a 20th anniversary edition, apparently in reference to its last printing. Samples; $29.95.
Persona 4 Official Design Works: Finally, your obviously-not-a-comic of this small twilight-of-Summer week - I dunno. I don't play a lot of video games, nor do I even own a video game console, but my Twitter feed is frequently filled with chat about the Shin Megami Tensei: Persona series of role-playing and spin-off games, themselves spun off from an earlier series of console games dating back to the mid-1980s, itself derived from a novel. I'm told that gaming illustration and visual design is where a lot of the more reliable money stands in Japanese anime/manga-inflected aesthetics today, so, in the interests of cross-discipline study, here's a 192-page UDON Entertainment translation of a collection of production materials related to one of the newer installments, with contributions by rock star art director/character designer Shigenori Soejima (who has a book all his own from the same publisher); $39.99.
--
CONFLICT OF INTEREST RESERVOIR: Appropriately enough for today, I'm hearing that Gary Panter's loooooong-awaited Dal Tokyo might appear in some stores. It's not on Diamond's list for release, but Midtown in NYC is presumably gonna have it. Dal Tokyo; $35.00.