On February 18, 2012, the Journal's own Gary Groth delivered an outdoor presentation at the second annual Indian Comic Con in New Delhi. This was striking to me, as it seemed very much part of a small but steady stream of interactions between American and European writing/talking-on-comics outlets and interesting comics releases in India, an exchange I first noticed through Paul Gravett, and then through several pieces of writing on this site by Prajna Desai. I would now like to bring you my own meaty contribution to the understanding of mature, expressive comics from this vast blend of cultures.
Yes, I would like to.
But instead, I will *actually* be writing about a world of consummate bullshit, as has been my lot ever since the fateful night when I was cursed, having turned that cartoon Halloween witch away from my door into the snow. I beg you again, publicly, Hazel - my bed only has enough room for one person, you've seen it. I am not a tease.
Behold: Yomics. All joking aside, I do find it fascinating to track how a nation with a not inconsiderable (though not especially exportable) comics tradition applies itself as adjunct to much bigger and more internationally recognized entertainment outlets. Specifically, the 'Y' in Yomics refers to Yash Raj Films, one of the premiere Bollywood movie studios - or, at least the one most consistently focused on international appeal, both in continuing the sale of exotic settings to a domestic Indian audience and providing a certain cultural (perhaps nostalgic) sensation to NRI overseas. Fittingly, the two extant Yomics releases are in English, and digitally accessible to any asshole with an internet column to fill for a very reasonable $5.96 US total.
Unsurprisingly, all of the Yomics releases thus far are movie tie-ins, and the most high-profile of them connects directly with the studio's biggest imminent release. Ek Tha Tiger: Saving the High Seas is a 46-page work, "a story spoken about on in hushed whispers, in the darkened corridors of power," the introductory text briskly declares. Unlike the U.S., where you can hardly make it through a financial quarter without someone, somewhere putting out as essay on how movie stars no longer matter, all attention is placed squarely on the picture's leading man, longstanding hunk Salman Khan, a canny re-packager of action-heavy Telugu-language masala from southern India for Hindi-language Bollywood consumption, an effort that culminated in the 2010 blockbuster Dabaang, an original film done in the 'South' style. The new movie is his first work with Yash Raj, and unusually cosmopolitan for a man who's made good money aiming squarely at discreet Hindi appeal.
Interestingly, the Ek Tha Tiger comic -- a side-story to the film, not an adaptation -- deletes everything except the action from the typical action/comedy/romance/song&dance formula, perhaps revealing a certain attitude toward what comics 'can' do, or maybe what they should do with an international mindset; or even just what a 'new'-style Salman Khan movie might be like. The plot sees international troubleshooter Tiger take on Somali pirates (or so it appears), much like the opening to The Expendables, which fits Khan's MO to a T; a recent New York Times article connected Khan's much-emphasized six-pack to the Hollywood image of Sylvester Stallone, and while this encourages a rather simplistic reading of the man's career -- he was, after all, initially one of those present for the revitalization of the family appeal blockbuster via Sooraj R. Barjatya's 1989 Maine Pyar Kiya, a name-making megahit as far away from the contemporaneous Rambo III as imaginable -- it probably does match up fairly well with Khan's immediate persona as a man of adventure, and the Yash Raj interest in selling the Bourne-ish cosmopolitan action aspect of the film as hard as possible, so as to plaster over any potential discomfort with even this teeny tiny departure from the star's favored brand of cinema.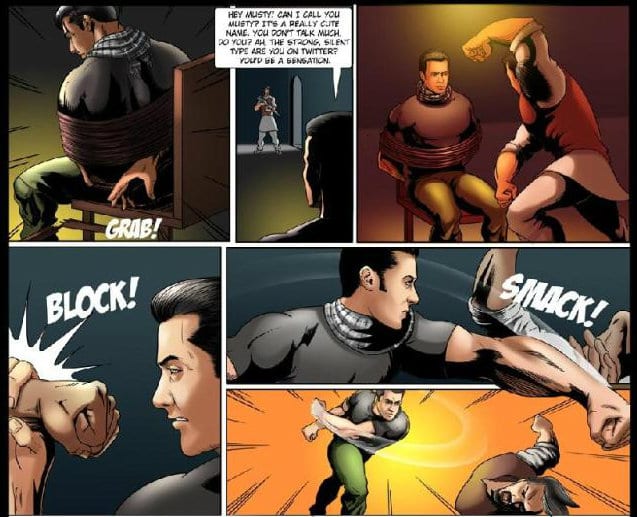 The comic, alas, is unlikely to convince international audiences of anything, as the aesthetics are almost totally amateurish. Artists Utsav Podder & Obaid Ansari provide dull, minimal detail to stiffly-rendered figures pasted onto repetitive jump 'n gun set pieces, broken up by talking heads. It's telling when the biggest moment of visual excitement comes when a whole panel is filled with a b&w sound effect. Writers Tarun Tripathi & Vinit Bharucha -- neither involved with the film's story, screenplay or dialogue, the traditional tripartite division of labor in Bollywood screenwriting -- in lieu of Khan's avatar presenting any discernible personality, instead pepper their script with seemingly dozens of references of coffee - jokes, codes, an entire slapstick routine, and a climactic reference to how "hot" a pretty girl with a steaming mug looks. Maybe they're suggesting the film is caffinated as hell? Or were they falling asleep?
More interesting to me is the second Yomics release, Dhoom Redux 893, which runs to an entirely baffling 94 pages. Or, maybe it's all too understandable, as this project rejects the hands-off nature of Ek Tha Tiger by showcasing the comics writing prowess of one Uday Chopra, comedy relief co-star of the Yash Raj Dhoom series of lighthearted booming action movies -- kind of a Jerry Bruckheimer take on the Hercules: The Legenday Journeys and Xena: Warrior Princess sprightly camp style -- and also producer Aditya Chopra's brother. And studio founder Yash Chopra's son. And, truth be told, Editor in Chief of the Yomics line, as well as a key player in the nascent Yash Raj Films USA effort at actual international co-production. He's the fellow in the bandanna in the lower left corner.
Chopra had previously attempted to take a more direct role in filmmaking, via his 2010 writer/producer/star nerd-gets-the-girl passion project Pyaar Impossible!, which sank under an ocean of syrupy sentiment. The Dhoom comic, thus, sees him hearkening back to the past, and also giving himself a slightly more impressive action role than before. Despite this, the comic's plot -- which sees Mumbai threatened by the menace of Yakuza splinter gangs -- belies a certain awareness of the appeal of manga, though artists Marcus V.A. Corraya and a returning Obaid Ansari are generally inept at conveying anything but dead-center representation, including a noticeable whiffing of point of impact action beats, which I can only attribute to sheer inexperience.
So, these are not especially good comics -- nothing like the often interesting-looking, non-cross-platform works coming out of India at the moment -- though they do say a bit about the desires at work in the Hindi pop film industry. Chopra has already spoken of his next comics-writing project, a loose adaptation of the next huge Yash Raj release, a still-untitled November romance directed by his father. I'd actually like to see this line veer off into straight-up romance comics; not only does it seem more potentially suitable to the kineticism-disinclined Yomics artists, but it would at least theoretically fill a gap in the international comics scene for those not wanting to stick through a multi-volume manga saga.
Or, barring that, Chopra could just stick to comedy. There's a backup story in Dhoom, drawn by one Vijay Parulekar, in which the writer presents an idealized kid version of himself who confronts the dread specter of schoolyard bullying -- forcing weaker students to take off their clothes, bit of cultural difference there -- by proudly undressing for class and encouraging all the other kids to do the same in homage to the mean older students, resulting in a punishment worthy of Mega City One:
First honest laugh of the experience, and that's something I value.
***
PLEASE NOTE: What follows is not a series of capsule reviews but an annotated selection of items listed by Diamond Comic Distributors for release to comic book retailers in North America on the particular Wednesday, or, in the event of a holiday or occurrence necessitating the close of UPS in a manner that would impact deliveries, Thursday, identified in the column title above. Not every listed item will necessarily arrive at every comic book retailer, in that some items may be delayed and ordered quantities will vary. I have in all likelihood not read any of the comics listed below, in that they are not yet released as of the writing of this column, nor will I necessarily read or purchase every item identified; THIS WEEK IN COMICS! reflects only what I find to be potentially interesting.
***
SPOTLIGHT PICKS!
Black Kiss 2 #1 (of 6): Hm, in honor of the aforementioned, I think I'll make devote this week's entire spotlight to traditional genre comics - or, at least what seems 'traditional' today, as the 1988-89 Howard Chaykin original proved to be quite a topic of controversy back when its fairly mild doses of sex & violence were still unique to an artist working through essentially mainstream forums. I think the preview images of this new Image sequel alone are more explicit than anything in the old series, seeing Chaykin work his way into tentacle porn(!), albeit of a b&w period piece sort. Yet, stripping away the characteristic 21st century Chaykin colors leaves a more classical look than usual for the artist... Preview; $2.99.
RASL #15: Concluding Jeff Smith's present self-published series, a somewhat unlikely blend of elements for the Bone creator, indicative of what even the current trend for creator-owned genre stuff by mainstream appeal cartoonists tends to lack: a resounding sense of place, here a sun-beat desert setting conductive to characters wearing tank-tops and discussing native lore. It's a bit of a regional drive-in movie in tone, yet also quite current in Smith's usage of spread-out action scenes that suggests an almost seinen manga-like feel to the proceedings. Definitely one of the few series I can think of at the moment that works just as well in the crazy oversized collections as smaller, thicker digests. Anyway, it's the end, he look pissed, multiple dimensions are on the line, etc; $4.99.
--
PLUS!
Monster Dinosaur: Ah, Lewis Trondheim - always a pleasure, his back catalog seemingly inexhaustible. This is a 32-page NBM/Papercutz 8" x 10" softcover presentation of material from (I believe) 2004, the publisher's third English release (following Monster Christmas and Monster Mess) from a four-album series of whimsical chaos for all ages involving kids whose beastly drawings spring to life. Samples; $9.99.
Savage Vol. 2: The Guv'nor: This is probably 2000 AD godfather Pat Mills' best current series, a revival of one of the magazine's delightfully bugfuck '70s launch serials -- a breathless Gerry Finley-Day-written saga of British armed resistance against a Russ... er, Volgan invasion -- as a WWII-look sci-fi noir, with nicely gritty, shadowed b&w art by Patrick Goddard (having taken over for Charlie Adlard, now of The Walking Dead). This 224-page Rebellion softcover collects the fourth through sixth storylines, though note that a seventh has already been serialized in 2000 AD itself. Note that the publisher also has a collection of a separate ongoing early days revival project this week, Strontium Dog: The Life and Death of Johnny Alpha by John Wagner & Carlos Ezquerra, plus a collection for the Gordon Rennie/Tiernen Trevallion occult cop series Absalom; $24.99.
Judge Dredd: Inferno: You know a movie's coming soon when you're seeing Judge Dredd at your local Barnes and Noble, and this Simon & Schuster release of material by big name superhero writers is keyed to show up everywhere. It's the same (rather poorly-regarded) Grant Morrison/Carlos Ezquerra storyline from Rebellion's recent Complete Case Files 19, but isolated from its surroundings and paired with a lead-in Mark Millar-written side-story notable for just throwing as much violence, torture, sadism and general degradation at the reader as was likely possible in 2000 AD circa 1993 while still keeping it 'fun' - sort of an unrefined anticipation of the later Millar superhero style. Plus: bonus shorts to fill out 144 pages. Douglas Wolk review; $19.99.
Gødland #36: The penultimate issue of this Joe Casey/Tom Scioli cosmic glowy thing, in which "[t]he universe performs the ultimate act of self-love," per the solicitation. Ironically, the amount of time it's taken this series (est. 2005) to complete itself has formed a sort of bridge from one major period of superhero-ish folks pursuing creator-owned work to the next, with Image as the constant forum. Or maybe I'm just sentimental, recalling internet hellraiser Dan Nadel reviewing the early issues in the print edition of Comics Comics. I turned 31 today. Preview; $3.99.
Beasts of Burden: Neighborhood Watch: Small Dark Horse Presents collections continue to roll out, this one a 32-page color comic book sporting three short stories by Evan Dorkin & Jill Thompson in which local pets get involved once again in occult matters. Samples; $3.50.
The First X-Men #1 (of 5): I know there's a few admirers of Neal Adams' consummate head-scratcher Batman: Odyssey out there, and they will surely want to know that the show has now rolled down the road to Marvel, albeit with the inclusion of genre specialist Christos Gage as a co-writer, perhaps to maintain focus in a far smaller allotted space. The subject is Wolverine, as it must be. Preview; $3.99.
Hawkeye #1: Though if you like your revivals a bit more (or is it less?) discreet in time, you might be interested in this new series from writer Matt Fraction and artist David Aja, the latter a welcome and not especially prolific stylist on superhero interiors, presently working a sort of David Mazzucchelli look separate from his name-making stuff on The Immortal Iron Fist half a decade ago with Fraction and Ed Brubaker. Preview; $2.99.
iZombie #28: But not everything's a beginning, folks, and Jeff Smith ain't the only '90s indie genre superstar seeing a conclusion this week. This is the final issue of the present Vertigo project drawn by Mike Allred, a supernatural drama serial written by Chris Roberson. Allred's next move is a special appearance over at Marvel's Mark Waid-written Daredevil in two weeks; $2.99.
Hitman Vol. 7: Closing Time: And so, unbeknownst to almost everyone, the 1996-2001 Garth Ennis/John McCrea 'violent dude in a superhero world' series -- a mainstream-y contemporary of Ennis' Preacher -- was finally collected in full as softcover books. I believe the first edition of vol. 1 dropped in 1997. As a special better-late-than-never bonus, this book will also collect various latecoming special projects, including a Doug Mahnke-drawn Lobo team-up from 2000 and the '07 JLA/Hitman mini-revival; $29.99.
Dead Ahead: While I'm fairly certain it's just a matter of convenience that this 2008-10 Image zombies-on-the-high-seas project is seeing a collected release from... Gumby Comics (writer Mel Smith is involved with the Gumby license), it can't help but bring a special smile to the face of anyone who remembers that one episode where Gumby and Pokey tear the shit out of those rampaging robots. Uh, I'm mentioning this here because Alex Niño is the artist, and I'm pretty sure Steve Oliff colors the third chapter; $19.95.
Blade of the Immortal Vol. 25: Snowfall at Dawn: Woah, manga pick of the week for sure, as Hiroaki Samura once again draws the swordsmen clashing. Maybe it's not in Dark Horse's financial interest -- or anything the licensor is interested in doing -- but I can't think of another ongoing manga series in this market that might benefit more from a set of big three-in-one omnibus books, a la Vagabond. It'd only be another evolution for a series that's been running in translated form since 1996, with 131 comic book-format back issues scattered to the four winds. Preview; $19.99.
Comic Books and the Cold War, 1946-1962: Finally, your book-on-comics for the week, a 231-page McFarland edition of essays edited by Chris York & Rafiel York, promising "[c]lose analysis of individual titles, including EC comics, Superman, romance comics, and other, more obscure works," to the effect of demonstrating "that postwar popular culture was far from monolithic in its representation of American values and beliefs"; $40.00.
--
CONFLICT OF INTEREST RESERVOIR: Editor Justin Hall curates 328 pages of hugely diverse stories, strips and excerpts in No Straight Lines: Four Decades of Queer Comics, an omnibus spanning nearly half a century's comics development; $35.00.