Well, I've made it through another Comic-Con without watching any exclusive movie trailers (or, for that matter, attending Comic-Con), and as a result I feel a bit divorced from the cinema landscape. The last preview I saw was for 50 Shades of Grey, which did an efficient job of approximating a 1990s Gregory Dark feel for a series of books which have sold eleven kajillion copies in spite of my never having met a single person, online or off, who will admit to liking them. Truly, cinematic BDSM has declined from the high standards of Phil Prince (don't click that, it's gross).
Even here, I retreat to comics. Eric Stanton, I trust, is familiar to many of you; he is among the most famous purveyors of bondage comics from the latter half of the 20th century, and a famous compatriot of the great Steve Ditko, with whom he shared a studio on 8th & 43rd, NYC, for much of the 1960s. Ditko has a reputation as a law-and-order kind of guy, so it's enlightening to realize that he was carrying a good deal of pornography in his studio during a time when the legality of such work was frequently questioned - and why not? It's work created for free exchange between persons. In Taschen's massive 1997 collection, The Art of Eric Stanton: For the Man Who Knows His Place, Stanton even describes a late-'60s police raid on the studio, for which he was not present; no word on Ditko's attendance!
It is important, however, not to mistake Stanton for somebody like William Moulton Marston, the creator of Wonder Woman and himself a keen disciple of discipline. Marston believed that to be bound was to become an actor in the betterment of human society; Stanton, in contrast, was more interior, often creating his art in collaboration with with own fans as a means of inhabiting their fantasies and making them real, in a way. "If it's interesting," Stanton told Eric Kroll, in the Taschen book, "even dealing with homosexuality or transvestism, if its [sic] well written, I can't help but enjoy it." Indeed, Stanton created some male homosexual work, as well as the sort of risible, rape-tinged female submission work that's remained popular enough with a certain breed of superhero fan to inspire prominent parodies today, like the Adam Warren series Empowered.
There was no apparent political concern with Stanton - only sensation. Elsewhere in the book a series of work product documents are reproduced, tracking a lengthy, detailed collaboration with a commissioning party, always making numerous suggestions about story direction, writing directly on Stanton's roughs, all willingly - "my god," I thought, "he's being dommed by his writer! He's a true believer!"
There is another, even better Stanton book from Taschen - 1998's Eric Stanton: The Dominant Wives & Other Stories, a 768-page(!) compendium of color and b&w comics, many of them in the mode that "Eric Stanton" has since become indivisible from: powerful women humiliating men. A personal favorite can be glimpsed above: "Anita's Fight", in which a proud, impoverished Puerto Rican woman (actually named Juanita) attempts to shoulder insults with dignity. The text of the story is crass, peppered with slurs and threats, and dim in its portrait of human nature. Nonetheless, it's written with some thought - the dog, for instance, is a key motif, introduced by way of a racist local boy's yappy little pet taking a shit on the sidewalk outside of Juanita's building (an event rendered as explicitly as everything else). The mongrel even bites our heroine's foot, prompting her to mash the pet around in its own shit to the dismay of the loathsome boy, who immediately runs off to fetch his dad.
This is something of a hybrid work, blending male and female domination. At first, the boy's bully father takes advantage of Juanita, assaulting her in front of an appreciative crowd of local scum. For Stanton, we must remember, psychological humiliation is as crucial as physical pain - nobody attempts to help Juanita, because we all, in the end, are just meat for the pleasure of others. And naturally, her beloved mother sees everything, helpless and horrified - the men delight in exposing Juanita sexually to his own parent!
But this is a feint, a necessary prelude to Stanton's true mission. Foreplay. Before long, an enraged Juanita begins to fight back. She socks the man in the eye, pummels him in the belly. "Through the haze, he sees his son watching the contest in wide-eyed distress..." muses a caption. Miraculously, Juanita's hair transforms from black to a fiery red as she becomes more and more dominant. Always, her large breasts are prominent through a sheer blouse. The bully father is not similarly sexualized, and this too is important.
In her introduction to the '98 book, Dian Hanson writes about working at a sex magazine in the mid-'70s, and coming across Stanton's work for the first time. Initially, she took great pleasure in work she'd assumed was feminist in nature, but while the pleasure remained, she soon understood that this was not Stanton's objective - "sexual politics were the only kind that held his interest." And by 'sexual politics,' I take it to mean interpersonal dynamics. Look closely at the image above. Look at the son, screaming in agony. "FIGHT HER!" he cries, not his only dismayed exclamation in the story. If his father had dominated a woman before, it was merely to establish the status quo - a recognizable one, still in place today. The deviation, then -- the woman's dominance -- is the usurping of this criterion, and how traumatic it is! This kid sees his dad as not even a man, but a dog. The basis of his masculine pride, the way he lived his life - it's all an illusion. His parent can't be a role model anymore. He is alone and untethered in a chaotic world that cares for nobody - the crowd cheers Juanita as hard as they did her assailant.
But do not mistake this for revolution. Stanton is not saying that women should be dominant, that patriarchal standards should be torn down. On the contrary, patriarchal standards must absolutely remain in place, because the failure of men to live up to them is so fucking hot. Remember, these are fantasies of men! Of communion with beautiful, busty women! Of receding from society's demands of achievement, of FAILING, and deriving pleasure from failure. And everything else, all of burdensome biases of male domination, can remain unmoved.
This is the peril of freighting sexual entertainment with revolutionary expectations. You cannot tame the bear. You cannot always direct desire in a socially fruitful direction, because eros is fueled, often, by transgression, and what is transgression is what is personal, and one person's image of power can be another's delight in aberration. Even polemics can be perverted - quite easily, though Stanton only wielded polemic as a means of better vivifying the sex dreams of his clientele. You can, of course, control your own space. To look across the studio is to see Ditko, whispering that you can conduct your own affairs in a way that is ethical. You can enter into exchanges with anyone you want, and allow them their liberty. You can observe, as did Eric Stanton, rationally inhabiting the erotic space of his admirers, and calculating their best avenue to climax.
***
PLEASE NOTE: What follows is not a series of capsule reviews but an annotated selection of items listed by Diamond Comic Distributors for release to comic book retailers in North America on the particular Wednesday identified in the column title above. Be aware that some of these comics may be published by Fantagraphics Books, the entity which also administers the posting of this column. Not every listed item will necessarily arrive at every comic book retailer, in that some items may be delayed and ordered quantities will vary. I have in all likelihood not read any of the comics listed below, in that they are not yet released as of the writing of this column, nor will I necessarily read or purchase every item identified; THIS WEEK IN COMICS! reflects only what I find to be potentially interesting.
***
SPOTLIGHT PICKS!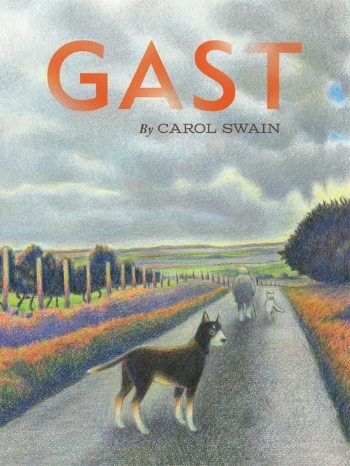 Gast: I haven't read this book, not yet, but I'm gonna go pretty hard for it right now anyway, because Carol Swain is among the most accomplished cartoonists of the past quarter century-plus to remain something of a connoisseur's favorite without ever entirely becoming visible in the manner of some of her peers. Not placing a valuation of popularity here, just noting that some artists deserve a clear signal that new work is ready - and here it is! A 176-page b&w original from Fantagraphics, concerning a naturalist who becomes a detective of sorts, investigating the suicide of a rare bird. "[A] philosophically mature vision, uniquely executed by an artist wholly in control of her craft," sez the publisher. Give it a shot, then have a look at Crossing the Empty Quarter to fill in some blanks! Preview; $22.99.
How to be Happy: OH NO, two Fantagraphics books in the spotlight?? Is that even allowed?! Forgive me, reader - and trust that I genuinely could not find a more deserving pair. This is the first compilation of short comics by Eleanor Davis, a prodigiously talented young artist adept with curling, pliable human figures and a striking sense of color saturation. I've always found it a big difficult to pin down Davis' fascinations as a writer -- myth, faith, society, are the words I see -- but pondering such things is surely among the benefits of having a 152-page hardcover, culling pieces from MOME, Nobrow and other forums. Preview; $24.99.
--
PLUS!
Naja: An auspicious week for Eurocomics, as Magnetic Press releases the first in a whole line of books sporting art by Bengal, a very rich, slick, anime/manga-informed talent who's picked up a lot of admirers online over the past decade, though very little of his comics output has been translated to English. This one's a 2008-11 series scripted by JD Morvan (previously a writer on Spirou et Fantasio, among a zillion other projects) concerning a painless assassin dealing with betrayal in what looks to be a lavish manner. The whole thing is collected in this 248-page, 8.5" x 11" hardcover - if you're among the devils menacing comics with your Heavy Metal sympathies, HERE IS WHERE YOU SHINE. Samples; $29.99.
Newt: And hey - it's Nicolas Mahler! One of Austria's finest, you might remember this artist from assorted Top Shelf and Fantagraphics releases; here he serves as writer for a Soaring Penguin Press release, an 80-page b&w tale drawn by Heinz Wolf, concerning a man unwillingly attached to a bizarre criminal investigation. I'd flip through it, sure; $7.99.
Monster: The Perfect Edition Vol. 1 (of 9): This has been out in bookstores for a few weeks already -- and I've seen it in at least one comic shop too -- but here we get Diamond's official distribution of Viz's new publication for creator Naoki Urasawa's 1994-2001 career-changing suspense comics megahit, the saga of a doctor who sacrifices his prestige to save the life of a young boy, his idealism ill-rewarded across many, many complications. Supposedly Guillermo del Toro was working on an HBO pilot based on this series, but I don't know if anything came of that - regardless, these 400+ page tomes will serve to get the original back in print, with all color bits and whatnot preserved; $19.99.
Judge Dredd - Day of Chaos: Fallout (&) Judge Anderson: The Psi Files Vol. 4 (&) Rogue Trooper: Tales of Nu-Earth Vol. 4: Or, I dunno, you can drop close to a hundo on imported 2000 AD reprints, all of them bricks of short stories centered around major characters. The Judge Dredd book is 240-page collection of miscellaneous shorts from the period just after co-creator John Wagner wrapped up his enormous Day of Chaos storyline, seeing the title character deal with a drastically reduced force in a widely-ruined city. Writers include Wagner, Alan Grant, Rob Williams and Michael Carroll, with many artists involved. Grant (w' recurring co-writer Tony Luke) heads up the Judge Anderson book, a 304-page assortment of mostly late '90s-to-mid '00s work, with some art by Arthur Ranson, and a bonus early '90s story written by Mark Millar. The 288-page Rogue Trooper collection, meanwhile, presents the entirety of the classic 1989 John Smith/Steve Dillon/Kev Walker storyline "Cinnabar", which temporarily transformed the strip into a horror comic, as well as basically every other story set in the feature's original continuity that hasn't already been snapped up by another book; $29.99 (Dredd), $35.99 (Anderson), $32.99 (Rogue).
Doom Patrol Omnibus: Speaking of writing from across the Atlantic, in the event you haven't read writer Grant Morrison's 1989-93 run on Doom Patrol, one of the key runs of the Suggested for Mature Readers superhero era, here's 1,200 pages to occupy your days; $150.00.
Sandman Overture #3 (of 6): And the scene lives on, as Neil Gaiman & J.H. Williams III successfully complete another chapter of this slow-going prelude. I bet Dan will like this. In fact, I bet Dan will enjoy everything I've done with the column while he was on vacation; $3.99.
Fatale #24: In which creators Ed Brubaker & Sean Phillips put a bow on their current series, a hybrid femme fatale/tendril horror project with a temporal sweep. See? Image doesn't just launch new series, it ends 'em too! Expect more pages of story than usual, and probably a few words on the next Brubaker/Phillips joint, a '40s Hollywood-set serial titled The Fade Out, due to begin next month; $4.99.
Prophet #45: In contrast, this is *not* the final issue of this Brandon Graham-fronted Extreme Studios revival project -- among the more adventurous superhero revamps of the past ten years -- but it will conclude the series' main numbering, with the storyline to actually wrap itself up in a miniseries, Prophet: Earth War, coming later this year. Series regulars Giannis Milonogiannis & Simon Roy should be on hand; $3.99.
The EC Archives: Two-Fisted Tales Vol. 3: Continuing Dark Horse's... continuation of this all-color chronological Entertaining Comics reprint project, honed for the moment on Harvey Kurtzman's progressive combat stories. Contains issues #30-35, 216 pages. Samples; $49.99.
Gasoline Alley - The Complete Sundays Vol. 2: 1923–1925: And here's Dark Horse again with another 128 pages of vintage Frank King, presented at 12" x 16" for MAXIMUM POIGNANCY. Samples; $75.00.
Words for Pictures: The Art & Business of Writing Comics and Graphic Novels: Finally, your book-on-comics of the week, and an especially could-be-interesting one at that - a 224-page guide to comics scripting by Brian Michael Bendis, the most enduringly prolific Marvel superhero writer of the past 15 years, and an influential writer/artist of crime comics prior to that. I suspect much of this stuff will apply to a rather specific (if high-profile) strain of collaborative comics, but Bendis' positioning as a corporate superstar who's also drawn a fair amount of small press work will hopefully offer a unique point of view. From Random House; $24.99.