Reading Kim Thompson's fine Claire Bretécher review last week -- really a review of the translation quality per an English edition released by National Lampoon -- I was reminded of the element of trust that enters into any relationship between a domestic, monoglot reader and the localizing agent of foreign works. The best translators tend to become invisible, so that the reader can ideally believe that they are engaged in a one-on-one experience with the original author(s); impossible, yes, but this is the glamor of fiction.
Lately I've been reading one of the more obscure Eurocomics magazines to have existed in the 1980s: Continuity Graphic's Echo of Futurepast, which ran for nine comic book-sized issues from '84 to '86. Continuity, of course, was run by Neal Adams, who ran a Frankenstein serial of his own in the series, along with Larry Hama's & Michael Golden's Bucky O'Hare, which is basically the sole surviving legacy of the endeavor on account of having gotten on television for a while.
Nonetheless, there were other features.
Here is Virus, a 1980 work by Jean Teulé, a fairly well-known author in France who's not had many of his photographic comics released in the U.S. Truthfully, I'm not sure how far to trust Continuity's translations - Rodrigo Baeza tweeted at me a while back that Carlos Giménez, whose Hom also ran in the magazine, "wasn't happy about all the extra text" that Continuity added to his story.
Colors too were added. This is what the page above originally looked like, before Cory Adams applied some pulsing, garish hues, not entirely out of line with the unreal photo-manipulation inherent to Teulé's visual approach, but still pretty imposing.
Or here - how about Polly Law's work on future The Metabarons artist Juan Giménez's drawings for Ciudad (written by the late Ricardo Barreiro), re-titled The Damned City:
For reference, this is what some of the original pages looked like; not only is the work colored, but the pages seem to have picked up a full-color backdrop, which ranges from crayon scribbles to city noise across the various published chapters. In this way, Giménez's work becomes especially crowded and paranoid, claustrophobic in a manner which, again, arguably serves the urban combat theme of the story, but seems to depart so far from the original visuals that I get the sensation I'm reading a considerably different, hybrid work.
And that's before we get into the off-register experiments.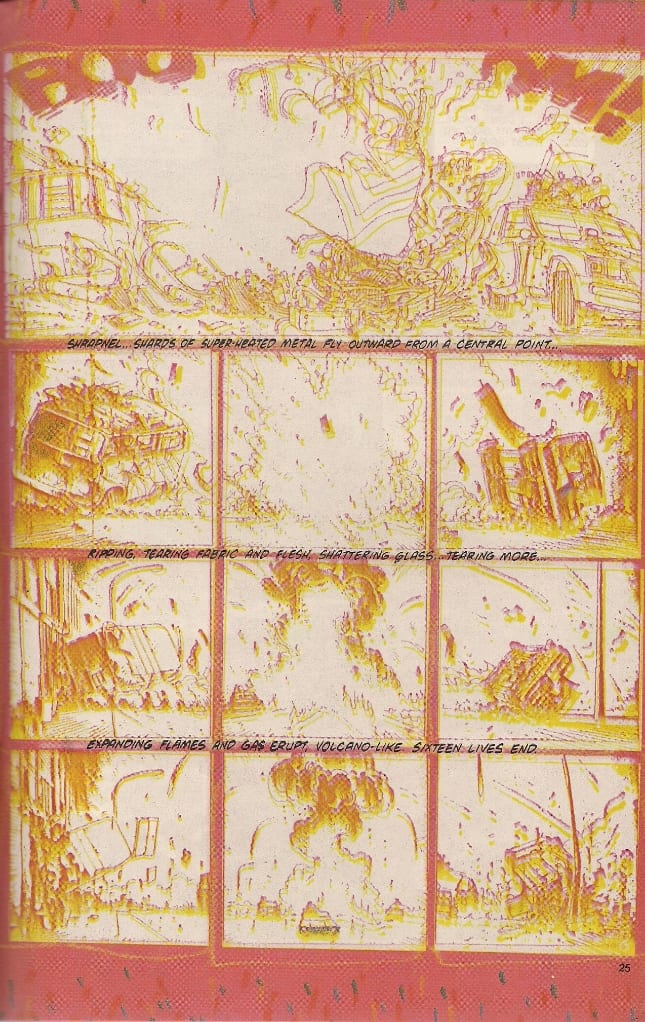 Like broken 3-D. Echo of Futurepast never got to finish its efforts; its cancellation sheared away much of The Damned City, which has otherwise not been presented in English. Curiously, the ninth and final issue sported a letters column, in which one "Monte Summers Beauchamp," who criticized the practice of serializing so many albums in short bursts. "A magazine like ECHO is an endangered species," the response said, soliciting further responses but remaining, perhaps, aware that the continuities therein had indeed reached a point of termination.
If this is the same Monte Beauchamp of the later Blab! -- which certainly hewed to a self-contained scheme -- we might agree that the future was indeed approaching, and that it was one where color and the cramming of things into the comic book format would no longer be so necessary for the presentation of international comics art.
***
PLEASE NOTE: What follows is not a series of capsule reviews but an annotated selection of items listed by Diamond Comic Distributors for release to comic book retailers in North America on the particular Wednesday, or, in the event of a holiday or occurrence necessitating the close of UPS in a manner that would impact deliveries, Thursday, identified in the column title above. Not every listed item will necessarily arrive at every comic book retailer, in that some items may be delayed and ordered quantities will vary. I have in all likelihood not read any of the comics listed below, in that they are not yet released as of the writing of this column, nor will I necessarily read or purchase every item identified; THIS WEEK IN COMICS! reflects only what I find to be potentially interesting.
***
SPOTLIGHT PICKS!
The Invincible Haggard West #101: The Death of Haggard West: No, of course there aren't 100 preceding issues of a Paul Pope series - this is actually an appetite-whetting 32-page comic book one-off from First Second, leading into Pope's two-volume Battling Boy project (actually, I *think* most of the content is from Battling Boy itself, albeit formatted as a standalone comic). Witness the demise of a beloved vigilante, leaving a vacuum to be filled by the next generation of monster-smashing heroism! Your superhero bet for the week, from an artist more than willing to draw from anywhere. Preview; $2.99.
Genius: Lots of long-awaited material popping up from First Second this week; this one's a 128-page project from Vertigo mainstays Steven T. Seagle & Teddy Kristiansen (House of Secrets, It's a Bird...), last seen collaborating on The Red Diary/The Re[a]d Diary, an oddball Image-published experiment in publishing one of the Danish-born Kristiansen European-release solo graphic albums with both a 'real' translation and a version in which Seagle simply guesses what the words mean from the pictures. This one's more straightforward, being an account of a quantum physicist pursuing a lost secret of Albert Einstein. In the works since 2006, at least -- I first read about it in the back of Kristiansen's issue of DC's Solo (#8) -- and finally ready for public exhibition. Preview; $17.99.
--
PLUS!
Workburger: Being a new special edition of the much-loved international comics zine Stripburger, this 224-page anthology promises laborious funnies by Daniel Žeželj, Max Andersson, Matti Hagelberg, Peter Kuper and many others. Distributed to the heartland by Top Shelf. Lots of samples; $20.00.
Templar: Yet more from First Second, this time banging out the entirety of an intended trilogy of fantasy comics in hardcover omnibus form, following the release of 2010's introductory Solomon's Thieves. The writer is Jordan Mechner, a well-known video game designer (Prince of Persia is his calling card), and the artists are LeUyen Pham & Alex Puvilland (with colorist Hilary Sycamore). Expect derring-do by Templar knights across 480 pages. Preview; $39.99.
Animals with Sharpies: It feels like it's been a while since Drawn and Quarterly put out one of their brief showcases for contemporary Canadian art, so here's a 9" x 7" collection of "paintings with hand-lettered texts" by Michael Dumontier & Neil Farber, founding members of the Royal Art Lodge (and subjects of a prior D&Q release, 2011's Constructive Abandonment). It's 64 pages. Samples; $16.95.
The Best of EC - Artist's Edition Vol. 1: Why yes, it's another installment of IDW's 15" x 22" original art showcase series, this time a 168-page anthology consisting of Entertaining Comics from the early 1950s, including (per the solicitation) works by Harvey Kurtzman (Corpse on the Imjin!), Bernie Krigstein (The Flying Machine), Al Williamson & Frank Frazetta (50 Girls 50) and Joe Orlando (Judgment Day!), with additional contributions by Alex Toth, Johnny Craig and Roy Krenkel. Run your hands over these pages, and pretend you're really feeling all that pasted-down text everybody had to draw around; $149.99 (or thereabouts).
Harlan Ellison's 7 Against Chaos: Another decade-or-so-in-the-making release, in which the titular writer provides an original comics script for artist Paul Chadwick and colorist Ken Steacy (whom I recall collaborating with Ellison at least as far back as Comico's Night and the Enemy in '87). It's an intergalactic mystery, assembling seven folks over the course of 208 pages to confront a certain threat to the fabric of reality. The writer promises "a swashbuckler" for this DC-published hardcover; $24.99.
Wolfsmund Vol. 1: This is the newest ongoing manga series from Vertical, an elaborate re-telling of the 14th century legend of Swiss folk hero William Tell from Mitsuhisa Kuji, a former assistant to star artists like Kentaro Miura (Berserk) and Kaoru Mori (Emma). Also known as Ookami no Kuchi, though the publisher is no doubt more interested in Game of Thrones comparisons. Your manga pick of the week, up to vol. 4 in Japan; $12.95.
XIII Vol. 18: The Last Round (&) Valerian Vol. 3: The Land Without Stars: And turning our attentions back to Europe, I'd say these two books make up the best of Cinebooks' imminent slew, the former being the final installment of Jean Van Hamme's & William Vance's original espionage thriller, and the latter serving up early work from Pierre Christin's & Jean-Claude Mézières' influential space fantasy. Note that if anyone was naked in the French-language originals, they probably aren't anymore. Samples here; $11.95 (each).
Judge Dredd Classics #1: You may have been wondering why a lengthy, landmark storyline like The Apocalypse War was left out of IDW's Judge Dredd: The Complete Carlos Ezquerra hardcover a few months ago. Presumably, it's because that particular mega-epic is now slated to form the heart of this comic book-format colorization project from the same publisher, though this debut issue will actually kick off with a preceding storyline, the John Wagner/Alan Grant-written Block Mania, which will continue into issue #2, offering a sample of major Dredd artists of the period (1981) such as Mike McMahon, Ron Smith, Brian Bolland and Steve Dillon. Here's what it looks like; $3.99.
Heavy Metal #263: Okay! Apparently, this is the issue in which the long-lived Eurocomics-on-your-newsstand forum resumes its serialization of Enki Bilal's Animal'Z (last seen in January of 2012), which will run alongside a selection of international shorts; $7.95.
The Superhero Reader: Finally, your book-on-comics for the week (not-from-Fantagraphics division), a 368-page University Press of Mississippi production in which editors Charles Hatfield, Jeet Heer and Kent Worcester (Journal contributors all) serve up 24 samples of writing-on-superheroes from throughout the history of the genre, categorized by Historical Considerations, Theory and Genre, and Cultural Identity; $30.00.
--
CONFLICT OF INTEREST RESERVOIR: Tons of stuff from Fantagraphics this week, foremost among them Eye of the Majestic Creature Vol. 2, collecting three more issues' worth (144 pages) of surreal autobiography by Leslie Stein, one of the most widely-admired young artists you'll find today; $19.99. Then, a prior generation's master returns via The Amazing, Enlightening and Absolutely True Adventures of Katherine Whaley, a 176-page tall tale from the great Kim Deitch, working again in the landscape format (11.25" x 7.5") to lash together early cinema, excellent animals and the Voice of Jesus Christ into a very characteristic 176-page whole; $29.99. AND THEN you've got the new one from Jason, the 160-page Lost Cat, a portrait of a detective musing on a lost kindred spirit, which also constitutes one of the final translation projects of Kim Thompson; $24.99. AND EVEN THEN you're still looking at The Love and Rockets Companion: 30 Years (and Counting), a 368-page 'official guide'-style project from editors Marc Sobel & Kristy Valenti, wedding the expected checklists, character bios and continuity timelines (plus a best-of selection from the letters page) with a suite of long interviews with the Brothers Hernandez, conducted by editor Sobel, publisher Gary Groth and celebrity fan Neil Gaiman; $29.99. A lot of quality down here.
--
Have a great week. Are you going on vacation? I will always be watching. Here is your President Shima Kōsaku panel of the week: