It was the cover, I admit, that drew my attention, there before the two tall bookshelves of bandes dessinées on the upper floor of Albertine. I knew of Blutch, yes - I can at least be counted on to know of that much. I even knew, from a Bart Beaty column posted nearly one decade ago, that this book in particular collected strips the master draftsman had created for Jazzman in France. Specialty work for a specialty audience, nearly half of it wordless, and most of the rest in very scant French. These were compelling factors, but really: that cover.
It is foremost a joke. A woman is laying down, just enjoying some jazz music with her pants off. Magically, she is surrounded by a pantheon of Jazz Greats, perhaps warped into being from her fevered experience with the music. The men, if you look closely, are not making any physical contact with her at all - instead, their fingers and hands are working instruments we cannot see, 'playing' music which we could not hear, even if we were in the room with this woman; she is wearing headphones. This is a private party, just for her.
And because Blutch is not an idiot, he is well aware of what it looks like, standing from a distance, two or three paces from a bookshelf, with these (black) men and this (white) woman. You might be into jazz yourself, but there's no way the artist is going to let you forget the fraught positioning of race in the history of American popular music, nor is he about to downplay the sexuality of performance. This, after all, is a man who once declared the solitary practice of art "an advanced form of onanism"; is collaborative art, then, expert congress?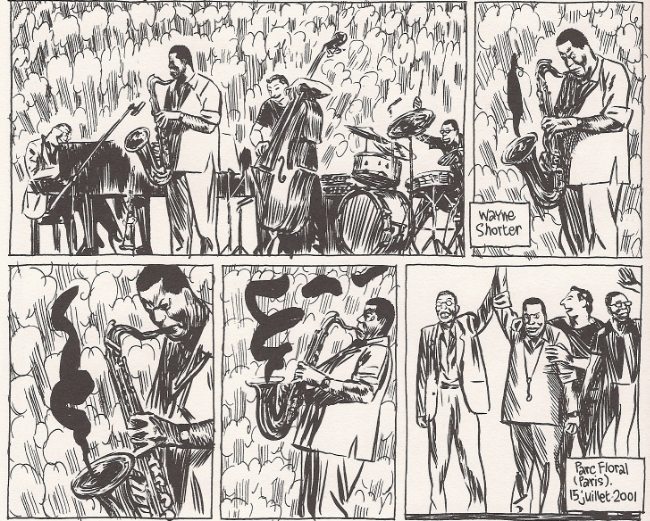 None of what I've just mentioned is what Total Jazz is known for. For that, you can look above, to Blutch's excellent conveyance of sound's sensation in a silent medium. The strip above is reportage - the sound of the band is a rumble behind them, eerily suggestive of what it really does sound like to hear a combo live, their individuality tactically diminished so as to foreground Wayne Shorter's sax, wriggling thickly into the air and hanging. It is virtuosic assurance on the artist's part, 100% certainty that he will be understood, that you will capture some of that sensation, and you will know. I mean, how *don't* you focus your attention on that?
Still:
This too is part of the character of the work - I'd argue more prominently so than Blutch's carefully parceled marshaling of sonic lines. No, the Jazzman strips are often jokes, and this is an old-but-good one: the too-cool yé-yé singer is unmoved by booze, smoke and sex, but throw on some Duke Ellington and he is open-mouthed and post-coitally limp. It's like a Carl Barks gag page, though Blutch takes different strips in different tonal directions. A horn player is seen beating a woman bloody, then rolling out to the club to reduce the audience to tears. A black superstar basks in the public adulation of Paris, only to spy provincial women grimacing at him behind his back. A promoter lazes through a parade of sub-par players, only to perk up at the sound of truly great playing, then scowl and storm away upon discovering the musician is a woman. Lee Morgan is shot dead by his lover, prompting a bassist to kiss his long-suffering wife. A harried woman in a nightgown, cleaning up after her unconscious husband, stares at a shirtless man practicing in a window across the way, and she lays down satisfied.
And:
Still, there is hope, even as the artist points out comical inadequacies, prejudices and failures, over and over. It all goes back to the cover. There is a five-page story toward the end of the book: "viva italia!" It is scripted entirely in very simple Italian, playfully hinting that even Blutch has his shortcomings. The protagonists are a quartet of energetic Italian men, a singing group of some sort, who all sleep in the same room of the same house, possibly in the same bed.
My knowledge of European popular music is too lax to comment on whether this is a lampoon of an actual group, but do note that the ti amos emanating from the radio in panel 4 seem to be part of their own hit song, and indeed comprise the entirety of the lyrics to that song. I love you, I love you, I love you, I love you.
Suddenly, Roberto bursts in with a copy of Jazzman itself, known by the alternate title of Jazz Magazine. Naturally, all of the Italians are huge admirers of jazz! Or, are they merely admirers of the woman on the cover?
As luck would have it, that very same cover artist is passing by just as the Italians have taken the stage with their song. She is immediately engaged by these (fusion?) sounds, and the men are amazed to see her. Only one thing could happen next: a huge orgy. I wrote that like it was a joke, but there actually is, then, a huge orgy.
And so we see Blutch's conclusion, a reversal of his cover image. There is still no actual sex -- nothing for the Italians to do with their engorged pricks -- but now at least the white men are seen suckling, feeding, on the fingers and toes of the black woman. She is Jazz, nourishing the later, paler, parasitic, dependent generation. Yet she is not displeased. It is suggested that this is the best we, assuming membership in a white majority, can hope for: this fleeting lull in the complex messages of reality, in which to meet kindly, if elusively, with the things we've come to love. To stop thinking, briefly, and feel.
***
PLEASE NOTE: What follows is not a series of capsule reviews but an annotated selection of items listed by Diamond Comic Distributors for release to comic book retailers in North America on the particular Wednesday identified in the column title above. Be aware that some of these comics may be published by Fantagraphics Books, the entity which also administers the posting of this column. Not every listed item will necessarily arrive at every comic book retailer, in that some items may be delayed and ordered quantities will vary. I have in all likelihood not read any of the comics listed below, in that they are not yet released as of the writing of this column, nor will I necessarily read or purchase every item identified; THIS WEEK IN COMICS! reflects only what I find to be potentially interesting.
***
SPOTLIGHT PICKS!
Syllabus: Notes from an Accidental Professor: Ha! You thought you were done with school? As the philosopher Jaden Smith remarked, "[t]he school that we go to every single morning, we will continue to go to." You know who else was profiled in the New York Times? Lynda Barry, and it's her classroom efforts that are the meat of this new 200-page Drawn & Quarterly hardcover, promulgating "a method of writing that focuses on the relationship between the hand, the brain, and spontaneous images, both written and visual." Expect many doodles and notations, in the manner set forth via 2008's What It Is, one of the unexpectedly long-reaching works of that decade. Samples; $19.95.
Régis Loisel's Peter Pan: The Omnibus Edition: OH MAN, flashback fucking city. Loisel -- a cartoonist of no small repute who'd been active since the '70s -- began this weird, expansive, adult-oriented Victorian grime-cum-fleshy Disney take on the J.M. Barrie fancy in 1990; Kevin Eastman then placed English editions of its first two albums among the very first conjoined releases of his Tundra Publishing and Heavy Metal magazine upon the latter's purchase by Eastman in '92. Tundra was not long for this world, alas, and no further translations were printed, though readers of the Kitchen Sink Press catalog continued to see those lost boys listed among Ramparts: Unseeing Eyes and The Upturned Stone for years thereafter. But then came 2013, and London's Soaring Penguin Press, which released a UK omnibus edition of the entire six-book saga, which Loisel hadn't actually managed to finish until '04 anyway. Now the North American rights have been negotiated with Glénat, and the 336-page, 9" x 11" hardcover makes its way over. Spoilers abound in this remarkably affectionate description of why it is, nonetheless, the Worst Comic of All Time; $49.95.
--
PLUS!
The Multiversity: Pax Americana: Many prominent stylists remain committed to this large-scale alternate-dimensional superhero project (Co-Publisher of DC Entertainment Jim Lee has just recently been noted among the ranks), but I think this will prove the most-anticipated issue, as it marks writer Grant Morrison's reunion with artist Frank Quitely, perhaps his best-regarded collaborator. Also, it's the Charlton Comics issue, which is to say the Watchmen issue, with an eye purportedly toward demonstrating how the lessons of the critically-minded '80s were folded back into the superhero genre as a rejuvenating force. This itself is has some critical precedent -- Pat Mills & Kevin O'Neill were framing the 'new' anti-superhero perspective as fundamentally complimentary to the superhero machine in Marshal Law less than two years after Watchmen ended -- but Morrison suggests some focus on "post-9/11 Marvel Studios-style 'realistic' super-soldiers and champions of the Military/Industrial complex," as well as gridwork bent toward creating "a mind-devouring narrative Mobius strip out of the complicated, contradictory idea of using violence to enforce 'peace,'" which strikes me as both responsive to the Moore/Gibbons original on the level of both Moore and Gibbons (a rare pursuit), and cognizant of the responsive force theory active in the Steve Ditko classics onto which the architecture was erected in the first place. Details/preview; $4.99.
aama Vol. 2: The Invisible Throng: Continuing this SF project from Frederik Peeters, an "expedition across a hostile world, chasing a rogue professor and her precious cargo." I think the first of these was received pretty well, and SelfMadeHero (distributed in North America via Abrams) looks to be going chapter-for-chapter with the French editions, placing this installment at 88 pages in an 8" x 10.5" hardcover. The fourth and purportedly final volume just arrived in France a few days ago, so there's plenty more to come. Samples; $19.95.
The First Kingdom Vol. 6 (of 6): Destiny: Gotta give it up for Titan - nobody had ever managed to get the entirety of Jack Katz's unwieldy 1974-86 fantasy/SF opus into collected form, but now the deed is done with updated lettering and everything. There's been supplementary material included with these hardcovers in the past, so hopefully these 112 pages will boast some valedictory features; $19.99.
Royal Blood Vol. 1: It had to happen. Titan Comics has been putting out French albums week after week, and now they've gone and hooked up with Alejandro Jodorowsky, who's written many, many comics for many, many publishers. This, for example, is a Glénat project with Chinese manhua artist Dongzi Liu, concerning a deposed king seeking to regain his throne. Judging from the 112 pages solicited, this should collect the first two of three extant French volumes, although from what I understand the series is still ongoing, so maybe a second two-in-one is anticipated for the future. Preview; $16.99.
XIII Mystery Vol. 1: The Mongoose (&) Wisher Vol. 1: Nigel: Two debuts from Cinebook, although XIII is quite well-known to readers who'd coveted a compete translation of the original Jean Van Hamme/William Vance espionage series for years. That work is done, so now it's on to the spinoffs, with writer Xavier Dorison (of various Humanoids, Titan and Cinebook releases) and artist Ralph Meyer filling in the backstory of a villainous supporting character for 64 pages. Wisher is about a man who can find anything - it was actually translated once before in Heavy Metal (Vol. 34 No. 9, Jan. 2011), but I presume Cinebook's effort will prove more complete. The writer is Sébastien Latour and the artist is Giulio De Vita - the debut volume is 48 pages, with I think three more to come. XIII preview, Wisher preview; $15.95 (XIII), $11.95 (Wisher).
Spider-Woman #1: Attenzione! Si tratta di un fumetto controverso - Milo Manara ha disegnato una copertina bella e sensuale, con un grande culo! I veri autori sono Dennis Hopeless e Greg Land. Anteprima; $3.99.
Batman '66: The Lost Episode: As you are probably aware, the 1966-68 Batman television series made its belated arrival on disc-based home viewing media last week; DC had been setting the stage for a while with its Batman '66 series of comics set explicitly in the show's continuity, complete with retro versions of characters created much later. Now we get a yet-more specific tie-in, as an unproduced Harlan Ellison story outline (intended to introduce Two-Face to the program) sees a comics adaptation, courtesy of DCU veterans Len Wein & José Luis García-López (inked by Joe Prado). It's 80 pages in length, apparently to accommodate a bonus reprint of the Ellison outline itself, as well as the entire comic again in García-López's raw pencils; $9.99.
Prophecy Vol. 1: New seinen manga from Vertical this week, a Tetsuya Tsutui thriller about a masked man who predicts crimes online, leading to furious official investigation and a certain amount of popular acclaim. The original series ran for three volumes, although a sequel is now out there with a different artist, perhaps in anticipation of a movie adaptation due next year; $12.95.
Ōoku: The Inner Chambers Vol. 10 (&) Real Vol. 13: Viz, meanwhile, brings new volumes from two continuing favorites. Ōoku is Fumi Yoshinaga's matriarchal feudalism drama, basically caught up with the ongoing Japanese releases - vol. 11 dropped a few months ago. Real is in a similar position, except the next (14th) installment of Takehiko Inoue's wheelchair basketball saga isn't even due in Japanese until December. Feel free to celebrate this brief holiday of parity with a conversation between Inoue and Katsuhiro Ōtomo, as translated by the invaluable mangaka interview resource Mangabrog; $12.99 (each).
Aces High (&) Popeye: The Classic Newspaper Comics by Bobby London Vol. 2 (of 2): Two prominent compilations of vintage stuff a little off the beaten track. Aces High is part of Fantagraphics' b&w EC line, collecting works by George Evans, a longtime aviation aficionado notable for his work on the New Direction air war title after which this 216-page collection is named, although there's crime and horror work included as well, plus a rare 3-D story presented in two terrific dimensions. Popeye also delves into the archives, with IDW dusting off all of the work underground cartoonist Bobby London completed for the early '90s twilight of his run on the famous newspaper strip, cut short when concerns were raised over the prospect of the Sailor Man taking a swing at America's abortion debate. Nine weeks of unreleased strips are promised at the tail end of this 340-page package. Aces preview; $29.99 (Aces), $39.99 (Popeye).
Teenage Mutant Ninja Turtles Legends: Soul's Winter: And finally, because there's nothing like a good tie-in, here again is IDW with a new hardcover edition of some very strange 1990-91 TMNT stories put together by the creators of The Puma Blues (itself soon to be collected by Dover), although it's really artist Michael Zulli who was the driving force; Stephen Murphy would write numerous franchise stories later on, but he's not so prominent here. Some have wondered if the recent, massive scary turtles of this year's Jonathan Liebesman motion picture weren't inspired by Zulli's monsterous, honking destroyers, murdering human ninja and getting dismembered in the midst of a psychic battlefield. Certainly an eye-opener for this fourth-grader. Take note, there has been new coloring (not by Zulli) applied to the original b&w. Preview; $24.99.