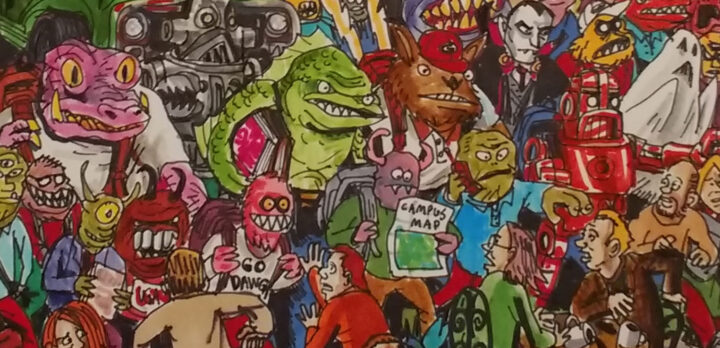 The Georgia Museum of Art, located on the campus of the University of Georgia in Athens, will present The Monsters are Due on Broad Street, an exhibition of the works of Patrick Dean from December 21, 2019 through March 29, 2020. 
Born in Rome, Georgia, Patrick came to UGA to study art and graphic design in the 90s. His studies exposed him to a variety of new media and techniques, and a few works from his time as a student are a part of the exhibit, but the allure of comics was always the strongest. 
"My brother Alan and I grew up with comic books and comic strip collections in our house," he explains, "and I had always been making my own, even if it was copying Garfield and Family Circus strips on office paper at an early age. When Alan was going to UGA in the late 80s, he'd mail me comics from the early days of Flagpole Magazine [Athens, Georgia's weekly alternative newspaper]. They were mostly by Larry Tenner, Jack Logan, and Jim Stacy, and it fascinated me that Athens had a free weekly that published these comics with a surreal underground tone." 
Patrick's work would eventually become a part of Flagpole's legacy as well. Anyone who's spent time in Athens over the past couple of decades has most likely encountered Dean's work, whether or not they're aware of it. Even if they don't connect the art and his name, it's likely they've read at least a couple of his comics. He created a comic strip which ran for almost a decade in every issue of Flagpole. He has also provided several covers for Flagpole, including the one for which this exhibit is named. As part of this exhibition, visitors can view an interactive display which archives the complete run of his Flagpole comics. 
Of his time at Flagpole, Patrick recalls, "Throughout middle school and high school I drew a ton of comics but by college, I was drawing fewer comics and focusing on drawing and painting classes. Even when I moved to Athens to attend UGA, I didn't feel confident enough to submit anything to Flagpole until midway through college. Richard Fausset was the new editor at the Flagpole right as I dropped off a packet of some recent comics I had been working on. He was enthusiastic about carrying them in the magazine and that was the beginning of a weekly strip."
Patrick's work is a thread in the fabric that makes Athens Athens, though his comics and illustrations have also been published in Legal Action Comics, Typhon, The Comic Eye, Vice Magazine and The Oxford American Magazine. A prolific self-publisher, Patrick has made countless contributions to a long list of 'zines and mini-comix as well as his own long-running title, Big Deal Comics and Stories. Patrick has also served since 2002 as one of the co-organizers of the annual FLUKE small press festival which draws comics creators and publishers from across the country to Athens each Spring. (Full disclosure: the author of this article is the other FLUKE co-organizer.)
Influenced by Hugo Pratt, Tomi Ungerer, Jim Flora, and Jack Davis, Patrick's comics show his deft ability to wield light and shadow, using them to convey movement and often a sense of mystery. He's never one to shy away from a crowd scene. Many of the pieces in this exhibit are packed with characters, overwhelming the reader with detail, expression, motion, and whimsy. His stories are often absurd, frequently hilarious, featuring a cast of cowboys, octopuses, ghosts, singing pies, hillbilly yetis, and 1940s gangsters. But perhaps his greatest skill is the ability to convey a sense of fantasy and wonder hidden inside the mundane. Stormy days conjure monsters emerging from the rain not to torment mortal souls, but just to run errands and maybe grab a cup of coffee. Shadowy alleys conceal spirits who'd prefer buying a new rug for their apartment to haunting. 
"I had gone from drawing and painting to majoring in graphic design with a focus in illustration, but always wanted to draw comics," Patrick says. "I wanted to tell jokes and stories and do limitless ideas through comics. I couldn't do that through painting or magazine layouts. Comics was the Wild West of creating worlds. I also couldn't make a living drawing comics but I regret nothing."
Also featured in this exhibition are two pieces which represent something of a contrast to the crowded, bustling scenes packed with ghouls, robots, wizards and hapless college students. These pieces are recent self-portraits torn from Dean's sketchbook, depicting the artist as a monster. The lines are markedly different from his earlier work, but still immediately recognizable as the work of Patrick Dean. These pieces--in which he depicts himself as a shambling Frankenstein and a twisted form restrained by otherworldly straps and bonds--were created after Dean's diagnosis in 2018 with amyotrophic lateral sclerosis (ALS), also known as motor neurone disease (MND) or Lou Gehrig's disease. 
Patrick continues to draw in the face of this attack on his muscular control, and the exhibit features these self-portraits alongside a looping video showing his drawing process as it is today. It's laborious and frustrating but also, according to Dean, necessary. "Earlier in the summer when I was posting artwork on social media," he says, "I had a few people remark that they were surprised I was still drawing with the ALS diagnosis. I wanted people to see how I adapted to drawing with weakened hands, so Erin [Patrick's wife] took a few videos of me gripping a pen and drawing in my sketchbook. I guess some people imagined that you get the diagnosis and the next week you're paralyzed in a wheelchair. That will eventually be my outcome, but for now I can still draw."
Events connected with the exhibition include:
90 Carlton: Winter, the museum's quarterly reception, on January 30 at 5:30 p.m. (free for current members, $10 for Friends of the Museum and Supporters, $15 for Not Yet Friends)

Art Cart (After Class), a drop-in after-school program with hands-on activities on February 5 from 3 to 4:30 p.m.

a Teen Studio on March 19 from 5:30 p.m. to 8:30 p.m. (email [email protected] or call 706.542.4883 to reserve a spot)

and a screening of the film "Don't Worry, He Won't Get Far on Foot," about quadriplegic cartoonist John Callahan, on March 19 at 7 p.m.
All programs are free and open to the public unless otherwise noted. For more information and images of Dean's work, check out the exhibit site.