West opens on an idyllic panel of a peanut-shaped home with lots of windows at the edge of a dark forest. Song lyrics emanating from a radio float through the air, "flowers and weeds grow from the same soil, but the shovel cuts both for gold ore and oil." This is the crux of the tension in West, a world that is familiar to our own age of modernity wrestling with our ever-growing reliance on technology at the expense of our environment. Within this premise, West employs a subtle overlay of the fantastic alongside technology both familiar and beyond our current capabilities.
Mo and Sal are friends and business partners operating a commercial farm. They are also magicians. Magicians with real world problems. As Mo waters the plants around their home, he reminds Sal that they're in danger of losing their stall at the market. Even worse, they could lose their property if they can't come up with the next mortgage payment. A dry season has been hard on their fledgling operation and could force Mo and Sal back to the city where their talents in magic are undervalued and their anti-corporate stance is the minority perspective.
Sal takes a sanguine approach to their troubles and rolls a joint for them, using his magical powers to assemble it mid air before suggesting a rather extreme solution to their money woes. What if they ripped off a nearby Solomon Corporation facility, a massive tech conglomerate, and sold their wares in the city at a friendly price?
Maybe it's the pot, but Mo doesn't need much convincing and quickly the two are off on their hover bikes. Once inside the facility, Mo and Sal are chased through underground corridors until they discover three children in isolation tubes a la Akira.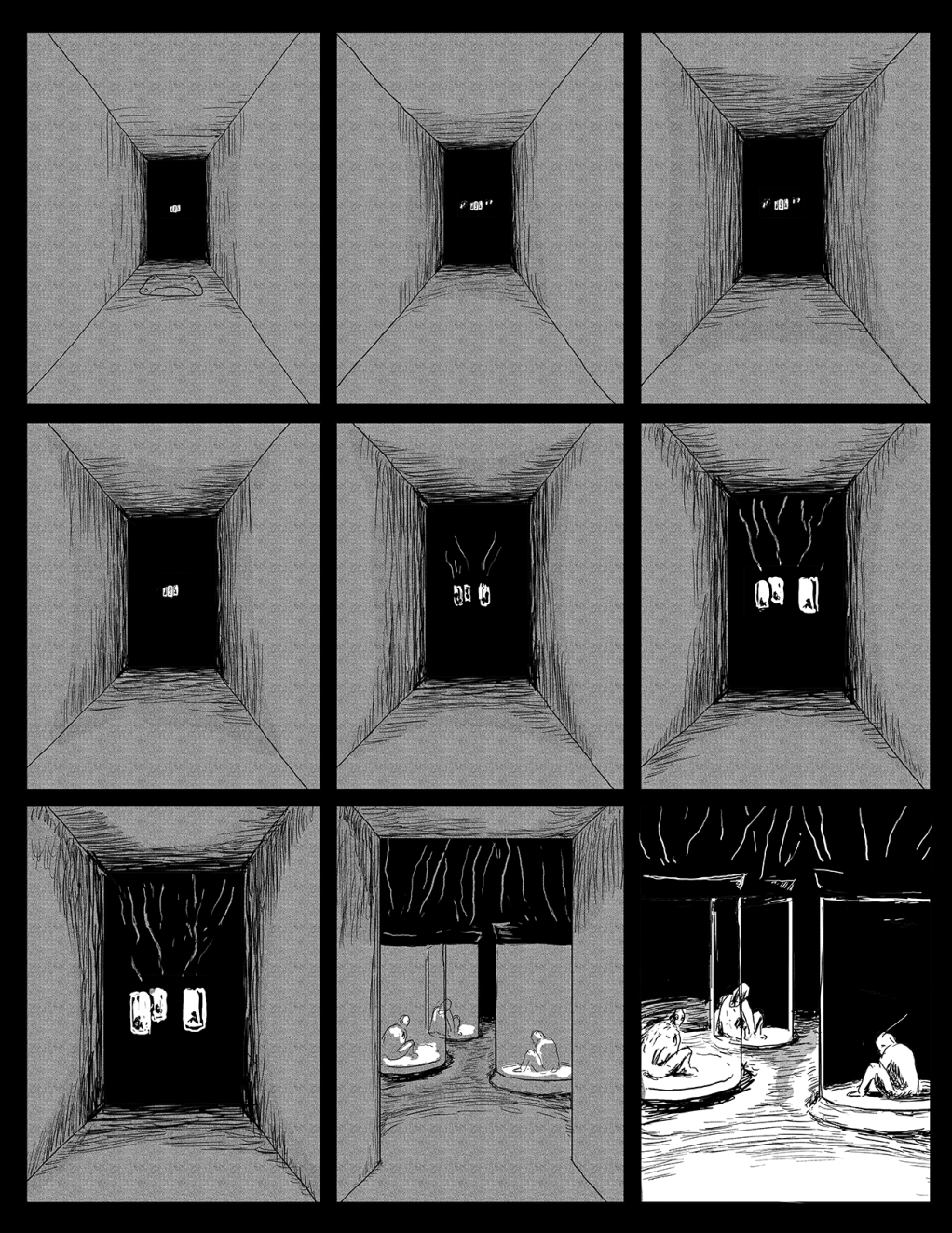 After their escape, writer/artist John Grund's talents and mastery of comics are on full display when Mo encounters a member of the Ygmini, a magic-practicing farming culture. Despite a language barrier, Mo manages to communicate with him through pictographs, a sort of comic within a comic. The result is a silent sequence that presents something of a mystery. These panels may require more than one read-through to decipher as much meaning from the pictorial conversation as possible, and what it could mean for the future of the narrative.
With a target on their backs, Mo and Sal vacate the farm with the children in tow and head for the very place they sought to escape: Circuit City.
Grund's delicate line evokes sparse yet descriptive settings. His character designs may call to mind the work of Eleanor Davis or Moebius. He makes use of highly regimented panel grids with efficiency and abandons them for freer, more expansive pages that eschew unnecessary structure. We see what we need to and nothing more while remaining confident that there is plenty beyond the confines of the panels that will be revealed in time.