The best way in which to appreciate Pénélope Bagieu's Brazen is to imagine the book's ideal audience. This is a thick book, a substantial weight in the reader's hand. You can imagine the type of person for whom this book was designed might find it quite satisfyingly dense. Brazen is a compendium of brief potted biographies of famous and not so famous "Rebel Ladies who Rocked the World," as the subtitle has it. As such the book is most certainly aimed towards an audience of young women, destined to be given for birthdays and the like for years to come.
But the content is a bit more radical than one might expect from a similar book produced in the English-speaking world. Bagieu is French (the present volume is translated by Montana Kane), and that actually makes significant difference in emphasis. The book is well-curated. Some of the names are probably familiar, but more than a few are not: you know Josephine Baker and Temple Grandin, but probably not Sonita Alizadeh or Frances Glessner Lee. Bagieu has put a lot of effort into assembling a mixture of well- and lesser-known figures from around the world. Fame is no prerequisite for inclusion, which allows her to dig for more contemporary figures such as Leymah Gbowee, Winner of the 2011 Nobel Peace Prize but hardly a household name in the English-speaking world.
That's a theme throughout. The standard bearers of the early suffrage and feminist movements in the United States are absent, for one. The book places the rather less inspirational but no less interesting life of a Peggy Guggenheim (whose section is titled, quite cheekily, "Lover of Modern Art") alongside the Apache warrior Lozen. The guiding thread throughout the book's subjects – being "brazen" – usually translates to defiance of some kind, and if the book has any guiding thesis it is the principle that defiance is an inherently noble virtue. It is also an inherently feminine virtue, given that almost every figure in this book faces – at least once, sometimes for their entire life, or (as in the case of Wu Zetian) fifteen hundred years of people telling them "no."
So to return to the book's ostensible target audience, it's nice to see the book refuses to pull back its teeth when describing some of the less pleasant aspects of these stories. Some of these lives, such as the aforementioned Gbowee, are violent ones, and the forces arrayed against them more than mere disapproval. That example serves well for the book: Bagieu devotes seven pages to the story of Gbowee's life and career during a very violent period in Liberian history. That would be a fairly tall order for any cartoonist. She doesn't shrink from blood or brutality. People die in civil wars, and Bagieu shows us bodies in the street.
It's this approach that leavens the approach of what could easily have been a far less interesting group of women. The Shaggs appear alongside Nelly Bly, folding unconventional figures of the counter-culture right next to established historical figures such as Agnodice of Athens. Syrian freedom fighter and activist Naziq al-Abid appears carrying a rifle, alongside famous mermaid Annette Kellerman. The fields of endeavor available to women herein run the gamut from the arts through to politics and war, the one common denominator being (in almost all cases) the act of having to fight for a place at the table in the context of a disapproving society. That's how Betty Davis' brief and memorable but ill-fated music career – built on equal measures of sexuality and control – can rest next to the more conventionally inspiring life of runner Cheryl Bridges.
The most remarkable aspect of Brazen is Bagieu herself. She tips her hand early in the book with a profile of cartoonist Tove Jansson, creator of the deathless Moomins. Bagieu draws the Moomins really well, as well as every other Jansson creation she packs into those pages. Jansson is perhaps just one influence but it's interesting to see just how unerringly her style reflects Jansson's very particular and peculiar line. Bagieu's thin and expressive lines communicate a great deal. She has an eye for caricature without which this book would be a futile endeavor.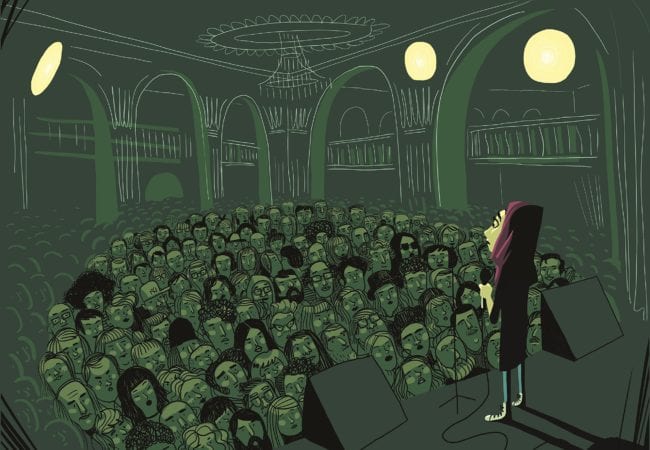 But it is isn't, and it's primarily because of her skill in turning in page after page of note-perfect cartooning. Although it will undoubtedly provide hours of enjoyment for its intended audience – who will be exposed to quite a few more rebellious women than even the most progressive school program might provide – it is possible that many readers will come away from Brazen just as impressed with Bagieu's casually brilliant technique as any of the other wonderful women on display here.