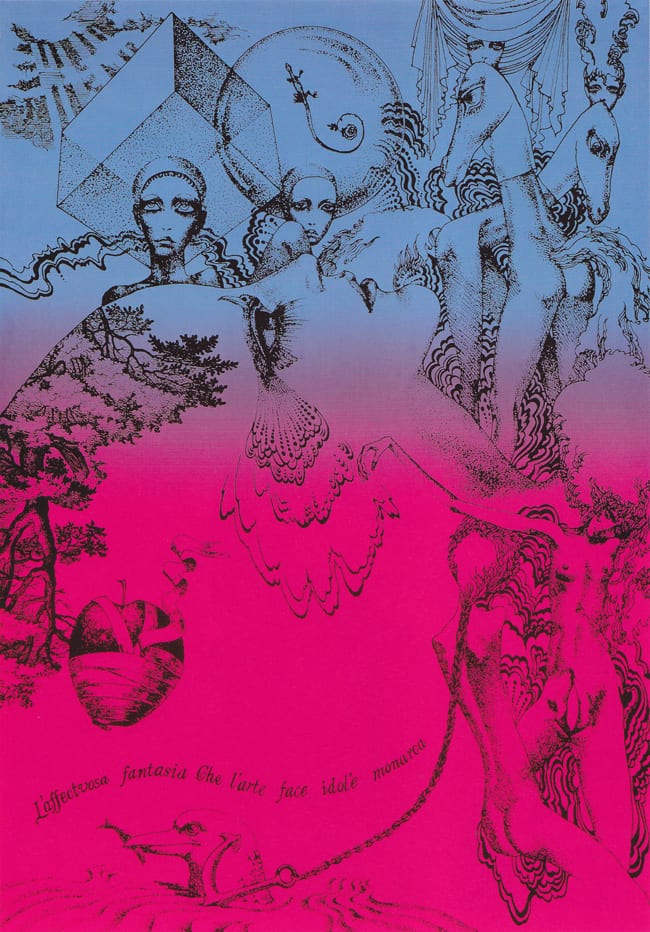 Eight years ago, I discovered Aquirax Uno the old-fashioned way: by digging through the stacks of a used bookstore in my hometown in Northern California. I stumbled on a pile of old Japanese graphic design magazines and since they were a dollar each, I grabbed as many as I could. In one of them, I came across several strange, creepy-but-beautiful drawings of nude women in all manner of repose: one had an oversized mollusk bearing human teeth lapping at her crotch, one was a half-horse creature with eyelashes so long they looked like spiders, and my absolute favorite was one that featured a woman in a bathtub with a giant penis-shaped hairdo and one extra long, very hairy leg. I was blown away. All of the images were signed "Aquirax." I searched on the Internet and found a book called Aquirax Uno: Posters 1959-1975 and very little else.
In the years since that first fantastic discovery, I've managed to find a little information about Uno here and there, and with persistence and patience, I finally got in touch with Aquirax Uno and conducted a brief interview with him—more on that later.
For those that are unfamiliar with his work, Akira (Aquirax) Uno was at the forefront of a group of Japanese avant-garde artists and designers like Tadanori Yokoo, Keiichi Tanaami and Tsunao Harada, as well as renowned manga artists like Sanpei Shirato, Seiichi Hayashi, and Katsuhiro Otomo, all of whom emerged from angura, the subversive underground theater movement that began in the '60s in Tokyo. Influenced by the rebellious political climate of postwar Japan which was brought on by "manga generation" student protest groups, these artists introduced a new style of illustration and visual art through the posters they created for angura theater troupes like Terayama Shuji's Tenjo Sajiki and Kara Juro's Situation Theater. These posters expressed the chaotic mood of the times with wild colors and bold, sometimes shocking, imagery. Many of the graphics created for angura drew from diverse artistic movements, mixing Edo-period iconography and Art Nouveau lettering with collaged photos and calligraphy. The result was a style that still feels as original and breathtaking today as it was back then.
Akira Uno was born in 1934 and began his career as an illustrator in the '50s. In 1965 he formed The Tokyo Illustrator's Club with friends Tadanori Yokoo, Tadahito Nadamoto, and Makoto Wada. As one of 16 graphic artists who participated in the 1965 Persona Exhibition, Uno was a central figure in the rise in popularity of illustration-as-fine art in Japan. His work from this era was less typography-driven than that of his peers. It was erotic, surreal, and dreamily grotesque, with shades of Aubrey Beardsley in his depictions of horned and winged creatures and satyr-like half-animal half-human figures with flowering genitalia. There is an otherworldly, almost futuristic tone present in many of his images, but they can also be absurdly humorous. The women who populate his landscapes are dark and sensual, many of them fused amorphously with animals or clouds or flowers. Much of his work is the kind of art takes time to digest—perfect stoner eye candy. Uno clearly lived his art: he began to sign his work as "Aquirax," a vaguely French twist on his given name. Uno's idiosyncratic nature was not limited to his unusual name or his imagery, his appearance and fashion sense during this time was so iconic that his trademark shaved eyebrows became a booming trend among Japanese youth. It was known as "the Aquirax Uno style."
Although Uno is probably best known for the psychedelic angura posters he created in the '60s and '70s, the book MONO AQUIRAX showcases a huge volume of diverse work in a range of styles. His charcoal sketches, line drawings, and watercolor washes are all expertly rendered. The subject matter is as diverse as the mediums he uses: there are realistic portraits of cinema stars like Anna Karina and Humphrey Bogart, erotic mini-comics that illustrate the perils of modern love, humorous cartoonish caricatures, gekiga style panels of feudal samurai sagas, and sketches of cats. Here is a gallery of this work:
Uno also explored film and animation. Aquirax Cinema, is a 2002 DVD release of three live action/animated shorts that he made between 1964 and 1966, one of which is a fantastic stop-motion short that features animation via painted bodies in motion, an innovative technique that must have been unheard of at the time.
Now in his seventies, Uno is still as prolific as ever. He most recently created dolls and puppets for a theatrical production of Saint-Exupéry's The Little Prince, and for a staging of Tingel Grimm—Comic Mysteries from the Sleepless Forest. He also has his own line of t-shirts, tote bags, and ceramics, and though his website seems to have disappeared, you can purchase some of his stuff here.
The following is an interview I conducted with Aquirax Uno via email a few years ago for a zine I made called Horse/Girl. The interview took months to make happen. First I had to track down his studio in Tokyo. Once I did that, I got a Japanese friend of a friend to make contact, and then (after providing resume-like credentials to assure my legitimacy) I was asked to submit my questions. There was no opportunity to follow up on his replies, and I had to rely on a translator's help to reshape my questions into Japanese and then to translate Uno's answers into English. The subject of my zine was girls and horses, so the questions I had for Uno were focused mostly on his depictions of women and animals. He gave short, somewhat cryptic responses to my questions, and completely ignored others, but I was thrilled to have the opportunity to interview one of my favorite artists.
[Click here for a slideshow of Aquirax Uno's manga work.]
There are many beautiful women in your work. Do you draw from models or photographs? Do you have a muse?
No, I don't use models. If the picture is metaphysical, I tend to let my hands do the drawing, in a state of automatism if you wish. When I want to draw a realistic picture, I refer to photographs. But I try to draw them in such a way that it doesn't infringe on the copyright of the photographer.
You often depict half-animal, half-human creatures in your work. For example: A horse with a woman's legs or a woman with cat ears and a cat tail. What does this mean to you? Do you think humans and animals resemble each other in some way?
I don't really think of these things when I draw, but I suppose they depict women who exist in a space of time that is a little strange, or different to our daily lives.
What animal best represents you?
Something along the lines of a dog who wants to be a cat with a creatural egoism.
What animal do you think best represents a woman?
Generally speaking I think a cat best represents a woman, but there are dog-like women, elephant-like women, and even fox-like women too.
I love the drawings of horses on women's bodies in Aquirax Cinema. The horses look like they are galloping as the model moves her legs. How did this project come about?
I wanted to make a visual representation of French poet Paul Géraldy's "Toi Et Moi" ("You And Me"). However, it is impossible to concretely depict the abstract world of poetry. Based on the idea that poetry is the rhetoric of language and thus film is the metaphor of images, I attempted to depict a visual time of a man and woman, a "You and Me" that consists of the everyday and a touch of fantasy, whereby parts of the flesh of the man and woman race through the real and the simulacrum.
What do you enjoy doing when you are not working?
I often find myself working on my days off. I guess "work" for me is not labor, but more like a hobby. Then again, I go and see films on weekdays, so I guess my days lack structure.