For a quarter-century — a quarter-century! — Tom was my best buddy in comics, and one of my best friends, period. For over half of my life. You can't underestimate these things. As you get older, and friends come and go for any number of reasons, it can be difficult to maintain a relationship, whether due to geography, circumstance, whatever. Yet Tom and I did, as he moved away from Seattle, where we met, to New Mexico, and eventually to Columbus, Ohio. We emailed almost every day. I have almost 1,100 threads in my email going back just to 2015 between myself and Tom, many of which contain dozens of emails per thread. Usually, just a snarky joke about something happening in comics, a link to something we knew we would find equally ridiculous — Tom was one of the stone-cold funniest people I've ever known — but also threads about our personal lives, our successes and failures, and everything in between. We were sounding boards for each other, and his absence leaves in a void in my life.
In 1994, I became the news editor of the Comics Journal. The Journal was a two-person staff at that time, news and managing editor, operating under Executive Editor and Publisher Gary Groth. A few months after I began, the then-managing editor, Scott Nybakken, took a job at DC Comics. After a brief search, Gary hired Tom. I didn't know what to make of him at first: a big, hulking bear of a man, he looked more like an offensive lineman than a comics fan. In fact, he played college football and went to seminary for a while, two things I couldn't possibly reconcile, let alone relate to. He was about 2 ½ years older than me — just enough that it gave him a bit more "real world" experience and authority than I had had, having started at Fantagraphics straight out of college.
Tom had left a decent job in Pennsylvania at a home shopping network to work for peanuts at Fantagraphics, out of a passion for comics that we bonded quickly over, as well as a mutual desire to rake muck and make the Journal the best we could. We formed what I selfishly consider to be the most formidable editorial tandem in TCJ history. Yes, I'm biased, but in a quick time we truly felt like world-beaters, and it felt like we perfectly complimented each other's skillsets. We had each other's back. Tom was the better conceptual thinker, steering the magazine in new directions and hiring new voices that reflected the changing times in our industry and artform, whereas I was more detail-oriented, the dogged reporter, filling up upwards of 30 to 40 pages an issue chasing down whatever scoops, controversies, and conspiracies that popped up. Tom was the key architect behind many important Journal interviews and features, none bigger than the classic "100 Best Comics of the Century" issue from 1999. We had the most fun collaborating on the mag's "¡Viva La Comics!" section every month, which was basically the two of us trying to make each other laugh.
For a couple of years, it felt like we could do anything. Call it chutzpah or hubris, but we were fearless. Sometime in 1995, as the distributor wars were heating up and Marvel began doing some batshit crazy stuff like buying their own distributor and considering their own line of restaurant/retail stores, they embarked on a propaganda tour that they called "Marvelution." They held a few regional summits around the country and invited direct market retailers to attend. It was strictly by invitation only, and you had to be registered. Tom and I falsified credentials with the help of a local retailer and snuck in. Tom wrote a very funny piece about it for TCJ #177 ("Like most comics industry gatherings, the crowd was 95% male and 35% body fat.") but more than anything, we just had a great time doing this together, it was something we often brought up as one of those singularly strange days of our lives that we were glad we shared with each other.
An aside: in thinking about Tom this week, I realize that on some level I probably owe an apology to every Journal editor who followed Tom. Having continued to work at Fantagraphics even after leaving the Journal, I've had a front-row seat to second-guess every subsequent editor's tenure, many of whom were quite talented. But none of them were Tom, and probably somewhat unfairly, none of them measured up as a result. I'm sorry, folks (you know who you are).
After close to three years, I started to burn out on the Journal grind and moved on to do publicity and marketing for Fantagraphics. Tom held on for another three years before unceremoniously quitting after one to many dust-ups with Gary. Even after we broke up the band, our friendship continued to flourish in Seattle. I have so many great memories. We went to movies together and routinely watched NBA games together. Anytime the Lakers (my hometown team) or Pacers (Tom's) were on national TV, we watched at his apartment on Capitol Hill, as his cable package included ESPN and TNT. We went to Sonics games as often as we could afford to and played poker once a week at my house with a group of friends. These were, clichéd though it may be, some of the best years of my life.
Underrated talent of Tom's: he always won Halloween. The Kingpin of Crime, Big Boy of Bob's Big Boy fame (complete with a giant, actual hamburger), a Beagle Boy… His crowning achievement was a mid-1990s Halloween party at Jim and Mary Woodring's where he arrived — all 300-plus pounds of him — in nothing but a diaper and sash, as Baby New Year.
Tom schooled me about blindspots in my knowledge of comics history. I have a sneaking suspicion that the world may have lost its preeminent scholar of Tom K. Ryan's Tumbleweeds comic strip. Tom's father worked in the newspaper business and edited the comics pages for the local paper in Tom's hometown of Muncie, Indiana. I loved Peanuts and other strips of my youth, but Tom turned me on to the works of Harold Gray and Elzie Segar, now two of my all-time favorites. In 2001, due to something I'd written about Segar for TCJ at Tom's encouragement, I was given the great honor of inducting Segar into the Will Eisner Hall of Fame at Comic-Con International. Another thing I owe to Tom.
Tom joked about his own death more than anyone I've ever known — even before a near-death experience in 2011 profoundly affected him. He seemed to know he wasn't going to live to an old age. Yet we also joked about growing old together, rehashing the good old days. "45 years from now they're going to move our wheelchairs together once a month just so we can make fun of gen-x comics people," he wrote last year, just one variation on a common refrain in our correspondence.
The Fantagraphics oral history We Told You So: Comics as Art was possibly the most serious challenge to our relationship over the years but ultimately one of the high points. As much as that book is Gary Groth and Kim Thompson's story, Tom and I both took pride that our personal friendship was ultimately the glue that kept the whole project from falling apart more than once when tempers on either side flared, and though it may not be perfect, we were proud of it, even though we drove each other nuts repeatedly throughout its production.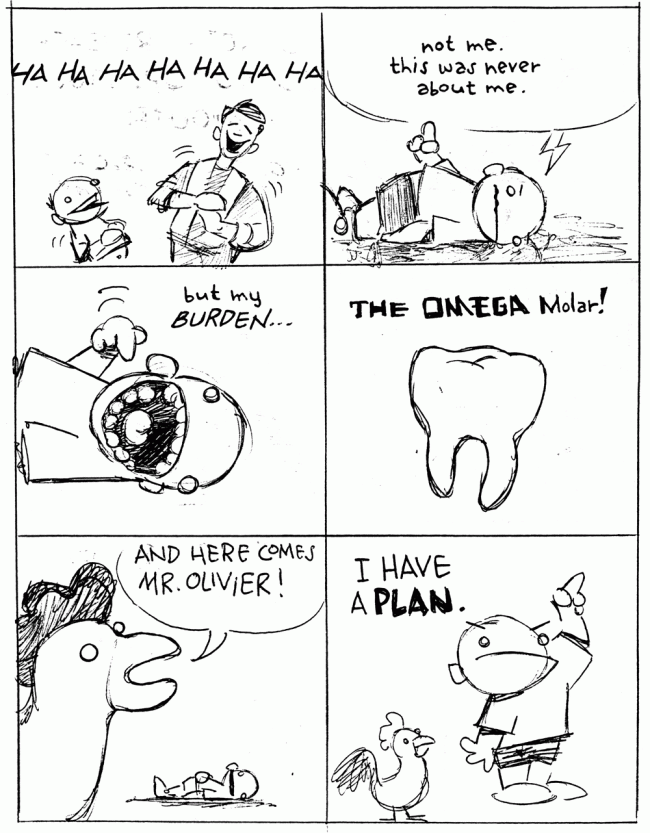 If Tom had an arch-enemy, it was a deadline. He was a world-class bullshitter when confronted about one, too. In 2016, he wrote to me, after we were looking back on something we butted heads on in the early days of production on We Told You So, "When you and I are old men, and I hope we're still around, we can tie our chairs together at the editors wing of the Old Cartoonists Home here in Columbus and have a long conversation about why I was being such a fuck-up and pain in the ass. Then we can go make fun of [redacted] and drink some juice."
My father died in 2018, and Tom was a steady presence who helped me through that, having lost his own father in 2001. He wanted to make sure I was okay and continued to ask me about how I was doing long after most folks I knew had understandably stopped doing so. In fact, Tom had a habit of emailing me a short "Are you okay? Haven't heard from you in a while" any time we went more than a week or two without contact. Last Thanksgiving, three weeks after my Dad passed, Tom sent me the following note, which I suspect 99% of the folks reading this won't understand, and maybe that's what makes it so funny to me: "Happy Thanksgiving. My best to you and your family and I hope it isn't a tough one given all the reasons it could be — also remember that this is the 20th anniversary of that Silly Daddy comic where we all got turned into berries."
In all the years I've known Tom, he rarely had a pot to piss in, yet the generosity I've seen him show myself and our peers — sometimes against my own better judgment and counsel — was next to none. Those are stories for others to tell, but they are legion, as my Facebook and Twitter feeds the past week have attested.
One more thing: Tom had great dreams. More than once he told me about a recurring dream he had, working on the crew of a TV series starring Ice Cube and the late Anton Yelchin as Roy Crane's Wash Tubbs and Captain Easy.
I miss you, Tom. To whom will I send my most snarky, off-color, knee-jerk opinions to and know that they'll be taken in trust and met with a like-minded sense of humor? Who will correct me when my shitty memory misleads me? (Another underrated talent of Tom's: a rock-solid memory that was rivaled only by maybe one other person I've ever known. I'm sure you could buy something really nice if you had a dollar for every time I asked him, "How in the hell do you remember that?")
I was so proud of him for all he'd accomplished over the past couple decades. The Comics Reporter, the Stan Lee book he co-authored with Jordan Raphael, We Told You So, and most recently, Comics Crossroads Columbus (CXC).
Speaking of CXC. One final thing I think needs to be mentioned when considering Tom's life in total: It was in Columbus that Tom seemed to finally find his home. It's telling that Tom has left his archives to the Billy Ireland Museum. In Columbus, Tom finally found the place that he wanted to stay for the rest of his life, after decades of constantly contemplating moves to Los Angeles, back to Seattle, to Chicago, etc. I'm grateful to the Columbus comics community, especially Caitlin McGurk, for making Tom feel so welcomed. So much so that he constantly lobbied me to move my family and Fantagraphics there!
Jesus, I really want to send this to Tom for feedback before putting it out there. I am sure he would correct me on several points. Probably to tell me I was too complimentary and wasn't harsh enough on him. And then he would apologize profusely for making me fly to Ohio in mid-December for his memorial and try to talk me out of going, and I would tell him how much he owes me now, even though I really feel like I owe him so much more.