Charles Barsotti, who died of brain cancer in Kansas City, Missouri, on June 16, never drew roughs. His Zen-lined renderings of puppies, kings, seekers, chickens, cutlery, pastas, corkscrews, magazines, and toothpaste tubes convey readily recognizable emotions that seem to emerge from some bottomless font of wisdom. These minimalist drawings leap off the page energized by their own simplicity. There is nothing superfluous in his lines and no need for ink-wash half-tones to flesh out backgrounds or hint at perspective. A Barsotti cartoon has the brisk immediacy of a mentholated cough drop.
The clean joy of Barsotti's lines sells his anthropomorphic wit. Everyone knows his most famous cartoon: "Fusilli, you crazy bastard! How are you?" asks a piece of rigatoni over the phone. Objects like these, like his puppies and royalty, are displaced stand-ins for our friends and neighbors. Those aren't dogs, of course, they're us. Which probably explains why his earliest canines began as even more feral animals.
Charles Barsotti – or "Charley," as nearly everyone called him – was born September 28, 1933, in San Marcos, Texas. "Everything down there either had thorns on it or bit," he said of his hometown when I interviewed him in January 2013, "and that includes the adults." Howard, his father, sold furniture in San Antonio, where Charley was raised. His mother, the delightfully named Dicey Belle Branum, was a schoolteacher. Barsotti credited his hard-working parents with inspiring his own determined work ethic. "That, and fear," he added.
He attended Southwest Texas State College in 1955 and earned a degree in social science. He married Jo Ann Zibberman, with whom he had four children: Kerry, Mike, Sue, and Wendy. He was drafted into the Army and  after his discharge returned to Texas State in San Marcos, where he studied toward a masters degree in education. He began working at the Brown School Treatment Center, a residential treatment center for mentally disabled adolescents and adults, and befriended its owner, Bert Brown, who played a key role in Barsotti's career.
Appreciative of Barsotti's artistic talent, evident in caricatures of fellow Rotary Club members, Brown insisted that Barsotti take some time off, assemble a package of samples, and accompany him to New York City. He sold a gag to The New Yorker and eventually sold ideas drawn by Sean Day, John O'Brien, and Otto Soglow. Barsotti's first New Yorker cartoon appeared in the magazine's August 25, 1962, issue. A young man carrying a sign reading "Ban the Bomb" says to a young woman carrying a "Stop the Tests" sign: "Just think! If it weren't for nuclear fission, we might never have met!"
An ad in Advertising Age magazine led to a job at Hallmark Cards in Kansas City. He continued to submit work to The Saturday Evening Post and eventually earned a regular feature, "My Kind of People." In 1968, Post  editor William Emerson asked Barsotti to move to New York to become the magazine's cartoon editor. "It took me about three months before I felt like I had a handle on it," he said. "And then I thought, "This is what I wanna do – forever."
Unfortunately, Barsotti's time at the Post would be short. The magazine folded in January 1969, a week before he was to "introduce" George Booth to Post readers and enjoy his own first cover. That cover was going to feature lovestruck Emma June, the flower-child obverse of the existentially tortured dancers and beatniks Jules Feiffer was drawing for The Village Voice. Barsotti's first book, published in 1970,  was an expanded collection of his Emma June strips titled A Girl Needs a Little Action. It recounts the modern fairytale of how this "warm and freckled girl" finds her man and settles down happily in – surprise! – suburbia. Barsotti also developed a short-lived daily strip featuring an Emma June variation named Sally Bananas.
The week after the Post folded, Barsotti met with William Shawn at The New Yorker. The meeting took place thanks to Bill Emerson, who'd requested that Shawn speak with both Barsotti and Booth. After accepting a contract with the magazine, Barsotti moved his family back to Kansas City.
Outraged by the Vietnam War, Barsotti threw his hat into the ring as a Democratic candidate for congress in 1972. "It was a terrible experience," he recalled. "I must have been out of my mind. But I thought the Vietnam War was a horrible, horrible mistake." Barsotti eventually withdrew from the race because "they were making deals with people I didn't want to talk with."
A free-lancing dynamo, Barsotti illustrated for the opinion pages of The New York Times and Kansas City Star ("I must have done a hundred Nixons"), drew covers and assembled experimental collages for Punch (in the drawing captioned "Business lunch," one businessman chews the arm of another, who is stabbing him with a fork), and began drawing for National Lampoon, to which he contributed perhaps his most widely appreciated cartoon: A hot dog stands at the mailbox holding a postcard that reads "You may already be a wiener."
He became embroiled in an unlikely legal kerfuffle when he used the real name of a British lord in a Playboy cartoon. The magazine's November 1975 issue contained this correction: "PLAYBOY regrets...any embarrassment it may have inadvertently caused Lord Cowdray." Playboy also removed all the pages containing the cartoon from its British edition.
In 1978, Barsotti married Ramoth Millin, and the two worked closely enough together to earn the nickname "Barsotti Incorporated." In 1992, the British stationery chain Niceday licensed Barsotti's iconic canine, who became known as "the Niceday pup." The dog's ability to master any number of different European leisure activities made it a ubiquitous presence in the company's advertising campaigns and company Christmas cards. The United Kingdom even issued a postage stamp featuring the dog.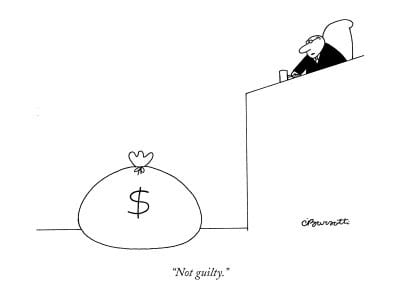 For a period during the post-Shawn eighties, Barsotti consciously tried to appeal to New Yorker editor Robert Gottlieb with puns, collages, and more ornate cartoons than usual. "I don't think Gottlieb liked my stuff particularly," Barsotti said. He described the process of repurposing intriguing images from old comics as another kind of "doodling." His relationship with Tina Brown was easier. "Tina loved and responded to cartoons about power. I did one of two businessmen with lions' heads: 'I'm taking you to the Four Seasons. You'll enjoy the fear.'"
Anger and angst also lurk in Barsotti's work. In The Essential Charles Barsotti, Lee Lorenz described the cartoonist's King character as "Devious and sentimental, ruthless yet subject to deep self-doubt, serene in his sovereignty but not above sharing a pizza with the palace guard." In other words: Isn't he a bit like you and me?
Barsotti's drawings seemed to become increasingly lean and clean over the years; some were realized with less than a couple of dozen lines. When it came to his process, Barsotti described doodling until an idea came to him, then sketching it out in pencil. Strathmore paper let him get away with a lot of erasing until he applied a Rapidograph to a sketch over a lightbox. Bottles of Wite-Out sat on his drawing table. "I just work until I'm happy with it," he said.
Richard Gehr's I Only Read It for the Cartoons: The New Yorker's Most Brilliantly Twisted Cartoonists, will be published by New Harvest in October.