Hello from Los Angeles, and more specifically Sammy Harkham's dining room table, with TCJ #40 by my side. Cover image by Mike Nasser and Bob Layton of Starhunters. Interview with Jim Shooter. And of course John Benson profiling Art Spiegelman. Hilarious. I am reminded that Mike Nasser worked Ms Mystic, and that character design blew my mind as a kid. And still looks OK. The void body. That sword.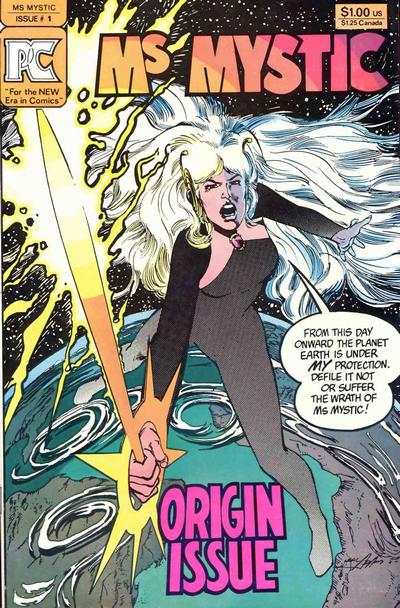 Anyhow, today on the site we have the 1979 TCJ interview with the late Len Wein by Roger Slifer. Here's a bit:
SLIFER: When did you start writing for comics regularly?

WEIN: For the most part, I started doing a little fiddling around early on. I think about the fifth story Marv and I wrote was a Teen Titans we did together. We started to gain a little ground at DC at that point. They liked the first one we did. We tried an issue of Teen Titans — it was the second Titans story we did — that introduced a black superhero. I think we called the character Jericho. It was a beautiful job. Nick Cardy was drawing the book at the time. He did an absolutely lovely job on the art. And, apparently, DC didn't know there was anything but white Anglo-Saxon Protestants appearing in comic books, and the introduction, in our story, of a black character was apparently frightening. Nick Cardy, who was part of the old school, brought that job to Carmine, and asked him, "Do you think we're going too far? Should we be doing this? There's a black character in here, God help us!" And, Carmine panicked, went, "Oh my God! We're doomed! We'll never sell our magazines in the South, anywhere south of Toledo!" They scrapped the issue, they completely scrapped the story. Neal Adams came to our defense, as Neal is so wont to do, and tried to convince Carmine that it was a good story and it didn't need to be scrapped. And, it was a beautiful art job, one of the best things Nick ever did. I don't think he ever really matched it. The fact that the story would not see print struck me as a real shame. But, Carmine would not be swayed. Carmine had made up his mind. It was set in cement once he made up his mind. In fact, it probably still is.

Neal ended up rewriting — over a weekend — an entirely different story featuring a character that was no longer black. He wrote it, penciled it, inked the entire 19-page story over a weekend, proving that, yes, he could make deadlines. But, it didn't help my situation. And this happened just when I had started to gain some inroads.

DC was revamping the Metal Men at that point. I had come up with a whole new concept for the Metal Men for Jack Miller, working Marvel-style. Mike Sekowsky was penciling it, I was going to dialogue it off the finished pencils. And, Carmine, of course, decided, "No, you can't write. Things aren't working out," based solely on the fact that I had introduced a black character in the Teen Titans. He took back the artwork I had just gotten my hands on — the Metal Men pages. In fact, I wrote the first 10 pages totally on speculation, like, "Please look at what I've done at least and see if it's good." But in the end, he gave the story to Denny O'Neil, who took it reluctantly, knowing the circumstances. After he had written his own, and I showed him my script, he said he thought it was a better job than he had done. It was simply Carmine's reacting rather than acting.

Murray Boltinoff got a little shy over several plots I had approved for Tomahawk and Challengers of the Unknown. Suddenly he had no use for either. Marv and I were abruptly non-entities for six months or more and started to look for work elsewhere.

SLIFER: How did you finally make your inroads back?

WEIN: Good question. I'm not sure if I remember. We started doing stuff elsewhere. Marv sort of faded out of comic books. He moved out to Lake Ronkonkoma on Long Island.

SLIFER: What year was this?

WEIN: This is 11 years from '79 … it was about '69. I didn't do a whole lot of work in my first year. I think I only managed to make as much at my old $10-a-page rate in my entire first year as I make on a single issue-and-a-half of Superman right now. A big difference in the rate. I started looking elsewhere. Marv got out of comic books. He had a degree as an art teacher. He taught school for a while. I sort of wandered around. I found some work at Gold Key. I started doing mystery stories for them. I ended up doing Hot Wheels and Mod Wheels and Star Trek comics. Anywhere there was some place to go I went. I did mystery stories for Marvel, for Roy [Thomas]. I learned most of my training on mystery stories. Most of the people now don't have a chance to learn on them. Mystery stories require you to create an entire entity in seven pages, a cast of characters, personalities, problems, and resolution. It's great training.
That is all from here. I'm opening this exhibition on Saturday night, 6-9 pm. I'll be there and always enjoy talking about Hal Foster.