Zerocalcare is not a household name for most English-language comic book readers. We've heard of the legends of the Italian tradition: Hugo Pratt, Vittorio Giardino, Andrea Pazienza, Tanino Liberatore, Guido Crepax and Magnus (to name just a few). All of them were pioneering, visionary and radical in the way they handled the medium, and that is why the Italian tradition is considered one of the greatest in Europe and the world. But what separates the "tradition", which as a word in itself denotes something that largely flourished in the past, from the "scene", which denotes something that flourishes in the present, is new talent. The skilled young artists. And when skill is accompanied by success, it is even better. The most sweeping of these new talents may be Zerocalcare.
Born in 1983 in Cortona, but raised in Rome, Zerocalcare (the pen name of Michele Rech) is today the best-known comic book artist on the Italian Peninsula. At only 39 years old, his books have sold over 1,000,000 copies, with translations in 16 languages, personal exhibitions, a live-action film based on his work, and a hit animated TV series on Netflix which he wrote and directed, in addition to performing much of the voice work.
The six-episode series, Tear Along the Dotted Line, premiered in the fall of 2021 to a warm reception from audiences and the press. In essence, it is an alloy of his comics, with Zerocalcare (who is also the protagonist) trying to cope with the loss of a childhood friend, job precarity and the stress of adult life, while at the same time having a giant armadillo (a recurring presence in his comics) portraying his conscience, revealing the most selfish and unspoken side of himself. The success of the series prompted more English-language editions of his comics, a second season currently in production, and strong reactions in Turkey, where a newspaper criticized the brief visibility of the flag of the Kurdistan Workers' Party (also known as the PKK), which is considered a terrorist organization in the country. But let us return to this in a moment.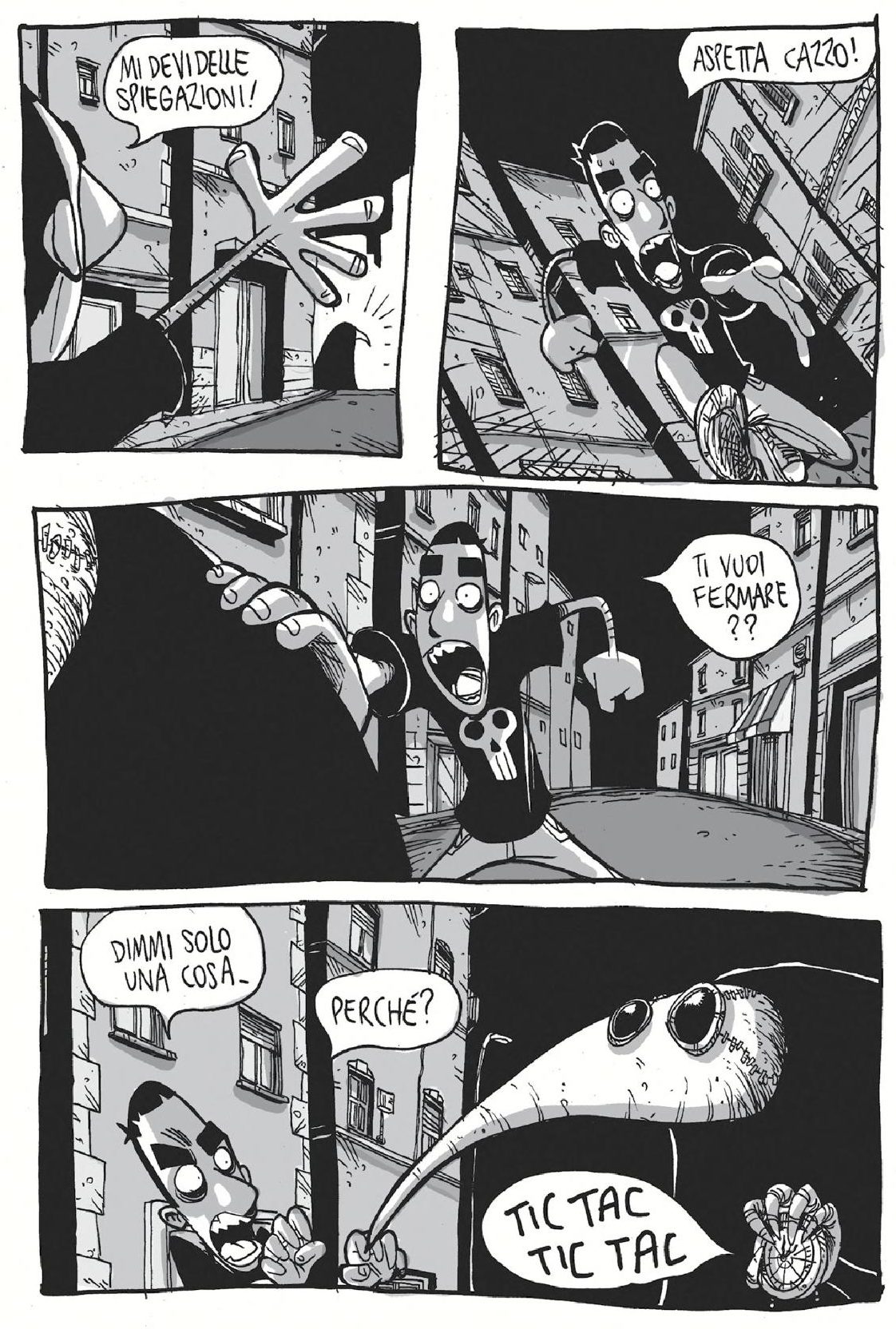 Zerocalcare's first eye-catching comic was a six-page story about the violent protests that took place in 2001 in Genoa during the G8 conference. During these anti-globalization demonstrations, in which the artist participated, there was extensive police violence; a 23-year-old activist was killed. The story, "La nostra storia alla sbarra", seems to have played a formative role in Zerocalcare's artistic identity. Over the next decade, he would publish illustrations and comics in numerous venues while drawing fanzines and posters for punk bands, and working various jobs for a living.
In late 2011, however, following a very successful self-published run, he released his first book, La profezia dell'armadillo ("The Armadillo Prophecy"), through Bao Publishing. In this modular comic, composed of stories of varying length linked together into a single narrative, Zerocalcare recounts the death of a childhood friend from anorexia. At the same time, however, he offers contemporary satire, nostalgic references aimed at millennials, several ironies and much reflection on the everyday life of his generation. The project teems with influences and references, from Marvel Comics and Japanese manga to underground zines, street art, and even Disney's Robin Hood (1973), from which he borrows the character of Lady Kluck to portray his mother. The book was reprinted dozens of times, sold more than 100,000 copies, was adapted for the cinema by director Emanuele Scaringi in 2018, and is already considered a classic among Italian comics.
Two of the early books that followed are available in English from Ablaze Publishing, translated by Carla Roncalli di Montorio: Un polpo alla gola ("Tentacles at My Throat", 2012), which is a coming of age story with the narrative divided into three different periods of Zerocalcare's life; and Dimentica il mio nome ("Forget My Name", 2014). The latter, which was nominated for the prestigious Strega Prize for Italian literature, deals with the acceptance of the loss of his grandmother. His parents, in the book, send him to his late grandmother's house to find her ring, with which she wanted to be buried. While searching, however, he begins to discover hidden family secrets. These books are obviously autobiographical, but also connotative, with elements of self-deprecation and drama, where laughter mediates each situation.
Autobiography is a difficult genre - perhaps one of the most complex, because it requires the sass and talent to translate personal experience into a story that can speak to everyone. Otherwise, you end up talking about yourself to yourself. Zerocalcare succeeds brilliantly at this.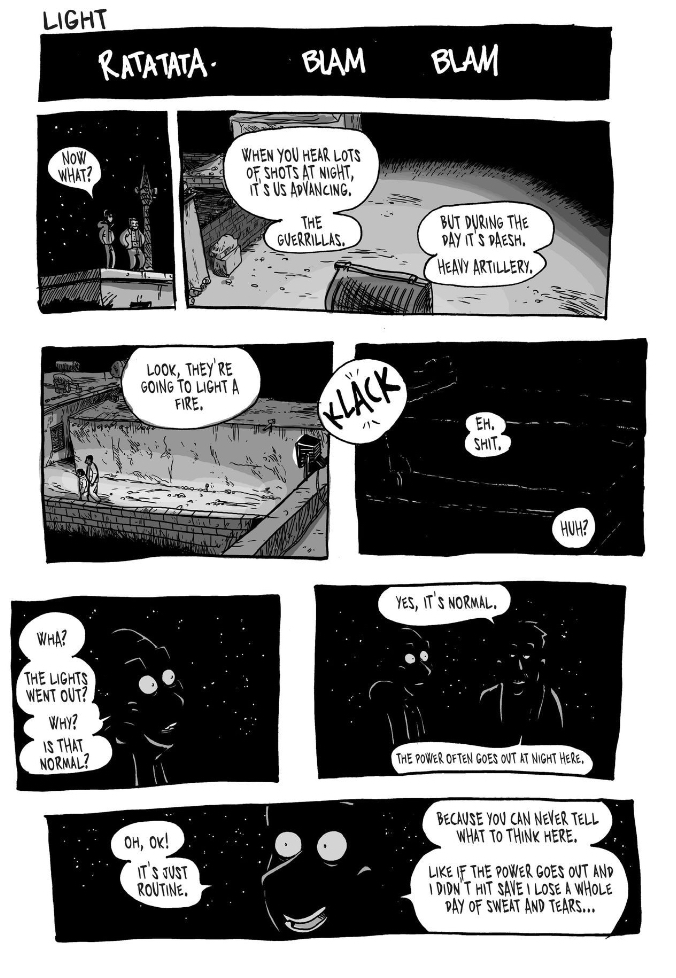 One of his most important and unique works so far is the book Kobane Calling (2016, first released in English by Lion Forge Comics in 2017, translated by Jamie Richards) which narrates the story of two trips he made in November 2014 and July 2015 to Kobane, Syria, on the border between Turkey, Syria and Iraq, offering help to Kurdish separatists fighting for their freedom against ISIS. His primary desire was to travel to Syria to see first-hand the experiment of Rojava, a region in northeastern Syria which de facto became self-governing in 2013 as part of the ongoing Kurdish uprising and resistance, with the aim of establishing a society based on principles of direct democracy, gender and ethnic equality, and sustainability. Dismayed that the issue had no visibility in the mainstream media, Zerocalcare traveled to Mesher, near Kobane, along with other volunteers from Rome; he recorded his experiences in a reportage-style comic for Internazionale. The book that followed is not, strictly speaking, a journalistic piece, as we only see what the artist is interested in depicting. It is more of a testimony, from the comical announcement to his parents that he would travel to a war-torn region, to the conflicts he witnessed, with first-hand descriptions.
Zerocalcare's work has it all: humor, political commentary and satire, self-deprecation, the concerns of a generation, social sensitivity, honesty, redemption and identification, but without a complete stripping away of his personal life. His conceptual sophistication–his cartoonish figures and the theatrical flair of his page design–combines with a fresh and unique storytelling that references and pays homage to popular culture such as Dragon Ball, Star Wars and The Walking Dead, while at the same time speaking of grief and loss. This approach can interject a robust political commentary into everyday truisms or ironic commentaries on the largely aborted hopes and aspirations of millennials.
It is for these reasons that Zerocalcare has been called the voice of his generation.
After the great success of the Netflix series, he did not rest on his laurels. In the fall of 2022, the artist released his newest reportage-style comic through Bao, No Sleep Till Shengal, with a print run of more than 230,000 copies. In it, he describes his 2021 trip to Iraq to visit a Yezidi community threatened by international tensions and protected by Kurdish militias, so as to document their living conditions and struggle. Also in 2022, in February, he published a strip in the newspaper la Repubblica about the murder of 15-year old Ugo Russo by a policeman during an attempted robbery. As Zerocalcare himself said in an interview, he will always prefer interventions through newspaper comic strips. It is this kind of social sensitivity, empathy and humanism that provides a characteristic sweet lasting impression to each of his works, and cements his place in the pantheon of Italian comics.