Heyyyyyy! Yo ho ho! This week I have links to (almost) all good news, or at least not awful news, at least not a heart-pureeing knuckle-pummel of a revelation to drop on you, reader. Instead, can we talk about vacuum cleaners? How do you clean a vacuum cleaner? I'm not doing a bit — my vacuum cleaner is the dirtiest thing in my apartment and I don't know what to do, it's just a black hole of debris that seems to generate its own dust cloud. You might say it's my own personal Pigpen! Comics! Yo ho!
• Seems like the big, comics-infiltrate-the-real-world story this week has been about a Batwoman/Batman promotion that some considered sympathetic to Hong Kong protestors. DC Comics took the image down from its social media, but has apparently left the art on the soon-to-be-released printed comic book. The Hollywood Reporter has most of the story, and Bleeding Cool came through with the latest, including how part of the controversial image, featuring the phrase "The Future is Young," has come full circle and appeared as graffiti in Hong Kong.
• Howard Cruse received obituaries on TCJ and at The New York Times.
• Adhouse Books' Chris Pitzer has memorialized Tom Spurgeon in the manner below, which you can learn more about here.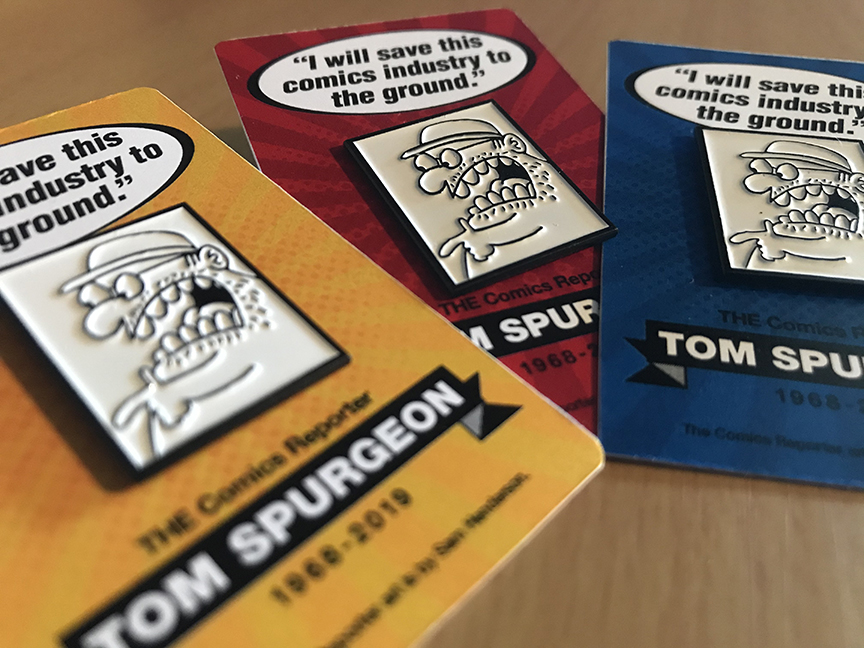 • Oh my. There is a very big deal comic art auction happening as you read this. There is some eyelid-melting work in there.
• Oh my again...and even more maybe? Here's a PDF of actual scans of handwritten correspondence between Charles M. Schulz and Walt Kelly. (Via the AAUGH! blog.)
• Anna Haifisch has a new comic on the Museum of Modern Art's "Magazine" site, in which her character The Artist makes a trip to that same museum. It sure is something seeing Haifisch draw a Pollock.
• Tom Gauld drew the cover of this week's The New Yorker, and, as usually happens on Tee-En-Why.com, he talked about that cover and more with Françoise Mouly.
• Also at The New Yorker: Margaret Atwood(!!!) wrote serious stuff about Little Lulu!
• Drawn + Quarterly posted about thirty zillion photos of the big Seth exhibit on display in Guelph, Canada. Be sure to find the little scrolling bar next to Seth's photo to see it all.
• At AIGA's Eye on Design blog, cartoonist/animator/everythinger Julian Glander gives an account of a weekend in his Pittsburghian life — eating pizza, watching Clue, reading Patrick Kyle comics, and much more.
• Jen Wang shared a wonderful comic about her childhood brain surgeon, originally published in The New York Times Book Review:
https://www.instagram.com/p/B5nfklWggW_/?utm_source=ig_web_copy_link
•••••
Er, Like, Interviews and Stuff
• Cartoonist Kayfabe:
Esteemed writer-about-comics, Tom De Haven
• Behind the Panel:
DC Publisher Dan DiDio
• Smash Pages:
For Real #1 writer-artist James Romberger, by Alex Dueben
• The Drawl:
Bitter Root artist Sanford Greene
• Off-Panel:
20XX artist Jonathan Luna
• Word Balloon:
Jimmy Olsen writer Matt Fraction
Undiscovered Country and Star Wars writer Charles Soule
• The Virtual Memories Show:
Jump Start cartoonist Robb Armstrong
• A Case for Pencils:
Cartoonist Robert Leighton
• Multiversity:
Legendary comic creator Bob Layton, by Kyle Welch

• The Beat
La Voz de M.A.Y.O writer Henry Barajas, by Matt O'Keefe

• Women Write About Comics:
Upgrade Soul creator Ezra Clayton Daniels, by Jameson Hampton
•••••
• Here's a short comic I liked this week by Ben Passmore, a cartoonist whose work always stands out. This reminds me of the days when I'd shave my own head while listening to Anthrax's Among the Living — which I'm firmly aware does still not make me cool enough to hang out with Ben Passmore or even to be regularly writing this feature.
Cut down at the barber shop. pic.twitter.com/4xzWiViYfk

— Ben Passmore (@DAYGLOAYHOLE) December 3, 2019
• Time to rock the vote, friends: Bubbles Zine wants YOUR list of top ten comics for 2019, to be published in its next issue.
• The Comic Books Are Burning in Hell gang (re)united to discuss their picks for *turns up microphone reverb* "The Best Comics of the Decade."
• The Beat staff regales us with their picks for best comics of 2019. They like a lot of comics!
• Here's Huffington Post's ten best comics of 2019. (Sobek!)
• The Guardian joins the fray with its 2019 picks.
• Michel Fiffe dug through the longboxes for an exploration of the career of artist Chris Wozniak!
• John Byrne hates the re-coloring on the cover of the new She-Hulk omnibus collecting his work, saying it "sucks moose." O Canada! you're the BEST country. I am such a poser hoser!
• Review blog Your Chicken Enemy is closing up shop — but all is not lost.
• The Guardian asked Ware to pick the Best Book and he said "Deitch." (Get ready to scrollllll. Or just do an in-page search dangit.)
• The comic book digital piracy phenomenon caught the attention of the BBC. It's a crime innit!
• Here's Kaare Andrews with The Atom-eye view of The Flash streaking by. Just an amazing illustration:
https://www.instagram.com/p/B5nfUe1Btzx/
•••••
Um, Reviews, I Guess
• Panel Patter:
Scott Elinburg on the Andrew Blauner-edited The Peanuts Papers: Writers and Cartoonists on Charlie Brown, Snoopy & the Gang, and the Meaning of Life
• Multiversity:
Christopher Egan on Sydney Duncan and Natalie Barahona's Kill Whitey Donovan #1
• TCJ:
Brian Nicholson on Mary Shyne's Get Over It
Helen Chazan on Kat Verhoeven's Meat and Bone
Jake Murel on Don Hertzfeldt's The End Of The World
• Ryan C.'s Four Color Apocalypse:
Lale Westvind's Grip #2
• Women Write About Comics:
Louis Skye on Stepanie Phillips and Dean Kotz's Butcher of Paris #1
• Broken Frontier:
Andy Oliver on Stathis Tsemberlidis' Hisashi
Oliver, again, on Tillie Walden's Are You Listening?
• The Beat:
Morgana Santilli on Yuhki Kamatani's Our Dreams At Dusk: Shimanami Tasogare
•••••
• Short lil' punchline strips kept popping up this week, and I'm all the happier for it. Here's another great one by Brecht Vandenbroucke:
https://www.instagram.com/p/B5p2_Mzh5I4/?utm_source=ig_web_copy_link
• 150 people came together to finish the graphic novel of Ed Siemienkowicz, who died of pancreatic cancer at age 43, after having inked only the first page of his book.
• Josh Neufeld created a comi—I mean GRAPHIC guide to the upcoming U.S. census.
• I guess this is Paste's "Best of 2019" list? They call it "10 Gifts That Comic Book Readers Will Love in 2019."
• The Daily Cartoonist did one of those always fascinating "First and Lasts" with the classic strips Drago and Dondi.
• At High-Low, Rob Clough is spotlighting 31 cartoonists, one a day, who have attended or are still attending the Center for Cartoon Studies.
• Here's an unusual interview: Swann Auction Galleries Illustration Art Director, Christine von der Linn, talks in depth about Charles Addams and one very specific Addams cartoon about Edgar Allan Poe.
• Here on TCJ, R.C. Harvey went down the ol' (Hoppy the) bunny hole, exploring the history of Captain "SHAZAM" Marvel, and where things went awry with the character.
Well, Kurt Ankeny sure knows how to put pencil on paper, yeah? (That's one of his below.) I'll see you again soon — until then, don't go eating the stank stuff around Street Angel! I don't want you coming back here with a smushed-up facepart. That would suck moose!
https://www.instagram.com/p/B5jNn5wAiji/?utm_source=ig_web_copy_link