Morning! I guess the big thing in San Diego is over now. Tom Spurgeon has the best round-up of the news from the halls. As far as I can tell, the only interesting announcements made were about reprinting old comics: Zap, the EC line from our benefactors at FB and more Artist's Editions from IDW (Wally Wood, John Romita, Will Eisner). I love old comics, but... any new comics? Anyone? My favorite news out of San Diego: Spidey-villian Rhys Ifans was drunk and hating America at the movie panel. Y'know, having been to Comic-Con only twice, I have to say, getting drunk and hating America is a not unreasonable reaction. Luckily, upcoming Cartoonist Diary entrant Brian Ralph will be bringing us all the dirt from his magical weekend at Comic-Con.
Annnnyhhoooow, what's new on the site today? Let's see... A brand new Frank Santoro travel-brand column.
And, as promised herewith my comics-oriented Tokyo picture-fest! OMG! Spent a week in Tokyo the other week, which was awesomely hot. Anyone who knows me knows that my first stop in Tokyo must always be to pay homage to King Terry. My liege. We had a productive few hours, taped a good interview and discussed things. When I last saw him he was getting a haircut at his favorite barbershop, just up the street from his studio.  
A barbershop, I might add, that he has colonized and decorated like a gangsta-rap loving visual virus. 
And then off to see Yoshikazu Ebisu, who was kind enough to make time just before his museum exhibition.
He was kind enough to bring along some original art to show. I remain shocked at how clean the art is. Ebisu's lines are sure and clean. Virtually no mistakes evident. Heta-uma, sure, but with a 19th century line.
Accompanying me was our own Ryan Holmberg, who lives in Tokyo right now. Ryan and I later went to see Kosei Ono, translator and manga gadfly since the 1960s. Kosei both wrote Incredible Hulk stories for manga and translated Maus. That's a career.
Ryan turned me on to my new favorite manga series:
Another day I went to see Keiichi Tanaami, Japanese psychedelic graphics master and, apparently, occasional experimental manga maker, as with this unsanctioned "Wonder Woman" strip rom 1969.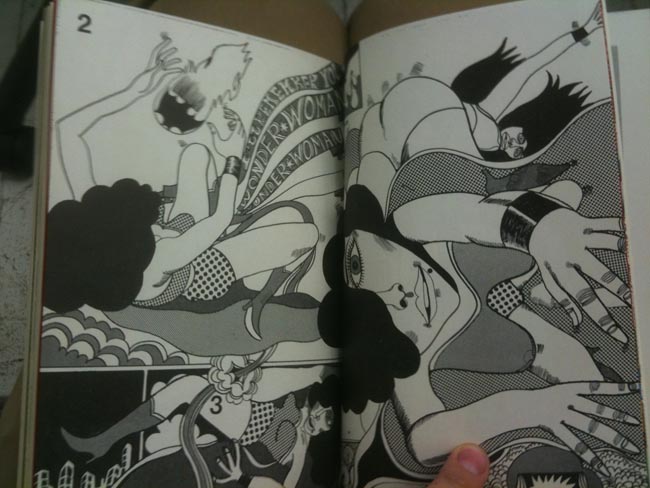 And rounding out the trip was a four-day stint at the Tokyo Art Book Fair, where I got to spend some quality time with Yuichi Yokoyama. This is how Yokoyama likes to have his picture taken with fans. Yes, that shirt is one-of-a-kind. 
We did a live a conversation together, during which Yokoyama drew on sheets of paper. At the end he put the stack of some 60-70 drawings on the floor as a gift. Minor pandemonium ensued. 
And that pretty much sums up my trip! Thank you, Tokyo!