There are a number of comics awards right now, so most people might be forgiven for thinking there's no need for any more, but when the Excellence in Graphic Literature Awards were announced late last year, it was clear that the organizers had something different in mind. Organized by Pop Culture Classroom, who also put on the Denver Comic Con, the award categories are different from most comics awards, the advisory panels and judges come from a broad spectrum of fields, and the award is a sculpture by Colin and Kristine Poole, responsible for the Spectrum Muse Awards among other works. The deadline for the prize is coming up and we reached out to John Shableski and Illya Kowalchuk--two of the people overseeing the project--for more information.
The Comics Journal: Illya, what is Pop Culture Classroom and what is it that you do?
Illya Kowalchuk: Pop Culture Classroom is a Denver-based nonprofit that uses comics, games and cosplay to increase literacy for students of all ages. My background is in education. I was a middle school teacher for ten years and always looking for ways to connect with my students, to draw in the kids who were marginalized. I was one of those kids when I went to school-rarely interested in what the teacher was doing. I was fortunate enough to teach at a school that allowed me to explore different techniques, able to teach comics-specific and video game design classes. I noticed that not only were the marginalized kids coming to those classes, but they were more vested in algebra and history after the electives were over. It wasn't a magic bullet, but we built a relationship, and they would be willing to work hard for me in ways that they wouldn't beforehand. That was really cool and convinced me not only the academic value but also the relational value between students and teachers. One of the guest speakers that I brought in to one of those classes turned out to be one of the original founders of Pop Culture Classroom. They had this idea of blending a Comic Con with educational outreach, and I was invited to be a part of that.
In 2011 we started educational programming. With volunteer help we built and taught a curriculum. Over the years we've been able to develop even more high-quality resources. The convention has grown and it's provided us with a stable funding base in order to do some solid educational work. This past year we were able to serve almost 1000 kids just in our direct workshops (where we go out and teach kids in places like schools, YMCAs and Girls and Boys Clubs). We do that with very little advertising. It's mostly word of mouth-people hear about the work we're doing and they ask us to support their needs.
So where did this idea of an award start and what were those conversations like?
Illya Kowalchuk: Actually, before the first Denver Comic Con (2012) we wanted to host comic awards that were more focused on literary merit than on the individual technical aspects of comics. One of the great things about comics is that all of those different talented creators come together-the story, art, and lettering all comes together to tell one synthetic story. We didn't see an award out there that was honoring that. Unfortunately, in 2012 we just didn't have the bandwidth because we were all volunteers trying to put the show together-make sure the lights stayed on. Over the years, the show grew rapidly and we had to make sure that logistics and operations were successful. This past year we have been doing a lot of thinking about how we want to move forward and what other ways we can have an impact on the industry. And as fans, we want to see the content that we've grown up loving be honored. We felt like this was a good time for a few reasons.
There's this synchronicity that's happening across academia, library sciences, education, bookselling and comic creation. We've arrived at a tipping point where people recognize the educational value of comics and graphic novels. They're outselling other forms of books, accepted in classrooms, and valued in libraries and corporate offices. The momentum is picking up. When Bruce [MacIntosh - Director of DCC Programming] and I met John Shableski about eighteen months ago, we all recognized that synchronicity. John crosses a lot of industries-comics, education, bookselling, and library sciences. He validated what we had been seeing on our own and we all came together and agreed: this is the time to do this.
John, how did you get into this? What's your background?
John Shableski: I come from the library and publishing trades where I work with the mechanics, these are the behind-the-scenes people who make the category work. I was an Eisner judge when I was working for Diamond and I wanted to get a better understanding of what the differences are between comics industry awards and the traditional 'book trade' awards. For example, the American Library Association announces awards such as the Caldecott, Newbury, Printz and other major awards during their mid-winter conference and the response to those awards is amazing. I had worked at a library wholesaler and experienced firsthand that when they would announce the awards I would have to grab the list, sprint to the fax machine and send those winning titles to our buyers so we could take inventory. A publisher could immediately sell 50-100,000 copies off of those awards. Having had that experience I was like, okay, why don't the comic industry awards generate the same kind of reaction?
While graphic novels have shown increased representation in the major awards programs, there still seemed to be a reluctance to create an award category within the traditional programs. So when this opportunity came up to work with the Denver folks, we really wanted to do this right. It was a chance to take all the best elements of the traditional awards and use them to create a program that recognizes the brilliance of the comics medium and the graphic novel format as a valuable form of literature.
The juries are a very solid mix of industry professionals who have helped bring shape to the graphic novel market. They are booksellers, academics, librarians and teachers working together on these juries and selecting these books. Their criteria is straightforward – is this a great story? It doesn't matter who wrote it, it doesn't matter who drew it, it doesn't matter who published it – is it a great story? They're not beholden to any brand name when they're looking at these books. Because of that approach and because of that process, there's been a lot of conversations between the advisory board members, the juries, the chairs, on how and what these things should look like. Everybody involved, whether they're on the advisory board or a jury have some really cool perspective that they're bringing to this which I think helps us create an even more legitimate process in selecting, debating, nominating and ultimately voting for the winning titles.
While this has been in development I've been having conversations with distribution channels to make sure that all those folks are aware of the process and the people who've been selected for the juries. When titles are submitted for nomination we're building a spreadsheet with all the metadata that the distribution companies need to get that information out to the selectors and buyers as fast as they can. Basically we want to be able to create the same kind of reaction to the nominations and the awards that you get for the National Book Awards or the American Library Association Awards. Again, it's been a two years process to develop so we want to make sure the foundations of this program has all the support we can generate.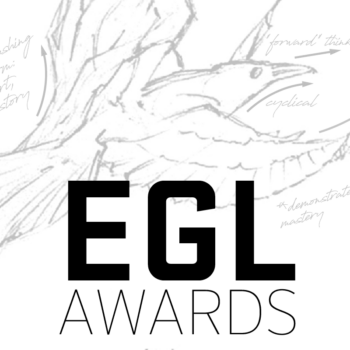 As you guys were starting to envision these awards, you have four categories - adult, young adult, middle grade, and children's, and each category has a fiction and nonfiction award, and then a book of the year. Did it come pretty quickly and easily that this is how it should be organized?
Illya Kowalchuk: That part did. John was really influential in that. I know that this is grandiose, but we're trying to drive the sale of graphic novels. We're trying to create a much greater understanding of graphic novels. We're trying to make it easier not just for families but also for booksellers, retailers, and distributors to purchase and sell graphic novels. Without us assigning aligned age and non/fiction categories, bookstores don't know where to put a graphic novel, so they're just not going to buy it. We're structuring the awards so that people in bookselling can use these awards. So, we align our awards with the language they speak. We'll publish the lists of finalists for each category in March, as well as the award winners immediately after the awards ceremony in June. We know this will drive book sales.
That is how booksellers and librarians talk, but it's now how comics people talk. In comics there are kids books and all ages books and then just comics.
John Shableski: It's funny you mention the term all-ages. That's a very subtle point that's being emphasized in the submissions process. There's no all ages category in schools, libraries, or in standard retail setting. Often when comics creators and publishers I know say "all ages", I understand why they say that, but the buyers at Baker and Taylor or Ingram – who are worth several billion dollars in the decisions that they make – don't have time to determine where that all ages book belongs. So we are helping the person submitting to understand that they need to understand there is a category for their book, it is either a children's book, a middle grade book or young adult; it's not all ages.
Bone was an all ages comic that did quite well, but when Scholastic repackaged it and gave it a category and the tools to target that audience, it became massive.
John Shableski: That's an excellent point and quite accurate.
Illya Kowalchuk: Gene Ha and I are friends on Facebook. Recently, he posted a story that blew my mind. He was hanging out at the bar after a con with a bunch of veterans creators of the same ilk as Gene. For some reason, Gene brought up Raina [Telgemeier]. He was with eight other seasoned creators and not one of them knew who she was or any idea what she had created. Further on in that post Gene said it's estimated that Raina's book sales make up ten percent of all comics sales. There's this sea change I'm talking about right there, distilled into one interaction. A whole team of veteran creators that don't know who Raina is or the effect she's had on comics readership, consumption, and validation. Maybe it's a naive oversimplification, but I think that Raina is almost the J.K. Rowling of comics. She was the one who reinvigorated and brought elementary school girls into the fold of graphic novels. Of course, this all came about largely due to books like Bone and Amulet, and now almost every elementary school teacher I talk to smiles, nods and says, "My kids don't put her books down."
Besides just the book of the year and the four categories that we mentioned, you also have something called the Mosaic Award.
John Shableski: That was another big part of this conversation. We had a lot of conversations about whether to call it the Diversity Award. I said to Illya and the other guys, we have plenty of people on the juries who come from diverse communities, let's ask them what they want this to be. The Mosaic Award came together really well, I think, because of that. Honestly, I was at first against this idea. To me if the story is great, it's great, and then you celebrate the fact that this person came from whatever background. But we haven't reached that point in our society yet. Illya will talk to that point as well. We still have to support this. It's been fascinating and really cool to see the response from publishing houses and individuals.
Illya Kowalchuk: The Mosaic Award was something that we talked about probably more than anything. We wrote a blog post about all our thinking. I talked to a lot of my friends, creators of color, in the LGBTQ community folks I know who live different perspectives. I asked them, "Is this award necessary?" The blog post speaks really well about our thinking and decision. We want everyone to be on equal footing, to be judged without bias, but we're not naive enough to assume that that's the case today. Sure, we've come a ways, but as we can see from the political and social climate, non cis white males are still very much marginalized. The Mosaic Award is an effort to honor these creations. Another important consideration was who determines if this book qualifies for the mosaic award? Where is the threshold? We decided that the creators and publishers know whether this award fits during submission. Those books will then be thrown into the pot for the Mosaic Award. A subset of our judges will evaluate those books.
One aspect that jumped out at me was that you're not just giving out an award, but the award is a sculpture.
John Shableski: A really cool thing happened when the artists, Colin and Kristine [Poole], were introduced at the reception at Denver Comic Con. They were standing to my left with Len Vlahos, who owns Tattered Cover Bookstore and is also a YA author. Colin turned to me and goes, "We should have a medallion sticker for the book, right?"
Len turns to me and says, "Yeah!" Part of the design process at publishing houses is that if they believe the book is that good, they are no doubt thinking about where is that medallion going to be placed on the cover? It was great to see that. And then Illya and Bruce walk up and I said to Colin and Len, "Tell them what you just talked about." So that is also part of the design. The art from the sculpture is going to be integrated into the medallion that's going to be printed. We announce the nominated titles on March 15th and publishing that list is us stealing the formula from the National Book Awards.
Illya Kowalchuk: That for me has been one of the more enjoyable aspects of creative these awards. Working with Colin and Kristine has been this completely inspiring, mind-blowing experience. They came up to Denver Comic Con this year because they wanted to get a feel for the event and the organization. That energy has influenced their thinking and design process. The sculpture is still in the design phase right now. We want people to cherish winning an Excellence in Graphic Literature Award as much as winning the sculpture for a place of honor in their studio. Personally, I want the sculpture to be finished just so I can see it, but I also don't want the process of working with them to end.
Comics may not have been a public menace when we were kids, but we're old enough that teachers and librarians weren't encouraging us to read them. Awards like this and an organization like Pop Culture Classroom are part of this sea change in terms of what's being created and how people think of them.
Illya Kowalchuk: Thank you for saying that. The awards are closely tied into the mission of Pop Culture Classroom. As we were creating these awards we wanted to make sure that it wasn't a distraction from all of the other work that we're doing. When we look at the impact that the awards can have on book sales, on teachers looking for quality resources for their classrooms, on the comics industry, on nerds looking to be honored and celebrated for the things that they do and their diverse perspectives. We really feel like it is another manifestation of the Pop Culture Classroom mission, to inspire a love of learning, increase literacy, celebrate diversity and build community through the tools of popular culture and the power of self-expression.
So when is the deadline?
John Shableski: The submission form is open until January 31st. We are encouraging authors, artists and editors as well as publishing houses to submit their titles.