A cranky seven-year-old private eye is working on a case involving a porn star and a dolphin brain transplant; in a futuristic woman-dominated society, a polka dot shirt ends up on the stand as a suspect in a jealousy-fueled homicide; with unmistakable intentions and with the help of a seismographer, a man goes on a quest for the exact location of planet Earth's butthole; a serial killer and collector of old comics, brassieres ripped from his victims, and polyhedrons (which he dutifully waters every day), winds up in jail where he discovers a new collector's passion; in a metropolis dominated by a mysterious and dictatorial machine, the "great mechanism", a group of thieves known as "thin wrists" is somehow connected to a plan to replace all the city's inhabitants with underground-dwelling humanoid vegetable lifeforms. All of these characters move on the backdrop of cityscapes drawn from the metaphysical paintings of Giorgio de Chirico and the geometrical reconfigurations of Futurists such as Depero, Prampolini, and Boccioni. Welcome to the world of Giorgio Carpinteri, one of Italy's most stylistically distinctive comic book artist.
The recent release of Carpinteri's Aquatlantic by Fantagraphics is an important event not only because this book marks the Italian author's return to comics after a 23-year hiatus, but also because it's the first time that one of his longer works has been made available to an English-speaking audience. Just like Andrea Pazienza (whose work was introduced to US readers by Fantagraphics a couple of years ago with the anthology Zanardi), Carpinteri occupies a central spot in the movement of young artists that revolutionized Italian comics at the turn of the 1970s. Protagonists of that new wave of Italian comics were two groups of comic book artists: the vitriolic and explosive Cannibale/Frigidaire group (including Andrea Pazienza, Massimo Mattioli, Stefano Tamburini, Filippo Scòzzari, and Tanino Liberatore) and the more composite, but equally experimental, Valvoline group (including Lorenzo Mattotti, Marcello Jori, Igort, Daniele Brolli, Jerry Kramsky, and Charles Burns during his Italian stay in 1984). Giorgio Carpinteri is the author who bridged the distance between the two groups and, in fact, collaborated with both during his career. The works of these artists and their revolutionary impact on comics had a European counterpart in the Spanish magazine El Víbora and, on the other side of the Atlantic, in Art Spiegelman's RAW.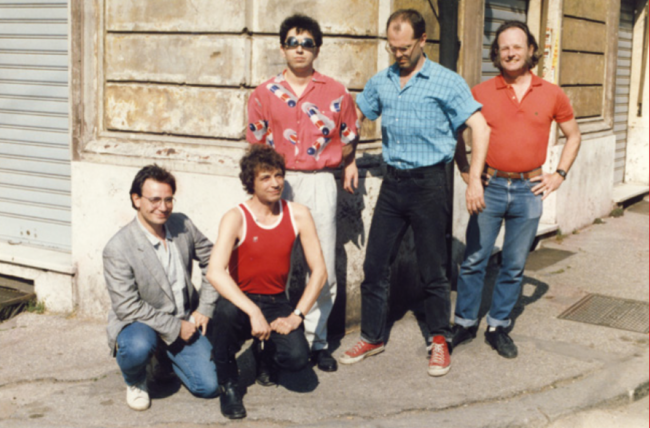 Most of these authors had experienced the chaotic post -'68 years and also the second movement of student protests of '77, and by the postmodern 1980s, belonged to a section of the Italian artistic milieu that was busy portraying the cooling down effect of the times: the waning of all-encompassing political ideologies at the tapering end of the Cold War, the progressive loss of faith in collective action, and the obsolescence of the concept of avant-garde movements in the arts. Their stance was very close to that of an important group of "highbrow" artists active in the world of galleries and museums, the painters of the trans-avant-garde, such as Mimmo Paladino, Sandro Chia, Enzo Cucchi, and Francesco Clemente. At the core of the works produced by these artists was an intention to empty the historical avant-gardes of their ideological content in order to re-employ them, to use their innovations as building blocks, removed from their historical contest.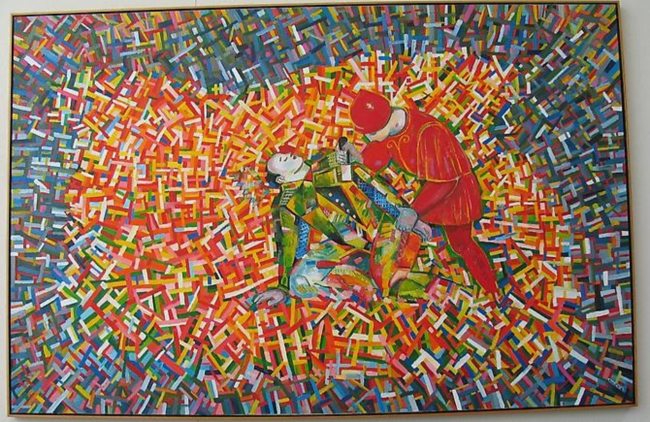 Similarly, the effect of pastiche we observe in Carpinteri's comics is the most tangible immediate effect of this postmodern appropriation of the avant-gardes. Born out of a centripetal poetics, his body of work strings together futurist and neoclassical visual cues, high and low cultural references, and the cruelty of surrealist and paraphysical theatre, with an often-unexpected levity. Yet, not only does this mosaic of cultural tiles remain surprisingly coherent and elegant, but it also manages to be propelled by a strong narrative drive.
Carpinteri's first story for the Italian magazine Frigidaire already shows the author's poetics firmly in place. Incrocio magico (1981) is part of a handful of black and white works before the author switched almost exclusively to color. In this period, the artist's style was marked by a sharp contrast of light and shadow and few and sparse half-tone effects rendered by the repetition of the word ombra ("shadow" in Italian). Although one can trace Carpinteri's comic book influences to Will Eisner and especially to Argentinian artist Muñoz, Carpinteri (like many of his colleagues in the Valvoline group) favors formalism and constructivism over expressionism. In Carpinteri's pages and panels, the placement of dark and light areas responds to a stringent geometrical logic, his world is a precise mechanism of interlocking shapes—a mechanomorphic world, as Carpinteri himself, puts it. It is telling that for his debut on the pages of Frigidaire, Carpinteri decided to give his hero the appearance of a famous Italian children's comic book hero: Il Signor Bonaventura. Created by Sergio Tofano in 1917, il Signor Bonaventura, a character graphically made up by cylindrical, circular and elliptical shapes, was an early example of modernism in comics and of a comics artist engaging with the contemporary "high" arts. Clearly then Carpinteri employs the Bonaventura quote as an homage to an illustrious pioneer of cultural transversalism.
Lastly, Incrocio Magico offers even a little self-referential joke. The author portrays himself and his geometrical poetics in his character's passion for his collection of polyhedrons which, hanging by threads on top of a washtub, are lovingly watered as flowers every day.
Carpinteri's switch to color, early in his career, also coincided with an increase of compositional complexity in his panels and pages. Below, the top panel from the story Mumble Rumble (1982), demonstrates Carpinteri's ability in staging and creating dynamic reading trajectories. Depicting the shockwaves of an earthquake, the panel makes use of the stylized geometrical bodies and objects in the frame by pitting them against each other, yet it manages to describe a reading flow. The triangular shapes—one of Carpinteri's recurrent compositional devices—drawn by the pulled curtains and reinforced by the positioning of the flowers (a nod to Giacomo Balla's Futurist flowers) suggest a reading direction that points towards the window on the opposite side of the panel. This route is further reinforced by the arms on the clock also pointing left. However, this motion is broken and dynamized by opposite pulls: the character's right arm points right, a movement emphasized by the kinetic lines of the cigarette being discarded, as do the decorative triangular motifs on the lamplight. The sense of dynamic unbalance is then further emphasized by the exaggerated worm-eye view perspective suggesting a momentary suspension of gravity.
Mumble Rumble, a tongue in cheek rant about a man accidentally stumbling into the woods where the Earth's vagina is hidden and his quest to locate her butthole, is also an example of Carpinteri's drive to experiment and widen the limits of the comics medium. Scripted by the comic book artist and painter Marcello Jori, the story was conceived as a co-production with the Italian experimental rock band Stupid Set, and as such it came with its own soundtrack, which was published as a 12" album by the magazine Frigidaire and the record label Italian Records. Each movement of the 7-minute track corresponds to a page of Carpinteri's comic. This tight collaboration between comics artists and rock bands was a common characteristic among the Valvoline and Frigidaire groups. Bands like Gaznevada, Confusional Quartet, Stupid Set, Skiantos, all hailing from the city of Bologna, were often swapping quotes and intuitions with comic book artists like Carpinteri, Tamburini, and Pazienza. If you want to try the complete Mumble Rumble experience, you can listen to the track on Youtube. Mumble Rumble has also been recently translated into English and published by the excellent Slovenian magazine Stripburger; you can order the issue here.
For the Valvoline group Carpinteri scripted and drew his first long work, Polsi Sottili (Thin Wrists). The story was published in installments in 1983 in the magazine Alter Alter where the Valvoline group ran an insert, the "magazine within a magazine" Valvoline Motorcomics. Polsi Sottili was thenfinally collected in book form in 1985. The story takes place in a futuristic megalopolis, a blend of the visions of Italian Futurist painters and the expressionism of noir cinema. The themes are again those central to Carpinteri's poetics, the interaction between man and machines, the anthropomorphisation of objects, the relationship with other species, the paranoid presence of a manipulating authority figure, and the thin line between utopias and dystopias. But, subtly, the story is also an allegory of Italy during the difficult years of terrorism and state-sponsored massacres, spanning the whole decade of the 1970s and tapering in the early 1980s.
After Polsi Sottili, Carpinteri moved away from comics to concentrate on his work as set designer for shows on national Italian TV and on promotional campaigns for popular brands such as Vespa, Swatch, and Fendi, among others. Now, his return to comics after 23 years is marked by what is easily one of his best works to date. Aquatlantic not only finds Carpinteri in fine form, but also shows an author whose research has continued to evolve throughout the years. In many ways Aquatlantic confirms and continues the trajectory that Carpinteri, much like Mattotti, undertook from the beginning of his career: a synthesis between the language of comics and that of painting. Signaling a wider departure from traditional comics iconography, the black contours of Carpinteri's art, already fading in Polsi Sottili, have almost disappeared here and colors play a central storytelling function. As is customary with Carpinteri, visual quotes abound: the always beloved Depero, Savinio, Balla, Malevich, but the borders of the cultural tiles that compose Aquatlantic's style are intentionally more blurred than in his 1980s postmodern works and result in a much more organic, flowing, visual whole.
Aquatlantic's plot also strings together familiar Carpinteri themes: the contraposition between surface and hidden worlds, the interaction between species in an alternate society (here, between the sub-marine humanoid dwellers and the tortoises that represent their leaders and spiritual guides), mind control, and a fiendish plot to undermine the equilibrium within a given civilization. I won't get into any plot details here so as not to spoil the experience for first-time readers, but suffice to say that, for the first time in Carpinteri's oeuvre, we are presented with a glimpse of a wholly functional utopia, any glitches and threats smoothed out by a strong sense of community and unity – a sharp turnaround from the paranoid universe of Polsi Sottili. Finally, Aquatlantic is enriched by cameos by fellow Valvoline artists Igort, Mattotti, and Burns—a sign of continuity with the group that, in critic and comic book historian Antonio Faeti's words, was "not interested in forcing the boundaries of comics as a form, but just believed that they are much wider than people think." Hopefully, the publication of this long work heralds a stable return to the world of comics for Carpinteri. A good sign is that the author has been busy completing a visual diary of his days during lockdown in Italy, a work that has been recently released digitally by Oblomov Edizioni. There's no doubt that the first appearance of a Carpinteri work in the US makes available to the audience an important piece of Italian and European comics history.