Belgian comic artist and illustrator Ward Zwart passed away on October 26, 2020. Ward was known for his atmospheric black-and-white pencil drawings that were published and exhibited internationally. His work often depicted deer, foxes, hares and other forest animals.
Ward studied at art colleges in Antwerp and in Ghent, but quit both schools after two years. Nevertheless, he kept on drawing. From 2007 on, he received wider recognition due to his poster designs for the underground music scenes in Antwerp and Ghent, and at the same time, he started to regularly release zines with his drawings and short comics and contributed to international anthologies. Some of these works were collected in books like Herd Animals (Bries, 2009), Mostly Cola (self-published, 2012) and I'm a Bat (Extrapool, 2013).
In 2016, Bries released his first graphic novel, Wolven ("Wolves"), a collaboration with scriptwriter and filmmaker Enzo Smits. This haunting graphic novel interlinks three stories exploring adolescence, and is deeply inspired by coming-of-age movies such as The Goonies, Kids, and Rebel Without a Cause. In 2018, Wolven was also published in French by Même Pas Mal. Recently, Ward and Enzo had been working on a second graphic novel, Ik kom van ver maar blijf niet lang ("I came from far away, but won't stay long"), continuing on similar themes. It is due to be released by Bries on December 3, and a French translation with Même Pas Mal is on its way as well.
Ward Zwart was strongly committed to the underground and DIY culture, but he also contributed many illustrations to Belgian newspapers such as De Morgen and De Standaard. He was commissioned to do commercial work for the Flemish Opera, the Royal Museum of Fine Arts in Antwerp and the Flemish Government, and internationally for Vice Magazine, Google+, The New York Times and others, always maintaining his instantly recognizable signature style.
Next to drawing, Ward became a strong force in pushing and promoting the works of other artists. From 2012-2018, he co-organized Grafixx in Antwerp, which he founded with Ephameron. As a unique festival filled with lectures, performances, a zine fair, and exhibitions, Grafixx showcases some of the most exciting graphic artists and independent publishers from around the world. With Ignace Cami, from 2017-2019 he ran CRYING Space, a place for experimental art and performances. Dressed as rats, they started playing music as Boris & Kitchenknife. Also behind a wild animal mask, Ward performed experimental music and released tapes as LOLOMAN.
Ward Zwart's creative energy and kindness will be greatly missed.
Below, you will find remembrances of Ward Zwart and his art by friends and artists from around the comics community, adding very different perspectives and offering beautiful insights into his active life in comics and art. You are welcome to add your own in the comment section. - David Schilter
Enzo Smits
There's this closing line in the movie Stand By Me that I had to think of a lot in recent days:
"I know I'll miss him forever. I never had any friends later on like the ones I met when I was twelve. Jesus, does anyone?"
And I know we were both way older when we met…. But I really don't care, I think Ward would appreciate the reference.
We got to know each other around 2005-2006. We both frequented the same concerts in local youth clubs and moldy basements. It was a tight knit music scene that became the basis for a lot of future friendships. Ward quickly put his visual stamp on this scene by designing a lot of the posters and artwork for the bands…Ward Zwart did for these sweaty Belgian venues what Pete Saville did for The Factory. We didn't know each other well back then; had some short conversations or distant waves but I admired his talent, became an instant fan and started buying all his zines, prints, t-shirts, …
Now, almost 15 years later, we became friends, traveled around a bit and just finished our second book… But I'm still a fan. Even though I know for sure he would mock me for saying this, because I said this to him not that long ago and it was very awkward.
When visiting his place, he would always proudly show me treasures he found at a recent flea market stroll or brag about the endless possibilities of his Vitamix blender. (To be honest this was probably the only thing I ever caught him bragging about). We would talk about the movies we just saw, music we were listening to, (photo)books we recently bought and of course about the eternal quest for good falafel.... and in between we would sometimes talk about the books we were making.
It's a rare thing to meet someone with whom you can connect this well, without needing much words. I loved creating these universes together and packing them with references to everything we love, people we know and stupid incrowd jokes that only a few people will get. Every time I received an email with the new pages he made, I couldn't wait to see them and would interrupt whatever I was doing to check them out.
It will be a strange feeling to release this book without him… not being able to flip through it together.
I never thought I was going to say this but I will even miss sitting behind the tables at signing sessions together. We always felt a bit out of place at events like these. Watching this stream of people walking past our table, ignoring our existence while we would be making silly jokes. From a distance I think we must have looked like a weird mixture of Beavis and Butthead and Statler and Waldorf, grinning behind our little table, usually with a pack of Snickers in front of us.
Man… I could fill a book with anecdotes that demonstrate what a good dude Ward was, because he truly was a gentle, funny, warm and generous person.
My grandmother who once briefly met him, keeps referring to him as 'This kind friend of yours'.
Who am I to argue with my grandmother?
Ward impacted people in many different ways. As a friend, but also as an artist. People, myself included, feel understood when they look at his drawings. In the worlds he created, they see parts of themselves. I'm very grateful that I had the chance to create worlds alongside him.
See you later Loloman, you gentle beast. Kind friend of mine. I miss you.
Ignace Cami
Ward Zwart...
I could tell you a thing or two about Ward. About his talents, his kindness, his dedication and love for everything weird. Or about how he started wearing colorful socks one day, which I immediately copied because I wanted to be cool, like him. Or about how we fixed everything with duct tape, paper-mâché and cardboard. But I'm sure others will tell you that way better than I can. Instead, I will tell you a different story.
The year is 2012. We have been friends for a few years but are steadily growing closer, Ward — soft, silent and shy — and me, a boisterous mess: two opposites that pull towards each other, like magnets really. I got to know him in the early 2000s. I was a huge fan of his posters for gigs and bought all of his DIY zines. He was a huge fan of the band I played in at the time. Messy, raw, and wild. Everything he liked in music, he told me later.
Back to 2012. It is January. Ward is about to release a self-published book called Mostly Cola. He is sitting at the kitchen table in his apartment, staring at the twenty books that he has just hand-fitted with a dust cover. He scratches the back of his head. Four hundred and eighty to go. He sighs, reaches for his phone and dials my number.
The next day we are both sitting at his kitchen table. Ward silently wrapping books and smirking, me yapping on about all kinds of nonsense. When we reach our goal of two hundred he turns to me and says:
"Fucking Vice Magazine contacted me for an interview."
I immediately start laughing.
"And? Are you gonna do it?"
"Stop laughing, you dick. I just self-published. I could use the publicity."
"Sorry man, just the thought of you getting interviewed is so awkward and funny. And fucking Vice… Do you want me to do it for you?"
Ward's eyes light up. "Would you?"
"Sure, if you bake me some pancakes."
"Oh, I will do more than that. I'll give you a drawing."
He flips through his new book, holding it open on the last double spread drawing. A drawing of some potted plants in a corner of a room next to a heater.
"Nice, I'll have it framed," I reply, thinking it would be a small pencil drawing. Later I found out that the drawing was in fact a 100 by 120 centimeter charcoal monster. The frame I had made for it was, for a long time, the most expensive thing in my apartment.
One week later, we are both sitting at his kitchen table, eating pancakes.
"I want to record it," Ward says with a high-pitched crack in his voice. "I brought a tape recorder". He was clearly very excited. "The interviewer will arrive in one hour. I'll be hiding in my room, right above the kitchen. I drilled a hole in the floor underneath my bed and through the kitchen ceiling for the recorder. I will be listening along to your conversation. You can hear everything that is being said from up there."
I ask him to give me as much information as possible about the book, confident that I could memorize everything — it later turns out that I couldn't. After going over all the details, Ward has one last request.
"When you open the door, greet this guy by saying: Hi, you must be Gringo."
After that he turns around, grabs a packaged cake from the kitchen and pours himself a glass of fizzy lemonade. With this loot he walks up the stairs and closes the door of his bedroom sanctuary. Ten minutes later the doorbell rings. I walk downstairs to open the door and say: "Hi, Gringo right? Nice to meet you," and stick out my hand. He politely shakes it and informs me that his name is Ringo. Ward had set me up even before the interview started.
One hour and forty minutes. The exact duration of the meeting from doorbell to end. I close the front door and turn around to walk back up. Ward is standing two floors above me at the top of the stairs, giggling delightfully. Tears are rolling down his red cheeks.
"Hohoho, that was amazing. Let's listen to the recording while I reheat some of the leftover pancakes."
So here we are, sitting at his kitchen table, eating reheated pancakes while listening to the tape. The recording had failed. The only audible sounds are the doorbell, "Hi, Gringo right?", Ward giggling and the sound of a packaged cake being opened, cut and eaten in the most tasteful manner, followed by some sips of lemonade, occasionally interrupted by Ward's notorious chuckles.
And that's exactly how I imagine him now: upstairs, lying on a bed, enjoying a nice piece of cake and every now and then sipping on a glass of lemonade, listening to the world below. Waiting for a signal that tells him it's all over and he can come back down to pick me up and reheat some pancakes.
I'll be waiting, buddy.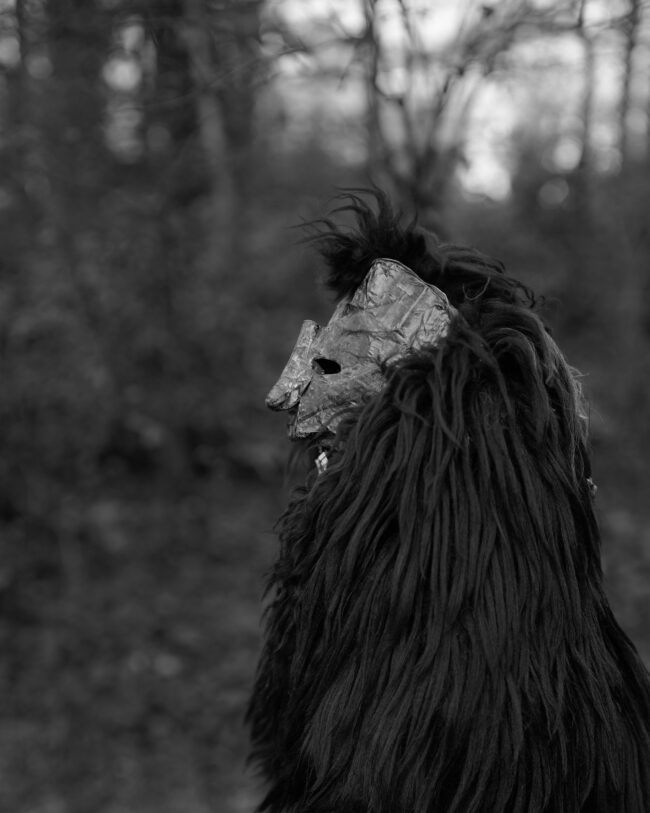 Nick Geboers
The first time I got in touch with Ward Zwart was in 2007. Around this time the only thing I had on my mind was skateboarding and starting a small skateboard company. I liked the idea of having the name of an artist on a deck instead of a skater. I was facing one problem; I didn't really know a lot of artists. I did get some of Ward's early zines and a fun sticker pack around that time and got Ward's contacts from Enzo Smits. I'm still grateful to this day that he wanted to do the graphic for the little I had to offer in return. It took several years until our paths crossed again, but as time went on it happened more and more often. On almost every occasion it involved creating something; exhibitions, photos for his music projects, …There was only one time I can think of when we weren't really productive. It was a journey that took us to the Bialowieza forest in Poland, to look for a Wisent.
It took us longer to get there than the time we could stay there. We were guests on a self-sufficient farm on the edge of the forest, where we arrived just before the night fell. After the flight and a long drive, we really needed to stretch our legs before staying in for the night. A short walk to discover the surrounding area seemed like a good idea. The farmer warned us not to stay in the forest after dark. The neighbor's dog had been eaten by wolves the night before we arrived. The nervous shaking and shivering of their own dog, a Polish greyhound called Hurricane, gave us the impression it was terrified for the coming night. It didn't take five minutes walking until Ward stopped and said "Is that a horse drinking over there?" As we halted a moose stopped drinking and made eye contact instantly. Steam coming out of its nostrils and the reflection of the setting sun in its eyes. A fraction of a second later another moose showed its head, a few meters behind the other one. It was the first time we saw wild moose and felt we were off to a good start. Apart from the biggest ticks we had ever seen, we didn't see much other wildlife. Some wolf tracks close to the farm and signs at the gate of the bison reserve, telling us that the park was closed until the next season. It was still a worthy experience, we saw one of Europe's biggest treasures (in the form of this ur-forest), made new friends, got to know that Hurricane just always shivered from excitement when there were new guests that could cuddle him, we had good food and lots of laughter. What stayed with me for a long time was a remark Ward made to my girlfriend Nanna:
"I feel so strange… I haven't drawn for a whole week!"
This whole anecdote isn't the wildest story I could've told. Ward made magic happen, on occasions when you wouldn't expect it. With his drawings, with recent discoveries that he loved to share, his music and mythical alter egos. But this short story stands out because we almost didn't go on this trip. During our stay in Poland I felt like I had failed a bit, not reaching our goal of finding a European bison. But looking back at it, it was a special experience that we shared and it became even more clear to me how genuine our friendship was. A rare friendship, because I was never more at ease than being in his company. Even when I felt I had failed, he made me feel good and with very little words. This goes for every single time I was in his company; it was good to be with him. His kindness and his generosity are something that will always stay with me and is something I try to carry on with Ward in mind, and he will live on. Ward forever!
Ephameron
I must have known Ward since 2006: the earliest e-mail I recovered, dates back to the end of that year. He writes to tell me about finally having been able to print a zine that he had been working on for ages. A month later, I invite him to take part in a publication, the first of our many collaborations over the last 15 years.
I can't remember how we got in touch exactly, but I do recall meeting him in person for the first time a little later, while I was dismantling one of my exhibitions. He didn't look at all like I had imagined from seeing his drawings. He was carrying a large folder to show me his amazing artworks: raw, alive, direct, unlike anything I had seen before.
Every project I organized featured Ward's work as well. We spent days in copy shops. We built installations. We camped out in a gallery. We set up shows together. We priced zines for fairs, night after night. He introduced me to a parallel underground art world, insisted on inviting obscure artists that I had never heard of. Looking back, his taste in alternative comics influenced me in many ways. He was younger than I, but he was also my guide.
We were very different. After working together for so long, we slowly started walking into other directions. This autumn felt like coming full circle: for the graphic arts festival that we started together; he was creating an installation based on his new graphic novel with Enzo Smits.
I can't wait to read the book and pretend that he is still with us.
Aidan Koch
Ward was an undeniable influence in my pursuit of comics and art. In the late 2000's, I was convinced there must be some kind of huge, experimental, poetic comics movement happening in Europe based on my Flickr friends. Ward was one of these artists and I was obsessed with everything he made.
I was so elated when I finally got to hold his work in my hands. Getting to see the quality of his lines, the depth of his scenes and shadows, the ability of his hand to be so loose yet with absolute clarity had me in such awe. His stories had a tender-roughness, a melancholy. Smudgy graphite snapshots of cropped figures pin down moments, memories, and trigger reflections.
Ephameron got me to Antwerp for the first time in 2012. Ward took me to a flea market filled with little treasures to dig through, something he already knew I'd enjoy. I remember he was kind of shy and quiet but we were definitely both excited to finally meet and amazed that suddenly your internet friend and influence can just be there, a full person walking around. And although the huge comics movement I expected to find wasn't so big, in Antwerp I got to see a small, creative, passionate community that valued and supported each artist in it and welcomed those who wandered in.
Ward and I met up on other trips I took back to Antwerp over the years and it felt so valuable to have these moments of re-connection outside of the internet. We talked about tattoos and animals and puppets and art while walking around cloudy, cool, Belgian streets. When Ephameron told me about Ward's passing it was so shocking and bizarre feeling. So often I would still see and refer to his work as a source of motivation and inspiration. He was someone I came into this community with, that I saw as part of my community within comics, and had seen grow as I was also growing over the last 10 years. To lose him breaks my heart. I wish I could see where we both would be in another 10 years. But I am so grateful to have found him and his work when I did. I hope others will continue to find it and find themselves in it.
Ria Schulpen (Bries)
Sweet memories.
An evening in October 2009. We discussed the size and the paper of 'Herd Animals' in café De Kat in Antwerp.
An afternoon in November 2016. You, Enzo and I are sitting in my living room, taping a small newspaper, clipping and putting all the extras in each copy of Wolven. We worked together like a well-oiled machine!
An afternoon, early October 2020. Sitting in your living room, making the final decision together about the paper and the printing colors for Ik kom van ver, maar blijf niet lang.
We didn't live far from each other.
It feels strange now, accidentally cycling past all the places where you used to live or work...
Forever in our heart.
Aimée de Jongh
About ten years ago, when I was struggling to find my voice in comics, I came across Ward's artwork online. I was immediately captivated and inspired by it. The way he used his pencil to create realistic and tangible characters, in strange and uncommon camera angles, was completely new to me. There was simply nothing like it. Ward was not a standard comic artist. Maybe he was more of an illustrator, in the end. Ward also evaded the mainstream comic scene with great skill. He preferred to stay underground, where he was free to work the way he wanted. It's something that, as an artist, I can only admire. After both our careers in the comic scene took off, I finally met Ward in 2018, when we were both invited to the Angoulême comics festival by the Dutch and Flanders Literary Funds. Though we attended the same dinners and parties, unfortunately we did not share many words, which I now regret deeply. I wanted to tell him how much his graphic novel Wolven meant to me. It is still unreal that there won't be another chance to do so. I hope Ward's work will be admired and shared and read long after his departure. It deserves to be seen.
Amanda Vähämäki
Ward was a very loyal supporter of my scribbles from early on, possibly ordering every single piece of zine I'd self publish. When I discovered his work later on he become an inspiration to me. So sad to lose him.
Paul Paetzel
I think I met Ward Zwart for the first time in Antwerp at the exhibition ART TREK. He was very kind and welcoming and interested in the work of other comic artists. For me his way of connecting and talking to people was unique and gentle. Later in 2013 I saw a panel talk of him showing different zines and small press publications he liked. The way he talked about and analyzed those publications was very sharp, inspiring and on point. In general, his approach towards imagery, drawing, printmaking and publishing is a huge source of inspiration and feels so whole. Ward Zwart's work is amazing and pulls you into another world. It highlights things surrounding you which you did not realize before and makes you pay attention to them. It is heavy and deep, light and playful at the same time. When he visited Berlin I asked him why he named his book "Mostly Cola", he answered "because it sounds good." It was the best answer I could get.
Ingrīda Pičukāne
It is so strange and sad when someone who is younger than you has died. Last January I met Ward Zwart when he visited Latvia. I went to his presentation and I invited him to my school (Riga Art and Media School), where I teach comics and animation, to tell about his life and work as a comic artist. I really enjoyed to discover how he combines quotations from cinema with his own stories as principle in his storytelling. We had a nice conversation about life on the train on the way to school, and I laughed a bit during the lesson, because it turned out that he hadn't finished several schools, therefore not being the best example for the students - but of course he kept on drawing and that's the main thing. I found his productivity and ability to work amazing, because I draw very little and very slowly. RIP Ward Zwart.
Sammy Stein
I met Ward Zwart at the Belgian Grafixx Festival a few years ago. We had a talk for just a few moments, but I saw a peaceful calm and nice feeling inside him.
Simon Hanselmann
Hit me like a fucking brick when i heard Ward had passed. Saw the news on a damp, overcast morning. Instantly went for the booze, despite it being the morning... Sat outside and had a smoke by the dirty old bamboo, ground was all sludgy. Felt like I was in a scene from a Ward Zwart production...
I Poured out some of my cider into the wet earth, as if Ward were a slain rapper I had "rolled with"...
I'd never met Ward in the flesh world, I wish I had gotten to,
we were just ding dong "internet pals".
I contributed something to his anthology thing Sans Soleil in like 2012 or something, back when shit like that felt like a big deal for me.
I dug his work and "followed" him through multiple social media cycles.
There's Ward! Good old Ward! All alive and shit, doing his thing...
I liked how he made things go into his eyes and then he travelled those things through his brain and out through his hands, onto some paper.
It was beautiful...
I was a fan.
He mailed me a book at some point years ago and it was wrapped up in a big poster thing of one of his wildlife pieces, it's all torn up and fucked up but it's hung on my walls in multiple different houses and countries since.
I look at it everyday...
Every fucking day.
I'm being all flowery and poetic and shit...
Jesus...
IN SUMMATION:
I never heard anyone say he was a cunt.
"Hope you're happy now, motherfucker."
<|:-(
Yann, Mélanie and Chloé from Même Pas Mal
Ward's work jumped out at us in 2017, when we learned that we'd have the chance and honor to publish the French version of his intimidating graphic novel Wolven, done in collaboration with his great friend and writer Enzo Smits.
The dazzling charcoal and indocile drawings of the young artist, his splenetic universe reminiscent of Harmony Korine or Gus Van Sant's films, and then his mysterious and sensitive personality bewitched us.
Today we comfort ourselves over his departure through the memories he left here, in the south of France and at the 2018 Angoulême Festival, where his work met the surprised admiration of artists and amateurs from all over the world, or at home in Belgium with his publisher Bries.
Emotion grasps us every time we come across pencil illustrations, zines and small objects embellished with bears, rabbits or lost teenagers faces that he scattered along his path and that will remain after him forever.
Thank you Ward.
Mari Kanstad Johnsen
I met Ward only once, at the Grafixx Festival in Antwerp, but we had emailed about my contributions to zines he was producing. It seemed somehow typical that he was working with an exhibition in the tiniest room in the festival-building, but creating something interesting. I really admire his drawings, specially the sensitivity he brought out in the kids he portrayed. Such gentle wilderness, and very, very human.
Jaakko Pallasvuo
I admired the precise, melancholic intensity of Ward's drawings. The work felt both grounded in observation and instantly recognizable as Ward's. Receiving it in zine form always felt memorable, like being included in a secret society.
Giulia Sagramola & Sarah Mazzetti (Teiera)
While going through the pages of Mostly Cola we were swept away by Ward's specific sense of atmosphere and the human interaction of his characters. It immediately captured us, and it made us want to ask him if he could possibly consider drawing a short story for our upcoming zine called Cicles. The result was an odd, bad-ending trip, with a subtle sense of cruel fatalism, and beautifully drawn of course. It was a huge shock to find out about his death and It feels especially weird to realize that we'll never have the chance to meet him in person. We've always been big fans of Ward's work, and we always will be.
Tommi Musturi
I saw Ward's work first through the Flemish publisher Bries and soon via my interest and connections to the local scene there. This happened the years Ward must've been in his early twenties. It seemed like a lot of things were happening in Belgium comic art at that very moment. That resulted in that we invited Belgium as a theme country for the 27th Helsinki Comics Festival in year 2012. Simultaneously our contemporary comics newspaper Kuti had an article on new Flemish comics with Ward included.
That particular year of 2012 I had the privilege of being the artistic director for our festival so I had Ward to join as one of the Belgian guests. His work was included in the 'Night Animals' -exhibition that presented the newest of the Belgian contemporary comics – both Flemish and Wallonian. That was the first time I met Ward in person. He was this silent and humble guy dressed in black that could've been easily mistaken as a Finn. We shared interest in hardcore punk that Ward had grown up with and ended up trading some zines. I browsed those through briefly early this year while organizing my comics after our move to another flat.
The years went by and we stayed in brief contact due our activities with events and publishing. He was one of those guys that did a bit of everything in the scene. I met Ward every now and then at the festivals abroad and had a chance as well to visit the excellent Grafixx festival in Antwerp – an event that Ward with others did for years. In all it seemed like he jumped into these projects that he saw importance in and gave them all he had. That importance is as well a reason for staying alive.
Ward was a good artist. His images often presented delicately drawn (usually) black and white world that cherishes both beauty and melancholy. I had been waiting for his new book that I knew had taken long.
At the moment it is difficult to understand that he is suddenly gone. It feels both shocking and very wrong. For sure I would've wanted to discuss with him a lot of things but we never seemed to have the time. What is sure is that we would have needed him more than anything.