The incomparable Jack Davis has passed away. I (Dan) was honored to help bring him to the 2011 Brooklyn Comics and Graphics Festival. He couldn't have been nicer, and it was a real honor. I remain amazed by the breadth and depth of his work. He could be as gritty and detailed as he pleased, creating spaces that were alive with humanity and humor, or he could practice as Mark Newgarden beautifully put it on Facebook today, "Drawing = breathing" -- the effortless and sure mark-making of a master. He was a truly giant of 20th century visual culture, and he'll be missed.
Below, his friends and colleagues pay tribute to him. More images can be found on the Jack Davis Foundation web site, and, of course, all over the web.
Jack Davis has always been a bit of an obsession with me. When I was very young (early/mid '60s) his work seemed to be everywhere! Bubblegum cards ... Jack Davis! Comic books ... Jack Davis! Magazines ... Jack Davis! Paperback covers ... Jack Davis! Record Album covers ... Jack Davis! Movie posters ... Jack Davis! You just couldn't escape JACK DAVIS!! Which to me was welcome news because I adored Jack Davis! When his incredible poster art for It's a Mad, Mad, Mad, Mad World appeared, quickly followed by his cover art for Mad's paperback parody cover, "It's a World, World, World, World MAD," my head almost exploded. I wanted to kiss his feet.
Only later did I go back and discover EC Comics, and sure enough, who was their most prominent artist? JACK DAVIS!! How amazingly prolific! And how amazingly wonderful his work was, always innovative, fun, funny, beautifully watercolored or crosshatched. The guy hit a home run every time out! And I haven't even mentioned the '70s when he seemed to be on the cover of Time or TV Guide every single week! When did he sleep? Was there more than one Jack Davis? No matter, his amazing output happened, and this book is finally the proof!
I've never had the pleasure of meeting Jack Davis, although as a contributor to Mad over the last twenty years I've met some several of the other legendary contributors, among them Mort Drucker and Al Jaffee, both incredibly sweet, lovely men. But I've heard Jack Davis described by more than a few people as possibly the sweetest Southern gentleman ever, which I always liked to hear. So incredibly talented, prolific, and nice. A role model for all of us who make a living drawing people to look funny.
And speaking of feet, over the years an occasional art director has asked me to do a caricature of a personality, including their "feet"… I've always declined with the following reason: "Feet are not funny." Unless Jack Davis is drawing them.

——————————————————————

GARY PANTER:
My favorite works by Jack Davis are his various monsters, standing solo like the door sized Frankenstein poster sold in monster magazines, or clumped in wretch piles of scratching,  drooling, leaky, hairy, fly blown, boil plagued and wart encrusted werewolves, vampires, lackeys, hoodlums, degenerates and brainless tools. He was really good at organizing a picture-- a hard thing to do when the picture has many elements. Jack Davis was continually spewing out crowd scenes of scheming teeming denizens to sell anything--movies, bathroom products, sporting goods-- a true commercial artist knocking the crap out but most often knocking the crap out of the park into a very identifiable place of personal expression. 
But I loved his monsters best--on bubble gum stickers, trading cards, and comic books. I am still looking for Yak Yak number two. I was completely smitten by Yak Yak one and took it on family vacation to a relative's quarter horse farm in Louisiana. I wasn't interested in horses, but was interested in Jack Davis's beatniks and environs. The comic mysteriously disappeared on the trip, though it was never out of my sight for long. I suspect conspiracy to trash theYak Yak #1 and an an adult, an arrested development adult, I found another copy of it. Hooray for Jack Davis the scribbliest form generator.
——————————————————————
Back in my childhood Mad-obsessed days, circa 1966-1970, Jack Davis's art was everywhere: trading cards, TV commercials, magazine ads, LP covers, etc. Now, normally, when someone's work becomes that ubiquitous one could easily become sick of it. Resentful, even. Disdainful. Disgusted. But not once did I ever feel like I was seeing too much of Davis's work. To me that would be like complaining about too much sunshine or flowers. There was no such thing as "too much Jack Davis"!
One piece of ubiquitous Davis art was a tiny ad for a "life sized" Frankenstein poster that used to appear on the inside back covers of comic books along with other novelty items like X-ray specs and itching powder.  I never considered ordering it since I was convinced that those ads were a scam when I was a kid. I also literally thought that poster was too good to be true.  I mean, a six-foot drawing by Jack Davis that I could hang on my bedroom door?  Why not throw in the Brooklyn Bridge while you're at it! Imagine my shock and surprise when many years later I saw that very poster hanging on the wall of a friend's apartment.  It was every bit as fantastic as I imagined it to be, and I cursed myself for being such a skeptic when I was ten years old!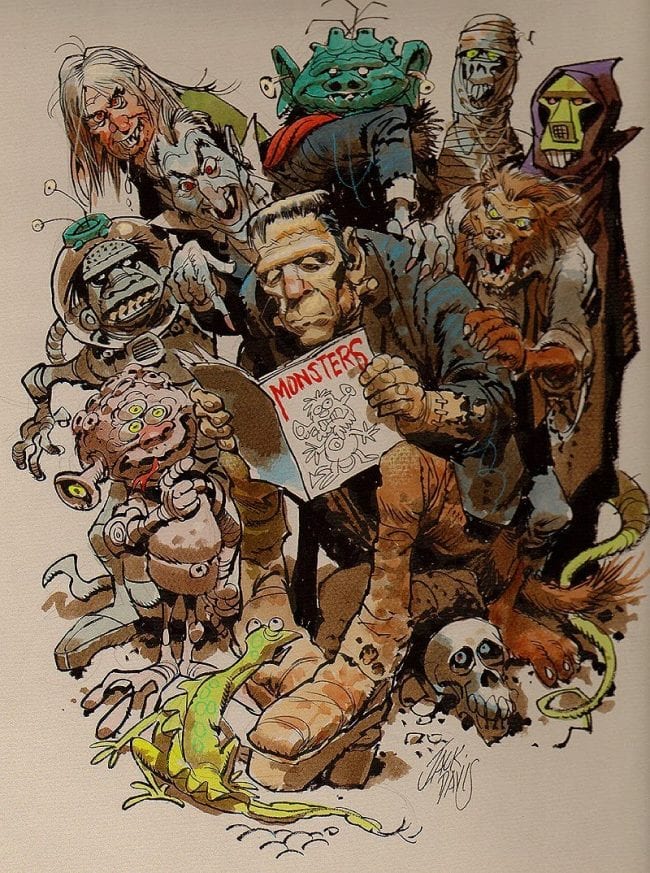 ——————————————————————
JOE KUBERT (2010):
He's probably one of the most talented guys I know even though I don't know him. I did very little socializing with anybody. But I did know him enough to speak with him when I met him socially. Aside from the fact that he's one of the most incredibly talented guys I know, he's also one of the nicest. His inking was so spontaneous. Everything he did was so goddamn fresh. It looked like he just slapped it right down on the paper. Maybe I liked it because I saw him doing what I was trying to do. His style and approach is different, but I imagine that he thinks the same way I do, and that kind of spontaneity is what I've always looked for. I've been trying to analyze this over the years and perhaps in some ways, it's an unfinished look I'm going for and ultimately what I want the reader to participate in.
——————————————————————
When I think of Jack Davis, my mind is irresistibly drawn back to the days when I was a young man deep in the convulsive throes of worshipful admiration for everything connected with the old MAD comic.
My friends and I would pore over them endlessly, scrutinizing every detail and trying to explain to ourselves and each other what it was that made them so incredibly powerful, so potently perfect, so exactly what the black centers of our young American hearts yearned for. Harvey Kurtzman's MAD delivered the goods like nothing had before. We still keep them, still look at them, still feel their righteous anarchic authority even today.
Jack Davis, needless to say, was a crucial part of MAD. The zest he brought to an assignment, the rhythmic brush work, the effortless flipping from wholesome to hideous, the toes busting out of shoes, the shocks of greasy-looking hair, the big knuckles, the frantic acting... it was nourishing food for the cartoon-loving soul. For us young connoisseurs it was a display of virtuosity to make us gnash our teeth and despair even as we exalted. He was inimitable, by which I mean you can't get away with it. It shows.
Kurtzman's MAD ended about sixty years ago, but Jack Davis' work kept coming, overflowing the purview of comics and flooding the world with cartoons for magazine covers, ads, movie and TV show posters, album covers, pamphlets, book illustrations, newspaper comics, sports cartoons, bubble gum cards, animation designs and God only knows what else. I bet I saw at least one new Jack Davis drawing every week throughout the sixties and seventies. I'd like to see someone- preferably someone I don't like- attempt to compile a Jack Davis Checklist.
As a cartoonist, Jack Davis hit the ground running. There may be a few clues out there as to whose work influenced his drawing style, but wherever he got his ideas he made them his own, body and soul. What's more, he discovered in that style a range of possibility that enabled him to find the perfect default ratio of effort-to-effect. When he drew slowly his work was magisterial, stunning in its methodical building up of detail to great overall effect. When he worked fast his line had unparalleled energy and power of expression.
He preferred to work fast, possibly in part so he could spend more time away from the drawing board and more on, say, the golf course. But he felt that his quick drawings had a fresh energy that the finished work lacked. His book Some of My Good Stuff is a collection of sketches and layouts that make this point beautifully. The faster he draws the less he draws like anyone else. Can.
Jack Davis ripened early, became a great architect of American humor, had a fantastically prolific career for over sixty years, brightened the eyeballs of untold millions and died a beloved old stalwart whose reputation as a gentleman was as solid as his artistic credentials. It seems like enough.
——————————————————————
For a guy who started in comic books doing gruesome horror and grim war stories, Jack Davis's transition to humor on Mad was not only flawless, it was revelatory; he found his true calling.
And as a kid who worshipped Mad Magazine, but especially the paperback reprints of those weird, dense first 23 Kurtzman comic book issues, I marveled at Davis's art. He just drew funny, from the poses to the facial expressions, right down to the feet. Only Don Martin had a more distinctive, stylized way of drawing feet.
I knew I obviously couldn't (and can't) draw nearly as well, as expressively, as fluidly, as Davis. But just knowing that you can get that much funniness out of a pen was so thrilling, it helped compel me to find my own path.
Davis found huge success in the world of illustration, and it was fun seeing his work (always unmistakably) on movie posters, magazine covers and buses, but he was always ours. Our Mad guy who was a charter creator of the funniest comics ever made. The comics that inspired every humor cartoonist, and probably most humorists of any type, from a couple of generations.
——————————————————————
As a kid my life revolved around MAD Magazine and its Usual Gang of Idiots. I honed my drawing skills by copying all those artists, but worshipped one in particular: Jack Davis. His style exuded such energy and spontaneity that it seemed unreal. If only we met, I imagined, I'd surely absorb his magical drawing abilities.
At that time his work was ubiquitous. Hardly a week went by without a new Davis movie poster or Time cover or album sleeve appearing in print, not to mention the continuous work he did for MAD. Despite this staggering output, his work never diminished in quality. It only got better.
When I discovered that my hero lived in the neighboring town, I wasted no time in presenting myself at his house, unannounced. His wife Dena graciously invited me into their living room and Jack stopped whatever he was doing (most certainly drawing on deadline) to look at the art I'd brought along. He complimented my work and took the time to sketch my portrait on the spot as a parting gift. The drawing meant the world to me.
Later that year, our family happened to relocate to within a stone's throw of the Davises. I took the opportunity to show up at their doorstep yet again, this time as a neighbor with my younger brother Greg in tow. Again Jack and Dena received us warmly into their home, and after reviewing my new drawings, Jack sketched Greg's and my portraits as mementos of the visit.
It isn't every day that your idol turns out to be the nicest guy ever, accepts you into his house, draws your picture, and inspires you for life — twice over. But beneficence was at Jack's core. Between his high-profile jobs for example, he also drew posters for the high school his daughter Katie and I attended. Because that's the kind of guy he was.
As for absorbing his magical drawing abilities, let's face it: the man was inimitable. I learned a lot by copying his work, but there was no matching his draftsmanship. I did however grasp the generous spirit of Jack's art. He put his all into every illustration, offering a visual feast each time. His larger tableaus were typically rich with detail, teeming with layers of figures. The smaller ones packed no less of a punch, radiating their own intensity.
I love that Jack clearly took great joy in drawing and in spreading joy with his art. It shows in every piece, rendering his output timeless. Eventually my kids will marvel at his work too, for I've saved all my old MADs for them to discover. And when they do, I can't wait to tell them about the coolest, kindest neighbor in the world.