The past two to three years have seen a steady increase in comics shows, festivals and conventions in the UK, with the circuit now boasting at least one event a month. That may not seem huge, but the British comics scene in itself isn't huge. The year just now winding up saw not only a raft of events such as ELCAF, DICE, Comica, MCM, Bristol Comics Expo and so forth, but also the inauguration of two new large shows: the Lakes International Comics Art Festival, which aimed for a more European influence in tone, and Stripped, the comic counterpart/offshoot of the Edinburgh Book Festival. The proliferation of events is indicative of the slow growth and visibility of the comics scene here, as books such as Mary and Bryan Talbot's Dotter of Her Fathers Eyes, Joff Winnterhart's Days of the Bagnold Summer and Stephen Collins' The Gigantic Beard That Was Evil make forays into mainstream consciousness (that promised land!), Brits triumph at Angouleme for the first time, and the talents and efforts of British creators and publishers draw in new audiences. As ever with comics, this growth is cynically and suspiciously viewed, disputed and argued over, but it's happening and it's a positive thing; there's certainly a discernibly positive vibe to proceedings as of late.
Dubious sweeping analysis aside, it's in no way presumptuous to say that many of these newer shows have been influenced and buoyed by the success and growth of Thought Bubble, the UK's premier comic convention™. What Thought Bubble does fantastically well, as you'll hear over and over from creators, exhibitors and fans alike, is retain the essence of a much smaller event while growing bigger each year. Familiar platitudes—friendly, warm, welcoming, inclusive, great atmosphere—are all true of Thought Bubble. As a native of Leeds and a proud Yorkshireman, I attribute this to Northern soul, but pivotal to that feeling is the mixture of exhibitors, guests and creators curated by director Lisa Wood and Clark Burscough (assistant director). This year for example hosted Geof Darrow, Fiona Staples, Matt Fraction, Oscar Zarate, Frederik Peeters, Gabriel and Fabio Moon, Kate Beaton, Brandon Graham, Becky Cloonan, Jeffrey Brown, Sean Gordon Murphy, Nathan Fox, Ian Edginton, Adi Granov, Meredith Gran, Frazer Irving, David Lloyd, Jock, Olly Moss, and many more. That's on top of a vast selection of British comic creators and publishers, and space given to illustration, crafts, children's workshops, and activities. This kaleidoscope of people is usually distributed over two halls located directly opposite one another in the Royal Armouries Museum, but this year, when tables sold out in two hours, a third hall was added and those who had missed out were contacted and accommodated.
Conventions are generally a whirlwind of events, but this year was even more hectic than usual: I was working, helping to man the OK Comics (the fab comics store at which I work) tables with the guys, was conscious of doing this write-up and so attended panels for due diligence (panels are deathly boring, yo) as well as having a list of things on my "to buy" list and people I wanted to see. The guys had done the hard work lugging all the books to the Armouries in a van and setting up, so by the time I strode in with a packed lunch of Irn Bru and Jammie Dodgers on Saturday, the queue was happily snaking around the building in the cool sunshine. I knew we were sharing table space with publishers SelfMadeHero, but it's still pretty daunting to have one of your favorite cartoonists- Frederik Peeters- in much closer proximity than imagined. I had a plan, right? At some point in the day, I'd just naturally strike up a conversation, and we'd talk like normal people, but then the kindness of others resulted in the world's most awkward handshake and introduction, a complete lack of eye contact and brain freeze on my part, which in turn meant I had to ignore him the rest of the weekend. Peeters has a proper superstar air about him. I don't mean that he's haughty, but that he has a tangible presence. That presence was keenly felt on Saturday, as he spent most of the day arms folded, stalking up and down two meters of tight area as he waited for copies of his new book, Aama, to arrive, which didn't happen until the last 15 minutes of the evening. He was calmer on Sunday.
I wandered away from the stall to attend the "Humour in Comics" panel moderated by Woodrow Phoenix and featuring Joe Decie, Donya Todd, Lizz Lunney, and Jim Medway. There was a new "Speech Bubble" space designated for panels this year, a series of raised platforms with cushions for attendees, with chairs and screen at the front for guests. Sort of al fresco chic. It was still early, so I got to chat a little with people I hadn't met before: Todd, Lunney, and Medway. Decie I've bumped into previously a couple of times and he's simply one of the nicest people to talk to, very down to earth, accommodating and very funny. All four cartoonists published new books this year with Blank Slate and while you could label them as humor, the diversity of their work in subject, style, and genre again underlines the strength and range of work currently being produced in the UK.
The discussion revolved around the "seriousness" of humor as a genre or narrative tool, a legitimate way of offering commentary in a different, more accessible guise, with Lunney saying she doesn't view her work as humorous. She says that writes about whatever she wants, it's merely done through a filter which she feels comfortable with. "I always want to write about more serious issues, but then I chicken out and make a joke," says Decie. "I wanted to make a gay comic once, but I was unsure by how the people who read my comics and are used to a certain type of material would react." Medway's Playing Out is probably the least overtly humorous book in the lineup, a beautifully judged tale following a group of young boys around a shopping complex. "I find humor in the everyday," he says, "in just observing kids, how they act naturally and that inspires me." Todd: "I've always been a bit weird, so I kind of let that go in my comics. Sometimes I worry that maybe people won't get it, or the point at which I should stop, but then I try to just stay honest to what I'm doing." Everyone seemed to agree that humor was a legitimate discourse and can be used to express yourself, your thoughts and ideas indirectly, with the joke format acting as defense shield that protects you from fuller exposure.
Blank Slate were out in force, with a clutch of brand new books, as well as the above mentioned titles, Thomas Wellman's Pimo and Rex, published in conjunction with German imprint Rototpol Press, two new Uncle Bob Adventure books from Darryl Cunningham, Nigel Aucherlounie's Weak As I Am, as well as Will Morris' The Silver Darlings (for which he later won the British Comic Award for emerging talent). Blank Slate is, to my mind, the leading light in publishing British comic creators. Jonathan Cape has recently stated to branch out more, and Nobrow pursues a particular aesthetic, but Blank Slate has been taking chances on artists and publishing an array of material for a while now. I caught up with the splendid Martin Steenton, who is always incredibly supportive and indulgent of my blitherings, and even the reclusive Kenny Penman, the UK's very own version of Gary Groth- very honest and forthright with his opinions with the tendency to ruffle feathers, but a big, generous supporter of British talent, and dedicated to publishing comics that perhaps others wouldn't. Kenny spent the whole of Sunday at the con, and if you know him at all, you'll recognize the occurrence of this event as akin to spotting a white elephant. I don't know if the stories about Groth are true, or to what extent, but Kenny's a super guy.
It was great to catch up with artist Dilraj Mann again, after meeting him at ELCAF earlier in the year; he's a lovely guy, really personable, and very easy to talk tol. Mann's "signature" is drawing Rubenesque modern ladies with an eye for fashion and his style is superb: accessible, beautiful and distinctive. Already an appreciator of his illustrations, Mann's four-page contribution to the Nobrow Hysteria anthology in April was a highlight, convincing demonstration of his art's ability to translate to more traditional sequential narratives. Tabling opposite the Moon brothers, he was selling a selection of his popular prints as well as his first zine, Stroke, featuring collaborative pin-ups with the likes of Sam Bosma, Roman Muradov, Sophia Dimino Foster, Jimmy Geigerich, Jon Boam, Guillaume Singelin and others, in addition to an 8-page comic by Mann himself. He's recently been recruited by the Jaguar Shoes Collective, a company which curates illustrative, design, fashion, and musical talents, and will be exhibiting with them in Paris next year, which will also see the publication of his debut comic book, Dalston Monsters, with Nobrow. "I'm allowed to tell you about it now!" he says. Mann was nominated for the emerging talent award at the British Comic Awards this year and I suspect 2014 may be formative in his truly "breaking out."
I finally got to meet the one of the two brilliant people behind Tiny Pencil, a new comics and art anthology featuring graphite works from artists around the world that debuted earlier in the year. Edited by Katriona Chapman and Amber Hsu, the first volume was a breath of fresh air, and for the second issue, they again tried something different, and a little bit old school: three monster-themed zines packed with pencil work comics, art, puzzles, games, and coloring, resplendent in a gorgeously designed box by Kristyna Baczynski, and complete with colored pencils and miniature dice (you can see Kat Chapman helpfully pointing to it in the picture below). Kat was here to unveil their third issue, The Beast, with a stupendous cover by Lee Misenheimer, and contributions from Susannah Kelly, Jon MacNair, Malojo Marion Balac, Vania Barbato, Matt Craven, Renee French, Charles Santoso, Dace Sietina, and others. I'm a huge fan of what Tiny Pencil has brought to the the mix of UK comics, so it was good to hear that they've been doing really well here, with book one almost sold out.
New, third volume of Tiny Pencil, with cover by Lee Misenheimer: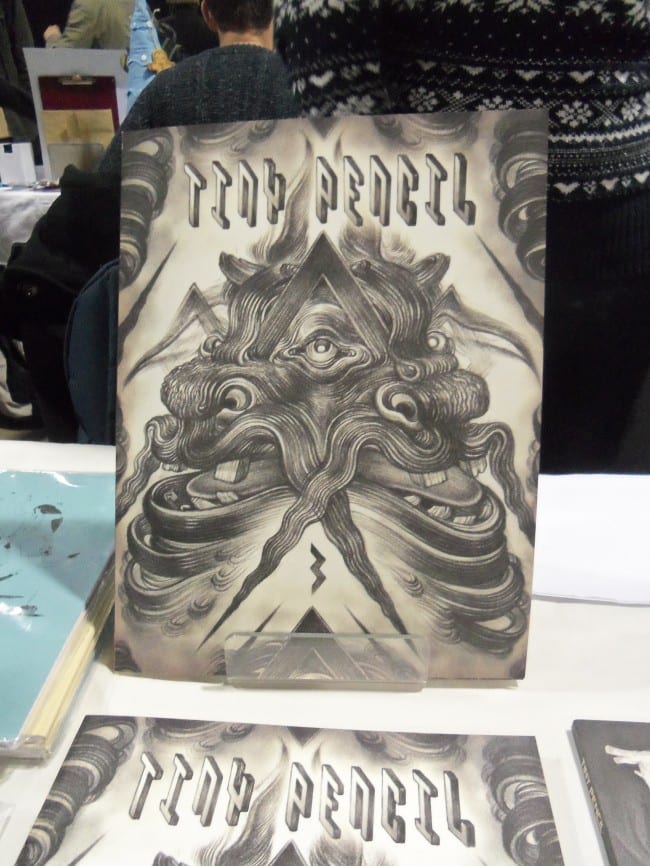 The Euro comics panel, titled "How They Work", was interesting if only to see how different cartoonists approach their work from idea to conception to reality. Moderated rather overwhelmingly by Paul Gravett (who talked for too long in his introduction and interjected at inappropriate times, cutting off the speaker's flow), it saw Oscar Zarate, Ilya, and Frederik Peeters talk about the processes involved in creating their recently released books with SelfMadeHero. Zarate was lovely and affable, discussing how The Park was the first comic which he both wrote and illustrated, talking the audience through his meticulous color-testing methods, in which he paints even rough panels to gauge light, shade, and composition (rough by his standards; they were beautiful). Ilya was even more thorough in detail, showing slides of what appeared to be a landscape A3 page, with a two-page spread drawn out in the middle, and every bit of dialogue, every bit of script noted down around it (you can see an example here). And then came Peeters, who breezily explained he didn't really go in for thumb-nailing or layouts or rough sketching, going straight from line art to coloring. "I'll have the idea of a complete story initially, but I prefer a more spontaneous, organic approach," he says. "I like to be able to change and add elements, and I tend to do that all the time, up to later moments." It acutely highlighted the difference in editorial approach between the UK and France, where Peeters is pretty much allowed free reign to do as he pleases. (On an aside, I find it hugely tacky for the panel moderator to whip out and plug their own book on a panel featuring that kind of talent.) That was the last panel of the day, finishing at 4:45, and most of the audience making their way back to the SelfMadeHero table for the final fifteen minutes, buying up books.
The con floor closed at 5, and I rushed over to the Bury Theatre where the British Comic Awards were taking place at 6. I was on the committee for the awards this year, and founder/committee head Adam Cadwell had asked us to be there early to help stuff goody bags. The awards are a very streamlined affair, with categories for best comic, best book, emerging talent, a hall of fame entrant, and a young people's comic award, the latter voted upon by local schoolchildren. You can see a full list of nominees here, but the winners this year were Robert Ball scooping best comic for Winter's Knight, Glyn Dillon with best book for The Nao of Brown, Will Morris with emerging talent for The Silver Darlings. The iconic Beano artist Leo Baxendale was inducted into the hall of fame. Garen Ewings's ligne claire adventure, The Collected Rainbow Orchid, was selected for the Young People's Comic Award, with the presentation for that having taken place on Friday with workshops and activities organized for the schoolchildren. I was unable to attend the ceremony last year, and was pleasantly surprised by it. It was quick and didn't drag on, with host David Monteith in particular doing a superb job keeping the audience engaged with his wit and charm. The special BCA biscuits produced by Sarah Besson went down a storm, and were talked about well into Sunday. I don't think it's a stretch to say they were a highlight of the con overall, certainly one of the most tweeted subjects: we British love our biscuits, and y'know, compounding stereotypes.
Talked to Glyn Dillon about his dream return to comics, with Nao of Brown winning the Special Prix du Jury prize at Angouleme, triumphing here, and the con itself. "It feels weird. I didn't dare imagine it would find a large audience, never mind the awards," Dillon says. "It was all definitely a surprise. I'm kind of confident in my artistic ability but with regards to writing, I'm definitely just learning. It's been great coming back, the comics world has changed so much since I was last involved. It's so much more diverse in terms of both creators and audience, and the good news is, it seems set to continue that way.
"Thought Bubble 2010 was the first festival I went to after probably about fifteen years. I really wasn't sure what to expect but it was such a pleasant surprise," he goes on. "This year didn't disappoint, though I don't feel I can really comment on this year's mix of creators & exhibitors, because I didn't get the chance to have a proper look around. But the overall feeling was good. I think next year I might just go as a punter again, I'll be able to just hang around my friends' tables, getting in the way of their potential customers. It'll be great!'
The next day I got in early especially to take lots of rubbish pictures. On one of my short stints at the stall, Jared (owner of the aforementioned OK Comics) and I flagged down a passing Fumio Obata like we were desperate taxi-mongers. We wanted a look at the advance copy of his new book, Just So Happens, published by Jonathan Cape next February. It's beautiful, a mix of Japanese and European art traditions, and it was interesting to hear him talk about his decision to publish in a small but growing British market over the large, developed Japanese market. He seemed really buoyed and inspired by the work his fellow British comic creators are producing (you can see a sneak peek of it here). Jonathan Cape didn't have a table this year, oddly enough, although I guess most of the new books it released this year were represented by the creators themselves: both Katie Green (Lighter than my Shadow)and Isabel Greenberg held down their own tables. Greenberg's been having a great year, her book, The Encyclopedia of Early Earth, was very well received, and her new all-ages comic, The Snow Queen and Other Stories, sold out on the first day. Her folksy, woodcut-like style lends itself well to numerous disciplines; she'd hand-painted a set of plates which were also quickly snapped up.
Warwick Johnson Cadwell and Robert Ball were sharing a table in the Royal Armouries Hall, Ball selling copies of his award-winning Winter's Knight comic, and Cadwell with his seafaring-monster poster book, Quinthaven. The duo have, over the last year, been collaborating on Dangeritis, a comic tracking the misadventures of '70s lothario and maybe super-cop Derek Danger, which they've been serializing online via Tumblr, with the collected print version being available to buy for the first time here, given a lovely, glossy A4 treatment by publishers Great Beast. Both Ball and Cadwell have very particular styles, and I remember wondering how they would sit together when the project was announced. Strangely enough, work it does; they complement each other eerily well. I'm not fond of parody comics, or indeed anything '70s, but the coloring, layouts, and pages in this are sheer brilliance and fun. If you haven't already, you must check out the online version.
I met the guys early on Sunday, when most people were intensely hungover, but Ball and Cadwell were both very chipper and lovely, the former a little confused about the term "wordless comics," particularly in relation to his own book: "I don't understand it. He's by himself, there's no-one to talk to, of course there's going to be no words!" "Yes, but you can still have stream of consciousness thought bubbles or omniscient narration, Robert!" I said. He shook his head. Cadwell was busy drawing commissions, explaining the ins and outs of requests: how with certain popular characters, the same reference images gets used, and that leads to flatness, how the worst work to take on is real people, because you render them in your own artistic manner, and that, surprisingly, is often not what they want when they pay the artist of their choice money for an illustration.
I bumped into Andy Poyiadgi briefly at the after-party on Saturday night where we shouted at each other for 10 minutes over the blaring music before giving up. I had his table earmarked to visit and managed to make my way there on Sunday morning. My photo-taking skills are worse than rubbish, but his table is always so well presented: it's the sort of thing you never really notice until it's done differently or really well. Andy's work, for me, sums up a lot of what comics is about, or should be about. He creates strips for anthologies, and online magazines (the latest being a two-page contribution to Tiny Pencil), but his most popular works are his wonderful tea-related comics: Teapot Theory, a fold-out litho print, and Teabag Theories, little non-fiction concertina comics about the history and origins of tea, beautifully packaged in white drawstring teabags. He produced a special Kendal-mint-cake-themed one for the Lakes festival, with history and facts about the cake, and his experimentation with form and subject epitomizes the potential of the medium, what it can do and be. I love books, I love genre narratives, but it seems there are vast areas of subject matter and format that remain untouched.
James Harvey was tabling on the corner just opposite us, selling Japanese editions of Masterplasty [Black Hook Press], his excellent prelude to the long-awaited Zygote, and also a "catalogue" which promised an in-depth interview with Harvey, some concept art, and some comic previews for £4. Thought Bubble isn't really the sort of convention where there are big announcements and publishing deals, though of course there's much scoping out going on, and Harvey closed a deal with Image for a new series he'll be working on, both writing and drawing, with Kristina Collantes on inks and Sloane Leong on colors. I'm simultaneously intrigued and, frankly, skeptical of this news. I'm a big fan of Harvey, I think he has a huge and genuine talent, but he's either very slow or not very focused. I very much doubt whether we'll ever see Zygote completed, so his working on a (presumably) monthly series excites and fascinates me in equal measure.
Drew Millward was tucked away in a corner in the Allied London Hall, next to Mondo and Kevin Tong. I say tucked away, but I would imagine it's impossible to tuck Drew away anywhere, he's such a characterful personality and so humble and generous (he gave me a bulldog brooch: "Here, what am I going to do with it?"). I should be better at articulating at what sets Drew's prints and posters apart, he combines a number of influences- musical, graphic design, retro posters, animation, to produce some of the most meltingly gorgeous screenprint work and graphic illustration in the UK. He's an extraordinarily talented and lovely bloke, a huge champion of artists rights and you should check out his website if you're not already aware of him. He'd just released a breathtakingly stunning poster of David Cronenberg's The Fly, which I didn't *gritted teeth* have enough money left to buy and am absolutely gutted about. I mean- look at it. It's more intricate and delicate than his usual style, a little more reigned-in. And the colors- urrrrggggggghh. Let's not talk about it anymore.
While Saturday was heaving with people, Sunday was markedly much quieter, though it did pick up later in the day. Talking to Clark Buscough (or rather staring at him as he ate the world's fastest lunch), I learned that Thought Bubble saw a 50% increase in ticket sales this year, so I'm not sure whether the drop off could be attributed to audiences being spread over three halls, with the increased attendance meaning it wasn't as noticeable on Saturday. Talking of the additional hall, there was, as is perhaps to be expected, a feeling of disparity: where the other two halls are located directly opposite one another, the newly added venue was just around the corner, hardly difficult to find. Although as Clark pointed out, it was mostly returning attendees, already familiar with the old layout, who were missing it out: "We added the extra hall because we're committed to allowing new comics creators an equal opportunity in getting a table and keeping the scene fresh and vibrant and inclusive, rather than simply giving tables to those who exhibit year after year. We want to be a great event for everyone: for existing comics fans, but also people who are new to comics, or people who attend as a family day out. That's really important to me, creating a generation of new comics readers, kids who come here with their parents and get into comics because of it. So ideally, entry would be free, and we're sill looking into ways in which that would be viable, but the family/children-friendly aspect is as equally important to us as the conscientious comic fan, and something we strive for."
Thought Bubble is known for its organization, the helpfulness of its army of volunteers, and while it was generally on-point again this year, there seemed to be some confusion around the after-party, held at the Corn Exchange, with the number of workers and security low, so that a one-leaves/one-goes-in policy was in place, the bars being inundated, and people stranded in long queues outside. Growing pains are par for the course, and these are really small issues which I'm confident will be addressed.
Some more pictures I took- a couple of the kids and family events:
It's always a pleasure to see the Cinebook stand, they're such a superb publisher that I often feel go a bit unnoticed. They translate a fantastic selection of bandes dessinnes and much of it is all ages. Also, I don't know who does their tables, but they invariably look fab- I do appreciate a well put together table.
And that's your lot, really. If you're still reading this from the beginning, you're bloody mad (said in admiration and genuine shock). I had a brilliant time, and if you Google any other Thought Bubble reports, you'll find most people had a brilliant time. I realize throughout this report, I've annoyingly referred to people as lovely, or fab, or super nice, but what can I tell you- I can only relate what my experience has been. It's an amazing festival, loved by creators and fans alike, perfectly placed towards the end of the year to round things off on an uplifting note. A last and enormous thank you to Team OK Comics who basically let me traipse around and do my thing, and then pop back annoyingly and bother them ("Do you need me? How's it been? Frederik Peeters!"). I think they liked it. Thanks also to Sarah McIntyre for the use of her photographs- the smaller, better pictures are hers. Finally, here's a quick, obligatory run-through of what I picked up (which I'll be reviewing at my blog over the coming weeks if you're interested in innards etc). 
(left to right) Japanese language edition of Masterplasty by James Harvey, published by Black Hook Press, Aama by Frederik Peeters, published by Self Made Hero, Pimo and Rex by Thomas Wellman, published by Blank Slate Press, Dangeritis by Warwick Johnson Cadwell and Robert Ball, published by Great Beast
(clockwise from top left) I Don't Like My Hair Neat #2 by Julia Scheele, Fever Dreams by Adam Murphy, Beagle by Alisdair Wood, Carry Me by Dan Berry, published by Great Beast
(clockwise from top left) ink+Paper no 4, various, edited by David O'Connell, From vol 1 by Sally Jane Thompson, Pocketful of Coffee by Joe Decie, Shibutaro and the Frog by Emma Jane Donnelly
(clockwise from top left) There is a banana on the radiator by Joe Decie, No 1 Hitman by Joshua Shepherd, 140 Characters by Simon Gurr, Vantage by Kristyna Baczynski
(clockwise from top left) Exit Genration #1 written by Sam Read, illustrated by Caio Olivera, coloured by Ruth Redmond, Dino Might by Richard Smith, The Snow Queen and Other Stories by Isabel Greenberg, published by Great Beast, Dungeon Fun by Neil Slorance and Colin Bell