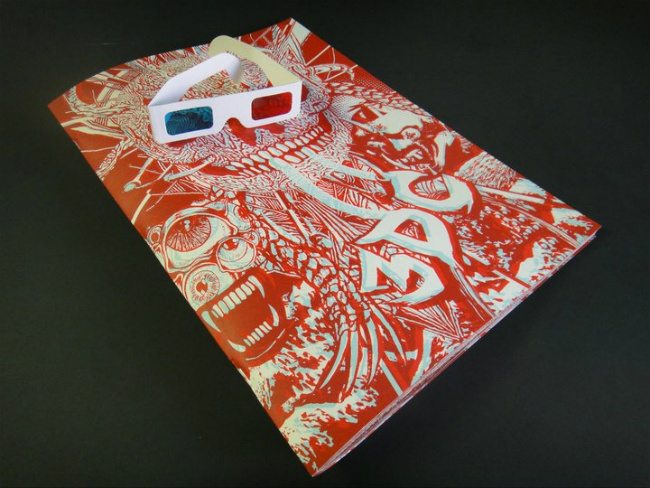 Nothing much up top this week, just another installment in this column's ongoing and distinctly non-comprehensive mission to apprise you (YOU) of somewhat new comics-y publications from misty foreign lands. Case in point: 3DC, the new, above-pictured item from France's Le Dernier Cri, assaultive image-making specialists since 1992. While not specifically designated as such, 3DC appears to be an extension of the publisher's ultra-tactile house anthology series Hôpital Brut, a barrage of extravagantly gritty, ghastly illustrations, which last year adopted a 'theme' approach for its Japan-tinged Asiatroma special. 3DC pivots around to promise 104 pages in vivid 3D, glasses included. The full list of contributors can be read here, with the wonderful BALD EAGLES and Profanity Hill proprietor (and old-tyme Comics Comics contributor) Jason T. Miles among those most familiar to North American readers.
I'm interested to see how it turns out. So much of the work showcased in these books depends on intensive, swirling detail for its impact. Above is a similarly large (if thinner) 3D comic I bought at the Brooklyn Comics and Graphics Festival last year, Math Fiction from Yeah Dude Comics. That was a four-person anthology -- Pat Aulisio, Ian Harker, Josh Burggraf and William Cardini -- done in what seems to be a similar red/blue anaglyph 3D process, and I felt the relatively clean forms and black shadows of Burggraf's Kirby-like lunges and the large, isolated forms of Cardini's work adapted better to the format than the wavier, denser Aulisio and Harker pieces.
Still, placing a premium on forms hung in action is generally a good idea for the 3D process - I always find myself tripping over the dialogue in the odd genre comic that tries to use such effects, what with everything shimmering. This could be a benefit for Le Dernier Cri, as 3D can be bent toward pulling a reader in with unease, cornering them in the manner a viewer might feel enclosed by one of those 3D productions or some stage-bound opera or ballet, which place a premium on the depth afforded by their own processes. Or, it could just glow unsettlingly, beckoning you to reach out and touch...
***
PLEASE NOTE: What follows is not a series of capsule reviews but an annotated selection of items listed by Diamond Comic Distributors for release to comic book retailers in North America on the particular Wednesday, or, in the event of a holiday or occurrence necessitating the close of UPS in a manner that would impact deliveries, Thursday, identified in the column title above. Not every listed item will necessarily arrive at every comic book retailer, in that some items may be delayed and ordered quantities will vary. I have in all likelihood not read any of the comics listed below, in that they are not yet released as of the writing of this column, nor will I necessarily read or purchase every item identified; THIS WEEK IN COMICS! reflects only what I find to be potentially interesting.
***
SPOTLIGHT PICKS!
Velveteen & Mandala: This is the latest manga release from Vertical, and I believe the formal English translation debut of Jiro Matsumoto, whose works (like the action/thriller Freesia) have been popular on the scanlation circuit. It's a complete edition of a 2007-09 serial from Manga Erotics f -- a smut anthology famous for letting contributors do essentially whatever they want as long as fucking shows up at certain points -- ostensibly focused on a pair of deeply troubled girls bickering and chattering and attempting to fight off portions of a zombie infestation dropped from the skies onto their space like garbage, though I'd postulate (having read the book) that it's actually a metaphor for the endurance of obsessive otaku culture in the face of presumed societal decay. Indeed, the girls' status as damaged purveyors of titillation and nerd accoutrement -- RPG menus! Gun obsession! Space Runaway Ideon shoutout! -- see them navigate a mandala of frustrated enlightenment, really only a vicious cycle underlined by circular and camera lense-suggestive fish-eye effects in Matsumoto's art.
Expect little in the way of deep critique - it's the kind of thing where one of the female leads cackles through a rape scene, squirting shit from her asshole before another character wanders in shooting a gun and joking Tezuka-style about how crass the artist's work can be. And in the end, geek culture might be a realm of the dead, but at least it's capable of affirming some meaning and joy for the devout ghouls among it, which circles itself around to the earliest concept of the otaku as an accumulator of knowledge useless to society, necessitating the creation of something different. Thick bromide, nice art. Big sample chapter; $16.95.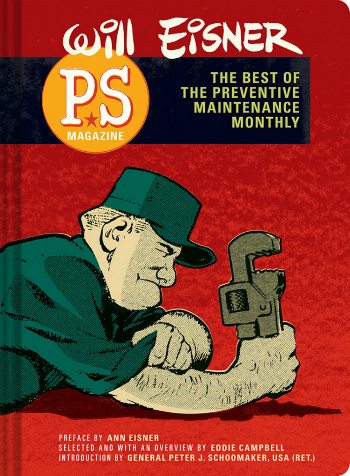 PS Magazine: The Best of the Preventative Maintenance Monthly: Swinging way over to the other side of specialist focus, we encounter Will Eisner's 1951-71 tenure as artistic director on PS, The Preventive Maintenance Monthly, a publication aimed at educating U.S. Army readers as to the upkeep of their many machines through comics, cutaways, diagrams, illustrated limericks and other drawn means. This 272-page Abrams ComicArts production offers a best-of selection and text overview by Eddie Campbell, who has also devoted several blog posts to this period of Eisner's work. Preface by Ann Eisner, Introduction by former Chief of Staff of the United States Army Peter J. Schoomaker. Samples; $21.95.
--
PLUS!
Big Questions: Just the softcover edition of Drawn and Quarterly's huge Anders Nilsen release from the other week. Douglas Wolk has since reviewed it for the New York Times; $44.95.
Cats, Dogs, Men, Women, Ninnies & Clowns: The Lost Art of William Steig: More from Abrams - a 352-page collection of unpublished cartoons by the late, much-admired New Yorker contributor and children's book author. Text by Jeanne Steig, with additional materials by Roz Chast and Jules Feiffer; $40.00.
Kiss & Tell: A Romantic Résumé, Ages 0 - 22: Some high-profile autobio stuff, a history of interpersonal relations from artist MariNaomi and publisher HarperCollins. Interview with the artist on this site; $15.99.
Bake Sale: A new Sarah Varon release from First Second, a cute little thing about friendship and baking. Preview; $16.99.
do it yourself Doodler: Being a new 48-page AdHouse collection of an online endeavor by artist David Jablow, filled in the copious negative space surrounding a spicy female outline with transformative illustration; $6.95.
Casanova: Avaritia #1 (of 4): After a visually revised comic book-format reprint series from Icon comes the first full-length, brand-new material from writer Matt Fraction's signature series, now seeing the titular dimension-hopper obliterating alternate timelines. Art by Gabriel Bá, from the series' first storyline. Preview; $4.99.
Wolverine: Debt of Death: Meanwhile, David Aja -- Fraction's & Ed Brubaker's collaborator on The Immortal Iron Fist -- makes an interior drawing appearance with a one-off comic seeing Wolverine battle flying mecha in Japan. Written by David Lapham. Preview; $3.99.
The Big Lie #1: In which writer/penciller Rick Veitch and inker Gary Erskine follow up their 2007-09 Vertigo-published political satire/soap opera comic Army@Love with a new Image series focused on questioning the official narrative surrounding the events of 9/11 through the efforts of a time-traveling physicist attempting to rescue her husband from imminent history. Expanded from an idea by Thomas Yeates, who provides covers and spot illustrations, and also edits with blogger/fundraiser Brian Romanoff. Preview; $3.99.
Action Comics #1: And having just mentioned Rick Veitch, it's gonna be a few hours before I can even contemplate a back-to-the-roots Superman revamp that doesn't involve an abnormally developed super-baby clinging tenaciously to a hapless farmer's bloodied head and burning shit down with its heat vision, but here nonetheless is writer Grant Morrison's attempt to take the Siegel & Shuster character back to an earlier adulthood of direct engagement with citizens oppressed by powerful interests. Art by Rags Morales & Rick Bryant. Preview; $3.99.
Missionary Man: Vintage Frank Quitely of the week #1 - unless I'm totally mistaken, this would have to be Diamond's import of a new UK compilation of the artist's 1993-94 first-ever work for greater 2000 AD, specifically a Gordon Rennie-scripted sci-fi western series from Judge Dredd Megazine, which switched Quitely up with Garry Marshall for a while on different stories. Note that this edition will go beyond the 2003 Titan collection of the same stuff to collect subsequent material with artists Sean Longcroft and Simon Davis; $25.99.
Hondo-City Law: Vintage Frank Quitely of the week #2 - the North American-targeted Simon & Schuster edition of (mostly) Robbie Morrison-scripted comics set in the Japanese region of the Judge Dredd world sprawl, including Quitely collaborations Shimura (1993) and Judge Inspector Inaba: Babes with Big Bazookas (1996). Be aware that while the Quitely material is the same, this 160-page collection is set to otherwise differ completely from the 2004 DC/Rebellion Shimura collection (going by Bart Croonenborghs' recent review), with a 1989 John Wagner/Colin MacNeil piece (Our Man in Hondo), a 2004 Morrison/Andy Clarke story (Executioner) and the 2010 Morrison/Neil Googe title serial also included; $18.99.
Giant Size Little Lulu Vol. 4: Vintage Frank Quitely of the... no, hang on - forty-five minutes of internet research tells me this is actually John Stanley & Irving Tripp, via a Dark Horse omnibus collection of vols. 10-12 of its extensive Lulu reprint effort; $24.99.
Sláine: The Wanderer: Recent vintage thrill-power of the week #! - another UK 2000 AD collection, this time showcasing some 2009-11 content from Pat Mills' long-running barbarian series, with unique visuals by Clint Langley and some heretofore unseen content from the late John Hicklenton; $28.99.
Gon Vol. 1: I have no idea what differences this new Kodansha Comics edition of Masashi Tanaka's popular wordless dinosaur series might have in comparison with earlier, DC-related printings, but know that it's indeed coming back into print; $10.99.
Finding Frank and His Friend: Finally, your book-on-comics of the week, of a sort - a 108-page collection of production materials relating to a 1975-84 newspaper strip by one Clarence 'Otis' Dooley, who is in fact the entirely fictional creation of writer Kristie Shepherd & artist Cesare Asaro, of nostalgia fabulists Curio & Co. The world could use a cockeyed glance at our Golden Age of Reprints, although it seems this project -- out long enough to have been nominated for an Eisner award, but apparently just now shipping to Diamond-serviced retailers -- is visually-oriented for the most part. Still, probably worth a flip. Samples; $39.95.
--
CONFLICT OF INTEREST RESERVOIR: The Hidden is a new Richard Sala book, in color; $19.99. Even More Old Jewish Comedians collects portraits by Drew Friedman; $19.99. Like a Sniper Lining Up His Shot is a recent crime comic from the great Jacques Tardi; $18.99. And MOME Vol. 22 lays a long-running anthology to rest with a double-sized 240-page final issue; $19.99.