Above we see an image from Brave Dan, a 1962 serial from Osamu Tezuka, he of the bottomless back catalog; it is far from the first of Tezuka's works to be published by Digital Manga, which has been responsible for administering a series of Kickstarter campaigns aimed at getting snatches of the revered artist's work into print, but it is the publisher's debutante effort at releasing Tezuka direct-to-digital, without an accompanying print edition. The localization, stiff diction and all, is handled under the auspices of the publisher's Digital Manga Guild, which actively recruits teams or individuals from the online fan translation scene, providing payment -- if I am not mistaken -- entirely through royalties on digital sales. It's basically a means of reducing costs yet further on the already drastically cost-reduced translation field, but it's found no shortage of participants; approximately 360 volumes' worth of manga have been released this way.
Nobody is going to mistake Brave Dan for top-shelf Tezuka; it's not surprising that it's only seeing release in this manner. That said, it's a lively work, quest-driven and video-gamey in its story of a seemingly orphaned Ainu boy who grows up alongside a mighty tiger, riding and chatting with the beast on a mission to join together three keys and discover a lost treasure before it falls into the hands of greedy villains. As with not a little youth-targeted Tezuka, it's wildly propulsive and not prone to sweating details, abandoning subplots and refining its scenario in the heat of serialization to best flatter present-tense impressions. There's slapstick comedy, tragedy distinctly reminiscent of the earlier Jungle Emperor, and even an ancient alien technology angle anticipating Erich von Däniken's Chariots of the Gods? by several years. It's a lot of busy fun, with lively and occasionally weird drawing from Tezuka and his studio crew.
There's also, as you can readily see above, a certain element of racial caricature to the cartooning, which is not something we've seen very much from Tezuka's arsenal; a blanket disclaimer relating to race depictions has appeared in several of the artist's releases, but it has never seemed directly applicable until now. We see a character of seemingly Chinese origin, Koutaijin, with distinctly slanted eyes and a long ponytail, inside which he hides one of the special keys. The jaunty pipe is not an ethnic identifier, but an indication that he is a cool, dangerous guy, a deadly enforcer for a sinister Japanese professor whose eventual antihero face turn is all but guaranteed.
Later, Koutaijin identifies himself specifically with the Uyghur people; this binds him with Tezuka's boy hero, Kotan (Dan is the tiger), whose own ethnicity lies with a minority group. Nonetheless, Kotan is drawn as a very typical Tezuka boy hero, not unlike the manner in which Tezuka utilizes his fascination with old newspaper strip and foreign comic book 'types' in detailing miscellaneous Japanese characters, many of which seem like background extras from a George McManus scene. Another exception arrives later, though, in the form of a hulking, tomahawk-wielding, war-painted & mohawked American Indian.
Following this peril, Kotan stops Dan from killing his foe, prompting the Indian (as it's translated) to declare his debt to the pair - "and an Indian always repays his debts." He is your classic noble savage, but I think I can discern, at least, what Tezuka is *trying* to do. This is another indigenous person, and the author relies upon the reader's knowledge of abuses suffered by his minority group to impute that suffering to the Ainu, which Tezuka depicts as disrespected and financially exploited in Japan.
What we are looking at is an attempt at creating empathy through the simplest devices on hand, i.e. the use of caricature. I imagine the dangerous 'Indian' image was imparted on Tezuka through his exposure to American comics and cartoons, but his use of such imagery, dicey as it is, functions in practice as recognizable shorthand for minority persons, which Tezuka then seeks to characterize with sympathy. None of the ethnically caricatured characters are presented as especially bad, just set into criminal circumstances by economic factors; this separates them from the miscellaneous caricatures, typically greedy characters with little redemption in store. Seeing these tactics in action, in 1962, may not be convincing -- or really anything more than discomfiting -- but it highlights another facet of Tezuka's general desire to practice comprehensive humaneness. To see it troubled is unique to this derivative work.
***
PLEASE NOTE: What follows is not a series of capsule reviews but an annotated selection of items listed by Diamond Comic Distributors for release to comic book retailers in North America on the particular Wednesday identified in the column title above. Be aware that some of these comics may be published by Fantagraphics Books, the entity which also administers the posting of this column. Not every listed item will necessarily arrive at every comic book retailer, in that some items may be delayed and ordered quantities will vary. I have in all likelihood not read any of the comics listed below, in that they are not yet released as of the writing of this column, nor will I necessarily read or purchase every item identified; THIS WEEK IN COMICS! reflects only what I find to be potentially interesting.
***
SPOTLIGHT PICKS!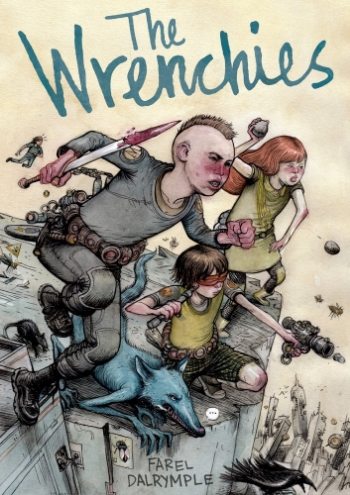 The Wrenchies: Oh my, this is hype right here - a 304-page, 6" x 8 1/2" softcover original by Farel Dalrymple: Meathaus co-founder, creator of Pop Gun War and artist for off-kilter genre works like the Jonathan Lethem-scripted Omega the Unknown and Image's Prophet. Publisher First Second has managed to line up a number of fellow artists for appreciative quotes, and it's worth taking a look at that crew: Craig Thompson, Mike Mignola, Michael Allred, J.H. Williams III - all popular veterans with a taste for bravura and spectacle. We might expect the same from Dalrymple's scenario, where kid warriors of a hellish world wreck shit for the sake of everything - but theirs is not the only life. LOTS of excited chatter going around about this one. See also the artist's related and ongoing webcomic It Will All Hurt; $19.99.
Baby Bjornstrand: Two selections from (or related to) Study Group Comics this week -- full disclosure compels me to note that I am a contributor to the next print edition of their magazine, whenever it appears -- as Koyama Press offers a 132-page print completion of this project by the great Renée French, in which three children interact with a mysterious and inarticulate creature to bleak and comedic ends. I liked the subtle, woozy colors of the online iteration, although I'm basically on board with anything French does. Grit Bath was the greatest horror comics series of the '90s, incidentally. A 6 1/2" x 8" softcover. Reviewed by Sean T. Collins at this site; $20.00.
--
PLUS!
Kill My Mother: Oh right - Jules Feiffer has a new book this week too, I dunno if you caught any of the prior alerts on this site. I've always had the feeling that more people today remember Feiffer for his drama and screenwriting work than his copious body of comics, compilation efforts by Fantagraphics notwithstanding -- I'm a fan of 1989's I Want to Go Home, a Feiffer-scripted Alain Resnais picture starring Singin' in the Rain co-writer Adolph Green(!) as a crotchety American cartoonist from Cleveland who experiences the uniquely French affectation of not thinking his vocation is hot garbage -- but do recall that Feiffer did provide stories and dialogue for The Spirit as a teenager, which positions this W.W. Norton crime comic original as a hearkening back of sorts. Expect many complications throughout 160 pages designed in homage to film noir, as a busy heroine picks up the slack for her boozy detective boss. A 9" x 11.3" hardcover; $27.95.
Lose #6: And THEN you can go and buy A Proper Alternative Comic Book from Michael DeForge, continuing on with his one-man anthology series, maybe *the* example of such from this generation to generate a similar anticipation to new editions of Eightball and the like. I don't know a damn thing about this, save that it's 52 pages, b&w, and probably comprised of several features, maybe relating to altered perceptions, fantastical biology and/or sociological dismay. Or something else entirely. Maybe this is where the death of Wolverine begins. Preview; $8.00.
Above the Dreamless Dead: World War I in Poetry and Comics: Chris Duffy has previously edited a pair of adaptation anthologies for First Second (Nursery Rhyme Comics, 2011; Fairy Tale Comics, 2013) notable for the wide variety of prestigious cartoonists involved, and while the topic of this new collection is much heavier -- black & white comics drawn from poems composed by participants in the Great War -- the list of contributors is no less impressive. Eddie Campbell, Kevin Huizenga, Carol Tyler, Sammy Harkham, Anders Nilsen, Lilli Carré, Luke Pearson, Peter Kuper, Hunt Emerson, Simon Gane, George Pratt, Hannah Berry, Kathryn & Stuart Immonen, Isabel Greenberg, Sarah Glidden, Stephen R. Bissette, Garth Ennis & Phil Winslade, Pat Mills & David Hitchcock - that's a pretty good tour of the last four decades of approaches to American and British comics, and how such diversity manifests the subject matter should be fascinating. A hardcover release, 144 pages at 6.27" x 8.55"; $24.99.
Finder: Third World: Damn, there is something for everyone this week. You might not have stuck with the eight-dollar edition of Dark Horse Presents through thick and thin, but a reliable pleasure for half its run was new stories from Carla Speed McNeil's continuing fantasy project Finder -- now colored by Jenn Manley Lee & Bill Mudron -- all of which are collected with 17 additional pages and creator annotations into this 184-page Dark Horse softcover. Samples; $19.99.
The Zoo Box: I first encountered Aron Nels Steinke through the Sparkplug release of his book Neptune. He has a very pleasant and attractive style, well-suited to drawing animals (anthropomorphized or otherwise), which should serve him nicely in this new First Second project, a 48-page, 10.33" x 7.81" hardcover written by his spouse, Ariel Cohn - it's about kids who open a special box that releases all kinds of animals; $17.99.
An Age of License: Why are you checking your watch? Waiting for an autobiographical comic to show up? Well hop aboard this train with memoirist Lucy Knisley (Relish, French Milk) as she recounts a book tour peppered with "anxieties, introspective self-inquiries, and quotidian revelations," per Fantagraphics, the publisher of this 196-page softcover production. Preview; $19.99.
Void: Given that every comic imaginable is apparently going to show up this week, we might as well prep ourselves for bandes dessinées, specifically this 2012 album from writer Herik Hanna and artist Sean Phillips, the latter a British artist well-known for crime comic collaborations with the American writer Ed Brubaker. Note that Void was actually part of a series of self-contained escape-themed albums published by Delcourt, La Grande évasion, but I'm guessing Titan Comics was attracted by Phillips' participation and the SF scenario, concerning a space prisoner's attempts to evade the murderous designs of the facility's commander. It's a 48-page hardcover, 8" x 11"; Preview; $9.99.
What Did You Eat Yesterday? Vol. 4: Manga too, naturally. The best of this week's selections would be this latest installment of Fumi Yoshinaga's ongoing seinen cooking comics project, presented by Vertical. Vol. 9 just landed in Japanese last week two weeks ago; $12.95.
Jaybird: And fuck, let's throw Finland into the mix. I do believe this 128-page work was titled Pikku Närhi upon its 2012 debut via Egmont, but now Dark Horse distributes brothers Lauri & Jaakko Ahonen to North America, subsequent to a successful Indiegogo campaign by the creators to fund the 8.5" x 11.75" hardcover print run. "[T]he story of a very small and very scared little bird, who lives a lonely, isolated life in a great big house with his infirm mother... he's never been outside the house, and he will never leave if his mother has anything to say about it." Sure, I'll take a look. Preview; $19.99.
Walt Disney's Don Rosa Library Vol. 1: Uncle Scrooge and Donald Duck - Son of the Sun: There is also a shit-ton of vintage reprints available, including one of those gigantic V.T. Hamlin Alley Oop Sundays hardcovers (perfect for hiding variant covers of Death of Wolverine #1 for later purchase), but I'm gonna guide your attention to the opening of a new front in Fantagraphics' Disney releases, covering the works of the wildly popular Don Rosa, second only to Carl Barks in his duck family adventures. It's a 208-page hardcover, 8.5" x 11". Preview; $29.99.
Masterful Marks: Cartoonists Who Changed the World: Your book-of/on-comics for the week, as Monte Beauchamp edits a 128-page Simon & Schuster anthology of comics about the lives of sixteen notable cartoonists. Interesting group of contributors listed - I'm definitely up for new comics by Drew Friedman (on Robert Crumb), and you can also expect Frank Stack, Peter Kuper, Denis Kitchen(!), Dan Zettwoch (on the aforementioned Osamu Tezuka) among others; $24.99.
Comic Book People: Photographs from the 1970s and 1980s: And finally, not a comic, but definately book - a Kickstarted tome, compiled by Jackie Estrada from heaps of photographs of comic book notables. A 160-page, 11.8" x 8.9" hardcover from Exhibit A Press; $34.95.