It can't be easy running a weekly anthology. You've got all these moving pieces to coordinate, multiple serials running at once - and heaven help you if some sort of external stimulus forces your hand. Like, say, a certain movie adaptation of one of said anthology's most famous characters, which naturally might turn some eyes toward a little homegrown source material. 2000 AD has probably navigated this terrain better than most forums would in a similar situation - tomorrow will see the release of its gala issue #1800, and with it a front-to-back launch of new storylines keyed toward attracting UK Dredd moviegoers (North Americans will have their chance on September 21) with a nice even number and accessible content.
Necessarily, however, that means the present issue #1799 -- i.e. the issue on the stands at the very moment of the movie's release, tie-in photo cover or not -- is comprised entirely of conclusions. Luckily, I've been following the magazine for a while now, so in the spirit of service that marks everything This Week in Comics!, I shall now detail the truth behind these recent thrills, and perhaps divine some exciting truths about the makeup of this long-lived comics venue. Or maybe I'll make jokes about a prominent scrotum. It can go either way, I'd hate in inhibit the flow of creativity necessary to summarize comic books on a shopping list.
--
Judge Dredd
Of course, Judge Dredd has not reached any sort of firm conclusion; at this rate, the series will probably outlive 2000 AD itself, let alone any given creative team. Indeed, co-creator John Wagner's recent Day of Chaos storyline seemed metaphorically poised to address the issue of a (societal) premise dragging on in the face of all soul-rending destruction. Wagner has since departed the strip for the foreseeable future, leaving a pair of scripts by Al Ewing (#1790-91) -- potentially, in the case of the second one, leading into a longer storyline later on -- and a short run by writer Michael Carroll (#1792-1797) notable mainly for pitting Dredd against a series of female goon bosses apt to remind the attentive reader that the same will be happening quite soon at a theater near them.
The present two-parter (#1798-99), however, is most immediately striking for art by occasional Dredd contributor Laurence Campbell, colored by Chris Blythe. Campbell first came to my attention through some '00s Marvel superhero work -- a post-Ennis Punisher MAX storyline, a Moon Knight special with Peter Milligan -- where he struck me as one of the better 'heavy realist'-type artists prone to positioning (seemingly photo-referenced) figures in shadows as a means of controlling the level of detail necessary to identify them, while also treating the page as a sort of unified design object. Truthfully, this particular story doesn't flatter him so well, maybe because the Dredd milieu requires some pretty specific future decoration that resists such stylized shadowing in the way noirish urban locales and stripped-down muscular figures don't. I always tend to see Judge Dredd as a cartooned strip, given all those big, chunky uniforms and looming block towers - but then, the Dredd movie is shooting for a less ostentatious futurescape, so troubled as Campbell may look, he's probably the easy in for curious browsers.
The script is by Rob Williams, a fairly new 2000 AD contributor, having first appeared shortly after his professional comics debut via the old Cla$$war superhero series from British outfit Com.x in 2002. I like his stuff, generally -- he's had a good run on the Dredd spinoff series Low Life with veteran artist D'Israeli as of late -- though here he's dealing up a fairly typical 'someone has an idea for fighting crime in conflict with Judge Dredd and his personally-attack-it-until-it-stops procedure; calamity ensures' scenario, made drowsy by much the same brooding on the sins of the past as Wagner himself just finished working through in a more energetic manner. Hopefully the post-movie plots will be less prone to the strip's traditional (understandable!) pitfall of writers sort of trying to be like John Wagner and not quite getting there, which is where we're at exactly now.
--
Tharg's 3hrillers Present: 15
However, 2000 AD has long endeavored to present new talents to the comics-reading world through short, original concepts: the classic Tharg's Future Shocks line of twisty one-off shorts is most prominent in casual/lapsed readers' minds, although now you're more likely to see the slightly more generous 3hrillers, self-contained three-part stories. There was a pretty fun one a while back (#1789-91) from the admittedly not-so-new writer Nigel "Kek-W" Long, working with artist Michael Dowling on an alternate history post-WWII thing with subtly totalitarian aliens, in the mode of classic resistance narratives like Invasion!, if not nearly as hyperactive - think Pat Mills' Savage, with goop-faced space villains and Alan Turing as a heroic terrorist.
15, however, is a straightforward anime/tokusatsu homage from a writer I'm totally unfamiliar with, Tom Taylor, working in collaboration with Jon Davis-Hunt, a young specialist in slick action. A mecha pilot is running out of oxygen, and a fifteen-minute counter clicks its way down through interspersed panels as he battles giant creatures in a race to save his family. It's a completely straightforward, uncomplicated premise that doesn't feel like it needs three chapters to do anything other than explore manga-style decompressed pacing, which it does to professional if unimpressive effect. Granted, there's also a long 2000 AD tradition of stories you just sort of float over in your reading experience, and that sort of non-obstructive effect is very present here.
--
Aquila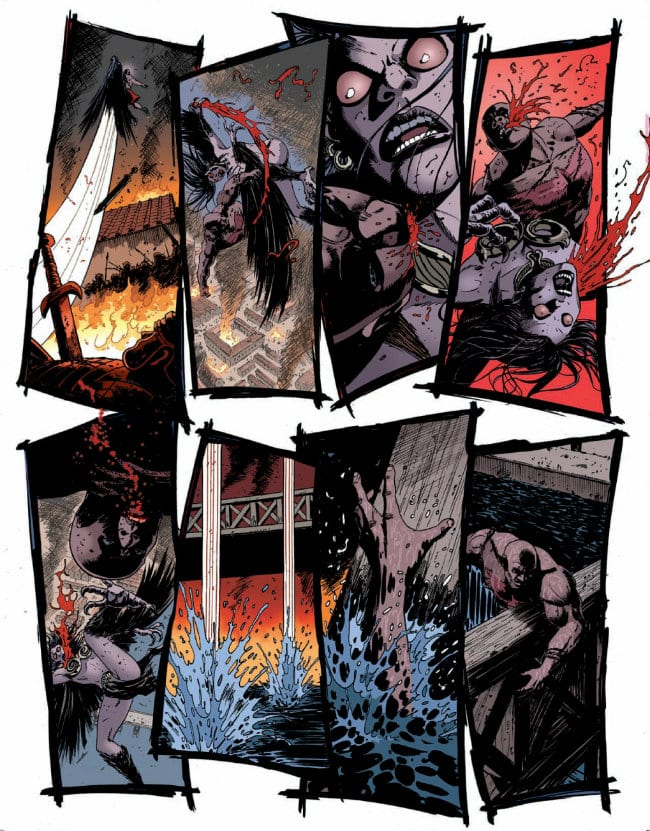 Or maybe what was needed was even more room? This is what I like to call the 'violence' segment of 2000 AD - that one strip that happens to be a bit bloodier than the rest. There's always one. It's kind of a cross between the old Tornado gladiator strip Black Hawk and the Hiroaki Samura manga Blade of the Immortal, with a crucified rebel in Roman times raised from death's door by a powerful deity that commands much shedding of blood. The writer is Gordon Rennie, a longtime contributor with a tendency to raise lots of interesting ideas early in a story, only to have it all collapse into a mad heap of fighting; this one, however, begins with the title character exploding out of a burning wicker man and contents itself with providing adept artist Leigh Gallagher with lots of opportunities to draw grimacing hulks ripping each other to shreds, with all of the varied stakes and illusory character arcing absent from the above 3hriller. Pretty good stuff, with a sharp sense of humor - a villainous Spartan neatly reverses the color balance of Frank Miller's lighter-skinned heroes vs. darker Persians in 300, another of several active influences.
--
Lenny Zero
Less often, there's also a 'sex' segment, which generally gets me wondering as to the editorial considerations at play. Violence is prevalent in 2000 AD, after all, but is sex something you have to earn? Can there only be, say, one strip with nudity at a time? How long need a 'shot' be, if there's full nudity? Just breasts? So many mysteries in the realm of Thrill-Power, though there's little doubt that this Andy Diggle/Ben Willsher joint -- the former is an ex-EiC of the magazine, recently returned to active writing submissions, while the latter is a practitioner of a sharply-toned, hard-lined cartoon style I associate with the aforementioned D'Israeli in British genre comics, though the style has never quite caught on in the U.S. -- is mostly biding its time until it can unleash its big set piece idea of a skin-absorbed aphrodisiac affecting a whole horde of authority figures, causing them to rip off their uniforms and engage in a pansexual orgy, all set in the abjectly sexless Judge Dredd world (it's a spin-off about some rogue dude).
That's about all this crime-styled thing has got, unfortunately; it's a heist story with a large cast, though Diggle doesn't really have the space to develop more than a few characters (or the heist, really) in much detail; a lot of it comes off as superhero fan service with callbacks to favorite characters I don't recognize - always a peril with a long-running strip. Nonetheless, it did establish that Mega-City One's police grooming is roughly along the lines of a college swim team's, so big ups to Diggle & Willsher for making me think of Judge Dredd shaving his balls. BEYOND THE MOVIE.
--
The Grievous Journey of Ichabod Azrael (and the dead left in his wake)
I'm asked sometimes if 2000 AD still represents the future of action comics, in the way all the superhero publishers poached their talent in the '80s, or how the early '90s strips seemed to point the way Marvel & DC would be heading around the millennium's turn. The answer right now is "no" - as I hope I've expressed above, there's a lot of fusion and Japanese influence and callbacks, while Dredd is Dredd is Dredd. Still, this does not foreclose on some interesting hybrids.
Witness Ichabod Azrael, a 2000 AD approximation of a Mike Mignola story. The writer is again Rob Williams, here fixed on several escaped entities from the land of the dead, including Styx's boatman, who only wants to enjoy sensual pleasures, and the titular killer, whose own frequent assassinations re-write the course of human reality as he chases a woman that's nothing more than his impression of 'beauty' and 'happiness' made unwitting flesh. It's a weird, bleak, start-and-stop barrage of bodily and perceptual destruction, illustrated by one Dom Reardon in a stiffly design-y manner, sacrificing fluidity of motion for severely regimented panels and stage-like posture. In this way, it teases out Mignola's own rejections of straightforward cinematographic action storytelling, with the added bonus of lavish hand-drawn sound effects. An uneasy approach, but sometimes quite striking, and appropriate for a weird scenario like this.
Or, at least, it's appropriate until Reardon is replaced in #1797 with a fill-in artist, Antonio Fuso, working in the same general style but with less panache. Such is another hazard of weekly serialization, a rough business with much to show.
***
PLEASE NOTE: What follows is not a series of capsule reviews but an annotated selection of items listed by Diamond Comic Distributors for release to comic book retailers in North America on the particular Wednesday, or, in the event of a holiday or occurrence necessitating the close of UPS in a manner that would impact deliveries, Thursday, identified in the column title above. Not every listed item will necessarily arrive at every comic book retailer, in that some items may be delayed and ordered quantities will vary. I have in all likelihood not read any of the comics listed below, in that they are not yet released as of the writing of this column, nor will I necessarily read or purchase every item identified; THIS WEEK IN COMICS! reflects only what I find to be potentially interesting.
***
SPOTLIGHT PICKS!
Hugo Tate: But 2000 AD was hardly alone among UK comics anthologies; there was also the likes of Deadline, a music-addled forum for older readers established in 1988. And for nearly the entirety of its seven-year lifespan, it ran Nick Abadzis' Hugo Tate, your classic amusing lil' strip that grew with its artist to tackle bigger and more ambitious slice-of-life storytelling. "[A]... stick man protagonist living in a figuratively-drawn world," Hugo eventually comes to know a range of international experiences, all of which are in this 192-page softcover from Blank Slate Books, with an introduction by introductions-to-collections-of-British-comics specialist Garth Ennis. Slideshow; $19.99.
Drama: Meanwhile, fans of meteoric American rises can enjoy this latest 240-page color Scholastic release from former Ignatz nominee (and one-time X-Men co-writer) Raina Telgemeier, whose 2010 memoir Smile managed the interesting feat of taking one of the oldest and (in some circles) most widely derided of olde-tyme indie comics styles -- ye olde autobio comix -- and flipping it into a pretty huge success in the ultra-mainstream realm of YA publishing. This is a fictional follow-up, tracking an eventful Drama Club season among some understandably dramatic junior high-aged students planted in a rather idealistic domain of inclusion and adequate arts funding. Easygoing feels and lite eccentricities about on the level of a sturdy episode of Doug, not without some keen observations into tween emotional impulses. Lively cartooning throughout. Animated trailer; $10.99 ($23.99 in hardcover).
--
PLUS!
The Beatles Graphic: Another week, another big translation of Eurocomics stuff... I think? Details are a little sketchy on this 167-page Omnibus Press release from French writer/artist Hervé Bourhis, although I *suspect* it's an English edition of his 2010 Dargaud release Le Petit Livre Beatles (a subsequent Dutch-language version of which was reviewed by Bart Croonenborghs here). Regardless, coverage of all applicable periods and subsequent endeavors is promised; $27.95.
The Bulletproof Coffin: Disinterred: Just a softcover compilation of this recent David Hine/Shaky Kane series from Image, my favorite superhero thing from 2012 thus far, though the 'superheroes' covered in this odd tour of comics genres are just as likely to manifest as horror hosts and war characters and such. Expect no resolution of its backgrounded semi-plot, as more is presumably to come. Samples; $17.99.
Bucko: Your webcomic-that's-now-a-book of the week, a 2011-12 project by Jeff Parker & Erika Moen about a job interviewee that becomes involved in a murder - comedy results. The collection is from Dark Horse, and contains extra stuff. Samples; $19.99.
The Odyssey: A new 128-page Bloomsbury USA release, being the third, I believe, in a now-annual series of Seymour Chwast takes on classic works of literature; odd little line this has formed. Slide show; $20.00.
Alien: The Illustrated Story: Ridley Scott's Prometheus might be hitting home video in a few weeks, but an Alien predecessor of a different sort can be found in this energetic 1979 Archie Goodwin/Walter Simonson comics adaptation, originally published as a graphic album under the auspices of Heavy Metal, and now presented in a no-frills, just-the-facts, 8" x 11" 64-page softcover from Titan Books, which will also be releasing a much larger, extras-laden uncolored original art showcase edition next month. Samples; $14.95.
The Judas Coin: But if it's new Walt Simonson you're after, you might as well duck on into this 96-page original DC hardcover, which is actually an expanded version of Simonson's never-finished-prior-to-cancellation issue of the publisher's 2004-06 anthology series Solo. Six stories set in disparate time periods are presented, joined by the presence of a silver coin (yes, Two-Face, Batman), including a Manhunter 2070 piece apparently inspired by Masamune Shirow and Hiroyuki Utatane...!! Interview here; $22.99.
Stumptown Vol. 2 #1: Finally, it's not too often you see a straight-ahead crime comic launch out of the back of Previews -- I mean, not in the comic book format itself -- but there's history behind Stumptown, a Portland-set, Oni-published mystery series connected to writer Greg Rucka's suspense novels in prose, i.e. the stuff that brought him to comics in the first place in the late '90s via Oni and the Whiteout series, though like many such genre specialists he eventually did a considerable amount of work in superhero comics. Here he re-teams with artist Matthew Southworth, for a story of important missing shit. Preview; $3.99.
--
CONFLICT OF INTEREST RESERVOIR: Very strong week down in the subterranean lake, proudly headed by the 104-page release of Love and Rockets: New Stories #5, perfect for anyone who can't quite get out to SPX this weekend but still demand some communal satisfaction in seeing Jaime hone in on his extensive supporting cast and Gilbert return to Palomar for the series' 30th anniversary with Fantagraphics; $14.99. Elsewhere, the great Lorenzo Mattotti returns with The Crackle of the Frost, a 2001 collaboration with Jorge Zentner, focusing on loosened personal commitments and damned pretty/ominous observations; $19.99. And then there's a new softcover edition of the excellent Joost Swarte collection Is That All There Is?, printed at expanded 7.5" x 10.25" dimensions - a similarly larger 2nd hardcover edition will follow; $25.00.