Does this look like manga to you? It is indeed the work of the well-known Japanese comics artist Shintarō Kago, but here we find him a la fumetti inferno - this is not from a Japanese release, but issue #1 of a four-part Italian comic book miniseries, Day of the Flying Head, published by Hollow Press. In fact, Kago has been with Hollow Press for nearly all of its three-year life, with the small house issuing first the hardcover album Industrial Revolution and World War (2015), then the softcover color story collection Tract (2016) - and, as unusual as it might be to find a manga artist in a 32-page stapled pamphlet, Kago has made it a habit of manifesting his work in different forms, with different accompanying contexts shifting the perception of him.
Day of the Flying Head is a wordless story, as are all of Kago's works for Hollow Press; it consists of two 16-page chapters, with conspicuous blank spaces left on each of their first pages, perhaps to insert chapter titles in the event the serial appears in a different venue for a different market. The subject matter is typical of Kago's fascinations - drums of mysterious waste are introduced Return of the Living Dead-style into the populace of a fantasy realm, resulting in various citizens literally losing their heads, though they live on as unbodied noggins trailing drippy clumps of guts. The idea comes from the krasue: Southeast Asian folkloric beings most readily recognizable to western nerds from the 1981 Indonesian horror film Mystics in Bali, and the inspiration to at least one prior Kago comic, "Lament of the Headless", translated in Super Dimensional Love Gun, a recent North American edition of a 2015 Japanese collection, available from the pornographic manga publisher FAKKU.
"Lament of the Headless" would not fit in so well with Hollow Press' wares, I don't think. Like not a few of Kago's short stories, it's a big decadent joke centered on some bodily quirk or snatch of satire or manipulation of the comics form: here, it's the notion of a woman whose head pops off. She's looking for love, but her terrifying tendencies instead lead her on a journey of discovery that culminates with her becoming the underworld boss of a legion of dope-addicted supernatural prostitutes. It all feels somewhat improvised, and more than a little porny; and, I mean 'porny' in the sense of sexual violence ostensibly present for titillation, as is not uncommon in ero manga. It's also not uncommon in Super Dimensional Love Gun, those these images rarely feel like more than an arbitrary and sensational distraction from what I will call the 'core' of Kago's work - the breakdown of the human body and the perceptual qualities of reality into Luciferian studies of manipulation, the idea of 'piercings' or 'punctures', or the societal impressions of oral sex or abortions vivified into grossout riffs, explored whimsically from various angles. Often, Kago places a pretty girl at the center of the mayhem, and not really, in my opinion, for the purposes of empathy; he may be the least humane comics artist this side of Yuichi Yokoyama, preferring instead the qualities of rather stereotypical-for-manga feminine prettiness as a fertile batch of formal traits on which he might elaborate his routines. Women as design elements, a palette on which to violently mix his hue.
But Kago is also not a 'pure' artist in so rarefied a sense; he frequently, openly compromises. You've probably seen his many portraits of girls with pop flotsam erupting from their heads, or come across a few fan translations of his more notorious and unique stories; he can be excerpted to seem like the most interesting cartoonist around. But reading Super Dimensional Love Gun, annotated toward the read by Kago himself, you can see how many of his comics are done by the dictates of commercial magazines, just so they can be published. "To tell you the truth," Kago told Tomokazu Kosuga in an interview with Vice back in 2008, "I'm not really into drawing sex scenes, and if I had a choice I'd prefer not to. But when you're drawing for an erotic magazine, you sort of can't avoid it.... I often insert meaningless sex scenes in the middle of a story when I have to fill up a few pages and can't think of anything else." He was even blunter to Christopher Butcherin the introduction to Hollow Press' Tract: "...adult magazines are the only places I can get published," he said, "As long as a story has some kind of sex, or even sex and grotesqueness, I can do whatever experiments I like."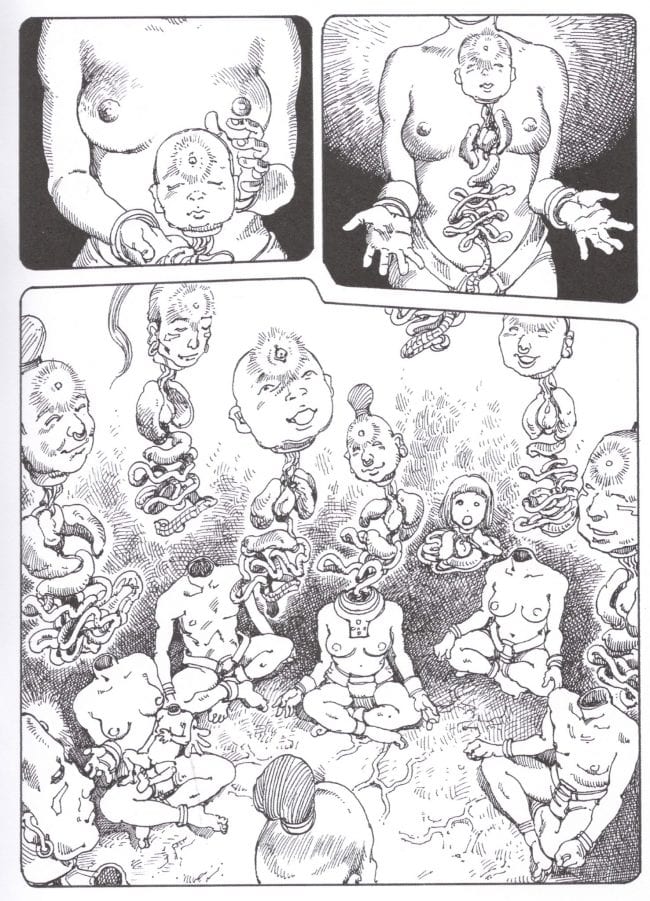 So, viewed systemically, we can see Kago as both part of and resistant to the industrial manga sphere: willing to modify his work to fit commercial dictates, having identified those dictates that would dilute his desires the least. In a prior age, such a struggle may have burned in the body of the mainstream (see the great Takeo Udagawa study Manga Zombie), but the tighter dictates of today have seemingly inspired Kago to simply keep his options open. He exhibits internationally, in galleries, he designs album art, and he works with Hollow Press on comics with little in the way of ero to interrupt the guro and nansensu. In particular, Day of the Flying Head sees him adopt a Miyazakian style, Moebius licks and all, with an emphasis on journeying. One young woman (of course), detached from her body, escapes society's terrified abuse of the popped head people and ventures into the jungle, where she meets a native tribe that deliberately evolves children into krasue form for the purposes of enlightenment. They wage war, then, on civilization, but even higher powers seem to wait for the outcome. Issue #2 is supposedly due in October, with maybe a further glimpse of Kago's own bodiless wandering.
***
PLEASE NOTE: What follows is not a series of capsule reviews but an annotated selection of items listed by Diamond Comic Distributors for release to comic book retailers in North America on the particular Wednesday identified in the column title above. Be aware that some of these comics may be published by Fantagraphics Books, the entity which also administers the posting of this column, and that I also run a podcast with an employee of Nobrow Press. Not every listed item will necessarily arrive at every comic book retailer, in that some items may be delayed and ordered quantities will vary. I have in all likelihood not read any of the comics listed below, in that they are not yet released as of the writing of this column, nor will I necessarily read or purchase every item identified; THIS WEEK IN COMICS! reflects only what I find to be potentially interesting. You could always just buy nothing.
***
SPOTLIGHT PICKS!
The Customer is Always Wrong: Being the new 448-page(!) graphic novel from veteran cartoonist and television writer Mimi Pond, following her 2014 memoir Over Easy. Drawn and Quarterly again publishes, and the setting is once more the world of the service industry, although we are assured that this is a standalone work of '70s living in which a waitress deals with colorful customers while coming into her creative own. I expect this will be a lot of fun; $29.95.
The Story of Jezebel: "Based on the Bestselling Book The Bible Written by God," as the subtitle proclaims, this 272-page Uncivilized Books release marks the return of Elijah Brubaker, the formidable and very funny cartoonist noted recently for his biographical comic book series Reich. This project (of which there was also a webcomic iteration) is overtly comedic, taking on events from the Book of Kings, the artist "wind[ing] his way through angels, famine, war, and bear maulings with a mix of satirist wit and visual verve"; $19.95.
--
PLUS!
Palookaville #23: No offense intended to Seth, putting his newest release down here; it's just he's been pretty thoroughly covered, including by me, re: this book a few weeks ago. As you probably know, this 144-page Drawn and Quarterly hardcover contains the final chapter of Clyde Fans, a serial the artist has been working on since 1997; it's a good chapter, too. Also included are a new installment of the autobiographical serial Nothing Lasts (featuring the author's youthful dalliances with girls), and a suite of images from two gallery exhibitions local to Seth's home; $22.95.
Neonomicon: It's been a slow burn, but every so often I notice new readers discovering the recent H.P. Lovecraft-themed series Providence from writer Alan Moore and artist Jacen Burrows. They are now potentially served in greater depth by this new hardcover compilation of earlier, related works by the same creators, i.e. the 2003 miniseries The Courtyard (specifically the 2009 colorized iteration) (which, moreover, was actually adapted from a 1994 prose story by Moore with scripting by Atomic Blonde co-creator Antony Johnston) and the 2010-11 miniseries Neonomicon, an original and very violent Moore script. Both of these works are firmly in continuity with the later Providence, to the point where I feel a later omnibus edition might be well-served by interspersing these series *into* the body of Providence itself. But I am not in charge of Avatar Press, which has published all of this work; $27.99.
A Castle in England (&) Pantheon: A pair of Nobrow releases, doubtlessly in the handsome style expected from that publisher. A Castle in England is a unique project created in collaboration with the UK's National Trust, in which writer Jamie Rhodes (via a successful Arts Council England application) teams with various artists -- the prominent Isabel Greenberg among them -- for a suite of fact/fiction stories on the topic of the 700-year old Scotney Castle in Kent. A 144-page hardcover. Pantheon, meanwhile, is a lighter type of historical book, a 224-page all-color depiction of ancient Egyptian mythology in a humorous style from artist Hamish Steele, a writer and director for animation making his bookshelf comics debut; $19.95 (Castle), $22.95 (Pantheon).
Ghost Money #1 (&) Ariol Vol. 10: The Little Rats of the Opera: A pair of smaller-format Eurocomics editions here. Ghost Money is a series the graphic novel-focused Magnetic Press is releasing in comic book format via the publisher Lion Forge. What's notable is the presence of writer Thierry Smolderen, an early comics historian with many scriptwriting credits - a few of you will recall his Katsuhiro Ōtomo-informed series Gipsy with artist Enrico Marini as a standout feature of Heavy Metal magazine since 1995, when manga 'fusion' comics were still a bit unusual. The artist on this one is Dominique Bertail, and the scenario finds two women involved in War on Terror-related political intrigue. Ariol is a funny animal children's series written by veteran mainline BD-for-adults author Emmanual Guibert (Alan's War, The Photographer) and drawn by Marc Boutavant - I'm mentioning it here because NBM/Papercutz is up to ten of these, which is a good ways through the French series, and not always so common for these translation projects; $3.99 (Money), $12.99 (Ariol).
Spongebob Comics #71: I try to keep an eye on Spongebob; it's sort of the last holdout from the Nickelodeon Magazine era where alt-cartoonists got frequent checks working on a large stage for a huge audience of eager juveniles. FOR EXAMPLE: the solicitation here promises "an epic tale" by Graham Annable, author of the notable '00s small-press comics project Grickle, and also a professional in the animation field with a director's credit on a multi-million-dollar children's film (see also: Cathy Malkasian, Steve Purcell). Always interesting to ponder how the experience of working on major, major collaborative media might shift one's approach to the monkish toil of funnies; $3.99.
Teenage Mutant Ninja Turtles - Artisan Edition: Another week, another scanned-in-color-from-the-original-art project, here from the most popular source for the stuff, IDW. Perhaps in recognition of the franchise's origins as a lowly b&w parody comic (or maybe for a reason I didn't just make up), this 9.4" x 13.3" hardcover is offered at a relatively low cost, featuring only the 1984 debut issue of TMNT from creators Kevin Eastman & Peter Laird, which I think pretty much just transforms it into a fancy French album. Also included in these 144 pages are the original breakdowns for the issue, as well as some additional images; $39.99.
Behaving Madly: And here is the latest Craig Yoe-branded release of vintage stuff with IDW, although this one looks to have been primarily written and compiled by a Dutch author, Ger Apeldoorn. It's a 200-page compendium of knockoff comics that arrived in the wake of E.C.'s MAD, seemingly with an emphasis on MAD contributors' outside activities, along with pieces by the otherwise visible likes of Jack Kirby, Steve Ditko, Joe Kubert and others. Feel free to compare with John Benson's similarly-themed The Sincerest Form of Parody (Fantagraphics, 2012); $34.99.
--
CONFLICT OF INTEREST RESERVOIR!
My Pretty Vampire: Finally - yeah, Tucker Stone is back, and so is the reservoir. It'd been running low. BE AWARE, not only is this (1) a book published by Fantagraphics, the entity administering this site and signing my check, and (2) a book by a contributor to this site, Katie Skelly, who (3) once wrote a guest edition of this column, but also (4) a book by an irl friend of mine, in which (5) I am listed in the special thanks. So, feel free to attribute even greater lies to this paragraph than you generally do throughout the column, though I will nonetheless insist that this is a terrific comic, all puce and meringue and hot blood red, a plush and inky world through which a vampire woman staggers, amoral and starved, the escaped possession of her family bent on finding a vein of consumption that befits her idea of herself. An 8.5" x 11" hardcover, 108 pages in color. Let the right one in; $19.99.