No, your eyes do not deceive you. What you're seeing above has to be close to the first published comics work by Mr. Ben Katchor, from the November 1977 debut issue of GASM, which I recently liberated from a longbox cache. GASM was a unique artifact from the 'ground-level' era bridging underground and mainstream American comics in the '70s; it was published by Myron Fass, Golden Age cartoonist and infamous impresario of the Eerie Publications line of rock-bottom b&w horror magazines, most of which consisted of redrawn or retouched versions of pre-Code horror stories with extra blood and gore. There were also a few original stories slipped into those magazines, but GASM -- an obvious market response to the massive success of Heavy Metal, which debuted earlier in '77 -- boasted the Fass comics' only really thorough attempt to publish new art; EiC Jeffrey Goodman notes in his introduction to issue #1 that "America has vast untapped resources of talent," perhaps in reference to the European slant of Heavy Metal. He also declares, more pertinently:
"Ben Katchor is really off his rocker, and that's what we like to see around here. He does the most arcane strip I've got in here, and I wish there were more like him. He says he doesn't read anybody else's comics."
Katchor wound up appearing in the first three of GASM's five issues; the above image is from issue #3, and my life choices haven't been sufficiently dubious to acquire issue #2, where he worked in color. Around the same time Katchor was appearing in Heavy Metal itself, and this small body of work is startling in how fully-formed his point of view already is, albeit with more emphasis put on large image frames than you'd typically see from him today. Still, his wide panels position characters and architecture in a panoramic style, suggesting the shape of comic strips even when populating magazines concerned with contemporary sci-fi action.
Comparison with other GASM participants is informative. For example, here's Chuck Dixon:
I don't think it's all that well known that Dixon -- whom I used to believe descended to Earth in adult form for the sole purposes of writing Punisher comics when I was a kid -- once draw his own stuff, but GASM #1 indeed sported the professional debut of writer/artist "Charles" Dixon, in a comedic sci-fi police romp influenced by another '77 debut, the UK's 2000 AD and its Judge Dredd series. The image above is from issue #3, his last (I like to imagine him and Katchor walked out together), where he's co-credited with then-spouse Judith Hunt, herself a solo GASM artist and subsequently a key contributor to the mighty Pennsylvania institution of Highlights for Children.
And speaking of childhood favorites:
That's James O'Barr (credited as "Zen"), "a relatively new and young artist who you'll probably be seeing more of," in Goodman's words. He would later create The Crow, although the similarly long-haired and dangerous fellow above is an interstellar metalhead whose rock group-like gang is positioned in the same role traditionally occupied by fantasy comic barbarians: pillaging lands and seizing women and destroying threats even worse than themselves. It's another sign of the strange past-future status of this magazine from borderline times -- there's was even a color title serial by Mark Wheatley starring an aging hippie-like space hero trying to pull himself together in time to save an alien world from sinister industrial development, the comics industry metaphor of which is revealing -- although Zen does manage a quick bonus pop at a certain cultural phenomena that arguably managed to save Marvel Comics just the year before.
Ah, the pleasure of a rapid response!
***
PLEASE NOTE: What follows is not a series of capsule reviews but an annotated selection of items listed by Diamond Comic Distributors for release to comic book retailers in North America on the particular Wednesday, or, in the event of a holiday or occurrence necessitating the close of UPS in a manner that would impact deliveries, Thursday, identified in the column title above. Not every listed item will necessarily arrive at every comic book retailer, in that some items may be delayed and ordered quantities will vary. I have in all likelihood not read any of the comics listed below, in that they are not yet released as of the writing of this column, nor will I necessarily read or purchase every item identified; THIS WEEK IN COMICS! reflects only what I find to be potentially interesting.
***
SPOTLIGHT PICKS!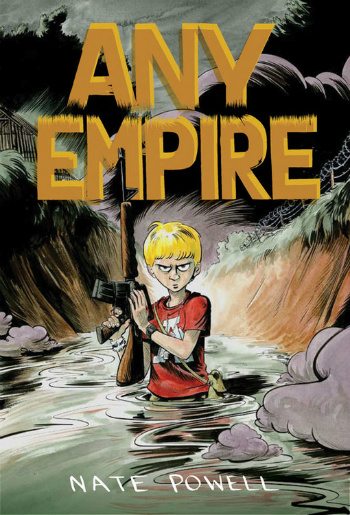 Any Empire: Nate Powell's Swallow Me Whole was one of my favorite comics of 2008, both for its choice and occasionally bravura deployment of symbolic imagery and a well-tuned presentation of familial love between its sibling protagonists. This is his newest longform work, a 304-page Top Shelf hardcover on the theme of militaristic culture and fantasy following three characters as children and adults. Certainly worth considering. Preview; $19.95.
The Steve Ditko Omnibus Vol. 1 Starring Shade the Changing Man: Elsewhere in comics culture, this is the week DC begins revamping their superhero line via the gimmick release of only two individual comic book titles: the last-ever 'old' DC superhero comic (Flashpoint #5) and the first-ever 'new' DC superhero comic (Justice League #1) - that these books feature exactly the same writer, essentially the same (but assuredly different!) characters and artists that frankly aren't a million miles away from each other in terms of base aesthetic is a quality you'll immediately process if you've got at least one foot inside the potential target audience, while other parties might be left scratching and/or shaking their heads at such self-declarative upheaval. Yet it's important to note that DC isn't necessarily leaving that audience behind, nor is it **actually** only releasing two comics this week - there's still a library to exploit and bookshelves to fill, after all!
As such, in a weirdly fitting moment indeed, Steve Ditko appears outside of time to observe the tumult on the new comics racks. Volume number notwithstanding, this is actually the second in DC's line of omnibus Ditko releases, following 2010's The Creeper by Steve Ditko, which devoted itself to works involving a single character. None of the artists other DC works are quite long enough for that -- unless they're planning to reissue all the Charlton superhero stuff eventually, hopefully with less searing colors than the 2004-07 editions -- so here's 464 pages of shorter work, including complete runs on the Paul Levitz-written fantasy swordplay series Stalker (1975-76, inked by Wally Wood) and the redoubtable Ditko-plotted Shade, the Changing Man (1977-78, scripted by Michael Fleisher), with additional bits from Strange Adventures, House of Mystery, House of Secrets, Weird War Tales, Plop!, Tales of the Unexpected, Secrets of the Haunted House, Time Warp, Ghosts and Mystery in Space.
No, The Hawk and the Dove is not in here, they want you to buy vol. 2; $59.99.
--
PLUS!
Killing Velazquez:The newest release from the very interesting Canadian publisher Conundrum Press, which has already put out one of the best things this year (Dave Collier's Chimo). This one's an English translation of a 2009 work from the Québec-based Philippe Girard, a 216-page autobiographical account of his encounter with a sexually abusive priest as a young man. Brief interview & sample page here; $20.00.
ABC Warriors: The Black Hole: I don't know a blessed thing about this 1988 storyline from writer Pat Mills' 2000 AD robot combat series, but the Journal's Tucker Stone called it "the most avant-garde comic ever made" on Twitter the other day, so it's probably worth listing. Art by Simon Bisley & "SMS" (a cartoonist and illustrator I most immediately recall as Bryan Talbot's background artist for parts of Heart of Empire). This is the Simon & Schuster edition; $17.99.
Rocketeer Adventures #4 (of 4): Also in thrill-power, be aware that ABC Warriors co-creator Brendan McCarthy is in this final IDW anthology comic tribute to Dave Stevens' creation, via a story written by John Arcudi of B.P.R.D. Also with Dave Gibbons & Scott Hampton, Joe Pruett & Tony Harris and Ashley Wood. Preview; $3.99.
Creepy Presents Bernie Wrightson: Marking a new trend in Dark Horse's publication of Warren b&w horror magazine material - artist-themed collections. This initial, 144-page release collects what should be the entirety of Wrightson's work for the publisher, including isolated illustrations and collaborations with Howard Chaykin (on Reuben Youngblood, another variant for Chaykin's old-timey derring-do archetype) and Carmine Infantino; $19.99.
Eerie Archives Vol. 8: However, the publisher's comprehensive compilations will also continue. This one covers issues #37-41, with stories by Don McGregor and Doug Moench (among others) and art by Mike Ploog, Esteban Maroto, Tom Sutton, Ernie Colon, Rafael Auraleón, Paul Neary and more; $49.99.
Drifters Vol. 1: Here's something I hadn't expected, but probably should have - the new ongoing series from Hellsing creator Kohta Hirano, Dark Horse's English editions of which look to be following relatively close to the Japanese editions (in that vol. 2 isn't due in Japan for another month or so). It's about famous personalities from world history (samurai, cowboys, etc.) being summoned to a high fantasy-type world so as to save it from a threat. Preview; $12.99.
Vagabond Vol. 10 (VizBig): For more orthodox action, it's unlikely you'll do better than this latest three-in-one compilation of volumes (28-30) from Takehiko Inoue's swordsman opus, one more of which will make it even with both the single-volume English releases and the Japanese series, which I believe remains on indefinite hiatus. Note that Viz also has new volumes of Mohiro Kitoh's Bokurano: Ours and Q Hayashida's Dorohedoro this week; $19.99 (for Vagabond; $12.99 for the other titles).
Eden: It's an Endless World! Vol. 13 (of 18): Speaking of long waits, here's Dark Horse's newest installment for Hiroki Endo's much-loved, not-so-much-selling blood-spattered sci-fi series, slowly but surely inching toward completion. Preview; $12.99.
Little Lulu's Pal Tubby Vol. 4: The Atomic Violin and Other Stories: Man, there's a lot of stuff from Dark Horse this week. This collects what I presume are issues #19-26 of Marge's Tubby, from the years of Our Lord nineteen hundred and fifty-six and fifty-seven; $15.99.
Bone: 20th Anniversary Special Edition: Finally, this here's that crazy boxed set version of the latter-day colored iteration for Jeff Smith's enduring project, now decked out in 1,344-page hardcover form with a signed print, a 22K gold coin, pewter figures, a separate book of cover art, a b&w minicomic reprint of issue #1 and the 2009 documentary The Cartoonist: Jeff Smith, BONE and the Changing Face of Comics on dvd. Note that this is not the most deluxe of the Bone anniversary reissues - a 50-piece, $1,000.00 variant swaps out the print for a piece of original art by Smith and colorist Steve Hamaker, but I imagine you'll have to order that on your own; $350.00.
--
CONFLICT OF INTEREST RESERVOIR: Crush the ones you love with Gahan Wilson: Fifty Years of Playboy Cartoons, a three-volume slipcased set now repriced to $75.00. Also, Dan Clowes' Ghost World: Special Edition is now $25.00. Diamond does not have the new Jacques Tardi (Like a Sniper Lining Up His Shot) listed for release, but keep an eye out!