In 2010, DC Comics released Dong Xoai, Vietnam 1965, a hardcover graphic novel by Joe Kubert; it remains my very favorite of the late artist's latter-day works, partially because it breaks down the elements of the man's career into a tangible dichotomy. On on hand, you have the cold, burdensome caption narration, a digital thing pasted digitally into wavy, hand-drawn parameters; these production concerns embody the pragmatism of comics publishing, little cost-efficient, time-savvy incursions into the aesthetic of drawing that command the status of comic books, that mass-market art that Kubert, age 12 or 13, entered into very nearly at its birth in America.
The drawings in Dong Xoai are so, so beautiful, much better than anything in Kubert's prior direct-from-pencil sketchwork projects, because they represent, specifically, the popular comics instinct that informed Kubert's art. These are documentary drawings of a historical period, yes, but they are also war comics, stripped down to the most unrefined form - pure mark-making by an artist riding on instinct. Gesturally, Kubert indicates the movement of soldiers, struggling and hollering against correctional fluid licks of flame and rich, smudgy smoke, smoke that draws you in as if you expect to find the artist's fingerprints. This is the soul of Kubert's art, the dynamism and the violence swirling in a gray state and gray, glossy pages, pages fit for shining adventures,something more complete - it is an accidental metaphor that DC has wrought, this little parable of drawing and paper.
When I think of the last few years of Kubert's work, though -- the years after Dong Xoai -- I think of inking, another accident of the assembly line process, and thus a meaningful attribute in the assembly line history of comic books. When Dave Sim wants to make a photograph or another artist's work his own, he imposes inking; it is a potential means of asserting the identity of drawing upon history's palimpsest. Kubert worked mainly with his son Andy, performing assertive inking maneuvers on projects like DC Universe: Legacies and Before Watchmen: Nite Owl; Andy Kubert is a fairly conductive penciller to begin with, but Joe would just chew those lines, acting not so much as a support mechanism but as a means of augmentation, transforming both men's styles into a past-present hybrid, improbably lithe and '90s muscled. It was an attractive thing, though it wasn't quite Joe Kubert.
No, the Joe Kubert of Tor and Tarzan and Enemy Ace and Sgt. Rock was a sometimes thing by then, turning in a special appearance for the odd personal project, one of which remains forthcoming from his steady publisher. The consummate pro, Joe - the proper action cartoonist, more composed than the thrumming innards of Dong Xoai, or the possessing spirit of the inker. He was always ahead on his deadlines, Kubert, and it seemed to me in those more vivid works that he'd gotten a fitting head start on becoming an axiom, an influence, a crackle of recognition on some foreign page's shore, an imperfect memory in some appreciative mind. Now, it is solemnized, and we have only pages left to post of his hand, but can't you see how he showed he'd remain? You can read. Look.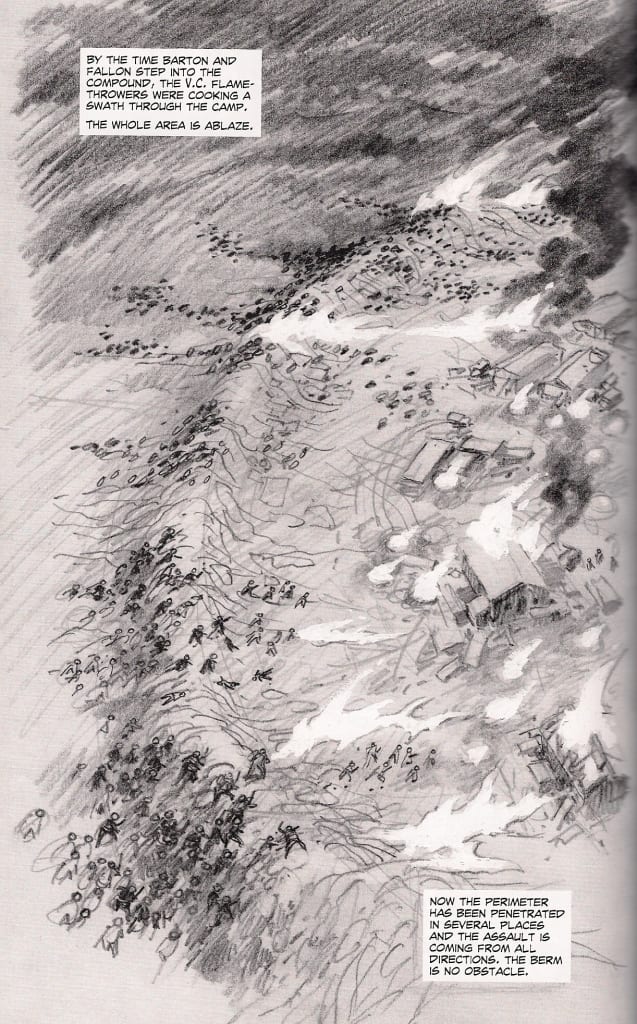 ***
PLEASE NOTE: What follows is not a series of capsule reviews but an annotated selection of items listed by Diamond Comic Distributors for release to comic book retailers in North America on the particular Wednesday, or, in the event of a holiday or occurrence necessitating the close of UPS in a manner that would impact deliveries, Thursday, identified in the column title above. Not every listed item will necessarily arrive at every comic book retailer, in that some items may be delayed and ordered quantities will vary. I have in all likelihood not read any of the comics listed below, in that they are not yet released as of the writing of this column, nor will I necessarily read or purchase every item identified; THIS WEEK IN COMICS! reflects only what I find to be potentially interesting.
***
SPOTLIGHT PICKS!
The Making Of: Not a *gigantic* week of new stuff for this August midpoint -- more than a few compilations & softcover editions, though, for those in the mood for Adam Warren's Empowered Deluxe Edition Vol. 2 or Brian Fies' Whatever Happened to the World of Tomorrow? -- but it's fronted by an anticipated book indeed: the new one from Brecht Evens, whose 2009 The Wrong Place lit 'em up two years ago when Drawn and Quarterly released an English translation. This time we look to be getting a classic allegory, with a prominent guest taking control of a Flemish arts festival, spurring much tension as he presses other participants into the construction of a mighty garden gnome "as a symbol of Flemish identity." Dutch and French versions appeared late last year, though I expect D&Q's 160-page English edition will be worth the modest wait. Dutch samples; $29.95.
The Red Diary/The R[e]ad Diary: Danish-born Teddy Kristiansen has long been a ghostly presence on the English-language comics scene, haunting the likes of Matt Wagner's Grendel and Eddie Campbell's Bacchus and passing through assorted Vertigo projects (House of Secrets, Sandman Midnight Theatre) without quite seeming to belong. His highest-profile release was probably 2004's Vertigo Superman metafiction It's a Bird..., created with writer and frequent collaborator Steven T. Seagle, though I'm partial to his issue of DC's lamented anthology series Solo (#8). The last book was Kristiansen's longform comics swan song in English-language publishing -- and ironically the first exposure English-only readers had to his writing -- as much of his attention seems to be paid to albums for the European market. This new Image release translates one of those, a 2007 joint concerning art forgery and warfare, with an added NA-exclusive flip section in which the aforementioned Seagle attempts to 'adapt' the original work by scripting the story he thinks the pictures are trying to tell, without knowing what Kristiansen's text is actually saying; $29.99.
--
PLUS!
The Manara Library Vol. 3: Trip to Tulum and Other Stories: Hey, it's the next in line for Dark Horse's extensive hardcover Manara reprint endeavor; the big draw here is no doubt the complete collaborations between Manara and Federico Fellini (1989's Trip to Tulum and 1992's The Voyage of G. Mastorna, the latter printed in English for the first time), though keep your eyes peeled for 1976's The Ape, a Silverio Pisu-scripted Heavy Metal classic boasting some of the lushest visuals Manara ever produced. Note also, however, that preview materials suggest Trip to Tulum, at least, is going to be presented in black and white, a la the b&w presentations of material from the Manara Erotica volume a few months back. I am not aware of the production histories of these various books, but I do know some readers prefer the color editions; you'll recall that quality issues with the existing digital files were previously cited as the publisher's rationale. A smattering of short stories and a Paul Gravett intro round out the 268 pages. Samples (comparison); $59.99.
A Treasury of XXth Century Murder Vol. 5: Lover's Lane: The Hall-Mills Mystery: Insofar as we can always go for some more Rick Geary, here's the latest in his effort to document all the good homicides. This one's a 1922 case of a reverend and his mistress, and a possible jealous spouse, spread over 80 b&w pages. The publisher, as usual, is NBM. Preview; $15.99.
Philosophy: A Discovery in Comics: Woah, two Dutch-language translations in one week! Some kinda foreign comics record here in the heat of summer. This is a 120-page NBM collection of work by Margreet de Heer, laying down the basics of Western philosophy for your pleasure and enlightenment. Note that the publisher also has one of its package deals going for Christophe Blain's Issac the Pirate this week. Samples; $16.99.
Wolf: Not too much in the way of manga catching my eye this week, so I'll throw in on something I have no direct experience with at all - a 448-page compilation of a serial from one Shige Nakamura via the online Japanese comics original magazine GEN, presenting new and unfamiliar artists. This one looks to be a sports manga about a young man looking to take down his absentee father, a top-level boxer. Video preview; $12.95.
Classic Popeye #1: Last year saw IDW's release of Popeye: The Great Comic Book Tales of Bud Sagendorf, which sampled stories from various '40s & '50s Dell Popeye issues. Now it appears the success of the new Roger Langridge-driven Popeye series has spurred the publisher and editor Craig Yoe on to try and release the entire Sagendorf oeuvre as a long series of comic books, beginning with this 48-page compilation of material from 1948. Samples; $3.99.
Butcher Baker, The Righteous Maker #8: Marking the return of a Joe Casey/Mike Huddleston superguy-of-excess series from a long-ish hiatus, during which the project seems to have picked up increasing amounts of renown and reminisce among readers of this kind of psychedelic-ish genre thing. From Image; $2.99.
Daredevil #17: Another issue of writer Mark Waid's extremely well-liked rendition of the longstanding Marvel superhero, noted this week for the participation of Mike & Laura Allred on art. Preview; $2.99.
Batwoman #12: And here's another art-driven mainline superhero comic for ya, marking the return of co-writer J.H. Williams III to visual duties for a new storyline, after which he'll be serving as artist for 2013's The Sandman prequel thing. Preview; $2.99.
Elektra: Assassin: But getting back to Daredevil - I guess Marvel's killing him? Or, rather, they're printing an official, not-to-be-monkeyed-with (of course!) canonical death sequence in the upcoming Daredevil: End of Days miniseries, to be written by Brian Michael Bendis & David Mack. That team strikes me as a nostalgic pick, a throwback to the old days of early '00s Marvel, and indeed it seems the artists involved are also operating in their capacities as agents of franchise history, with primary visuals to be provided by Klaus Janson, inked by Bill Sienkiewicz, with added painted sequences to be done by Mack and Sienkiewicz, the latter apparently working in his old Elektra: Assassin/Daredevil: Love and War style from the '80s. So, naturally, there's a reason to get Elektra: Assassin back into print, aside from being the best thing Frank Miller was ever involved with and probably a top five superhero project of the decade overall; $19.99.
The Creativity of Ditko: Finally, your book-on-(and-of-)comics for the week, focused on one of the last living legends, and an early, enthusiastic Joe Kubert devotee. It's a 208-page hardcover sequel to editor Craig Yoe's and publisher IDW's 2010 The Art of Ditko, again focusing on 9.5" x 12.5" public domain reprints (mostly '50s & '70s Charlton), original art scans and short essays/testimonials. Some focus on Ditko's relationship with fetish artist Eric Stanton is promised, including a reminisce by Stanton's daughter Amber and some rare photos. Of course, the big story remains ongoing. Contents & photos; $39.99.