With the sincerity and contrition of Buster Brown, I hereby vow never again to blow a deadline because I was distracted by toys. No sir, the detail above represents my new motto: unless it needs be said, don't say it! But with concern for full attribution, know that this Aidan Koch art (including a prominent depiction of the famous non-verbal speech bubble beloved of manga fans across the globe) comes from Volcan, a new French-language risograph anthology from editors-in-chief Alexis Beauclair & Sammy Stein, who are globally-minded enough to insert an English translation book into applicable copies. Unfortunately, there was only ever 400 copies produced, and it appears the stock they had set aside for online orders is already gone, so barring an sudden reissue you'll basically have to track them down at Safari in London or the NY Art Book Fair (or one of several continental shows listed behind the link) in the next few months to get one. Mine only arrived yesterday, but it's a very nice production: "defend[ing] comics that dare to explore and reinvent their own form - even if the narration has to pay the price." If you enjoyed last year's Mould Map 3, it shares a number of the same contributors -- Koch, Olivier Schrauwen, C.F., Yuichi Yokoyama, Leon Sadler, Jonny Negron -- but prints them in slightly more sinister, often pulsing drum color. Yokoyama (whose stuff I've detailed out on the front page) is even outfitted with an external colorist, Alexis Beauclair, in what looks like a New Engineering-period short, albeit one I've not seen before. Anyway, it's something to look out for... and time runs tight already!
***
PLEASE NOTE: What follows is not a series of capsule reviews but an annotated selection of items listed by Diamond Comic Distributors for release to comic book retailers in North America on the particular Wednesday identified in the column title above. Be aware that some of these comics may be published by Fantagraphics Books, the entity which also administers the posting of this column. Not every listed item will necessarily arrive at every comic book retailer, in that some items may be delayed and ordered quantities will vary. I have in all likelihood not read any of the comics listed below, in that they are not yet released as of the writing of this column, nor will I necessarily read or purchase every item identified; THIS WEEK IN COMICS! reflects only what I find to be potentially interesting.
***
SPOTLIGHT PICKS!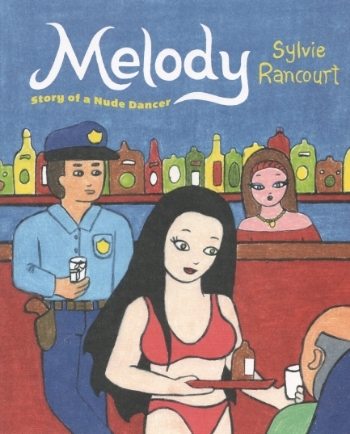 Melody: Story of a Nude Dancer: Anybody with a cultural background that includes the old Kitchen Sink catalogs will recall this title - in my adolescence, it was one of several oddly extensive-looking adult comic book series with notions of sex placed right in front. But Melody was not exactly Cherry - I was unaware at the time that Sylvie Rancourt's earliest comics, assembled and distributed directly to the clientele of clubs in which she danced, were among the first such autobiographical works released in Quebec. This 352-page Drawn and Quarterly paperback compiles all of the early stuff, with Rancourt as writer/artist -- so, *not* the later, collaborative Kitchen Sink series, save your back issues -- depicting scenes from her life in an exceedingly matter-of-fact style. With a new introduction by Chris Ware, and some historical texts translated from a 2013 Ego comme X edition. Samples; $22.95.
The Diary of a Teenage Girl, Revised Edition: Being a new 320-page release for Phoebe Gloeckner's 2002 prose-comics hybrid, via Berkeley's North Atlantic Books and Penguin Random House. I will presume that Gloeckner, among the titans of ripped-from-life comics, needs no introduction to you, but know that director Marielle Heller's film adaptation -- recently troubled with an 18 certificate from the BBFC -- is set to open stateside on August 7, and that this timely softcover will feature a new introduction and additional photographs & illustrations; $18.95.
--
PLUS!
Conditions on the Ground: A new 360-page Floating World Comics hardcover, 6.5" x 9.25", collecting a well-respected set of 10 comic books by Kevin Hooyman, "elevat[ing] everyday situations into psychedelic self-reflection and humorous revelations." Distributed to comic book stores via Alternative Comics; $29.95.
Leaf (&) Not Funny Ha-Ha: Two here from Fantagraphics. Leaf is a 9" x 10.625", 96-page hardcover from Chinese artist Daishu Ma, a wordless all-ages story with labyrinthine urban spaces and luminous natural phenomena, which the publisher compares to the popular work of Shaun Tan. Not Funny Ha-Ha is the new book from Leah Hayes, of 2009's Funeral of the Heart, an 6.5" x 8.5", 200-page hardcover following two women in different circumstances through the abortion procedure; $24.99 (Leaf), $16.99 (Funny).
World War 3 Illustrated #46: This long-lived forum for activist comics has been releasing new 7" x 9" themed issues very steadily for a while now, with this one honing in on youth and climate change. Contributors include such regulars as Eric Drooker, Peter Kuper & Seth Tobocman, plus many others across 160 pages. A Top Shelf release; $7.00.
Dengue (&) Last Ones: Two from Humanoids here, both looking very much of the French comics mainline, but created by very international-minded talents. Dengue is a 96-page hardcover depicting murder and disease and suspense in Uruguay. The writer, Mexican-born Rodolfo Santullo, is from the area, and here teams with Montevidian artist Matías Bergara, who's had a number of North American credits at Vertigo, BOOM!, Zenescope and the like. The Last Ones is a 2013-15 series written by David Muñoz of Humanoids' Whispers in the Walls (and, going back a few more years, the Guillermo del Toro film The Devil's Backbone) - it's a vampire apocalypse story drawn by Manuel Garcia of numerous Marvel superhero projects, collected as a 152-page hardcover. Both books are 7.9" x 10.8"; $19.95 (Dengue), $24.95 (Last).
Devlin Waugh: Red Tide (&) The V.C.s: Hell in the Heavens Digest: And here's two from 2000 AD, both imported Rebellion editions. Devlin Waugh brings 218 pages of comics written by the redoubtable John Smith, one of the most unique and engaging of 2000 AD contributors, here working with maybe his most popular character, a vampiric Vatican enforcer from the Judge Dredd universe. This 218-page softcover collects mainly work from Judge Dredd Megazine, 2003-07, with art from Colin MacNeil, John Burns, Peter Doherty and co-creator Sean Phillips. The V.C.s is part of Rebellion's line of smaller-sized books, this time presenting 132 pages' worth of '70s/'80s space war stuff from writers Gerry Finley-Day & Steve MacManus, with top artists of the day including Mike McMahon, Garry Leach, Cam Kennedy and others; $29.99 (Devlin), $11.99 (V.C.s).
Transformers Vs. G.I. JOE #8: Lots of continuing projects this week -- ranging from the Matt Fraction/Fábio Moon/Gabriel Bá/Michael Chabon Casanova: Acedia at Image to the Braden Lamb colorization of Raina Telgemeier's Baby-Sitters Club adaptations at Scholastic -- but I will highlight the latest issue of this Tom Scioli/John Barber license collision at IDW, basically on the strength of issue #7, which, in a world where a comic like Watchmen remains so prevalent in the public consciousness that it has become the stuff of U.S. presidential candidacy gaffes, dares to stand tall and go 'hey, how about Weapon X?' God, I hadn't seen a Weapon X allusion outside of Marvel itself in forever; $3.99.
Demons and Angels: The Mythology of S. Clay Wilson Vol. 2 (of 3): Continuing Patrick Rosenkranz's & Fantagraphics' retrospective on the life and art of the underground favorite with another 224 pages of raw comics and considered history; $34.99.
The Complete Chi's Sweet Home Vol. 1: Also from S. Clay Wilson - no no, actually this is a very cute Kanata Konami cat manga from the arch-mainstream seinen pages of Kodansha's Morning magazine. It released its 12th and final collected volume in Japanese last month, and Vertical is already rolling out the omnibus editions, here packing in three prior books into a single 480-page unit, now at 6" x 8", with some new work included as well. Preview; $24.95.
The Blacker the Ink: Constructions of Black Identity in Comics & Sequential Art: Your book-on-comics of the week, coming from Rutgers University Press. It's a 356-page collection of essays, edited by Frances Gateward & John Jennings, exploring "not only the diverse range of black characters in comics, but also the multitude of ways that black artists, writers, and publishers have made a mark on the industry." Frequent Hooded Utilitarian contributor Qiana Whitted is among the contributors, as is Hawkeye aficionado Craig Fischer; $29.95.
Posters: Otomo Katsuhiro x Graphic Design: And finally, your not-a-comic of the week - Last Gasp's distribution of a PIE International compendium of poster art by the creator of Akira and other comics. This has been around for over a year, I think, but comic book stores are probably just getting it now, all 176 10.25" x 14.25" pages of it, with a bilingual Ōtomo interview included; $69.00.