Drawn & Quarterly sent me a copy of the new Palookaville yesterday, so that's how I spent most of my free time - this is the 23rd edition (given that it's a 144-page hardback, "issue" seems inadequate in the sense by which it's typically understood), and the fourteenth, if I'm not mistaken, to serialize the artist Seth's graphic novel Clyde Fans. There won't be another, because Clyde Fans is now finished; issue #10 of Palookaville (they were issues back then) hit the stands in April of 1997, so that's an even two decades for the work to reach completion. Thus, in commemoration, above I've prepared a little comparison of similar views from opposite centuries: (1) a page first presented in 1999's Palookaville #13, the first segment of "Clyde Fans: Part Two", scanned from the 2004 interim collection Clyde Fans: Book One (collecting Parts One and Two); and (2) a page from the new, upcoming Palookaville #23, its Clyde Fans components representing the entirety of "Clyde Fans: Part Five". And be *sure* you break out those back issues, True Believers, because Part Five is a direct continuation of Part Two, the readily observable shift in Seth's drawing approach notwithstanding.
It fits, though. Somehow, it does. Ridiculous as it may seem to refer to an artist of Seth's success and renown as underestimated in some sense -- and, actually, I'm of the type who considers success and renown to encourage the use of shorthand to summarize a notable artist's traits, often leading to discreet underestimations -- few have discussed how careful he is in preparing books of unfinished parts so that they read as coherent statements of ideas. He is like Chris Ware in this way, and it's not only a consequence of book design. Clyde Fans: Book One, for example, balances its two Parts as directly opposed in terms of narrative presentation and character motivation. Part One is a veritable one-man show in which Abraham Matchcard, aged air circulation mini-magnate, caught extraordinarily post hoc, walks us through his neighborhood in the then-present of '97, detailing his own life story as a good-not-great salesman while expounding upon local haunts, household knickknacks, and all the things that come to summarize your footprint on this world. Part Two shifts the scene to 1957, finding Abe's timid brother Simon absolutely failing to live up to each and every virtue of his brother's worldview, as just described to us at length. Abe talks directly to the reader; Simon is viewed from omniscience as we follow his disastrous sales tour of bustling Dominion, images from inside his head often interrupting panel sequence, so that his nervous pondering suffuses and frustrates the objective of connecting with customers and the world at large, i.e. customers.
"Dominion", as many of you will recall, later became the name of a cardboard model city Seth built over the course of many years (if not so many as the serialization of Clyde Fans). It continues to be a fascination, as evidenced in another section of Palookaville #24, "Some Small Paintings", which document works from two exhibitions held in Guelph, where Seth lives. There are images of neatly arranged people, as if imagined for fictional newspaper clippings or commemorative photographs, and images of building exteriors set against gold framing in the manner of icon painting. One building is from Dominion. This segment directly precedes the Clyde Fans finale (we also get part 3 of Seth's serial memoir Nothing Lasts earlier in the book), and in fact explicitly informs what happens to Simon Matchcard after washing out of the sales game in 1957. I won't say too much about what happens -- Palookaville #23 isn't due in stores for a few more weeks -- but D&Q's website refers to it as an "out of body experience and ecstatic 'vision'", which, much to my amusement, recalled the epiphany of Jack the Ripper at the climax of Alan Moore's & Eddie Campbell's From Hell. But Simon doesn't kill anyone; instead, he narrates with dawning awe the glory of still spaces, of empty rooms and solitude, of fine exteriors. He narrates, in a way, a spiritual justification for Seth's own extra-comics artistic pursuits, if not necessarily anything so literal as an artist's statement. No, this is a character speaking from deep inside, and in this way it's fitting, I repeat, that he is now drawn with the bolder outlines among the fatter shadows of Seth today, though only minutes have passed in his life since Part Two. He is changed.
And so, he joins his brother in speaking directly to us. Part Five of Clyde Fans bookends the work as a reprisal of the expository narrative style of Part One, but in a unique way. You'll see what I mean. This is a book of disappointments, of obsolescence and missed chances and infirmity and time passing you by, but at its beginning and end it's a statement of dueling ideologies: the testament of brothers who want to tell you something meaningful about the world. One assigns personal and temporal meaning to objects. The other regards them for an innate and magnificent quality beyond the commercial, corollary to his predilection for solitude. "The artist requests that this band be disposed of upon purchase," Seth will urge you of the white wrapper that contains the publisher synopsis, the pull quotes and the bar code when you buy this. I always throw it away. Every gesture helps.
***
PLEASE NOTE: What follows is not a series of capsule reviews but an annotated selection of items listed by Diamond Comic Distributors for release to comic book retailers in North America on the particular Wednesday identified in the column title above. Be aware that some of these comics may be published by Fantagraphics Books, the entity which also administers the posting of this column, and that I also run a podcast with an employee of Nobrow Press. Not every listed item will necessarily arrive at every comic book retailer, in that some items may be delayed and ordered quantities will vary. I have in all likelihood not read any of the comics listed below, in that they are not yet released as of the writing of this column, nor will I necessarily read or purchase every item identified; THIS WEEK IN COMICS! reflects only what I find to be potentially interesting. You could always just buy nothing.
***
SPOTLIGHT PICKS!
Songy of Paradise: Just goddamned stop everything - the new Gary Panter is here. A genuine living legend and the rare mind I would unreservedly qualify as 'wise', Panter always rewards close attention paid to his works. This 40-page, 11.25" x 15.25" b&w hardcover follows a cartoon hillbilly archetype on a Miltonian journey of temptation. I was discussing Panter's comics with a friend the other week, and we concluded that you can read any of them, no matter how dense, with only the most basic understanding of how comics and cartoons operate, and still appreciate them fully... though they may seem, at times, the opposite of simple. Their essence is so simple, that these could be the only longform comics you ever read, and you need feel no less adept than any lifer scraped bleeding from the scene. Fantagraphics is the publisher; $34.99.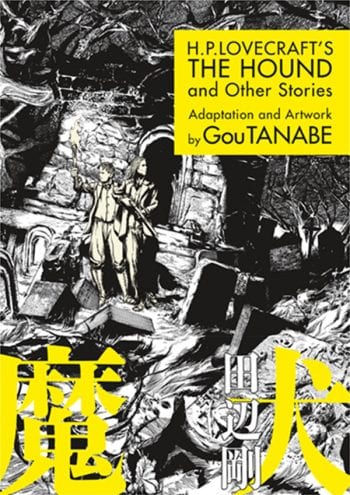 H.P. Lovecraft's The Hound and Other Stories: Incidentally, I am exactly that type of lifer, so take it from me that this new manga translation looks very much like the sort of dark, heavy stuff on which Dark Horse first made its name on the Japanese comics scene, via the packager Studio Proteus. Artist Gou Tanabe has been putting together horror comics for more than a decade, and this 2014 collection adapts three stories by H.P. Lovecraft: The Nameless City (1921); The Hound (1924); and The Temple (1925). Interestingly, the publisher has seen fit to make note of the book's Japanese branded venue in its solicitation: Enterbrain's Comic Beam ("A Magazine for the Comic Freaks!"), a self-consciously alternative-flavored seinen monthly, notable as the home of works as diverse as Takako Shimura's Wandering Son, Suehiro Maruo's The Strange Tale of Panorama Island, Atsushi Kaneko's Bambi and Her Pink Gun, and Kaoru Mori's Emma. In other words, it can now be readily promoted as a reliable source of 'quality' comics by English-reading standards. Preview; $12.99.
--
PLUS!
Moonstruck #1 (&) Generation Gone #1: Two Image debuts here with a vision of the world. Moonstruck will be anticipated by many, coming from writer Grace Ellis, co-creator of the extremely popular Lumberjanes series at BOOM! The artist is Shae Beagle, a Columbus College of Art & Design grad from just this past May - the scenario finds magical fantasy beings holding odd jobs among humans, with a bigger plot brewing underneath. Generation Gone is the new project from writer Ales Kot, working with co-creator André Lima Araújo on a project about hackers with superpowers in the new future, and "what it means to be young in the USA, 2017"; $3.99 (Moonstruck), $4.99 (Gone).
Korgi: Short Tails: Fuck, I remember Korgi. I mean, it didn't go away or anything - books come out at a steady clip, with a new one just last year. The creation of writer/artist Christian Slade, Korgi occupied a certain space in the circa-2007 comics scene at the time of its debut, where comics targeted at the young hadn't *quite* popped in book fairs and the like, so it was small-press publishers like Top Shelf that made space for what was called 'all-ages' fare (the Andy Runton series Owly had proven itself successful with the same publisher along similar lines). Top Shelf has since been acquired by IDW, but room remains for a 48-page comic book compilation of short stories from various giveaway venues, along with some new stuff. If I recall correctly, these are wordless comics about a cute dog involved in fantasy genre scenarios, not a thousand miles away from Bone; $4.99.
Mobile Suit Gundam Wing: Endless Waltz - Glory of the Losers Vol. 1: I also remember Gundam Wing, though I'm just a tiny bit too old to have really felt its impact - launched in Japan in 1995, this installment in the long-lived mecha anime series proved unexpectedly popular on North American cable television, becoming a formative 'serious' animation experience for a wide swathe of young people fascinated with its political intrigue and attractive set of characters. This manga series launched in 2010 in a dedicated Gundam magazine, and Vertical (which has seen some success with the franchise in comics form) now releases an English edition, with 12 volumes total out in Japan and more to come. The authors are Katsuyuki Sumizawa, the primary writer of the animation series, and Tomofumi Ogasawara, who has notable experience in mecha- and Gundam-related things; $12.95.
Valerian: The Complete Collection Vols. 2-3 (&) Sanctum: Genesis: Three European choices, along mainline genre lines. Valerian, of course, is a movie now, a fact I feel like I've repeated here three or four times in the last few months, which just goes to show you how determined Cinebook is to get the comics out there in case nobody abides the meaner reviews. Two hardcovers collect vols. 3-5 & 6-8 of the original albums (available separately in softcover), while also serializing an interview between movie director Luc Besson and creators Pierre Christin & Jean-Claude Mézières. Sanctum: Genesis comes from Humanoids, collecting a 2015 prequel series to an oceanic horror project from writer Christophe Bec (who drew the original series), here joined by co-writer Philippe Thirault and artist Stefano Raffaele; $29.99 (Valerian, each); $19.95 (Sanctum).
The Shaolin Cowboy: Who'll Stop the Reign? #4 (of 4) (&) Aliens: Dead Orbit #3 (of 4): The kings of more are back at it, with Dark Horse playing host. Who'll Stop the Reign? concludes a pretty excellent new series from Geof Darrow, his maniacal swirl of rubble, flesh and advertising directed in a more subtly satiric direction than he's often given credit for - it's all about Appetite. Dead Orbit is a continuing licensed comic from writer/artist James Stokoe, the Orc Stain creator increasingly known for giving popular properties his own firm auteurist lean; $3.99 (each).
Demon Vol. 3 (of 4): Finally, we see the third volume of the third iteration of this compulsively readable gross-out suspense saga from creator Jason Shiga, following the path of a man and a girl who can inhabit new, nearby bodies upon the death of their current host, and the increasingly philosophical and decadent situation they find dominating their lives due to the endless horizon of immortality. Shades of Osamu Tezuka's Phoenix, believe it or not, before the bloodshed and nudity kick up once more. From First Second, America's choice for bloodshed and nudity; $19.99.