Having posted an interview with Richard Corben last week, I keep recalling one of his statements: "I don't think horror comics has ever been the main thing in the comics industry." Certainly that's been true for as long as Corben's been active, yet I can't help but notice remnants of older times whenever I visit the comics store. Specifically, I'm talking about one pearl of the old Warren magazines, now divorced entirely from the original context: the continuously published Vampirella, which used to be a forum for artists like Corben to draw horror comics with the added bonus of a sexy girl feature somewhere in each issue, but now exists in a strange superhero-ish zone of private continuity, never quite dipping below profitability (one assumes) but almost never attracting wider attention than might be lavished by the devout.
It wasn't always this way. When I say Vampirella has been continuous, I mean since 1992, when popular superhero writer Kurt Busiek was recruited by Harris Comics -- then the publisher of the property, having acquired the rights from the insolvent Warren -- to refurbish the character for the modern readership. This happened to occur shortly after the debut of a very different comic, Brian Pulido's & Steven Hughes' instant goofball super-horror hit Evil Ernie, with a scantly-clad female presence of its own in the form of Lady Death. These two forces would eventually attract all sorts of imitators, thus forming the so-called 'bad girl' boom of the speculation-drenched 1990s, a run on comics named for and premised on the exploits of sexy-yet-dangerous heroines and anti-heroines; they remain perhaps the most disreputable 'mainstream' comics of the era, having existed for seemingly no purpose other than to attract hungry souls with their lascivious covers (not unlike the old Vampirella magazines, perhaps), knowing full well that not a lot could actually occur inside without running the risk of getting stocked way back in the porn section of any given shop, if such a thing was even allowed.
Viable contemporary publishers like Avatar Press (now behind the likewise semi-immortal Lady Death) started out slinging bad girl comics to test the limits, some of them boasting rare nude variant covers or spicy interiors, but most of 'em dealt in quasi-sex like this:
It'll kill ya, boys! Yet there was enough money in the scene to start out that quite a few very respectable (or soon-to-be respectable) writers slipped under the sheets - Vampirella alone saw contributions by Grant Morrison, Warren Ellis, James Robinson, Mark Millar, and even the man behind the panel you're enjoying above, Mr. Alan Moore.
This came in 1997, in the period following the costly collapse of Moore's Big Numbers project; he was scripting a good number of superhero comics at Image, including little dips into the worlds of Shadowhawk and The Maxx, so a quick 12-page one-off in a deluxe anthology like Vampirella/Dracula: The Centennial (Ellis & Robinson were also involved) wasn't out of place among his activities at the time. Moore handled only "Dracula" stuff, in keeping with his predilection for literary pastiche; Vampi and her swimsuit were not directly involved, maybe in recognition of Moore's ability to dictate his own terms (although I don't think Corben actually drew the title character either). The completed story, The New European -- pencilled by Gary Frank, later of J. Michael Straczynski's Midnight Nation and several Geoff Johns superhero collaborations -- has been reprinted here and there, most recently in this year's Vampirella vs. Dracula #1, a Dynamite miniseries expanded from Moore's original concept, much like certain other endeavors, although nobody really talks about this one - again, Vampi lives on an island, where only the faithful know the terrain at all.
Still, this is quite an oddity, in that it directly anticipates a slightly later Moore pastiche - The League of Extraordinary Gentlemen, wherein Mina Harker is the primary protagonist, and Dracula therefore a constant (if unseen) presence. The New European is actually an update of the Bram Stoker novel... or at least it seems at first, as New Yorker Jack Halloran journeys to the Balkan states to close a property deal with a Mr. Dragunsun, only to become eaten up by the old man's female cohort while the man of the house hops a flight to the U.S., its pilots lashed to the controls. Everything goes as pat as one might guess, until an escaped Jack encounters a transformed chum of his lover, "Mia."
Moore, in keeping with the genre, plays up the sexual aspects of these encounters, with a queasy emphasis on acts of violence inflicted upon the sexual-and-therefore-lethal women populating his story; a two-page sequence preceding the image above sees Jack's slaying of Dracula's wives intercut with the vampire bursting in on disaffected Lucy & Mia ("So what? I mean, it's that kind of world these days. I read about Bosnia or Romania, or wherever, and I'm just, like, bored, you know?"), seizing them by the face and hair and 'taking' them in a shadowed but distinctly connoted manner not unfamiliar to several Alan Moore works. Yet as Jack gradually reveals to the reader that he's aware of how shallow this little update seems to be, Moore's true target comes into view: the purposeless banality of modern society and its pop culture, a full 15 years before the similarly-situated The League of Extraordinary Gentlemen: Century, except with an American focus, and the tv sensation Friends standing in for Harry Potter as avatar of all that's hopelessly shit.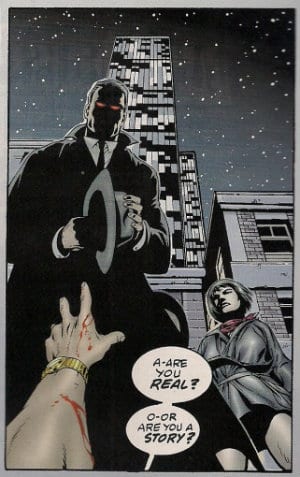 It's not an especially good story, this Vampirella exploit, although Moore is unique in merely having this portion of his work fit into his wider body of concern; I'm particularly upset that David Schwimmer didn't turn out to be the Antichrist. Instead, Jack tracks Dragunsun & a transformed Mia to an extraordinary cliche of a goth club populated by dudes in mohawks and leather gimp masks, where he's simply shocked to discover the true aloofness of Americans treating an actual vampire as just another amusing diversion. "Why not?" rues our man, while Mia flounces away with Dracula -- vampires just have more purpose, I guess -- and the reader wonders if Moore's references to War in Bosnia and Herzegovina isn't trying to make an interventionist argument not atypical to the politics of the day, though the writer's typical disposition seems to suggest more of a generalized harangue against thoughtless consumption of war as entertainment.
Still, there is residual power in the story's final image, a pov shot from Jack's ruined, lonely place on the NYC streets, musing on the defenselessness of modernity to the threat that has lurks behind its idle amusements while a pair of fine New York skyscrapers loom ominously in the background. One suspects in retrospect that Moore himself, given his stated politics, would not see this as a politically adroit prediction, considering its rather paternal take on Americans as babyish slackers ripe for the plucking by eternal Evil -- which, surely, properly matured Americans would repel by any means possible! -- but what was it the philosopher Adrian Veidt said about tiny glimpses of information giving subliminal hints of the future...?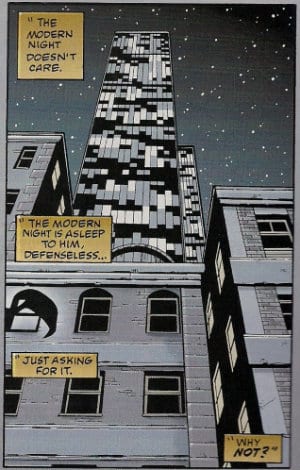 ***
PLEASE NOTE: What follows is not a series of capsule reviews but an annotated selection of items listed by Diamond Comic Distributors for release to comic book retailers in North America on the particular Wednesday, or, in the event of a holiday or occurrence necessitating the close of UPS in a manner that would impact deliveries, Thursday, identified in the column title above. Not every listed item will necessarily arrive at every comic book retailer, in that some items may be delayed and ordered quantities will vary. I have in all likelihood not read any of the comics listed below, in that they are not yet released as of the writing of this column, nor will I necessarily read or purchase every item identified; THIS WEEK IN COMICS! reflects only what I find to be potentially interesting.
***
SPOTLIGHT PICKS!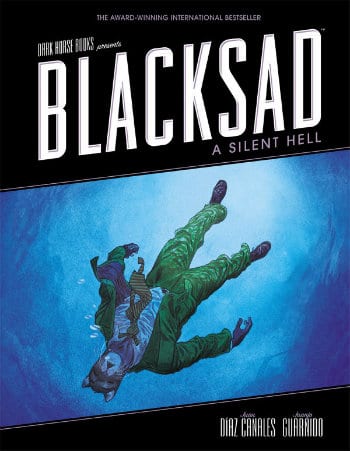 Blacksad: A Silent Hell: A lot of times European comics have to struggle to get the same quality presentation in North America that they enjoy by default in their place of origin, when they're translated at all. And yet, sometimes, you get a genuine breakthrough hit like Blacksad, the Juan Díaz Canales/Juanjo Guarnido furry noir smash that's basically guaranteed some English-language presence so long as its lush, painted images continue to emerge at a stately pace. This is a Dark Horse presentation of the fourth and most recent (2010) French volume, an 8 3/8" x 10 7/8" hardcover album bulked up to 112 pages by copious production materials, possibly culled from the two-volume L'histoire des aquarelles supplemental series available from Dargaud. Preview; $19.99.
Richard Stark's Parker Vol. 3: The Score: Man, there's this other Darwyn Cooke project continuing this week that's totally monopolized the hype to the point where I had no idea this was due - the artist's latest adaptation of a novel by Donald Westlake, this time a 144-page take on a 1963 tale of a mass heist. I realize these things aren't to every taste, but their bloodless control seems applicable to the Parker milieu to me, and c'mon - look at that cover. That town's about to get its ass kicked. Teeny lil' teaser; $24.99.
--
PLUS!
Creepy Presents: Richard Corben: Well I'll be damned, we've heard of this! Being a purportedly comprehensive collection of Corben's work for the Warren magazines Creepy and Eerie -- i.e., the publications Dark Horse has reprint rights for -- totaling 320 pages in an 8 3/8" x 10 7/8" hardcover package. The included writers are Bruce Jones, Jan Strnad, Don McGregor, Rich Margopoulos, the delightful Jim Stenstrum and others. Foreword by frequent Corben collaborator José Villarrubia, who also performs restoration work on the various color pieces. Interestingly, if this list of contents is accurate, there's also going to be a story from Vampirella #54, possibly due to its later reprinting in an issue of Creepy. Samples; $29.99.
Vampirella Archives Vol. 5: And then, unbelievably, you can sprint over to the Dynamite section of the strictly hypothetical (and somewhat anal) comic book store in which this column takes place, and snap up virtually all of Corben's work for Warren's Vampirella in this omnibus collection of issues #29-35; he also had a one-pager in #15 (collected in vol. 3 of the Dynamite series) and the aforementioned piece from #54 seemingly collected in the Dark Horse book. After that, just find a copy of the old Mutant World collection and a back-issue of 1984 #4 (which reprinted a Métal Hurlant fumetti for the first and only time in English) and you've got the man's entire Warren oeuvre, save for covers, single-pagers, assorted coloring jobs and random bits 'n pieces. For this specific fifty bucks, you'll also enjoy a good 48 pages of stuff from writer/artist Fernando Fernández -- one of the more inspired photo reference-heavy Warren contributors of the time -- as well as Esteban Maroto, Rafael Auraleón, José Beá, Ramon Torrents, Jeff Jones, Felix Mas, and, of course, José Gonzalez on the title character, paired with British writer Mike Butterworth for a run of fizzy, violent diversions. Sample story; $49.99.
Neil Gaiman's Midnight Days: Did Neil Gaiman ever do Vampirella? I don't think so... but anyway, here's a 1999 collection of DC/Vertigo miscellany the publisher has elected to repackage as a hardcover, with the apparently new addition of some Sergio Aragonés-drawn framing sequences the writer did for a '98 House of Mystery reprint special. Standouts include a pair of Swamp Thing shorts drawn by Stephen R. Bissette & John Totleben and Mike Mignola, and the Dave McKean-drawn Hellblazer #27, though the bulk of the page count is devoted to 1995's Sandman Midnight Theatre, a crossover of sorts between the publisher's various Sandman properties, written with Matt Wagner and painted by Teddy Kristiansen; $24.99.
Creepy Comics #9 (&) Eerie Comics #1: But getting back to Warren and Dark Horse for a second, it's worth a reminder that the latter publisher is dedicated to publishing new material under the former's old magazine branding, albeit in comic book form. This week sees the launch of Eerie Comics as a 32-page adjunct to the 48-page Creepy Comics, with the smaller book promising a new story from writer/artist David Lapham, and the latter boasting the presence of both alt comics veteran Peter Bagge and webcomics horror star Emily Carrol, plus Richard Corben reprints in each. Eerie samples; $4.99 (Creepy) & $2.99 (Eerie).
Hellboy Library Edition Vol. 5: No Corben in here, the 408-page latest in Dark Horse's line of 9" x 12" deluxe Mignola hardcovers, but a big brick of Duncan Fegredo awaits via reprints of the Darkness Calls (2007) and The Wild Hunt (2008-09) storylines, with the usual short stories and extras. Samples; $49.99.
Wild Children: The most interesting of Image's debuts this week, actually the overall longform comics debut of writer Ales Kot, a 64-page psychedelic homage to student uprisings that sees a bunch of kids forcibly expand the minds of certain provincial authorities. Art by Riley Rossmo. Preview; $7.99.
The Bulletproof Coffin: Disinterred #6 (of 6): Concluding this very fine Image series from David Hine & Shaky Kane with a special extra-length lit comics-y issue promised since the back of #1, "the tale of an overweight housebreaker in search of her lost child." I'm expecting little-to-no resolution to the ongoing background story, as I think more is to come following this series; Hine is also doing a Crossed: Badlands storyline in a few months. Preview; $3.99.
Punk Rock Jesus #1 (of 6): This is a new Vertigo project from Sean Gordon Murphy, artist on the Grant Morrison-written Joe the Barbarian and author of Off-Road, a 2005 graphic novel from Oni (later IDW). The scenario sees a clone of Jesus Christ flee the reality show built around his existence to play music; I like Murphy's art a bunch, and I'd totally flip through this. Samples; $2.99.
Adventure Time: Marceline and the Scream Queens #1: Boom! has been enjoying some success with its Adventure Time licensed comic, something of a roving employment opportunity for the slicker among the webcomics and alternative crowd. This is a new spinoff series, helmed by writer/artist Meredith Gran of Octopus Pie, with a backup story in the first issue by Jen Wang of the recent First Second book Koko Be Good. Preview; $3.99.
Summit of the Gods Vol. 3 (of 5): Woah, manga pick without peer - a new Fanfare/Ponent Mon release, continuing Jiro Taniguchi's mountain climbing epic from a story by Yumemakura Baku in a fat 336-page edition. Sample chapter; $25.00.
Bokurano: Ours Vol. 6 (of 11): Supplemental manga pick, continuing Mohiro Kitoh's tale of kids stuck in a dangerous 'game' of giant robot war, and by this point 'continuing' publisher Viz's greatly reduced commitment to slighly-more-mature manga releases via its SigIKKI line of books; $12.99.
Big John Buscema: Comics and Drawings: Finally, your book-on-comics of the week, IDW's edition of the catalog to a 2009 Casal Solleric exhibition of the late Marvel mainstay's artwork. It's 328 pages, in hardcover, and I expect it looks pretty good; $59.99.
--
CONFLICT OF INTEREST RESERVOIR: Hardly anything this week, just the new Jaime Hernandez release God and Science: Return of the Ti-Girls, a 136-page hardcover collection/expansion of his superhero serial from the newest incarnation of Love and Rockets; $19.99. And Tales Designed to Thrizzle #8, the final issue of Michael Kupperman's hugely-admired comedy showcase; $4.50. And Dungeon Quest Vol. 3, an enormous 288-page return to Joe Daly's humorous fantasy quest narrative/gaming spoof; $19.99. And Jewish Images in the Comics, the latest (424-page!) Fredrik Strömberg sampler of annotated iconographies; $26.99. AND another 248 pages of re-colored vintage Carl Barks via Walt Disney's Uncle Scrooge: Only a Poor Old Man; $28.99. Just collect the change from between your couch cushions and go to town, little angels.