I was pleased to see Frank covering Tin Can Forest's Wax Cross in his column the other day; as odd and nearly opaque a comic as it is, I can't deny it has a real power of evocation, to which I attribute the surprising number of reviews it's attracted in a short period. Sending review copies is one thing, but sparking interest is another. I covered it myself a bit in a podcast last week, though I suspect I'll be the only one to compare it to an early (or prototypical) Vertigo comic in its heavy narration and folktale grounding - after all, weren't the Vertigo books so much less aggressive in pursuing the kind of allusive quality Tin Can Forest captures?
Mostly, the answer is yes. Yet I'm often drawn back to one of the odder, more experimental Vertigo efforts: Scarab, an eight-issue series released in 1993 and 1994, written by longtime 2000 AD contributor John Smith and drawn by Swamp Thing veterans Scot Eaton & Mike Barreiro. I've mentioned Smith a number of times before, but I don't think I've really looked into this series in particular, so let me show you my favorite bits.
As we can immediately see, while Vertigo had become almost entirely set off from the rest of DC's comic book offerings by the early '90s, it did not exist in a vacuum. That's the Image Revolution arriving at your door, quivering reader, and perhaps the most enduring comedy in Scarab is the very contemporary, Todd McFarlane look given to the title superhero, nonetheless rendered in an earth-toned, weathered look we might suggest as close to a Vertigo 'house' style. The series was actually planned as a Doctor Fate revival (a la The Sandman and the like), but Smith's ideas were deemed too extreme, foreshadowing a compromise-laden production process Smith later characterized as "a long and depressing story paved with poor intentions and misguided efforts."
Yet Scarab remains the most intense of the publisher's many attempts at matching the critical establishing force of Alan Moore on Swamp Thing; Smith's heavy, purplish narration is as strongly Moore-influenced as Jamie Delano's on Hellblazer, but Smith is more liable to simply allow the plot to drift away on breezes of words set on large double-page images depicting surreal phenomena, an effect (if not necessarily a style) familiar to his more outré 2000 AD projects of the time, such as Danzig's Inferno and Revere. What Vertigo additionally afforded Smith, however, was a greater (if far from unlimited) freedom of content, resulting in a uniquely sexual superhero project.
That's right - it was high time somebody followed up on that one Swamp Thing issue we all remember, and Scarab #3-4 seeks to top its depictions of cosmic pleasure by dosing itself with added horror, and not a little mythic riffing. In the first five pages of issue #3, all of the males save for one in a North Carolina town voluntarily march off to drown themselves in the sea while all the females strip down and frolic before the maypole in pagan bliss. Meanwhile, dubious superhero Scarab suffers a panic attack in full action uniform and upwards of six additional pages are expended on his series-length search throughout a mystic labyrinth for the blazing comet soul of his absentee wife; I have to wonder how much of this continuing plot was imposed on the series' progression, as it makes the vast majority of the character's superhero exploits seem like irritating detours from his actual mission, which admittedly might be the point.
But anyway:
Scarab becomes promptly mixed up in the local situation, noticing that seemingly every woman of childbearing age is pregnant, and also that a grand total of one male is left in the area, a mournful fellow who speaks of confronting a monster the town head has shacked up with. This leads to the guy getting impregnated himself by said monster (while Scarab heroically hits the hay - what, he was up early!), which he nonetheless adores as a force of purpose in the community, having washed everyone over with the sexual bliss of religious conversion so that the men gladly submit to castration before their ritual mass suicide. His main regret is that he lacks this purpose, having been left behind with the mess of continued living.
This leads to the above image of the title character invading an orgy, in which the questionable sexualization of his throbbing muscles and distinctly bulge-free groin -- not an atypical look of the time -- becomes drawn out under the hands of the town's women. Scarab rejects sex, of course, leading to a brief laser battle with the women's fetuses, in which Our Hero barely scrapes out a victory against opponents who aren't even born. Then it's on to the Big Boss, and even greater threats:
But neither the fist nor the fight go anywhere thrilling, as the Panic creature declares himself dying, and therefore needing to spread his seed in the heat of the indian summer, for eventual harvest. A swarm of bees then appears to prick him to death as he wails a final orgasm, "a gallon of freezing semen splashing on the floor," the narration assures us; very little is see on the page, and the reader is left to contemplate the no doubt delicate negotiations on how far a woman must be from the reader's point of view to allow the depiction of her masturbating.
Still, there is something effective in this brief tale of mourning, monogamy-minded superhero comprehensively failing to have any effect on people gripped in a religious ecstasy comparable to the changing of the seasons, or even the simple build of passion in the sex act; the comic ends with images of the women released from the creature's spell, seeking abortions or writhing in horror as their demon children claw at their wombs - it is indeed the morning after.
Well, actually that's not quite the end - Scarab also runs into video journalist Sydney Sometimes, a would-be supporting character and foil who seems to have gotten totally lost in the series' march to publication; all he does in this story is partake in the orgy as the Goofus to Scarab's Gallant, although he suffers no particular trouble for his participation, as he is a dedicated libertine. Smith too, in a way, would embrace this attitude, taking us from this...
to...
Witness the heroine of Strange & Darke, Smith's most recent comics work, serialized in issues #319-323 of Judge Dredd Megazine, i.e. the five most recent issues available on North American stands. The young lady is Bekky Darke -- British judge in the greater Dredd universe and unwilling owner of a second mouth on her neck that plucks the stray thoughts from nearby parties and speaks them aloud, to generally awkward effect -- and what she is doing in the ladies' room is snorting drugs to enhance her psychic powers in preparation of a heroic climax. Like Sidney Sometimes, she will suffer no ill effect, but unlike him, she's an action hero, with her name in the title and everything.
This reflects a shift in Smith's approach to comics as a writer. He no longer writes very intensively poetical narratives, instead focusing on the straightforward council flat verisimilitude of the horror serial Cradlegrave and the excellent toxic pop contortions of the new Indigo Prime, where he seemed far less a Moore devotee than an evil counterpart of Grant Morrison circa New X-Men. Strange & Darke continues these bang-on thrills through our introduction to the Judge Dredd world's Endangered Species Squad, an almost largely compassionate and media-savvy bunch led by Jericho Strange, a man with an animal's skull instead of a head, as a result of gazing into the Black Mirror, of which nothing more needs be known, and so nothing else is told.
Here's the thing with Strange & Darke, however: it's Scarab #3-4. I mean, it's essentially a remake of the same story, at nearly the same length (46 pages total vs. 48 in Scarab), but featuring different heroic characters, drawn in a brighter, rounder manner by Colin MacNeil, and reflecting new priorities for its writer. It's now a pop comic, with the heroes investigating a Welsh village where all the men appear to have been rendered sterile by pollution, and all the women seem to be prepping for a very big religious celebration. There's a squirrelly priest, sneering corporate polluter villains, a dangerous herd of rams, and a whole colony of satyrs this time. Bigger! Louder! Better?
Actually, it might be. Strange & Darke might lack the pained seriousness of intent of the Vertigo work, but Smith now seems far more comfortable with his storytelling (logically enough, it's been almost 20 years), and he likewise enjoys perhaps a bit more freedom than even a suggestion for mature readers could have won him in '93/'94. Witness: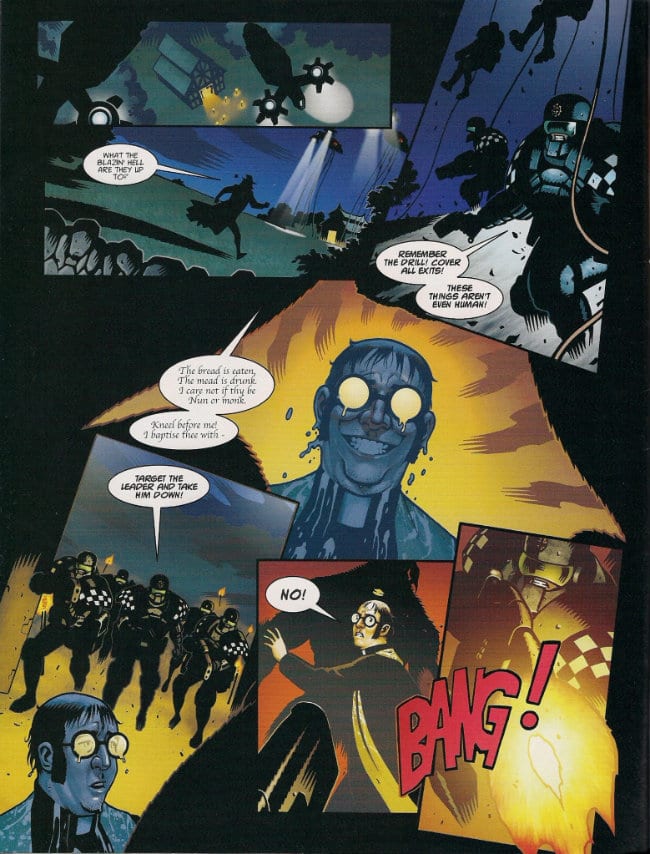 Yes, that is indeed a grinning priest drenched in demon cum. He is then shot, but not to make a point so much as a joke. If anything, Strange & Darke is as much a counterpoint to Indigo Prime as it is to Scarab - while the 'heroes' of Indigo Prime are shown to score splendid victories to amoral, frankly horrifying ends -- an old 2000 AD device, if still especially pertinent today in our time of ever-increasing, meaningless raised stakes in superhero events -- the sexual activities of Strange & Darke are initially understood to be 'evil' because they are positioned in the antagonist's slot of the narrative, and coded in 'demonic' images. Yet there's nothing all that wrong with women fucking satyrs, if everyone's consenting, and the new recruit learns to move her attentions to society's real threats rather than becoming stuck in frankly moralistic concern.
Thus, the irresistible grip of religion and myth and sex in the 'literary' superhero comic becomes a tale of individual liberty in a less vaunted forum - study and poetry converted to opposition and activism. A story of expectations, maybe, but probably also creative evolution; we can only pray for something as telling in the many other revisitations sure to be appearing on comics racks in upcoming weeks.
***
PLEASE NOTE: What follows is not a series of capsule reviews but an annotated selection of items listed by Diamond Comic Distributors for release to comic book retailers in North America on the particular Wednesday, or, in the event of a holiday or occurrence necessitating the close of UPS in a manner that would impact deliveries, Thursday, identified in the column title above. Not every listed item will necessarily arrive at every comic book retailer, in that some items may be delayed and ordered quantities will vary. I have in all likelihood not read any of the comics listed below, in that they are not yet released as of the writing of this column, nor will I necessarily read or purchase every item identified; THIS WEEK IN COMICS! reflects only what I find to be potentially interesting.
***
SPOTLIGHT PICKS!
Ed the Happy Clown: Unless I'm forgetting something important, this is the third collected edition of Chester Brown's name-making early stuff from the pages of Yummy Fur, albeit the first one from Brown's dedicated contemporary publisher, Drawn and Quarterly (the two earlier editions, each with some different content, were from Vortex), and apparently the most accurate present reflection of Brown's idea for a definitive presentation of the material. Which is to say, as far I know, it's a straight-on hardcover compilation of D&Q's 2005-06 miniseries iteration, with all of the endnotes and a new introduction by the artist. Nonetheless, Brown's melding of surreal horror, oddball comedy and lean cartooning seems more relevant than ever, and new readers will definitely enjoy making some comparisons with the likes of Josh Simmons' The Furry Trap; $24.95.
Paris: This is a new release from UK alt-comics fixture Knockabout, freshly imported to the U.S., although the artist is one Maarten Vande Wiele, an animation-trained Belgian native with several works available from notable Flemish publisher Bries. This was also initially a Dutch-language work, or rather a pair of albums, I Love Paris and I Hate Paris, written by Erika Raven and Peter Moerenhout, respectively; now they are combined to form lighter and darker takes on the lives of fashionable ladies living the sweet life. The artist has declared these works 'trash graphic novels,' and they may be worth diving for. Review of the latter half by Bart Croonenborghs; $23.99.
--
PLUS!
Koma: An all-in-one Eurocomics choice from Humanoids, notable for the presence of Swiss artist Frederik Peeters, who seemed primed to explode into the English-language mainstream in the late '00s on the strength of early reactions to his memoir Blue Pills, although widespread success (and, frankly, post-translation critical somersaults) did not follow. Here he's teamed with writer Pierre Wazem (of Humanoids' Like a River, translated in '03), for a 2003-08 series about a young girl's strange friendship with a creature in a fantasy urban setting. It's a softcover edition, 7.7" x 10.5", running to 280 pages. Samples; $29.95.
Metro: A Story of Cairo: I can't say I know much about Libya-born cartoonist Magdy El Shafee, but Metropolitan Books now has a North American edition of his 112-page crime comic, concerning loan sharks, a bank heist and murder in corrupt modern Egypt. A few samples; $20.00.
Judge Dredd: The Complete Case Files Vol. 19: BUT GETTING BACK TO DREDD, here's the newest Rebellion brick of comprehensive-ish stuff, now hailing from 1993, the very year Scarab launched. And look - it's John Smith, scripting some random title features in Judge Dredd Megazine! Also present are co-creator John Wagner, a lingering Garth Ennis, that young fellow Mark Millar, and Mr. Grant Morrison, in his one and only solo-written extended serial with the character, the Carlos Ezquerra-drawn Inferno, soon to be collected in an entirely different Simon & Schuster edition for the North American market; $34.99.
Mega-City Undercover Vol. 2: Also from Rebellion and the Judge Dredd universe is a second collection of crime-styled comics featuring undercover characters. Everything in here's written by Rob Williams, one of the newer consistent 2000 AD contributors, with art by D'Israeli, Rufus Dayglo and "Smudge"; $23.99.
Creepy Archives Vol. 13: Covering issues #60-63 of the prime Warren horror mag -- somewhat unbelievably, Dark Horse is rapidly closing in on the halfway point of the entire 145-issue run -- with art by Richard Corben, Berni[e] Wrightson (including the Bruce Jones-written Jenifer), Tom Sutton, John Severin, Gonzalo Mayo, Vicente Alcazar, José Beá and others. This period also marked a brief return to editing duties for Archie Goodwin, though he would soon depart following struggles with senior editor Bill DuBay. Samples; $49.99.
Harold Gray's Little Orphan Annie Vol. 8: Shanghaied At the Last Port of Call: And then, as if the 'creature horror' and 'old comics' impulses had been somehow isolated from Ed the Happy Clown and given individual (and not inexpensive) form, IDW presents a welcome new 288 pages of the bootstrappin' classic, covering June of '38 through February of '40; $49.99.
Popeye #2: Meanwhile, here's some new material from IDW under a classic brand, and if the first thing you thought upon reading issue #1 was "where's Sappo?" I think you're in luck, as unofficial contributor Tom Neely is now totally going legit with a backup story in this Roger Langridge-helmed revival of the E.C. Segar approach. Neely will apparently be drawing a whole issue at some point, but the main artist right now is Simpsons veteran Ken Wheaton, following the eerily Segar-like Bruce Ozella from issue #1. Variant cover by Tony Millionaire. Preview; $3.99.
Sweet Tooth #34: Jeff Lemire is writing a bunch of horror-tinged superhero comics at DC these days, but this, his solo Vertigo creation, is also still ongoing - that is, until issue #40, which Lemire contends is the natural end point for the story rather than a cancellation. Building up to the finale, then, is a standalone issue with guest art by Nate Powell of Swallow Me Whole and Any Empire; $2.99.
The Year of the Beasts: Hang on, what the fuck? Nate Powell drew this too? Or, rather, he drew the comics segments of this prose-and-comics hybrid from writer Cecil Castellucci, in which young girls deal with their shit at the carnival. From Roaring Brook Press; $16.99.
Bleeding Cool Magazine #0: Finally, know that I am nothing if not a fiend for magazines-about-comics, particularly here in our present, fallen times, where internet chuckleheads are allowed to post all the dirty jpegs they want and call it a column, so naturally I'm piqued in the 'one chucklehead to another' sense to see Rich Johnston's Avatar Press-backed Bleeding Cool website attempt a print expansion with the same publisher. Going off the solicitation, it appears the target audience is the former Wizard demographic, what with the cover feature on the Valiant relaunch and promises of "news and scoops about this summer's biggest events," albeit with publishers like Boom! and IDW name-checked up front. Note that this is a discounted pilot issue of sorts, with regular production to begin in October; $1.49.
--
CONFLICT OF INTEREST RESERVOIR: Nicolas Mahler parodies the superhero comics industry in his characteristic style with Angelman, a 96-page color hardcover; $18.99. A new softcover edition of Fredrik Strömberg's Black Images in the Comics (I've read and enjoyed the 2003 edition) offers valuable insights on a large collection of depictions; $19.99. And editor John Benson presents Squa Tront #13, an all-new 48-page fanzine on things EC and related; $9.99.