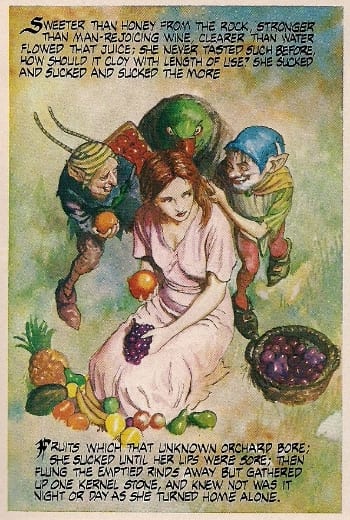 You will be glad to know I am still burrowing through dollar bins on the occasional lunch break; there is a lot that remains buried, not just from the uncertain comic shop pre-dawn of the '70 or the days of excess of the 90s, but from the nascent 'alternative comics' era of the early '80s, when certain genre specialists -- emboldened by the technologies and freedoms of the day -- set out on odd and doomed affairs.
Fitting both qualities quite nicely was Bruce Jones' Pathways to Fantasy, which sounds like couples' porn, but was actually a one-off comic book released by Pacific Comics in 1984. Jones had written extensively for the Warren horror magazines in the decade prior, but as the Direct Market dawned he and his partner, April Campbell, reestablished themselves as packagers of new comic book material, eventually filling two genre-defined anthologies -- Twisted Tales (horror) and Alien Worlds (SF) -- both of which moved on to Eclipse after Pacific sputtered to a halt. Pathways to Fantasy was supposed to be a third ongoing series, but for whatever reason it only saw one issue released: a very '70s sort of issue, anchored by Barry Windsor-Smith & Jeffrey Jones, veterans of The Studio both, and otherwise augmented by the sort of twist ending shockers that seem progressive only for neglecting to set aside space in the opening and closing panels for Cousin Eerie to hold forth.
And then, there's Goblin Market, a comics adaptation of the revered 1862 poem by Christina Rossetti, brought to comics by her countryman, painter John Bolton, who around the same time was working on Marada the She-Wolf with Chris Claremont in Epic Illustrated. Bolton's is a highly glossy, almost stereotypically fantastical approach, full of human idealizations and classically deformed monsters, but with a distinctly erotic character, present in even his more seemingly sedate projects. And there is little that is sedate about Goblin Market.
In her lifetime, Rossetti would offer conflicting accounts as to whether Goblin Market -- a nominal children's rhyme set in a highly irregular and not unnerving metre -- was actually intended for children's consumption, but what is clear irregardless to the adult reader is that the work is absolutely saturated with sexual allusion, as naughty maiden Laura exchanges "a precious golden lock" and "a tear more rare than pearl" for the incomparable pleasure of goblin fruit, "suck[ing] their fruit globes fair or red."
The desire roused by this experience saps the life from poor Laura, prompting her devoted sister Lizzie to seek out the band of goblins, whereupon she suffers the mash and ooze of their fruits without consuming a drop, a sequence Bolton depicts with no small enthusiasm. Truthfully, this is a work of foremost depiction: no particular effort seems to have been made to comport the deployment of images to the languid, midafternoon's fantasy-nightmare of Rossetti's composition. Indeed, the apportionment of Rossetti's text in captions seems gauged primarily to block off adequate descriptive space to support Bolton's images, which grow increasingly blunt in foregrounding the already none-too-subtle implications of the original verse.
"Holy shit, John," I whispered, my eyes racing to the cover to verify that Pathways to Fantasy is "RECOMMENDED FOR MATURE READERS." This potent image hails from the climax to the story, in which Laura licks the spent Goblin syrups off of her sister's body, causing great illness at first, but eventually healing her from the desire that spoiled her health. One imagines the original illustrations to Goblin Market -- the work of the poet's brother, Dante Gabriel Rossetti, a Pre-Raphaelite -- would have clicked nicely with the Studio gang elsewhere in Pathways to Fantasy, but Bolton offers a considerably more... contemporary set of influences, which rather call into question the wisdom of tackling poetic works of this sort with straight-on realism: it is as if the images flickering for the reader from Rossetti's verse have hardened over into a sickly crust, albeit one hardly inapplicable to the mission of idealization central to so much 20th century 'fantasy' art.
Still, I wonder if Bolton was cognizant of any of that. I have never been much of an admirer, I confess, and his recent works seem to favor luxurious images of posed women pursing their lips in defiance of much narrative sense. For this, we catch a premonition at the close of Goblin Market, as the revitalizing qualities of sisterly affection are duly rendered allegorical by the goblins' flight from the rising sun, its arc emanating from the teensy strip of cloth that keeps the girls' boobs from touching.
For my sins, though, I do draw attention to such critical favoring of sex over violence.
The latter, you see, is more common. There was only ever one Pathways to Fantasy, while Twisted Tales wasn't even the only horror anthology maintained by Eclipse. Here we see an extract from a Buzz Dixon-scripted piece in 1985's Tales of Terror #2, notable as one of the very few original North American comics outings for the great Attilio Micheluzzi, an Istria-born artist who worked as an architect in various African nations prior to entering the Italian comics field as a middle-aged man. His work can be likened to that of Toth, in both his aptitude with harsh shadow and aeronautics, as well as his discomfort with extreme material of the sort encouraged by early Direct Market anthologies such as this, eager to flaunt the liberties granted by their evasion of America's newsstands.
As far as I can tell, this is one of Micheluzzi's six original American appearances - the rest are in Twisted Tales #6 & #10, Alien Encounters (not to be confused with Alien Worlds) #3 & #8, and Airboy #21. More interestingly, there were translations of the artist's Italian works as a 1985 standalone book (Shanghai) and as part of the 1988 Acme Comics anthology magazine Aces, which ran for five issues. I wrote a little bit about that latter forum here, though I commend to you the comments section, which boasts the contributions of several people more knowledgeable than myself - good people, who are worth remembering far more than the cute thrashings of a toddler distribution system and comics in a late adolescence.
***
PLEASE NOTE: What follows is not a series of capsule reviews but an annotated selection of items listed by Diamond Comic Distributors for release to comic book retailers in North America on the particular Wednesday, or, in the event of a holiday or occurrence necessitating the close of UPS in a manner that would impact deliveries, Thursday, identified in the column title above. Not every listed item will necessarily arrive at every comic book retailer, in that some items may be delayed and ordered quantities will vary. I have in all likelihood not read any of the comics listed below, in that they are not yet released as of the writing of this column, nor will I necessarily read or purchase every item identified; THIS WEEK IN COMICS! reflects only what I find to be potentially interesting.
***
SPOTLIGHT PICKS!
Alternative Comics #4: Hey, two spotlights in a row for the revived Alternative Comics! And circumstances are most fitting for the return of the publisher's promotional house anthology; issues #1-3, you'll recall, were released annually from 2003 through 2005 as Free Comic Book Day giveaways (with '04's edition becoming infamous for bits of Nick Bertozzi-drawn nudity that got a Georgia retailer arrested on felony charges when the book was inadvertently given away to a child), but now, perhaps, comic book-format anthologies are rare enough that Alternative might flaunt its health and attract some attention simply by releasing such work with a cover price. Humor, with wispy-lyric interludes, is the order of the day, with James Kochalka, Noah Van Sciver, David Lasky (also interviewed by Robin McConnell), Sam Henderson, Allison Cole, Andy Ristaino (lead character designer on Adventure Time), Alex Schubert, Sam Alden, Grant Snyder (nice, low-key gag work) and Craig Thompson & Theo Ellsworth (in collaboration) among the contributors. Cover by Mike Bertino, 48 pages in b&w; $5.99.
Utsubora - The Story of a Novelist: Being the newest release from the brain trust at Vertical, branching out into josei-type manga for mature female readers -- I say "-type" because I believe this project actually hails from the notorious Manga Erotics F, which is a smut magazine famous for indulging artistic and experimental works, provided there's fucking too -- with this 460-page all-in-one compilation of a late '00s series by Asumiko Nakamura, seeing male and female novelists navigate a world of troubled creativity and mysterious death. Absolutely your Japanese pick of the week; $18.95.
***
PLUS!
Magic Wind Vol. 1: Fort Ghost: You read about in the comments a few weeks back, and now the spanking-new Epicenter Comics brings you 100 pages of Italian old west/horror comics starring an Army man-turned-shaman, translated to English in a 6.5" x 10" softcover. The artist is the always-capable José Ortiz, longtime veteran of the U.S., U.K., French, Spanish and Italian comics scenes, whom I believe holds the all-time record for most published contributions to the old Warren horror magazines, although other English monoglot audiences might well recognize him from Heavy Metal or 2000 AD, or even Don McGregor's Sabre, where he was the final artist for the Eclipse ongoing. (Hell, he was in Aces too.) By 1997, however, when writer Gianfranco Manfredi started this series, Ortiz was focused mainly on Europe; the project continued until 2010, by which time other artists (such as a young Goran Parlov) had handled the material. Note that this printing is a colorization, presumably based on a Panini release from earlier this year. I really like the title "Fort Ghost." Preview; $12.99.
Clockwerx: At the same time, a more established translation outlet offers its latest, i.e. a 112-page, 8.5" x 11" Humanoids hardcover compiling all of a 2008-09 international collaboration between writers Jason Henderson & Tony Salvaggio and artist Jean-Baptiste Hostache. It's a steampunk thing involving an alternative energy source, rebellion in London, and at least one robot-looking thing. Samples; $29.95.
Homesick: I know absolutely nothing about this Tinto Press release from writer/artist Jason Walz -- it appears to be a 140-page autobiographical comic setting the author's own health situation and that of his mother against an allegorical outer space narrative -- but Rob Clough seemed to like it when he reviewed it last week, and I'm always up for looking into an artist with which I'm totally unfamiliar. Preview; $15.99.
Fury MAX #13 (of 13): There's a lot of potentially high-interest mainstream comic book offerings this week -- Image alone has a new Prophet, a new Fatale, two Joe Casey titles and Frank Quitely drawing boats in Jupiter's Legacy -- but I will nonetheless isolate this grand finale to a bloody history of 20th century American martial misadventure by Garth Ennis & Goran Parlov. Will Steranko's super-spy sock a drone in the kisser? Burglarize your local store under the cover of night, True Believer, and witness the results; $3.99.
Usagi Yojimbo Vol. 27: A Town Called Hell: We've heard quite a lot about this anthropomorphic swordsman bunny series in the last few days, as it was of longstanding editorial association with the late Kim Thompson, but know that creator Stan Sakai is still at it, with Dark Horse now releasing this 208-page compilation of the most recent stories; $16.99.
Mouse Guard: Legends of the Guard Vol. 2 #1: And busy Sakai is also scheduled to appear over in this continuing anthology offshoot of creator David Petersen's own anthropomorphic fantasy series -- a Critters of sorts for today, shared universe notwithstanding -- published by Archaia Entertainment, now a recent acquisition of BOOM! Studios, though the Archaia brand will reportedly endure as as a distinct imprint. Samples; $3.50.
The Original Daredevil Archives Vol. 1: That's right, fuck you horn-head, Dark Horse has happened upon 280 pages of Lev Gleason oldies, including the famous Daredevil Battles Hitler #1 and (Hitler having proven less of a headline threat to Daredevil than liberty overall) Daredevil #2-4. Art by Charles Biro, Jack Cole, Dick Briefer Reed Crandall, Jerry Robinson, Bob Wood and others. Introduction by Michael T. Gilbert. Samples; $49.99.
John Byrne's Fantastic Four Artist's Edition: Definitely *not* the original Fantastic Four archived here, but I'm told the Bronze Agers do tend to admire these early '80s superhero pieces written and drawn by Byrne, six-or-so issues of which -- i.e. applicable bits of #232, #238, #241, #243, #247, #261 and What If? #36 -- IDW now presents in 12" x 17" original art facsimile form, with bonuses bringing the total up to 168 pages; $119.99 (or so - accounts vary).
Batman/Superman #1: But superhero comics are still published today, as you may be aware, and here we see DC dusting off their enduring World's Finest pairing for new Year One-style adventures from writer Greg Pak. Much of the art should be provided by the reliably eccentric Jae Lee, although cover samples indicate the heretofore unannounced participation of additional artist Ben Oliver (who did The Ten Seconders with Rob Williams in 2000 AD), which doesn't quite bode well for the series' long-term visual consistency. Still, I'll look at anything Lee does for one issue at least. Preview; $3.99.
The War Machine: Speaking of revivals, here's a new edition of writer Dave Gibbons' late '80s-born revamp of the old Rogue Trooper concept from 2000 AD, seeing the artificial man Friday battling it out across 96 pages, as drawn by Will Simpson. Distributed in North America by Simon & Schuster, for EZ access; $17.99.
The Incredible Hulk: From the Marvel UK Vaults: And finally, we go back even further in British comics history to arrive at 360 pages of miscellaneous green aggression, the majority of which hail from the pages of Hulk Comic, which, for a handful of weeks in 1979, presented original strips based on the Lou Ferrigno television series. Scripts by Steve Moore, Steve Parkhouse and future 2000 AD editor Kelvin Gosnell, with art by Dave Gibbons, Steve Dillon, Paul Neary, David Lloyd, and the aforementioned John Bolton. HULK SMASH GOBLINS; $34.99.
--
CONFLICT OF INTEREST RESERVOIR: You've read his 3 New Stories, now buckle your bottom down for 340 pages of original Dash Shaw in New School, catching a young man in the grips of alienation as he invades his older brother's new life in the ClockWorld amusement park of island X. Shaw's thickening character outlines are beginning to recall the excellent British cartoonist Chris Reynolds, though I'm sure the blend of genre mechanics, formal distension and full-bore pop culture submersion characteristic of Shaw will be out in full force; $35.00. And hey, then Bill Griffith has 232 pages of mainstream alternatives for ya in Zippy: The Dingburg Diaries, the latest collection of his long-lived newspaper strip; $29.99.
--
Whew, I am spent! Take me away, President Shima Kōsaku panel of the week: