Last week I briefly mentioned Aces, a magazine-sized comics anthology published by the UK-based Acme Press -- forever known to me as the collected editions publisher of Alan Moore's Maxwell the Magic Cat -- and released to comics stores under the auspices of Eclipse Comics in 1988, around the same time they were facilitating Viz's entry into the Direct Market with biweekly comic book releases of Mai the Psychic Girl, Area 88 and Legend of Kamui, all of which lasted considerably longer than the five-issue run of the Acme title.
Still, it had a tight concept: b&w comics from all over Europe, dedicated to stories set in the 20th century United States. It was a comics mirror held up to the prospective reader, featuring at least one artist with a history in the country - Spanish-born José Ortiz, who in the '70s had been one of the most prolific artists on the b&w magazine comics scene, a full-blown counter-mainstream to the color world of comic books, now obscure to all but the most devout of back issue bin-divers. Save for a brief mid-'80s run on Eclipse' Sabre, Ortiz withdrew to work in the UK and continental Europe; Aces presented a hardboiled detective story, Morgan, produced with writer Antonio Segura for Les Humanoïdes Associés. Acme teamed them (initially) with the Belgian François Rivière/J.L. Bocquet/Philippe Berthet detective album Hollywood Eye (Le Privé d'Hollywood) and Air Mail, the series' somewhat obviously headlining aviation feature from the Italy-based Attilio Micheluzzi:
Yet unwittingly, the American slant of the content wasn't just limited to setting. In issue #2, a note was made of a plan by French publisher Glénat to overcome the economic slump of the time by, essentially, looking to the model of American superhero comics. That's not to say 'publishing superheroes,' but interfacing with a more disposable, adaptable style of comics; fascinatingly, the unattributed article quotes an unnamed Glénat press source as attributing the interest in "art" aspects of comics to an aging readership, unreliably profitable compared to a younger reader base "attaching no cultural value to comic strips." Excuse the long quote:
The new comic book will be produced in a similar format to its US counterpart: a monthly, 48 page (comprising 32 pages of strips with 16 editorial and advertising pages), full colour book retailing for approximately £1.00 (60 cents). It will be released on the mass market with a projected print run of 20,000 to 30,000 and will receive national press coverage. The four series will be launched simultaneously in November. Glenat is also offering co-production facilities for interested foreign parties.

Glenat states that a corollary aim is to develop a house style for the series according to the following brief given to the scriptwriters: 'each story is to be complete'; 'the heroes are to be easily identifiable'; 'the subject matter must be comprehensible to an international readership'; 'at least two of the four series will be adaptable to an audiovisual medium'; 'the scriptwriters must work together as a team to ensure that each series forms a coherent whole'. A visual continuity for the series will be ensured by the establishment of a studio system similar to the operation in the US, with a division of labour based on pencillers, inkers, letterers and colourists. While the pencils may be produced externally, the inkers will work inhouse, enabling a tighter editorial control and a 'two to threefold increase in production'. Most revealing is Glenat's assertion that the studio 'will depersonalize the artist's work in favour of the series and the characters, making the artists interchangeable'. This signals a distinct break from the traditional creator-led approach of the European comics industry.
I have no idea what became of the four planned series -- Empires, Generation 16, Styx and M-60, easily divisible into the crime, romance, fantasy and spy genres -- but rationale behind their creation is fascinating in the way it is typically fascinating when someone proudly stands on exactly the wrong end of history. The American superhero scene was then transitioning from the brief 'prestige' period prompted by allowing more focused writer/artist control over their material and into the foundation-of-silt years marked by great sales, yes, but rampant speculation, to say nothing of an early '90s walkout by many of Marvel's top artists, unable to tolerate the conditions Glénat identified as crucial to the superhero publisher's security. Of course, Marvel and Image are still around, as is Glénat, and, in spite of it all, L'Association, founded in 1990 by some not-so-old enthusiasts of the form.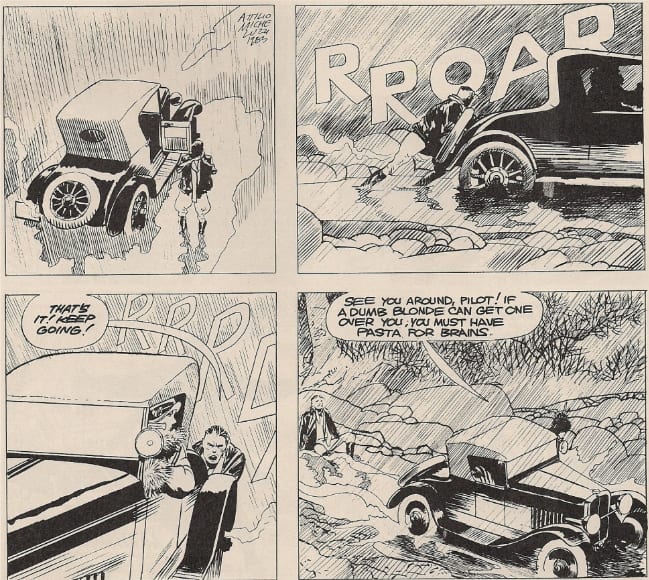 Ironically, Glénat actually was on the brink of a big, if delayed change - in 1989, it introduced manga to the French industry via its edition of Katsuhiro Otomo's Akira, a presence in the market that would eventually prove powerful indeed in both sides of the Atlantic.
***
PLEASE NOTE: What follows is not a series of capsule reviews but an annotated selection of items listed by Diamond Comic Distributors for release to comic book retailers in North America on the particular Wednesday, or, in the event of a holiday or occurrence necessitating the close of UPS in a manner that would impact deliveries, Thursday, identified in the column title above. Not every listed item will necessarily arrive at every comic book retailer, in that some items may be delayed and ordered quantities will vary. I have in all likelihood not read any of the comics listed below, in that they are not yet released as of the writing of this column, nor will I necessarily read or purchase every item identified; THIS WEEK IN COMICS! reflects only what I find to be potentially interesting.
***
SPOTLIGHT PICKS!
Teen Angels & New Mutants: Rick Veitch's Brat Pack and the Art, Karma, and Commerce of Killing Sidekicks: You know I love longform criticism, and this lil' slice looks very good - a 412-page examination of one of the seminal superhero critiques, authored by longtime Veitch collaborator and accomplished artist/editor/essayist/educator/publisher Stephen R. Bissette, via the Black Coat Press imprint of Jean-Marc & Randy Lofficier's Hollywood Comics. Brat Pack is a pretty damn fertile patch of land -- indeed, this book apparently began life as a supplement to a planned deluxe hardcover collected edition of the comic, which never materialized -- in that it sits neatly on a fault line between serialized comics stories and the expectations of collected 'graphic novel' works, all while being a harsh industry lampoon from an underground-informed artist well-experienced in such things yet seeing a special opening for in-genre critique afforded by the huge success of Watchmen and etc., to say nothing of the wider cultural/historical issues implicated, both within and without the comics industry. Keep an eye open. Introduction by Charles Hatfield of the Panelists; $30.95.
Welcome to Oddville!: Being a new 88-page AdHouse Books collection of work by Jay Stephens, specifically his 2003-07 Welcome to... Oddville! strip for the weekly, youth-targeted Brand New Planet offshoot of the Toronto Star. Looks very slick. Samples; $14.95.
--
PLUS!
Anya's Ghost: Your big book publishing debut graphic novel for the week, a 224-page YA work from artist Vera Brosgol, concerning a young girl and her phantom friend. From First Second, which generally promotes a high level of visual polish among its releases. Preview; $15.99.
Level Up: And from the same publisher (aimed at a similar age group) comes the 160-page latest from writer Gene Luen Yang (American Born Chinese), concerning a young man being prodded away from his games and toward his studies by supernatural forces. The artist is Thien Pham. Preview; $15.99.
Al Williamson Archives Vol. 2: Flesk Publications have a few of these thin, lavish 9" x 12" (or so) illustration presentations out right now -- this week also brings the fifth installment of Mark Schultz: Various Drawings, as well as a new printing of the publisher's complete collection of Schultz' Xenozoic Tales (obviously not so thin) -- but its worth a particular glance at another 64 pages of unpublished Williamson art, ranging from sketches to complete pieces. Samples; $19.95.
Graveyard of Empires #1 (of 4): This is from Image, a not-too-unfamiliar concept of zombies menacing various opposing parties in a war zone -- specifically the present Afghanistan mission -- but I suspect it might make a good showcase for artist Paul Azaceta, who's done some interesting work on B.P.R.D. and with assorted Marvel projects. Preview; $2.99.
Hellboy Library Edition Vol. 4: This is notable for being the first of the deluxe hardcover collections of Mike Mignola's creation to delve heavily into the 'miscellaneous stories by other artists' period of the main series, with Richard Corben emerging as the dominant presence by virtue of handling some of the longer shorter projects. It's 312 pages, covering two softcover editions, The Troll Witch and Others (vol. 7) and The Crooked Man and Others (vol. 8), which, aside from Corbenesque journey's to Africa and America, additionally feature shorts by P. Craig Russell, Duncan Fegredo and Jason Shawn Alexander, with a pretty decent chunk of material drawn by Mignola himself, including the potentially crypto-autobiographical 2008 full-length comic In the Chapel of Moloch. Corben samples; $49.99.
Arkham Asylum: Madness: I don't always mention softcover editions of hardcover books in this column, but sometimes a project just seems to vanish into the rush of releases every week, even as ostensibly high-profile a thing as a Batman-related original graphic novel. So know that this is a new-ish 112-page supervillain-focused work written and drawn by Sam Kieth, one of the more reliably odd intermittent presences in front-of-Previews comics; $14.99.
Northlanders #41: Of course, it's even easier for artists to slip away in one-off stories placed between longer stories, so know that Marian Churchland is handling this issue of the Brian Wood-written Viking series at Vertigo, recently announced as concluding at issue #50 in the wake of DC recasting next-to-everything it publishes into various subspecies of corporate-controlled superhero properties in an apparent (if not exclusive) effort to render its holdings most efficiently exploitable to audiovisual adaptation, knowing that if the definition of "comics" properties still equates to "superheroes" in terms of monied cross-media exploitation, it's inevitably less of a financial risk to simply recast your published comics as "superheroes" than to combat the perception of people who handle an awful lot of money, which makes them all the more responsible, right? Right; $2.99.
Deadpool MAX #9: Relatedly, be aware that Kyle Baker is not drawing this issue of David Lapham's superhero satire, which is set to end with issue #12 - character veteran Shawn Crystal steps in, with Baker set to return for at least issue #10; $3.99.
Cornboy: Finally, I don't really know anything about this 96-page Dynamite release of a Liquid Comics production -- Liquid is the revival of the old Virgin Comics, which specialized in works derived from celebrity ideas, much in the way this particular book is adapted from an unproduced screenplay by filmmaker Pamela Corkey -- but it's scripted by Joshua Dysart, whom I recall putting out some impressive work with (this week's accidental COLUMN STAR) Mike Mignola. I know his defunct Unknown Soldier project at Vertigo has its admirers too. This one looks to be a Story About Life, in which a half-corn humanoid (yep) ventures out into society for the first time, and probably learns some hard lessons. Art by Edison George. Preview; $12.99.