A few days ago there was a small blow-up on Twitter concerning the proper apportionment of a critic's word count to the visual and textual aspects of a comic. It was, as you might expect, an argument largely implicating comics which hew to a compartmentalization of "writing" and "art" - artifacts of what Eddie Campbell once deemed "comic book culture." I poked my head in to link to Ken Parille's Swiftian advocacy for Fredric Wertham as the ultimate comics critic, and then leaned back to await my shower of kisses from a grateful society.
Still, a question remains: is it really so important for a critic to pay very much attention to dull, explicative, do-nothing art in a (hypothetical) crummy writer/editor-driven superhero comic? Certainly, it would depend on the aim of the critic's writing; a perfectly good and valid piece can be written strictly on Bee Man #14's position in its scriptwriter's oeuvre. However, your traditional 'consumer guide'-style comic book review, I am forced to conclude, carries a holistic necessity that demands consideration of the visual aspect, because to review the total effect of a comic is inevitably to deal with the coloration that drawings will always give words.
To best illustrate this concept, I will draw your attention to the non-superhero book pictured above: editor Scott Longo's Sonatina Comics #1, the 2011 first edition of the continuing Sonatina anthology series, which has just recently seen its (very good) second release. It'd be a mistake to attribute a specific exploratory mission to the whole of Sonatina, but I can tell you that the most striking of its comics observe certain meaningful disconnects between words and pictures, be it Blaise Larmee juxtaposing handwritten note cards with a drawn account of a gallery space's panel discussion (such juxtapositions having since evolved into superimposition), or Longo himself chasing a set of drawings of numerous, individual chairs and desks and plants and people with a textual rumination on the meaningful, individual connections facilitated by a work of 'limited' audience. I took this, greedily, as a mission statement of sorts.
Anyway, in Sonatina Comics #1, there is a piece by the writer and artist Jason Overby, a diptych (let's say) collectively titled Still Life with Kanye West (freely available at the link). Its first section, individually titled "(Kanye) West," looks like this:
It's a seven-page account of several minutes in the life of "Jason," who is stopping for coffee in the middle of a drive. Overby draws his characters in a highly gestural style, relying on small identifying features to distinguish them from one another, although the give-and-take of the dialogue helps as well. Thoughts are distinguished from spoken words by classic thought bubbles, while broad drawn elements (the doodled circles in panel 11, for example) denote the shifting mood of a given speaker.
The piece's second section, "Still Life," repeats the same story, in six pages:
You will notice that this is exactly the same page, but created without pictures; instead Overby uses what looks like multi-colored stamps to pound the dialogue down onto the page. However, there are meaningful omissions. All of the thoughts -- i.e., the words in thought bubbles from the first section -- are gone. We have been cut off from the characters' thoughts, which, all things considered, would be difficult to convey in a visual presentation of words lacking the space to build the formal structures of prose that rightly designate interior and exterior communications by characters. Perhaps he could have put the thoughts in a smaller font and stamped them near the spoken words; that might have worked.
Read as a whole, though, a more allegorical conclusion can be drawn. In withholding his characters' thoughts from the text-dominated section -- a still life, depicting inanimate subjects -- Overby suggests that it is the role of pictures in comics art to establish a subconscious, empathetic understanding of characters. Merely to see the contours of a person's body, their shifting expressions and posture, is to metaphorically access their thinking. It is an inevitable function, if not always an effective one in practice; thus, it is fitting for (textual) thoughts to also appear, and for the story to become less observed than felt, like one might hear music.
Interestingly, there is one extra page in "(Kanye) West" lacking in "Still Life":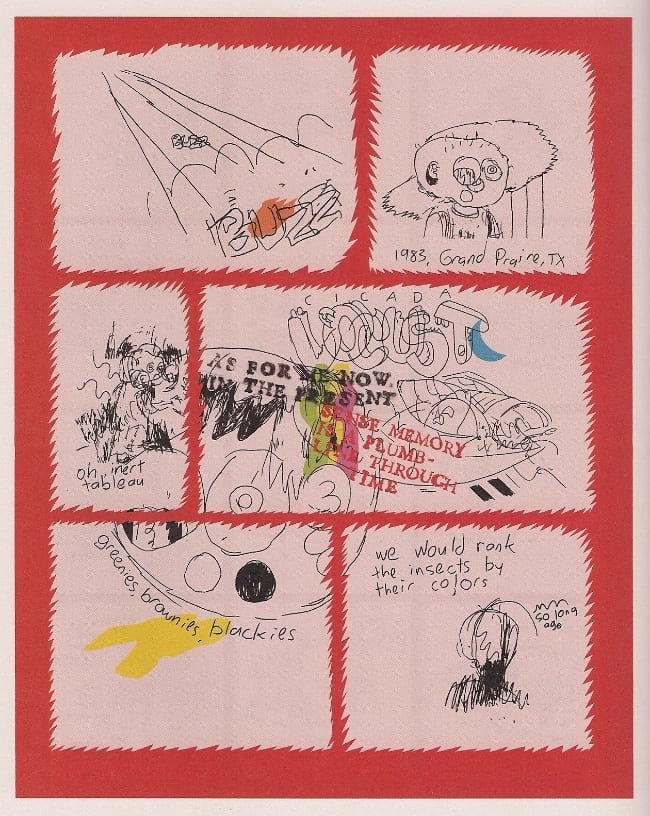 This is memory. It is a depiction of something Jason is recalling, inside his head. It only appears in the more visceral, drawing-laden section, because memories, of course, cannot be observed, they must be felt. Yet Overby combines elements of both sections here - the background is darker, like in the text-driven "Still Life," and koans are stamped down upon the scribbled drawings. There are even abstract elements: splashes of color, unseen anywhere else.
It is the fusion of words and pictures, which is to say a super-fusion different from the words/pictures of "(Kanye) West" and the paneled words of "Still Life"; it's all comics, but this is a composite 'comics' posited as the stuff of time-travel, of images jutting from chronology, of both feeling memories (drawings), and thinking about them (stamps), because aren't memories always colored by our consideration of their circumstances?
Pictures change words, and words change pictures. These are fundamental circumstances of the art. Invisible, sometimes, but... don't you ever read a comic to turn off your brain? To analyze, though, best practice suggests we turn it back on.
***
PLEASE NOTE: What follows is not a series of capsule reviews but an annotated selection of items listed by Diamond Comic Distributors for release to comic book retailers in North America on the particular Wednesday, or, in the event of a holiday or occurrence necessitating the close of UPS in a manner that would impact deliveries, Thursday, identified in the column title above. Not every listed item will necessarily arrive at every comic book retailer, in that some items may be delayed and ordered quantities will vary. I have in all likelihood not read any of the comics listed below, in that they are not yet released as of the writing of this column, nor will I necessarily read or purchase every item identified; THIS WEEK IN COMICS! reflects only what I find to be potentially interesting.
***
SPOTLIGHT PICKS!
Sandcastle: Yeah, I mentioned this last week, but only because I wanted to keep an eye on it for when Diamond official said it was coming, i.e. now. This is another release from busy SelfMadeHero -- again, distributed in North America by Abrams -- marking the latest English-language release of comics drawn by Frederick Peeters, the talented Swiss eye behind the autobiographical Blue Pills (Houghton Mifflin) and artist of the rather overlooked fantasy Koma (Humanoids). This one's a 2010 collaboration with filmmaker Pierre Oscar Lévy, a Buñuelian study of people from various backgrounds gathered on a secluded beach, where a dead body is found. It's a 6.5" x 9.5" hardcover, 112 b&w pages. Note that the UK-based publisher is already prepping another Peeters translation: his 2009 surreal color thriller Pachyderme, which should be available for import in October. Samples; $19.95.
Benny Breakiron Vol. 1: The Red Taxis: Having managed to release a very large portion of the original Smurfs comics in small, inexpensive kid-friendly books (the 15th volume of which is also due this week), NBM/Papercutz now prepares to both double back and press forward; the older Smurfs material will soon be re-released in larger, supplemental-laden volumes for adult readers of old-timey Belgian comics, while the publisher also begins this 6.5" x 9" hardcover album series, translating creator Pierre "Peyo" Culliford's 1960 kid superhero creation Benoît Brisefer under the title "Benny Breakiron." In this particular batch of 64 color pages, covering the earliest material, he is joined by background artist Willy "Will" Maltaite - one of the most prominent forces in the 'Marcinelle' school of Belgian comics illustration centered around Spirou magazine, where this material was initially serialized. Your Gil Jordan and Sibyl-Anne albums are probably lonely, why not stoke their national pride? Preview; $11.99.
--
PLUS!
We Can Fix It!: Being the latest release from Chester 5000 creator Jess Fink, a travesty on autobiographical comics in which the artist secures a time machine and engages in esteem-building and/or sexy antics with younger iterations of herself, though publisher Top Shelf assures us that it all grows into "a thoughtful story about memory, regret, and growing up." I like Fink's art, and her comedic timing is very sharp from what I've seen of this 112-page production, a 6.5" x 8" softcover original. Preview; $14.95.
Freaks' Amour: Apparently (BUT NOT REALLY - SEE COMMENTS) there is a new Gary Panter comic(?) tucked away in this Dark Horse softcover, ostensibly a collection of a 1992 Dana Marie Andra/Phil Hester/Ande Parks comic book adaptation of a 1979 post-nuclear fringe-living novel by Tom De Haven. Which is to say, De Haven will provide a new prose sequel to his novel, which Panter will then adapt, all in one book. Charles Burns cover too. Take a look, if you can. Samples; $17.99.
You're All Just Jealous of My Jetpack: Good, clean fun in this one, folks, as Drawn & Quarterly compiles 160 pages of weekly Tom Gauld strips from The Guardian into a 8" x 5.9" landscape-format hardcover, very handsome. High-class laughs await. Samples; $19.95.
Snake Pit Gets Old: New from Birdcage Bottom Books, a 288-page collection of daily diary comics from Ben Snakepit, a zine-maker since 2000. Classic-styled autobio in here. Samples; $16.95.
The Library: Another week, another intriguing release from Canada's Conundrum Press, this time a 184-page collection of stories by the Hong Kong-based "Chihoi," whom I believe is going to be at TCAF this weekend. The publisher deems the artist "a poet of the quotidian, of life's minutia, of little gestures, of silences... of the invisible, invoking the spirit of a dead person or a lost love, and rendering him/her real," amidst references to Kafka and Gaugin. I'd certainly flip through this if I saw it; $20.00.
Red Handed: The Fine Art Strange Crimes: Ditto for this, a new 272-page First Second hardcover from the very prolific Matt Kindt, a self-reflexive crime story seeing a Detective Gould (tee hee) working to link up a slew of seemingly random crimes. Preview; $26.99.
Mumbai Confidential Book 1: Good Cop, Bad Cop: Yesterday, in detailing the variety of subject matter to be found in the Comix.India anthology, Ryan Holmberg identified "Mumbai noir" as a pertinent example; it's fitting, then, that Archaia has selected this very week to release a longform example of just that, a 156-page cop-gone-bad/secret assassination squad scenario from writer Saurav Mohapatra (of numerous Virgin Comics series from the prior decade) and artist Vivek Shinde (working in a part-color ink washy mode). Filmmakers Ram Gopal Varma & Anurag Kashyap have been cited as influences, so expect a certain violent glee streaking across the gritty local environs. A digital version was released to comiXology a little while ago. Preview; $24.95.
Good Riddance: A Graphic Memoir Of Divorce: I have absolutely no idea what this is -- I mean, beyond the fact that it's a 224-page autobiographical comic from a major book publisher about its artist's divorce -- but Tucker Stone keeps bringing it up in front of me, laughing, and I'm very frightened and confused as a result; $17.95.
Sláine: The Grail War: Your 2000 AD import of this most international of weeks, picking up 192 pages of late '90s barbarian comics from writer Pat Mills, working with artists Steve Tappin & Nick Percival. Note, however, the inclusion of a Massimo Belardinelli short from a 1985 Annual, which will probably look pretty cool; $29.99.
The Playboy: Reissues too! I'll confess now that I've never been a huge admirer of this 1992 Chester Brown landmark -- collected from the pages of Yummy Fur -- a youth solo sex confessional transmitted through a cumbersome on-page commentary by the adult author, explicating his own motivations in a manner not entirely unlike the oft-redundant narration to a 1950s EC comic. Brown, of course, loves to comment on his own work, but such an explicitly diaristic approach dominates the build of his narrative, I think detracting from his much-stronger in-panel depictions of obsession and isolation. The subsequent, superior I Never Liked You dispensed with such unnecessary devices. Still, there are some immortal '90s alt comics bits in here, and Brown will apparently be penning a new set of author's notes for this 176-page Drawn & Quarterly edition. Be aware that a softcover edition of Brown's Paying For It is also due this week; $16.95.
Creepy Comics #12: Another 48-page issue of Dark Horse's comic book-format revival of the old Warren magazine, notable for a new story from writer/artist Richard Corben, as well as some Peter Bagge art on a different feature; $4.99.
12 Reasons to Die #1 (of 6): I *think* this is the first comic book release from Black Mask Studios, an offshoot of the Kickstarter-funded (and yet-forthcoming) Occupy Comics anthology. It's still looking to function as an anthology of sorts, though, using an undead gangster vs. crime lords scenario formulated by the Wu-Tang Clan's Ghostface Killah and composer/producer Adrian Younge (who released a related concept album last month), as a means of deploying all sorts of Image/Vertigo/Dark Horse/Archaia/Top Shelf artists for different segments, including Ron Wimberly, Paolo Rivera, Nate Powell, Ramón Pérez, Jim Mahfood, Ben Templesmith, Francesco Francavilla, Riley Rossmo and many others. Not all in issue #1, surely, but eventually. Video preview(s); $3.50.
Legends of the Blues: Finally, your not-a-comic of the week, in which formidable illustrator William Stout essays an assignment that'll remind basically everyone reading this column of Robert Crumb's historical works (and, indeed, which originated as a continuation of Crumb's own blues illustration project): 100 cartoon portraits of musical heroes, presented as a 5 1/2" x 7 1/8" hardcover, with profiles by Stout and a bonus CD of sample tunes. From Abrams; $19.95.
--
CONFLICT OF INTEREST RESERVOIR: What? Belgians not your thing? You need some rock-ribbed American kids' comics from the middle of the 20th century? Well you too are served, patriot, via Walt Disney's Donald Duck: The Old Castle's Secret, a new 232-page collection of Carl Barks output from the year of our lord nineteen hundred and forty-eight, including some early Uncle Scrooge; $28.99.