As longtime Journal followers can doubtlessly intuit, we are now coming up on the Tin Jubilee of a momentous occasion indeed: my very first issue. And I don't mean the first issue I was in, I mean the first one I read, plucked from magazine rack at one of our nation's still-standing Borders in the turmoil of late 2001; note the crystalline towers gleaming from Dan O'Neill's cover illustration. Having kept one eye (at best) on comics since the middle of high school, it goes without saying I was completely fucking lost in attempting to navigate dueling reviews by Danny Hellman & Ted Rall, to say nothing of both the second part of a long excerpt from Bob Levin's The Pirates and the Mouse: Disney's War Against the Counterculture AND the second part of a trial transcript relating to Marv Wolfman. In media res indeed, and that was before I got to Rich Kreiner's coverage of Suehiro Maruo's Ultra-Gash Inferno, which definitely upset my admittedly-mostly-abandoned teenage ideas of Japanese anime completing the project the comics art form had begun. It was later suggested to me that this was not the best (actually maybe the overall worst) issue of the Journal to start with around that time, but its insularity and occasional opacity only inspired to me pore over every inch of it, like crucial mysteries were finally being presented.
This was all a prelude to my decision to begin 'following' comics again on a weekly basis -- having determined that comics were, in fact, distributed weekly to designated merchants -- which I put into action on the very first Free Comic Book Day, held on May 4 of 2002 so as to potentially feed off of goodwill exuded by Sam Raimi's utilitarian adaptation of Spider-Man for movie screens. My thinking was: the comic books will be free on that day.
Oddly enough, this wasn't entirely wrong, as there was a slight organizational chaos to the virgin event, prompting certain retailers (which I'd located in the phone book) to give away bits of their loose issue back-stock; I picked up some Jim Woodring stuff, some Peter Bagge. I don't actually remember any of the proper 'official' free comics, although I do recall eventually paying for copies of Phoebe Gloeckner's A Child's Life and the Peter Milligan/Brendan McCarthy/Carol Swain Thalidomide dismemberment opus Skin, in that I'd associated both Gloeckner and McCarthy with distressing comics experiences from the past, the former via Minnie's Third Love, which I'd seen years ago in Kitchen Sink's Twisted Sisters Vol. 2, and the latter through a half-remembered glimpse of the Skin cover art in an old Comic Shop News from back when Tundra was a going concern. It was a nostalgic, family day, that FCBD.
So I thought I'd list a few choices for this year's event, held on Saturday, except there isn't all that much that seems interesting. After the various problems accordant to presenting potentially 'adult' material at what had become essentially a let's-take-the-kinds kind of thing, a lot of publishers wound up pivoting toward strictly All Ages selections, which wound up pushing a number of publishers into either hyping their kids lines or vintage reprints. I'd certainly take a look at, say, the now-tradition Drawn and Quarterly John Stanley sampler pictured above, or the Floyd Gottfredson comic released by F*nt*gr*ph*cs, or even the drips 'n drops of Peyo/Yvan Delporte in NBM's miscellaneous young folks platter. It appears the older-skewing books are mostly superhero (or duly super-tinged) items, with mature content limited to heads coming off or whatever the Hellboy team has planned.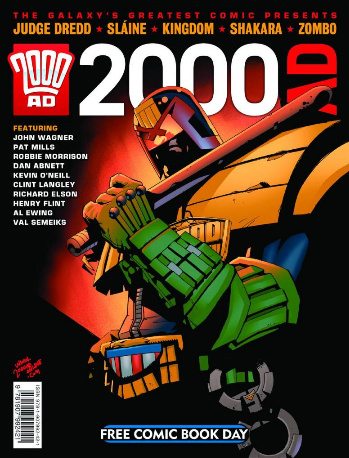 Or, y'know, Judge Dredd. Just look at him. He's gonna beat the fucking shit out of you for even thinking of seeing Thor.
I don't recall 2000 AD even submitting a formal FCBD item, and seeing them raring for 2011 reminds me that the event is probably not for attracting young folks or curious onlookers to the breadth of comics so much as orienting the predisposed -- be they parents of children or genre-focused consumers -- to the kinds of things also available from your friendly local shop, such as English-language comics not from North America. You can theoretically go through the trouble of ordering 2000 AD via the NA Direct Market, I believe in the form of multi-issue packs, but you can see from my qualifier that I don't have any first-hand experience; I've never even seen an issue hanging around on the Not Very New Releases racks. This reminder, then, is an insular one, but perhaps necessary (or at least useful) given the amount of stuff comics stores could conceivably handle. Plus, there's an Amber Alert gag on page one, which hearkens back a little ways to the grab-bag mess of odds 'n ends that marked mine and the event's own entries onto the regular scene.
***
PLEASE NOTE: What follows is not a series of capsule reviews but an annotated selection of items listed by Diamond Comic Distributors for release to comic book retailers in North America on the particular Wednesday, or, in the event of a holiday or occurrence necessitating the close of UPS in a manner that would impact deliveries, Thursday, identified in the column title above. Not every listed item will necessarily arrive at every comic book retailer, in that some items may be delayed and ordered quantities will vary. I have in all likelihood not read any of the comics listed below, in that they are not yet released as of the writing of this column, nor will I necessarily read or purchase every item identified; THIS WEEK IN COMICS! reflects only what I find to be potentially interesting.
***
SPOTLIGHT PICKS!
The Next Day: Being a new project from comics/film purveyor Pop Sandbox, profiling four subjects who've survived suicide attempts. The attraction here in this 104-page comics wing of the effort -- an interactive online documentary film remains forthcoming -- is art by John Porcellino, working with writers Paul Peterson & Jason Gilmore. Official site; $16.95.
Huntington, West Virginia "On the Fly": For longtime readers, this might be the most interesting of the various posthumous Harvey Pekar projects in development, in that it appears to be pretty much a 176-page issue of American Splendor -- albeit from a Random House imprint and poised for the bookstore market -- hooking together Pekar's assorted encounters while on the road, all of it drawn by artist Summer McClinton. Preview; $19.95.
--
PLUS!
I Will Bite You! and Other Stories: A new 128-page Secret Acres collection of comics by Joseph Lambert, who's got a nice style going. I'd flip through it for sure; $14.00.
Lychee Light Club: Odd as it is to think, given how admired he is among a certain class of English-predominant manga readers, I do believe this is the first formal longform serial by Usamaru Furuya to actually see completion in proper licensed form in North America. It'll probably hearken back a little to the artist's prior completed work in America, his short & funny/sad/gross expanded gag series Short Cuts, released by Viz initially in its Pulp magazine and then as two standalone books, 2002-03. In keeping with contemporary market expectations for Japanese cartoonists of his stripe, this new piece is a standalone book from Vertical, aimed at more of a 'graphic novel'-minded readership. The story of a run-down youth group and the artificial life form they built was serialized, 2005-06, in the redoubtable art-smut forum Manga Erotics f, but its true origin is in a stage performance of the Tokyo Grand Guignol the artist saw in high school, resulting in a character-focused, deliberately recitative, stagey visual approach and designs heavily influenced by the aforementioned Suehiro Maruo, a member in good standing of the Grand Guignol. Reviewed by Kristy Valenti at this site. Preview; $16.95.
Genkaku Picasso Vol. 3: Improbably, this very same week brings another Furuya work, this time the final scheduled Viz release of a funny shonen project about a profoundly obnoxious, rapidly decomposing undead high school artist who is inevitably dragged into solving other folks' problems by diving into their minds and manipulating iconographic elements like an editorial cartoonist. As far as I know the series isn't continuing in Japan, so this is likely the overall final volume, although I'm not aware if there will be a conclusive ending or anything; $9.99.
7 Billion Needles Vol. 4 (of 4): Definitely concluding -- and also from Vertical -- is this somewhat otaku-baity series from artist Nobuaki Tadano (clue: this volume's back-up story is titled Hikikomori Headphone Girl) about an awkward schoolgirl and an alien power. Interestingly, the simple fact of its Vertical release perhaps recontextualizes its more insular, moe aspects as straightforward angst drama, although this of course is a question of audience and acclimation to otaku-minded tropes (headphones!); $10.95.
Hellraiser Masterpieces Vol. 1: Eh, modesty has never been a virtue to the Cenobite. What we've got here is a Boom! collection of short stories from the old Epic run of Clive Barker-related comics, no doubt selected for maximum name value. Among the participating writers are Neil Gaiman, Jan Strnad, Larry Wachowski, the late Dwayne McDuffie and Barker himself, with art by Dave McKean, Mike Mignola, Kevin O'Neill, Mike McMahon, Alex Ross, Mark Chiarello, Jorge Zaffino and others. Samples; $19.99.
Archie Archives Vol. 1: In which Archie finally enters the big expensive comprehensive Dark Horse hardcover realm. Satisfying your heretofore unrealized craving for early '40s teenage humor with 160 pages culled from Pep Comics and Jackpot Comics , I'm sure your favorite era will be here before you know it; $49.99.
Bat Boy: The Complete Weekly World News Comic Strip by Peter Bagge: Hot on the heels of the new Hate Annual comes a purportedly comprehensive, 104-page hardcover IDW edition of its former back-up feature, the Bagge project initially deployed every week as detailed in the title. I know a bunch of people enjoyed this stuff; $17.99.
Alexandro Jodorowsky's Screaming Planet: The latest among Humanoids' efforts to round out/revitalize its Jodorowsky-related projects of a decade's standing, this is a 124-page hardcover collecting all of the writer's themed stories -- in which a voyaging cosmic projectile affects weird changes over the entities in its wake -- from the publisher's short-lived revival of Métal Hurlant, which was presented in North America over 14 issues from 2002 to 2004. Admirers of Jerome Opeña's work on Uncanny X-Force will note an early appearance here, along with contributions by J.H. Williams III, José Ladronn, Igor Baranko, Adi Granov and others; $24.95.
DC Comics Presents: Son of Superman: Speaking of J.H. Williams III, here's another value-priced, 96-page comic book-format reprint of one of his earlier works with then-inker Mick Gray, this time a 1999 original graphic novel released around the time Promethea started up. It's an Elseworlds out-of-continuity thing written by Howard Chaykin and his own then-partner, David Tischman, teasing out the early political connotations of the character by pitting his son against America's economic abuses and its in-house superheroes. Insert hilarious American citizenship joke here; $7.99.
Spidey Sunday Spectacular! #1: This is also a collection of works by a striking artist, the popular Marcos Martin of Amazing Spider-Man, from where I believe these two-page bits of Stan Lee-scripted business originate. A 40-page sampler sounds like a good idea; $3.99.
Delirium's Party: A Little Endless Storybook: One of those projects where Neil Gaiman's characters from The Sandman basically become a platform for Jill Thompson's stylistics, which makes it worth a peek; $14.99.
Dodgem Logic #8: Finally, your not-really-so-related-to-comics publication of the week, the final issue of an Alan Moore-fronted, Northampton-centered arts & culture glossy, featuring a few images by Oscar Zarate and a brief memoir by Michael Moorcock, along with reminisces by Moore himself. Purportedly the project will be reincarnated online at some point; $7.00.