"Rei Kawakubo/Comme des Garçons: Art of the In-Between" opened at the Metropolitan Museum of Art last week, and I still haven't been up to see it. A stalwart of avant-garde fashion, Kawakubo's designs tend to extend or distort the human form with unnatural volume and raw, unfinished materials and rejection of demure feminine beauty. A Kawakubo dress both protects and alienates the wearer; for example, a CDG puffer coat broke my fall a few years ago when I got hit by a tow truck, but no one could squeeze next to me on a subway bench.
But of course silhouette- and beauty-obsessed Hollywood rejected the theme (except, always except Rihanna!) at this year's Met Gala, probably because everyone just wants to keep their jobs and no one wants to land on some basic's "worst dressed" list in hindsight. I turned to my comic book collection to see which characters might fit the Kawakubo theme better.
Tina from Walter Scott's Wendy
Sporting a black bob, black frock, occasional severe shoulder pad, and work bitch attitude, Tina kind of resembles Kawakubo herself.

Lisa from Peter Bagge's Hate
Remember when Lisa shaved her head and put on a burlap sack because Buddy Bradley wasn't paying enough attention to her? Crucial relationship move, and crucial move towards one of Kawakubo's favorite raw materials. Also unafraid to gender-bend in Buddy's underwear.

Momongo from Junko Mizuno's Life of Momonogo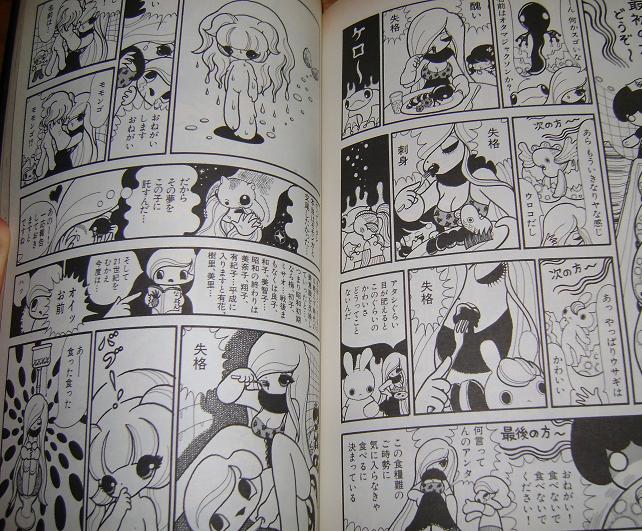 I feel like Kawakubo would appreciate all the stages in a jellyfish woman's life, even one who just hatched.

That dog thing from Like a Velvet Glove Cast in Iron
No orifices.
PLEASE NOTE: What follows are comics that come out this week... and a couple that came out last week if you weren't paying very close attention. Jog is better at this than me!

SPOTLIGHT PICK!
Ding Dong Circus: So long have I waited to get my hands on this proper collection of Sasaki Maki's late '60s, early '70s work! Sold out from Breakdown Press, always nabbed off convention tables before I can make the rounds. Ding Dong collects the best of his comics from seminal manga publication Garo, working combinations of drawing and pop symbolism through a lineage that can be traced through Tadanori Yokoo, Usamaru Furuya, and beyond. Sometimes cold, sometimes goofy, definitely surreal dispatches from the turbulent soil of postwar Japan. I believe most is non-narrative. Edited and translated by Ryan Holmberg. Breakdown Press (distributed by Fantagraphics), $26.99.

PLUS!

Father and Son: Cute 1930s German pantomime comics by E.O. Plauen about a dad getting PISSED. Probably the only book from New York Review Comics that's intellectually on my level, still feeling like I needed to finish my master's degree after trying to understand Soft City, sorry everybody, $18.95.

Ravina, the Witch?: I know Jog wrote about this last week, but I wanted to share: I'm kind of sad for Junko Mizuno's career at the moment. I'm curious who her audience is right now… she kind of seems stuck between a Hot Topic purgatory and like, a huge D&Q retrospective. I miss the old days, like Life of Momongo (see above), or Pure Trance, or her illustrations for that soapland worker's diary, when she carried a ton of sci-fi ideas into a comic and the frills came second. I'm sure she's fine and I'm sure this is fun. Goth is eternal, bankable. Titan, $24.99.
Slasher #1: It's probably good to have a set of stones on you if you start your press release with "a new psychosexual thriller from the creator of The End of the Fucking World and Revenger," so I'm imagining this will deliver to some degree. The erotic thriller tends to be neither, but I'm interested in seeing it through a small-press lens. I hope it doesn't try to bring some snide All-Time irony… 2017 is too real, we're past that. Alternative Comics, $4.99.

Cerebus in Hell #3: This cover makes me wild. I've been looking at it for 2 days! What in the world. Aardvark-Vanaheim, $4.00.