If you know me -- and really, this is our fifth column together, we're basically married, you and I -- you know I'm always on the lookout for incursions of comics into my everyday life. Comics tend to be a compartmentalized thing for me, and I suspect a lot of people; you go to the specialty comic store on X day of the week, sort through the World of Comics for a set amount of time, and then you step out into a world of mass media that's moved away for the most part from the particulars of the comics form. I do still see Archie digests at the grocery story, yes, and my local (remaining) Borders has maintained its comics spinner rack in an exquisite state of vaguely damp resignation, but imagine my surprise when I moved over to the Fancy Foreign Publication section and discovered an all-comics issue of Colors, the Italy-based (and English-language) glossy appendage of the United Colors of Benetton: "A Magazine About the Rest of the World." But before long it began to seem like a magazine about the rest of time, or at least an era where the notion of comics was inseparable from the idea of superheroes - this special issue of Colors is dedicated to "real-life" superheroes, you see, global awareness made fun by translating complicated political and social issues to straightforward heroic narratives, because that's presumably what comics do.
Oh, I know, they don't really mean it that way, I'm sure everyone involves is well aware of the art form's capacity for etc. etc., but it didn't suggest that an awful lot of potential was going to be realized by the magazine itself, a big colorful Heavy Metal-but smoother/glossier affair, in spite of its pretensions toward raising awareness of international human rights issues. Fittingly, my favorite of the magazine's 11 stories -- a 12th appears to be iPad only -- combines a personalized take on a specific superhero trope, the double identity, with some local action:
That's artist Marcelo Pérez Dalannays (and one or more contributing writers from a collective pool of four covering the entire project) utilizing chunky lines and limited colors in devoting a full one of five story pages to Chilean transvestite performer Pamela Bijout getting into costume, ready to hit the stage and raise some money for a local woman who'd lost it all in a fire. It's an exceedingly simple scenario, but distinctly tactile, sexual, teasing out as much glory in costumed expression as altruism, conjoining the personal appeal of spotlight heroics with its happy community results.
Here's another image, from artist Kiré: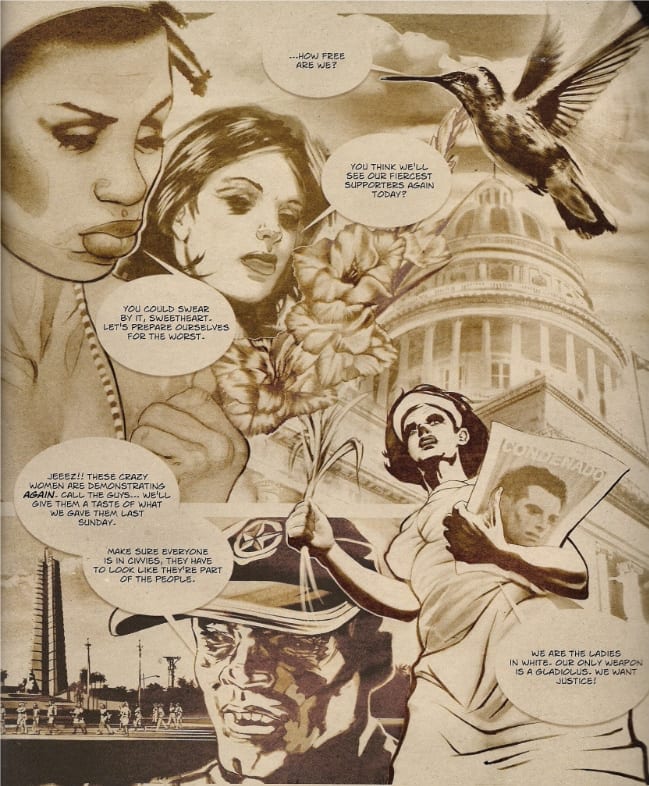 It's more indicative of the general tone of the project: stolid if good-intentioned. Few of the entries demonstrate these particular visual qualities, though - the digitally browned pages offering a funereal quality to a march by women protesting a 2003 jailing of Cuban journalists. The drawn women are juxtaposed with clip art-looking flowers, architecture and a hovering bird, isolating them from their surroundings and, pragmatically, covering for the 'overacting' that tends to affect the artist's figure work, not an uncommon malady for what appears to be an illustrator turning to sequence, to panel-by-panel activity. Eventually, as authorities crack down on the crowd, the display becomes less anguished than garish, something perhaps foreshadowed by that off-putting digital lettering font and certainly played out for the rest of the project.
That isn't to say there isn't good visuals -- French artist Thomas Labourot whips up some pleasant manga-informed pages -- or that nobody has experience in comics - many will recognize Gary Erskine from assorted Warren Ellis and Garth Ennis series, to say nothing of his inking on The Filth and many other efforts. No, I'm talking about a generalized garish and off-putting utilization of comics tropes, like when artist Paolo Antigo has Thai activist Kru Nam smash the local child sex trade by exploding through a wooden door, sending a muscular henchman smashing into a nearby mirror; at one point she grows so angry her eyes grow yellow like a Marvel mutant, which is sort of amusing but hardly informative as to sex trafficking in the region - it's just a feel-good sop.
Or take Biro Bala Rabha, a crusader against accusations of witchcraft (and thereby abuses against women) in northeast India; her vignette is inordinately concerned with smeary fire effects and scenes of flight, which do blunt enough if very clichéd work in conveying terror, but then the heroine's entire role is left to tell the bad guys they're wrong and literally drop a blanket to smother the flames of superstition, at which point various characters look downward or grasp their foreheads and sort of come to their senses. I don't think this is intended as a children's comic, and so such broad strokes, when combined with the issue's general sense of 'importance,' seem merely inadequate.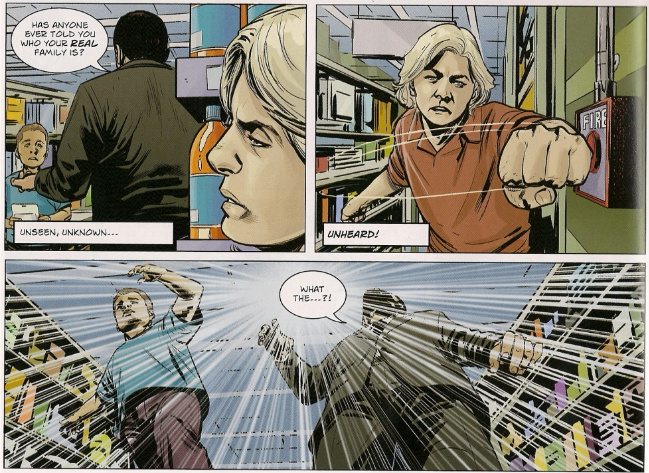 Well, unless you're the type that hungers for kitsch; there's more than your $8.95's worth of that. Witness WikiLeaks founder Julian Assange (drawn by Stephen Thompson) -- who does not appear to have altered his hairstyle in one quarter of a century -- dramatically facilitating his younger half-brother's escape from a swarthy agent of the Santiniketan Park Association, uniformed like a stock authoritative baddie. "Like all the best hero legends, the episodes in this magazine are a mixture of fantasy and truth," chirps an introduction, impliedly affirming that comics are indeed the place for bullshit. It's just fun I guess! I had to laugh at James Fosdike's depiction of a dream by American entrepreneur Mark Rembert, who sees his hometown of Wilmington, Ohio terrorized by a huge toxic waste-lapping mutant rodent not unlike that of Class of Nuke 'Em High 2: Subhumanoid Meltdown; luckily he wakes up just in time to rush off an airplane to facilitate green initiatives under golden sunbeams. The town's goodness is affirmed, as is the capacity for comics -- not an exclusive one, but pertinent -- to translate any damned thing into utter frivolity.
***
PLEASE NOTE: What follows is not a series of capsule reviews but an annotated selection of items listed by Diamond Comic Distributors for release to comic book retailers in North America on the particular Wednesday, or, in the event of a holiday or occurrence necessitating the close of UPS in a manner that would impact deliveries, Thursday, identified in the column title above. Not every listed item will necessarily arrive at every comic book retailer, in that some items may be delayed and ordered quantities will vary. I have in all likelihood not read any of the comics listed below, in that they are not yet released as of the writing of this column, nor will I necessarily read or purchase every item identified; THIS WEEK IN COMICS! reflects only what I find to be potentially interesting.
***
SPOTLIGHT PICKS!
Act 7 Seven Making 12 Twelve of Ditko's 32s: I'm bending the rules a little for this one; it's not available through Diamond this week, or probably any week particularly soon. Indeed, unless your local shop deals directly with co-publisher Robin Snyder, you're unlikely to ever see it sitting on a shelf. This link will give you mail order details, and eventually (but not immediately) will allow for online purchasing. And you probably already know if the procedure will be worth it, because this can only be the latest comic book release by Steve Ditko, whose recent flurry of activity I've written about here. I've greatly enjoyed this latter day run of releases -- you might call it Ditko's Eightball, a classic alt comics one-man show, although the artist had actually tried to launch the very thing himself in the 1973-75 twilight of underground comics with his H. Series -- which see the famed superhero stylist honing his approach down to the very basics of the comics form, with simple line juxtapositions and cohabitation suggesting ideological values and elliptical dialogue serving to color our 'reading' of the pictures as total design.
As the title indicates through a rather Mike Mignola-like '#X in a series,' this is the twelfth of Ditko's 32-page b&w comics, starting with 2008's essay collection The Avenging Mind and continuing through a quartet of connected one-shots -- Ditko, etc...., ...Ditko Continued..., Oh, No! Not Again, Ditko! and Ditko Once More -- before settling into the Ditko Presents branding, with every successive issue providing a new 'act.' Every story will naturally depict some variation on the individual Good's struggle with the compromised, collective, forceful, fraudulent, bottomlessly neurotic Evil, and as sure as A is A you can bet that no space exists between the two, save for some diegetic air in anticipation of a righteous fist. Expect appearances by uber-concept "the Hero" and pacifistic sop "the Grey Negotiator" (a reworking of '60s Ditko bugaboo "the Neutralist"), plus "the !?," a denizen of the artist's fantasy 1930s, which serves as a loose superhero universe setting for these latter comics. Plus: a Charlton-worthy chiller featuring "the P Masks," which is to say "the Personality Masks" (unless this time it's Personable Masks, suggesting Ditko is finally about to disclose his Robert Ashley fandom). Yes, it's like the whole Ditko history made new and ready for you in a delicate, revelatory style. List of contents; $4.00.
Aaron and Ahmed: Being a new 144-page Vertigo original graphic novel and I believe the comics debut of Jay Cantor, funnies-inflected prose author of 1987's Krazy Kat: A Novel in Five Panels and 2003's Great Neck, the former of which shared not a little broad cultural space with the proto-Vertigo 'mainstream' comics in its psychological, sexual and political investigation into older comics stuff, though it was obviously distinct in form and, most often, motivation in re-branding owned properties for a new consumer age. This, however, seems more in line with contemporary world issues graphic novels, concerning a doctor's post-9/11 journey into annihilation motive at the side of an accused terrorist. Art by Hooded Utilitarian columnist James Romberger, of Seven Miles a Second (with David Wojnarowicz) and the recent The Bronx Kill (with Peter Milligan); $24.99.
--
PLUS!
Reunion: The latest Drawn & Quarterly release of comics by Pascal Girard, the young Quebecois artist behind the youth-examining books Nicolas (a memoir of events following his younger brother's death) and Bigfoot (a fiction set among small town teenagers). This one forwards the focus to the precipice of 30, as a man not unlike Girard himself struggles to physically and mentally condition himself for his ten-year high school reunion. Preview; $19.95.
Rainy Day Recess: The Complete Steven's Comics: A 120-page Northwest Press compilation of the entirety of artist David Kelly's 1995-98 alternative weekly comic strip, chronicling scenes from a young gay boy's childhood in the '70s, some of it fictionalized from the artist's own experiences. Some attractive art in here. Preview; $19.99.
The Technopriests Vol. 3 (of 3): The Perfect Game: A 96-page softcover continuing Humanoids' unofficial at-least-that's-finished line of Alejandro Jodorowsky-related books. A spin-off of The Incal and sibling series to The Metabarons -- in which a space-faring messiah recounts his past in video game design and familial intrigue -- The Technopriests was among the very first Humanoids releases in English, begun in oversized album format in 1999, only one year after the material first appeared in French. North American publication practice did not remain steady with the European releases, however, so the concluding seventh & eighth volumes post-dated the DC/Humanoids alliance that saw albums 1-6 compiled into a pair of trade paperbacks; this new release should match those lattermost editions. Art by Zoran Janjetov (recently of Weapons of the Metabaron) and heavy-smooth digital colorist Fred Beltran. French samples; $18.95.
The Outlaw Prince: Being a new comics adaptation of a pre-Tarzan historical derring-do novel (The Outlaw of Torn) by Edgar Rice Burroughs, concerning a kidnapped prince's growth into a treasonous-yet-virtuous master swordsman. Notable for art by Thomas Yeates, vintage illustration and early newspaper adventure strip-informed veteran of various Burroughs comics projects (and previously the originating artist on The Saga of the Swamp Thing and a participant in several Epic and Eclipse projects). With breakdowns by Michael Wm. Kaluta and scripting by Rob Hughes. Preview; $12.99.
glamourpuss #18: In which Dave Sim presents more from the final day of newspaper adventure strip master Alex Raymond's life, along with potential Benetton Group imagery, although I'm out on a limb here; $3.00.
Archie: The Best of Dan DeCarlo Vol. 2: Another 152-page IDW hardcover collection of works by the artist in the title, spanning a good deal of the '50s through the early '70s; $24.99.
Orc Stain #6: The much-awaited return of James Stokoe's Image fantasy series, a compulsively readable blend of conversational post-underground genre shading with loud, vivid art that matches detailed Ghiblian East-West designs with propulsive action manga pacing. Good fun. Preview; $2.99.
Nonplayer #1 (of 6): Meanwhile, Image debuts another visually rich (and, from peeking around online, rather extensively hyped) color fantasy project, the longform comics debut of Nate Simpson, a gaming industry artist of many years' experience. Here he's working in a sort of golden hour anime screencap style reminiscent of the Luna brothers or Joshua Middleton, albeit with more emphasis on environmental designs. The plot sees an aimless young woman troubled by activities in her favorite online game unexpectedly impacting the rest of her existence. Probably worth a look. Preview; $2.99.
Blue Estate #1 (of 12): Another Image beginning, but way on the other end of the stylistic spectrum, in that it purports to make a virtue out of an extensive list of artists set to work on different bits of various issues. It's fronted by Viktor Kalvachev -- whom I recall from Pherone, an okay Milleresque femme fatale serial in Heavy Metal -- creator of the private-eye-caught-up-in-glitz-and-mob-violence scenario with Kosta Yanev (scripted by an Andrew Osborne, hopefully the same one who wrote the screenplay for Sgt. Kabukiman N.Y.P.D., because I'd really like to keep a '90s Troma motif going here) and a contributing artist with, among several others, Nathan Fox, of fellow HM serial Fluorescent Black. Preview; $2.99.
Madman All-New Giant-Sized Super-Ginchy Special: Here's the return of Mike Allred to his signature creation for the first time in about a year and a half, in this very busy week for Image. If your local retailer's new release rack is reinforced, it might also carry the $125.00 Madman Atomica! omnibus, a 900-page exercise in contrasts, matching the entirety of Allred's 2000-01 series The Atomics -- as sugar-spun an extended Silver Age superhero lark as I can recall from the prior decade -- with the recent 2007-09 Madman Atomic Comics series, which divisively spun Allred's focus back to the religio-philosophical concerns of his early Graphique Musique/Grafik Muzik anthologies, while his increasingly burnished art (colored, as always, by Laura Allred) took to adopting more page/issue design-oriented forms. It was often ponderous, tiring stuff, but intermittently fascinating in the manner of late Cerebus and its idiosyncratic engagement with pop cultural personal symbolism and the immensity of spiritual inquiry. Anyway, this new issue promises Madman's confrontation with "his most challenging test as one of his dearest friends is met with horrific violence." Uh, ginchy! Preview; $5.99.
iZombie #12: But Allred couldn't possibly draw every chapter of this Chris Roberson-scripted Vertigo supernatural series while working on Madman, so the present standalone issue boasts special guest artist Gilbert Hernandez. See? It pays to read all of these damn entries; $2.99.
House of Mystery #36: On the other hand, this also-supernatural, also-Vertigo series has a special guest segment every issue, so maybe you're in the habit of looking for those. This time it's Darwyn Cooke, who also has a cute story in the new latter-day Our Army at War trade paperback; $2.99.
B.P.R.D.: The Dead Remembered #1 (of 3): This isn't actually the latest in the present-day B.P.R.D. stories -- it's one of those projects honing in on the past of an ensemble member, here firestarter Liz Sherman -- but you might as well count it as issue #1 of the post-Guy Davis era. Longtime editor Scott Allie (as opposed to series regular John Arcudi) co-writes with Mike Mignola, and Karl Moline draws. Preview; $3.50.
Usagi Yojimbo #136: This, however, is right in the thick of the Whilce Portacio era for Usagi Yojimbo. Alright, no, it totally doesn't pay to read every entry. Preview; $3.50.
Vertigo Resurrected: Hellblazer: Bad Blood: Let's go back to Vertigo, alright? Yeah, let's start over. This is another one of the publisher's low-cost reprint efforts, dedicated to a brief 2000 reunion between writer Jamie Delano and the series he kicked off, albeit in an off-from-continuity Tales of the Future capacity. An elderly John Constantine grumbles his way into England's monarchy in a broader satire than usual, drawn by the ever-attractive Philip Bond; $7.99.
Slam Dunk Vol. 15 (of 31): Your notification as to another Viz edition of Takehiko Inoue's hugely appealing '90s basketball manga, pretty much the only Inoue we're gonna get for a while. I'm still working through the backlog, myself; $9.99.
Chicagoland Detective Agency Vol. 2: The Maltese Mummy: I don't know a damn thing about this kid-targeted color series from the Lerner Publishing Group's Graphic Universe imprint -- it seems to be a kids-as-detectives comedy thing with a supernatural element -- but I'm noting it for the interesting teaming of writer Trina Robbins and artist Tyler Page, the latter of whom attracted some critical attention in the prior decade for his Stylish Vittles series of relationship dramas; $6.95.
Superstar: As Seen on TV: In retrospect, superhero comics of the early '00s bore an unusual fascination with the accouterments of celebrity, no doubt following on a wider media self-fascination powered by inescapable prefabricated pop groups and the boom in reality television, but maybe also nibbling on the seeming reversal of fortune enjoyed by a revived genre suddenly seeing some echo of itself splashed lucratively across movie screens. This is one of the more obscure exhibits of the day (I haven't read it myself), Astro City writer Kurt Busiek's story of a young man whose powers amplify in correlation with his public renown, which puts him in a tricky position with his father's media empire. An 80-page IDW hardcover, with art by Stuart Immonen, who's also drawing Marvel's huge gigantic Fear Itself crossover thingy which kicks off this week. Samples; $14.99.
Fear Itself: The Home Front #1 (of 7): Speak of the devil - this is one of those miniseries-of-periphery-stories that tend to pop up with Marvel's line-wide crossovers; in that the premise of Fear Itself sees the Marvel superheroes confronting a sinister force that conjures their private terrors, there's some potential for short-form play by off-center talents. This issue promises a J. Jonah Jameson story written & drawn by Howard Chaykin, for example, and the start of a serial by writer Peter Milligan. Samples; $3.99.
Chicks in Capes: Finally, your - eh, I can't really call it a book-on-comics; it's more of a non-comics superhero project, if almost certainly tighter in genre focus than the magazine discussed up top (and hopefully more successful). Editors Lori Gentile & Karen O'Brien gather a dozen female writers for prose shorts on the super-heroine; among the participants are the aforementioned Trina Robbins and Starstruck writer Elaine Lee. Moonstone Books is the publisher; $14.99.