Welcome back to the wonderful world of art!
***
PLEASE NOTE: What follows is not a series of capsule reviews but an annotated selection of items listed by Diamond Comic Distributors for release to comic book retailers in North America on the particular Wednesday identified in the column title above. Be aware that some of these comics may be published by Fantagraphics Books, the entity which also administers the posting of this column. Not every listed item will necessarily arrive at every comic book retailer, in that some items may be delayed and ordered quantities will vary. I have in all likelihood not read any of the comics listed below, in that they are not yet released as of the writing of this column, nor will I necessarily read or purchase every item identified; THIS WEEK IN COMICS! reflects only what I find to be potentially interesting.
***
SPOTLIGHT PICKS!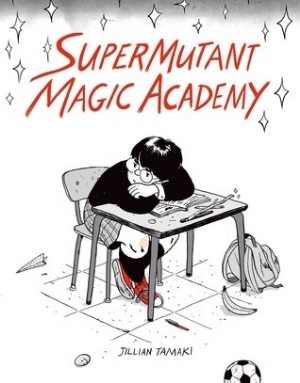 SuperMutant Magic Academy: No need for introductions here. Being a hardcover collection of webcomics that adopt the devices of popular youth fantasy and superhero fiction, only to strip sensational and fantastic elements away to isolate the emotional exchanges between confused young people sensitive to bodies and minds, this is undoubtedly *the* comic of the cultural moment in comics, from an artist who's found similar acclaim in commercial illustration, YA graphic novels and small-press adult works. Jillian Tamaki, Drawn & Quarterly, 6" x 8.5", 224 pages in b&w. Preview; $22.95.
Trash Market: A big week indeed for Drawn and Quarterly, which also boasts this 272-page collection of late '60s/early '70s work from Tadao Tsuge, culled mainly from issues of the famous Japanese comics magazine Garo. T. Tsuge is the younger brother of the art comics master Yoshiharu Tsuge, but he is not so well known as an artist - in fact, the stories here originate from one of the few times in his life he ever made a living off of art. The editor/translation is Ryan Holmberg (a Journal columnist, mind) who pairs his own writing on the artist with translated texts by Tsuge himself in a manner that will absolutely remind veteran readers of the aborted PictureBox "Masters of Alternative Manga" line from a few years back, although the bleak, hardscrabble content also recalls D&Q's odd lineup of post-gekiga books that followed the success of their Yoshihiro Tatsumi translations - Oji Suzuki's A Single Match, Susumu Katsumata's Red Snow. Be aware that this is a softcover release, however, presented in left-to-right format. Samples; $22.95.
--
PLUS!
Palookaville #22: W-- WHY ISN'T SETH IN THE SPOTLIGHT PICKS?! DO YOU HATE SETH?? No, I assure you, reader, I like Seth a lot, it's just that this latest 120-page hardcover chapbook is concerned mainly with continuing serials, and will thus be mainly of interest to continuing readers, who probably don't need special attention drawn to the series. Really, I'd suggest you gather together all three of the hardcover Palookaville issues so far and read them all together, as Seth has cultivated a tendency to allow themes and assertions from one story to wander into others, so that a regretful line spoken by an elderly barber in this edition reflects a statement made by Seth's father in an autobiographical comic from issue #21, etc. Parental figures loom heavily over the two main features here, including the finale to Book 4 of Clyde Fans (I'm guessing Book 5 will be a climactic action scene) and Part 2 of Nothing Lasts, a sketchbook childhood autobio project at (mainly) 20 panels per page. Also included is a feature on Guelph, Ontario's Crown Barber Shop, with comics and photography by Seth (and a bunch of photographs by others). Samples; $22.95.
Benjamin Bear in Brain Storms!: I love these tricky little gag comics by Philippe Coudray, who exploits a terrific economy of drawing for all manner of formalist jokes and visual puns that never fail to surprise. I know "formalist jokes and visual puns" doesn't sound all that hilarious, but Coudray's also got all the 'funny drawing' chops he needs to convey such potentially cerebral fare as visceral delight. Toon Books recommends this 6" x 9", 40-page hardcover for ages 4 and up, so try not to be 3. Samples; $12.95.
The Wild Piano: A Philémon Adventure (&) Orpheus in the Underworld (&) Lost in NYC: A Subway Adventure: Quite a lot of European stuff this week from Toon, all of them 7.75" x 10" hardcovers. The Wild Piano marks the publisher's second translation of work by the late bande dessinée master Fred, this time a 1973 album about very strange happenings on an island in the form of the letter N. It's 48 color pages. Orpheus is also a follow-up, joining Theseus and the Minotaur among the very lush mythological comics of Yvan Pommaux. It's 56 pages. Lost in NYC, meanwhile, is an original Toon work, pairing Nadja Spiegelman with Sergio García Sánchez -- a cartoonist, lecturer, and frequent Lewis Trondheim collaborator -- for a 52-page album on New York's history and public transportation, with various maps and things blended into the art; $16.95 (each).
We Dig Worms!: What? More Toon Books? I've gotta, though - this is local. When I was at MoCCA the other week I noticed that Berks County, Pennsylvania's own Kutztown University had a table resulting from a zine project run by Kevin McCloskey, an illustration teacher. Unbeknownst to me, McCloskey also had a comic placed at Toon - a 9" x 6", 32-page depiction of the life of worms. Per the Reading Eagle, McCloskey put the comic together "after his wife, Berks County librarian Patt McCloskey, complained about not having a good book about worms." Edutaining! Samples; $12.95.
Johnny Viable and His Terse Friends #1: This one's been lurking around the festival circuit since late last year, but only now is Alternative Comics handling its distribution to comic book stores. It's a 64-page Floating World Comics stapled comic book collection of works by Steve Aylett, which is to say it's a lot of pages from old Charlton comics and the like, chopped 'n screwed into new arrangements with hugely discursive dialogue added to surreal or humorous effect - more the former than the latter this time. You may recall an earlier comic in this mode, The Caterer, from 2008, or perhaps you saw some of these strips in Alan Moore's dirty hippie magazine Dodgem Logic; $7.95.
Irene Vol. 4: And here is another Alternative distribution project, a 168-page anthology from New Jersey's widely-admired Hic and Hoc Publications. The editors are Dakota McFadzean, Andy Warner & "d w", and contributors include Amy Lockhart, Emi Gennis and others. Note that this is not the newest installment of the anthology, just the first to see distribution in this manner; $15.00.
Dorohedoro Vol. 15 (&) Mobile Suit Gundam: The Origin Vol. 9: Popular continuing manga picks, the former from Q Hayashida & Viz, and the latter from Yoshikazu Yasuhiko & Vertical; $12.99 (Dorohedoro), $29.95 (Gundam).
Secret Agent X-9: By Dashiell Hammett and Alex Raymond (&) The Complete Dick Tracy Vol. 18: 1957-59: Exciting newspaper strips via IDW, the former compiling the entirety of Hammett's & Raymond's project (along with subsequent Raymond and Charles Flanders-drawn stuff) across 304 pages, and the latter exploring the compassionate universe of Chester Gould while the '60s loom like a permissive gargoyle; $49.99 (Agent), $39.99 (Tracy).
The Multiversity #2: Concluding the alternate reality-spanning mega-series from writer Grant Morrison, with Ivan Reis & Joe Prado returning to head up the art. Please focus all of your energies on Convergence henceforth; $5.99.
The Swords of Glass (&) Throne of Ice (&) The Zombies that Ate the World Vol. 3: Three here from Humanoids, bulking up the mainline genre art of the Franco-Belgian tradition. The Swords of Glass is a *ridiculously* pretty-looking 2009-14 fantasy epic-cum-doomsday prophecy series from Sylviane Corgiat & Laura Zuccheri, presented in full as a 212-page, 9.4" x 12.6" hardcover. Throne of Ice is an ancient world/mythic fantasy story, 212 pages again at 7.9" x 10.8", from writer Alain Paris and artists "Val" and "Notaro", from storyboards by Saverio Tenuta (of Legend of the Scarlet Blades). And The Zombies that Ate the World returns to Jerry Frissen's world of satirical undead infestation for a 96-page revival from 2013-14, this time with Jorge Miguel in place of Guy Davis; $39.95 (Glass), $29.95 (Ice), $19.95 (Zombies).
White Trash: Oh, is this like DK3: Master Race? No, it's actually a 128-page book collecting early '90s work from prolific 2000 AD writer Gordon Rennie and the late artist Martin Emond - a parodic road trip series originating in the very short-lived magazine Blast! and continuing with the also-short-lived Tundra UK. "Join slacker surfer dude Dean and The King, legendary gold-laméd rock'n'roller, as they take their pink Cadillac into the soft, white supremacist, Evangelical brimstone underbelly of the good ol' US of A!" So says Titan Comics. Preview; $19.99.
Darth Vader and Friends: I think I'll wrap things up on an art comics note, with the latest release from a contributor to the generation-defining Kramers Ergot 4. That's right, it's Jeffrey Brown, and yes, this is the newest of his Star Wars children's hardcovers, an absolute monster of a line for Chronicle Books. Who will be the next MOME contributor to master the Jedi arts? I mean, Jim Woodring's already worked with Jabba the Hutt... $14.95.