Every day I am stunned by how much I do not know. To your left you see an item from 2007, which I found in a remaindered book retailer on sale for five bucks - Carnival: The World of Katsu-Aki, which appears to be a direct English translation of a 2005 Japanese short comics collection/artbook/self-indulgence extravaganza from Graphic-sha, which foisted a wide variety of How to Draw Manga books onto the scene during the bubble period of the '00s. From what I can gather, this was their only attempt at translating actual comics by a Japanese mangaka.
Katsu-Aki (born Katsuaki Nakamura) is doubtlessly best known as the creator of the long-running seinen series Futari Ecchi, aka "Futari H", of which Tokyopop released four collections under the title Manga Sutra - in case you couldn't tell from the joke, Futari Ecchi is something of a how-to manual, premised on an inexperienced young married couple learning the ways of love from various knowledgeable friends. Its mixture of lewdness, education, whimsy -- Katsu-Aki is still the type to draw an erect penis as a peeled banana -- and normative marital values has kept it running since 1997, with all the expected spinoffs and anime OVAs and merchandise, most of it featuring the series' demure-yet-game-for-anything heroine Yūra. There's hug pillows, telephone cards, statues... a lawn chair. Carnival presents a nice spread of official items, in addition to a generous sampling of Katsu-Aki's standalone and occasionally befuddling cheesecake art.
Maybe I'm not the worldliest guy in the room, but this mostly reminds me of those drawings Gary Panter used to put together from three random words you'd send him on a postcard. (BEDTIME! MILITARY! KINK.COM!) The artist's short comics don't fare much better, all of them dating from the first half of the '00s - one is a barely-comprehensible allegory about girls in colorful leotards embodying star systems, one is a metaphor about a salaryman whose neglect of his wife becomes actualized as an inability to perceive bodies in motion, and one is a brutally sentimental account of a pre-med washout who embarks on a whirlwind romance with a very aggressive young woman, only to discover that she's his sweetheart from the future come back to impart a warning never to fall in love with her because she'll die of a mystery disease, which merely spurs him on to go back to school and discover a cure for her, someday, like a Nicholas Sparks novel re-imagined as a shōnen manga.
Still, the accrual of these odd tangents does build some interest, especially when paired with the most valuable material in Carnival: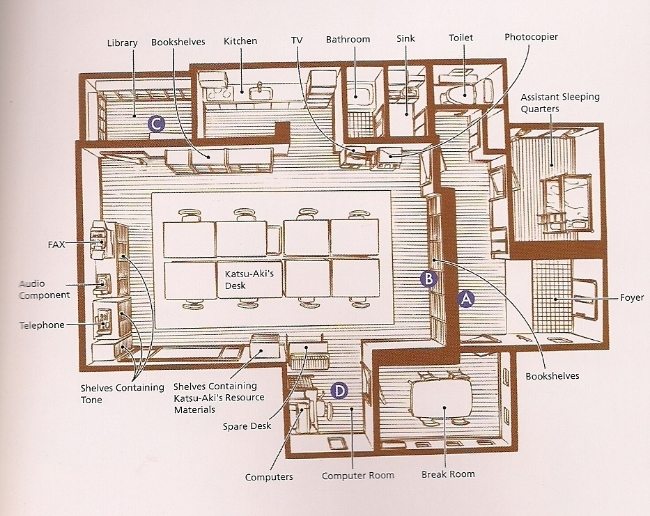 This is a diagram of Katsu-Aki's studio, practically worthy of an essay all its own. Note the bunk beds in the Assistant Sleeping Quarters; that's for all-nighters, or even if Katsu-sensei needs to put up a particularly green studio helper for a little while. One of Katsu-Aki's old assistants is Mine Yoshizaki, creator of the popular shōnen comedy Sgt. Frog; there's an interview with the two of them toward the back of Carnival, rich with casual detail as to the life of a mid-list manga artist. Yoshizaki was still working a day job while drawing his first manga, and taking up as an assistant forced him to move from his company dormitory, so Katsu-Aki had to take up an almost a pseudo-guardian role, setting up a phone line for the young man and getting him situated. At this time, the older artist had transitioned from the shōjo manga of his '80s debut (he notes that editors were occasionally reluctant to publish work by male artists) into shōnen fantasy/battle stuff; he mentions taking on an enormous amount of work, 'B-grade' stuff in order to afford amenities like an air conditioner, and also to compensate for self-described weaknesses as a draftsman. This is no genius - Katsu-Aki is a jobbing craftsman, a jack-of-all-trades whose eventual stardom-of-a-sort with Futari Ecchi seved as a less a realization of long-cherished artistic desires than finally happening upon something that really worked, that people really liked.
"I guess it's not like I have money problems," the artist confides to Yoshizaki. These days, when he feels burnt out, he thinks of his staff, his assistants - the people who depend on him for their income, and, like a corporate buchō, he carries on. Unlike some manga artists, Katsu-Aki owns a motor vehicle. Sometimes, to relieve stress, he goes for drives to restaurants, often dragging along whomever in his studio is free to go. Yoshizaki prefers fucking off on three-hour walks sometimes, but he remembers these little trips. His sensei didn't do much of anything other than work, so his car would get dirty, and Yoshizaki would write him messages in the grime. "You pick cars that your assistants can fit in easily, don't you?" he asks. "You hit the nail on the head," Katsu-Aki replies. "The van I drive now seats seven."
***
PLEASE NOTE: What follows is not a series of capsule reviews but an annotated selection of items listed by Diamond Comic Distributors for release to comic book retailers in North America on the particular Wednesday identified in the column title above. Be aware that some of these comics may be published by Fantagraphics Books, the entity which also administers the posting of this column. Not every listed item will necessarily arrive at every comic book retailer, in that some items may be delayed and ordered quantities will vary. I have in all likelihood not read any of the comics listed below, in that they are not yet released as of the writing of this column, nor will I necessarily read or purchase every item identified; THIS WEEK IN COMICS! reflects only what I find to be potentially interesting.
***
SPOTLIGHT PICKS!
Haunter: Okay, let's find out how easily I can screw this up. Unless I am mistaken, this is the 6" x 9" Study Group print edition of a popular webcomic by Sam Alden, distributed to comic book stores via Diamond for the first time via Alternative Comics. (I've been a contributor to Study Group Magazine, mind.) As such, be prepared for 96 color ink-washed pages of frantic struggle and languorous injury from an artist who seems utterly assured at seemingly any visual technique he adopts; $15.00.
The Realist: More strips! Being 192 pages of autobiographical comics from the very-respected illustrator Asaf Hanuka, with origins in an Israeli newspaper and a considerable presence online. Expect Tel Aviv domestic comedy and all the stuff of daily life. An Archaia hardcover, which is to say it arrives courtesy of BOOM! Preview; $24.99.
--
PLUS!
The Thrilling Adventures of Lovelace & Babbage: It's not too often you get a new release from Pantheon -- still *the* name in mainline bookstore graphic novels that commands the widest respect -- so many eyes will be on this 320-page release from UK-based fx artist and animator Sydney Padua, pivoting from webcomics on the idea of 19th century computer programming as rollicking alternate-historical comedy. Various notes, diagrams and other edifying devices are promised; $28.95.
Room for Love: New from SelfMadeHero, this is a 144-page color graphic novel by Ed "ILYA" Hillyer, an artist for Deadline, Crisis and Eddie Campbell's Bacchus, most recently seen in stores as editor of The Mammoth Book of Cult Comics. It's about a middle-aged novelist and her relationship with a teen runaway. Distributed in North America by Abrams. Samples; $22.95.
Captain Ken Vol. 1 (of 2): One of seemingly innumerable Osamu Tezuka comics funded by DMP through Kickstarter, this is a 1960-61 space western on the theme of frontier exploitation of indigenous peoples. To be honest, I'm more interested in some of the digital-only Tezuka releases from DMP - they've got the 1984 revised version of Tezuka's & Shichima Sakai's New Treasure Island up now, for all you fans of remakes/classics/remakes-mistook-for-classics; $13.95.
Scott Pilgrim Color Edition Vol. 6: Scott Pilgrim's Finest Hour: Not a remake, but a Nathan Fairbairn colorization of Bryan Lee O'Malley's original 2004-10 series, now reaching its own conclusion in the form of a 280-page Oni hardcover, with various bonus supplements; $24.99.
Vagabond Vol. 37: But if it's newer stuff you're after, Takehiko Inoue and VIZ will do you right with more swordsman drama, bringing the English editions completely up to date with the Japanese; $9.95.
Harold Gray's Little Orphan Annie Vol. 11: 1943-1945: Plenty more from the years of war, as the title waif faces down the apparent death of Daddy Warbucks. "Harold Gray paints a dark vision of stateside America when Annie's most loyal friends turn out to be a boarding house full of thieves, forgers, and mindreaders," per IDW. It's 288 pages; $49.99.
Uncle Scrooge #1: Meanwhile, Disney characters continue to see new comic books published. This is the first in a whole line of IDW series for familiar characters (Mickey Mouse is next, with Walt Disney's Comics and Stories to follow, albeit from issue #721), with work from the late Romano Scarpa featured among its 48 pages. Samples; $3.99.
Best of EC - Artist's Edition Vol. 2 (&) Frank Thorne's Red Sonja Art Edition Vol. 3: A pair of enormous packages spotlighting original art as reproduced in color. Best of EC is from IDW, which popularized the style, presenting 15" x 22" works from Harvey Kurtzman, Al Williamson, Bernie Krigstein and others across 176 pages. Red Sonja is from Dynamite, collecting issues #7-11 of the original Marvel series; $125.00 (EC), $150.00 (Sonja).
Harvey Kurtzman: The Man Who Created MAD and Revolutionized Humor in America: Finally, your book-on-comics of the week - a 644-page Bill Schelly biography of the humor comics master, with a special focus on the development of a certain popular magazine that still runs today. Excerpt; $34.99.