Smokin' hot action, Osamu Tezuka style. Maybe not the most realistic set of positions, granted, but know that this is a dream sequence, preceded immediately by a princess falling asleep at the hooves of a unicorn, only to find herself surrounded by fairies. And anyway, Tezuka always was a fan of the Takarazuka Revue; see the canopy spotlights falling upon the lovers in that third image, their balletic encounter culminating in a most theatrically melodramatic parting! I am spent already, reader, so let's cross the streams here a little...
***
PLEASE NOTE: What follows is not a series of capsule reviews but an annotated selection of items listed by Diamond Comic Distributors for release to comic book retailers in North America on the particular Wednesday, or, in the event of a holiday or occurrence necessitating the close of UPS in a manner that would impact deliveries, Thursday, identified in the column title above. Not every listed item will necessarily arrive at every comic book retailer, in that some items may be delayed and ordered quantities will vary. I have in all likelihood not read any of the comics listed below, in that they are not yet released as of the writing of this column, nor will I necessarily read or purchase every item identified; THIS WEEK IN COMICS! reflects only what I find to be potentially interesting.
***
SPOTLIGHT PICKS!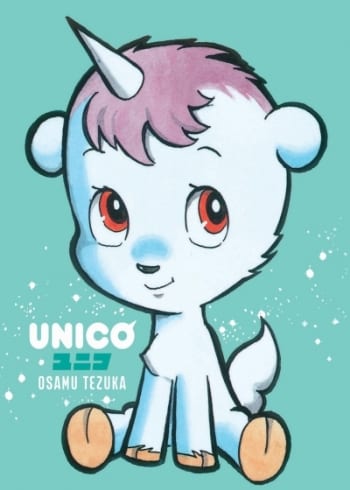 Unico: Will the Tezuka well ever run dry? Not today, gentle consumer, for there remains a 1976-79 serial about a puffy little unicorn to flood our veins with inspiration. Unico is actually pretty interesting, though, as it sees Tezuka reprising his Princess Knight shojo style, entirely in color, for a publisher that was very interested in developing characters for multimedia exploitation: Sanrio, which had formulated the Hello Kitty design for mass-branding purposes a few years prior. A certain amount of super-cuteness is thus to be expected, although it's worth noting that Sanrio could get genuinely outré in its creative efforts - at the same time Unico was being serialized, anime director Masami Hata released the absolutely notorious Ringing Bell, a kiddie movie allegory for Japanese youth nihilism in which a wee lamb becomes emotionally attached to the wolf that slaughtered his mother, thus alienating him forever from societal norms. A few years later, Sanrio co-produced one of the highlights of '80s mecha anime - the theatrical motion picture Ideon: Be Invoked, in which Gundam creator Yoshiyuki Tomino annihilates basically everything from the Ideon franchise's cast to basic narrative expectations.
Tezuka doesn't get quite so intense; Unico merely finds himself banished from the world of the gods to a series of pastiches from fairy story and mythological history (to say nothing of dicey representations of foreign cultures), forbidden from ever forming real and lasting friendships yet always remaining fundamentally compassionate, drawing vast powers from loving and being loved. The pony-addled kids of today might love it, provided they're cool with being sad. Characters seem liable to burst into tears at any moment; any hint of genuine happiness is offset by the understanding that the title critter can never know the satisfaction of cheering memories, or even take comfort in knowing he's contributed anything of lasting worth to anyone. Truly this is a workaholic's fantasy for girls, an itinerant storyteller's reflection spiked with the anxieties of age; an artist wondering aloud if any of this heartfelt shit he's been slinging was really worth a single blessed goddamn. Even Tezuka's visual pace seems to have been slowed by his focus on color compositions, the almost pastel-like delicacy of which add an extra twinge of melancholy to even as fabulous an occurrence as a pixie party:
You may have caught on to another curious property of this book: on almost any given page, the art seems to bleed out under the panel borders, as if it had been shot at more generous dimensions than its initial presentation, perhaps, had allowed. Yet my understanding is that even the initial
serialization displayed this affectation. I wonder if Tezuka, well aware that Sanrio was already pressing a Unico anime pilot into production as the comic was being drawn -- and holy smokes, the ending to that video is devastating -- sought to 'frame' his manga as a sort of film projection, like how '60s kids' comics artists would sometimes round off their panel borders to suggest the frame of a television? Regardless, Unico remains steadfastly traditional in its mono no aware, at least, suggesting nothing so much as cherry blossoms falling from its depressive accumulation of triumphant emotional letdowns for the protagonist.
It's easy to get burnt out on Tezuka. So much material is available from just one man who's dominated so much of the English expended on manga history... so many worthwhile artists remain walled off from the monoglot. Yet it's books like this that remind you of how fascinatingly personal Tezuka could get with his now-familiar influences, his hard-won popular chops - I can't imagine anyone else in the world making this comic. Note that there was a second series which ran from 1980 to 1984, consisting of much shorter stories; this edition only collects the original '70s stuff, which, in case you were wondering, was originally composed in the Western left-to-right reading order. Many are the fascinations of Unico! From Digital Manga Publishing, 392 pages funded via Kickstarter; $34.95.
Valerian Vol. 1: The City Of Shifting Waters: And then, from another world of translation, is Cinebook. Unless I'm mistaken, this new translation effort for artist Jean-Claude Mézières and writer Pierre Christin dates back to 2010, though it's only seen four albums released overall, and it's only showing up in North American comic book stores now. Still, any excuse is a good one for Valerian, one of the big pre-Métal Hurlant humorous/allegorical sci-fi strips (and an eventual influence on films like The Fifth Element); this particular material hails from 1970, being the first stuff of the series to see album collection out of the pages of Pilote. I don't believe it's ever been translated to English before. An 8 1/2" x 11 1/4" softcover, 48 pages in color. Samples; $11.95.
--
PLUS!
Relish: My Life in the Kitchen: You saw Lucy Knisley's comics on this site last week, and now here is her new book from First Second, a 192-page color account of "key episodes in her life thus far, framed by what she was eating at the time and lessons learned about food, cooking, and life," per the publisher. Also: recipes. Preview; $17.99.
Will Eisner's The Spirit: Artist's Edition: Lots of reprints this week... lots of reprints every week, really, but any week's reprints would be highlighted by this latest IDW original-art-printed-in-color showcase, a 15" x 22", 144-page compilation of 17 stories from Will Eisner and company, all of them composed between 1946 and 1950. Fun, no doubt, if you can afford it; $125.00.
Judge Dredd: The Complete Carlos Ezquerra Vol. 1: Also from IDW -- not really that much less deluxe but way easier on the pocket -- is this second vintage Judge Dredd hardcover, approximately one million volumes of which will be necessary to compile the complete contributions of the character's co-creator to the Mega-City mythos, though 248 pages is an okay start. To be honest, I'm not even sure of what's in here, although from stray references to "early" work in the pre-release hype I'll presume they're going chronologically, which *might* mean the entirety of The Apocalypse War is tucked away in here. That'd be a pretty good incentive, if true, since these oversized books are nicely produced, and the content would tie in with Rebellion's own recent collection of the newer Day of Chaos storyline; $49.99.
Bringing Up Father Vol. 2: Of Cabbages and Kings: Yet more from IDW, here via the publisher's Library of American Comics line, which has recently taken to exploring specific storylines out of strips that probably don't warrant an exhaustive collection. People seemed to like that Gumps book the other week. Anyway, this 272-page slab of George McManus collects a 1937-38 sequence in which Maggie & Jiggs try to attend the coronation of King George VI, only to encounter troubles sufficient enough to power a daily newspaper comic strip; $49.99.
Steve Canyon Vol. 3: 1951-1952: AND ALSO FROM THE SAME PUBLISHER is 336 pages of Milton Caniff, who would continue these aeronautic adventures for decades to come; $49.99.
PS Artbooks Showcase 2013: I've heard mixed things about the UK-based PS Artbooks' suddenly enormous line of pre-Code comics reprints, but I imagine it'll be fun to come across this low-cost, 180-page paperback sampler (should your shop be fortunate enough to obtain one of the 2000 copies in existence), including bits and pieces of various Harvey and American Comics Group series, with little jumps into Fox (Phantom Lady) and Fawcett (Captain Video) series, and even some excerpts from the publisher's Frank Hampson biography; $7.99.
Tiger & Bunny Vol. 1: Incidentally, the other studio that produced Ideon: Be Invoked, was the venerable Sunrise, which is still in the anime game, having just produced the popular Tiger & Bunny 'superhero' buddy anime back in 2011. This is a Viz release of the official tie-in manga, which is notable here for art by Mizuki Sakakibara, who was actually a semi-prolific Exiles and Fantastic Four family artist at Marvel during the Bill Jemas administration, around that brief, weird period where Kia Asamiya and Tsutomu Nihei were doing American mutant comics too. Man, did he put that shit on his CV and flip it into a high-profile 'superhero' gig back in Japan? Good thinking; $9.99.
Jennifer Blood #25: Note that writer Al Ewing has now concluded his run on this Garth Ennis-created, Dynamite-published suburban mom/vigilante series, complete with the sort of cliffhanger finale that might as well function as a veeeery downbeat ending if you're into excerpting these comics as discreet works along creative teams (that was #23; #24 was a coda set in the past). Nonetheless, the series still marches forward, now with another Judge Dredd veteran at the keyboard: Michael Carroll, who just the other week (2000 AD #1825) put together a very nice extended action scene for Inaki Miranda to draw... nice enough that you suddenly remember that Dredd tends to lack a bit in big showoff action scenes. Regardless, here is an American comic written by him. Preview; $3.99.
The Secret Service #6 (of 6): Concluding writer Mark Millar's fable of a poor boy lifting himself upward to worth with the aid of some very special government assistance, created in collaboration with artist Dave Gibbons, and showcasing (for me) the always-welcome coloring of beloved Heavy Metal contributor Angus McKie. A big hand, everyone! Preview; $4.99.
Sex #2: I really liked the first issue of this Joe Casey/Piotr Kowalski Image series, sort of a revitalization of the early '00s progressive superhero wave, the kind of genre comic where nobody appears in costume and much space is expended exploring metaphoric potentials, specifically here a continuation of Casey's Wildcats 3.0 superhero-as-corporation focus, with a big dollop of erotic longing on top. Also, I think the lettering employs a Moebius font...?? Looking forward to seeing what happens; $2.99.
Plugged In! Comic Professionals Working in the Video Game Industry: Finally, an index to every indie cartoonist working in Twine! Oh wait, no, I think this TwoMorrows production -- your book-on-comics for the week -- is more focused on what we'd call mainline gaming, with author Keith Veronese chatting with the likes of Jimmy Palmiotti, Chris Bachalo and Zander Cannon. Maybe a little history of comics-and-gaming. George Pérez? Swordquest? I am over the age of 30. Note that the publisher's digital edition will apparently offer bonus content, including interviews with Tony Bedard and Liam Sharp; $16.95.
--
CONFLICT OF INTEREST RESERVOIR: A double-dose of EC stuff from Fantagraphics, in form of the 264-page 50 Girls 50 and Other Stories and the 224-page 'Tain't the Meat... It's the Humanity! and Other Stories, collecting works by (respectively) Al Williamson and Jack Davis; $28.99 (each). Also, be on the lookout for Blutch's So Long Silver Screen from PictureBox... it's not on Diamond's list, but it could turn up.