It may be rare to see Duke Togo smile, as witnessed on your left, but he is a man who likes to keep secrets. For example, you might have heard about a month ago that Takao Saitō was planning to soon conclude Golgo 13, the super-assassin series that Saitō Production has been manufacturing since 1968. This will bring to a close one of the final living connections to the early gekiga generation of Japanese comics – as so excellently outlined by Ryan Holmberg in 2011, Saitō Production sprung out of the Gekiga Studio in which Saitō participated with the likes of Yoshihiro Tatsumi and Masahiko Matsumoto, refining the collegiality of young men working together into a factory comics system reminiscent of ascendant Japanese corporations. Indeed, Golgo 13 was created to help launch a new magazine, Big Comic, which publishing giant Shōgakukan launched in the wake of its failure to buy the famous 'alternative' manga magazine Garo, which had launched in '64; no more adroit a metaphor for personal passion transitioning into big business needs be fashioned.
Now it's 2015, and Big Comic is still around, and it was a single small notification scanned from a recent issue which fed this February's flurry of news posts as to Duke's imminent retirement from shooting people in the head. Try as I might, I haven't managed to find any additional information on the Big Comic website or anywhere else on the internet, although I do think it makes sense. If you check the link just above, you'll find Saitō claiming that he wants Golgo 13 to make it to 200 collected volumes. There's multiple reprint programs out there right now for this most-marketable character, but the 'main' reprint series is presently up to vol. 175. It may seem, then, that we still have a ways to go, until you realize that vol. 175 is only covering stories from 2007 & 2008. I don't own enough of these books to know for sure if the chronology is seriously jumping around -- there is no 'hard' continuity to Golgo 13; like Batman, Duke is eternally a 30-ish guy somehow interacting with whatever happens to be the present day, and stories can thus be reprinted in whatever order Saitō Pro wants -- but if we're actually up to date (and, for what it's worth, the J-Wiki episode database suggests we are), then the main line still has six years to collect. Big Comic comes out every other week, and there's usually about 36 pages of Golgo 13 per issue, so 936 pages per year divided into 264-page collections produces about three and one half collections per year. Given the remainder of 2008, I think that does effectively mark late 2015 as the moment where vol. 200 would fall, and thus the implied end point for the series.
It'll probably be good for the 78-year old Saitō to begin withdrawing into management of reprint programs; his name still appears on Golgo 13 and some period serials for the Comic Ran family of samurai magazines published by LEED, a company which broke out from Saitō Pro itself, but it's pretty widely acknowledged that he only supervises storylines and occasionally draws character faces. Even in the beginning, Golgo 13 observed sharp divisions of labor, although it was not always the endearingly stodgy, talking head-laden pap-pap comic it is today.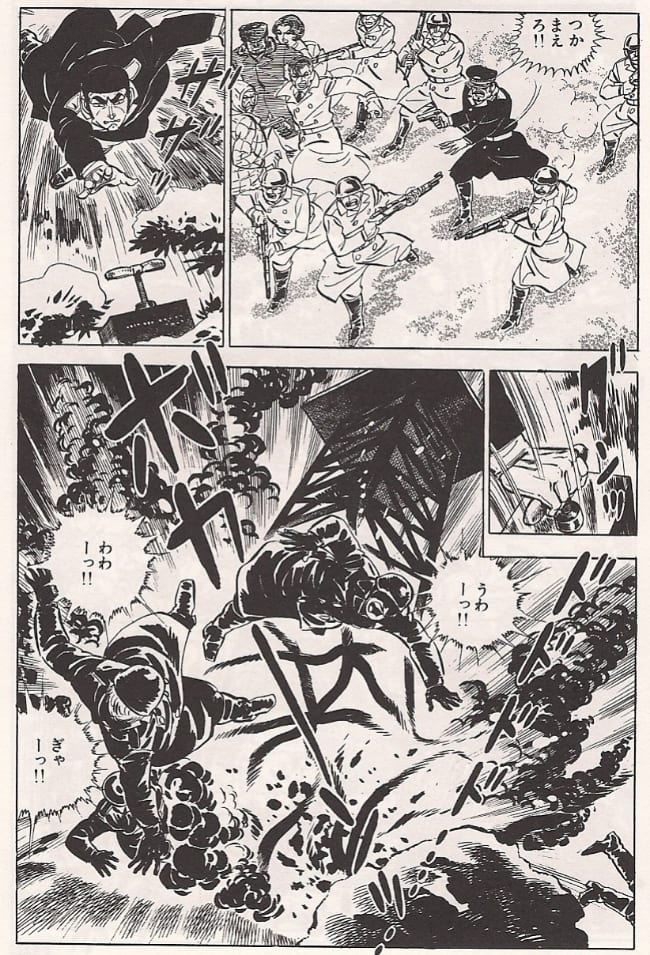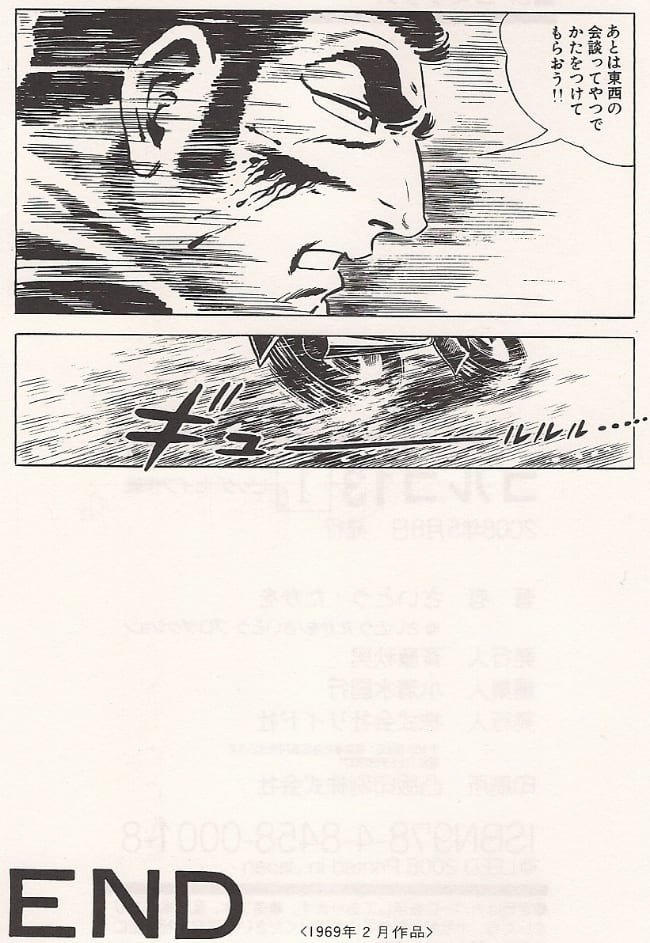 This (and the smirk up top) is from 1969, and whatever comics the rest of the world was reading back then, I doubt they were as cacophonous as these. But then, per this fan translation of endnotes by Shōgakukan editor Masatake Sugimori, there were many hands on the page. The 32-year old Kazuo Koike -- later of Lone Wolf and Cub, among a million other projects -- had begun working at Saitō Pro as a dedicated scriptwriter the year prior, and it was him and Saitō that devised the plot. Saitō then created pencil breakdowns, which were then turned into firm page layouts by Saburō Takemoto. The breakdowns were then divided among Takemoto, Fumiyasu Ishikawa & Mikijirō Kōra, who managed page creation in teams among their subordinates: Takeshi Kanda, Hiromi Yamazaki, Yuji Otake, Yoko Mimura, Seisaku Tamura, Makiko Nakatsu & Fuji Yamashiro, with Saitō also pitching in. That's a dozen people working on one story, although chances are they were actually working in waves on various Saitō Pro series at different times, with oncoming deadlines no doubt timed out in careful detail.
As the years went by, Saitō Pro seems to have become less a vision of the future than a curious institution, noted for keeping the young and the old on salary at different times: the Japanese Golgo 13 Wikipedia page claims that both Saitō's old gekiga crony Masahiko Matsumoto and future Dragon Quest creator Yūji Horii (the latter hired presumably on the strength of his 1983 mystery adventure game The Portopia Serial Murder Case, or possibly his attendance at Kazuo Koike's Gekiga Sonjuku class for comics scenarios earlier in the decade) were writing Golgo 13 scripts in the '80s. This is not a character indivisible from its creator, although it's interesting that Saitō nonetheless plans to have the character retire along with him. I'd think Duke more a Spirou, or an Asterix, or now I guess a Corto Maltese - his battles continuing past those of his creator. I wouldn't discount a "Legends of Golgo 13" in the future.
***
PLEASE NOTE: What follows is not a series of capsule reviews but an annotated selection of items listed by Diamond Comic Distributors for release to comic book retailers in North America on the particular Wednesday identified in the column title above. Be aware that some of these comics may be published by Fantagraphics Books, the entity which also administers the posting of this column. Not every listed item will necessarily arrive at every comic book retailer, in that some items may be delayed and ordered quantities will vary. I have in all likelihood not read any of the comics listed below, in that they are not yet released as of the writing of this column, nor will I necessarily read or purchase every item identified; THIS WEEK IN COMICS! reflects only what I find to be potentially interesting.
***
SPOTLIGHT PICKS!
Inner City Romance: Collecting comics released from 1972 to 1978, plus paintings and other images, this 200-page Fantagraphics softcover intends to showcase the work of Guy Colwell, a late-underground cartoonist whose personal experiences with imprisonment and city life informed the society and politics of his work. Several texts by Patrick Rosenkranz offer context and comments with the artist's participation. Preview; $24.99.
The Shaolin Cowboy: Shemp Buffet: Falling somewhere between an OuBaPo exercise and severe trolling, this 144-page Dark Horse hardcover collects the most recent run of comics from Geof Darrow's Bourbon Thret/Shaolin Cowboy decadent action concept, a 2013-14 miniseries which consisted primarily of uniform ultra-wide fixed-perspective panels depicting the titular Cowboy employing twin chainsaws against a horde of zombies. Months would go by where you'd visit the comics store, flip through the latest issue, and yep: more zombies. Just more and more and more and more. "Have I read this issue?" I dunno, *could* you read the same issue and find a different experience, given Darrow's maniacal detailing? Maybe the true plot of this comic is inside our hearts, but know that in lieu of extensive dialogue, Darrow also includes an extremely lengthy, pun-laden Our Story So Far intro which not only summarizes all prior issues of The Shaolin Cowboy, but also potentially every issue Darrow has ever intended to draw at any point in his life. Preview; $19.99.
--
PLUS!
The Other Side of the Wall: Being the 112-page debut graphic novel of German artist Simon Schwartz, a 2009 work now available in English from Lerner as a 7" x 9" paperback. The story is a biographical account of the artist's parents as they attempt to move out of East Germany in the early '80s, a process that took several years and brought them much unfriendly attention; $9.99.
Miracleman #16 (&) Crossed +100 #3: Say, did you know that stuff written by Alan Moore accounted for over $2.3 million in bookstore comics sales last year? Most of that looks to have come from a small set of '80s perennials -- Batman: The Killing Joke, Watchmen and V for Vendetta -- so you can understand Marvel's excitement in picking up Miracleman, even though public enthusiasm for this particular work hasn't yet matched the heights of elsewhere. Maybe once a big fat Omnibus is out? It can't be long now, since this is the final Moore-written issue, drawn by John Totleben and (newly) colored by Steve Oliff. The Neil Gaiman/Mark Buckingham run will follow. Meanwhile, Avatar has Moore's present series, a future society zombie-ish thing drawn by Gabriel Andrade; $5.99 (Miracleman), $3.99 (Crossed).
Guardians Team-Up #1 (&) Winter World #0: Two longstanding adventure comics franchises notable for the presence of veteran artists. Guardians Team-Up is a Marvel comic putting together the Avengers and the Guardians of the Galaxy, two big movie franchises, under the eye of Arthur Adams. Brian Michael Bendis writes. Winter World was created by Chuck Dixon and the late Jorge Zaffino at Eclipse in the '80s; it's now with IDW, and here Tommy Lee Edwards joins Dixon for a new story. Guardians preview, Winterworld preview; $3.99 (each).
Supreme: Blue Rose #7 (of 7) (&) Blackcross #1: And since I'm in the mood for pairs, here are two work-for-hire projects from writer Warren Ellis, who continues to pursue creator-owned works but has picked up some keen attention for Supreme: Blue Rose, a striking dive into superhero fiction with Alan Moore in its background (and Rob Liefeld at its start), as drawn by Tula Lotay. This is the final issue, at Image. Blackcross is a new ghostly comic with artist Colton Worley, set in Dynamite's world of public domain Golden Age superheroes. Blackcross preview; $2.99 (Supreme), $3.99 (Blackcross).
Comics and Narration (&) Chester Brown: Conversations (&) Comics and Language: Reimagining Critical Discourse on the Form (&) Drawing from Life: Memory and Subjectivity in Comic Art: And finally, a suite of softcover reissues from the University Press of Mississippi, now at more consumer-minded prices. Comics and Narration is maybe the jewel here, as it comes from Thierry Groensteen of The System of Comics, continuing his investigations into the form. Conversations is a 256-page batch of chats with the Canadian alt comics icon, gathered by Dominick Grace & Eric Hoffman. Comics and Language is a 240-page study by British academic Hannah Miodrag, arguing "against the critical tendency to flatten the distinctions between language and images and to discuss literature purely in terms of story content." And Drawing from Life is a 272-page collection of essays on autobiographical comics and related subjects, edited by Jane Tolmie; $30.00 (each).