Oh, the song of the nerd! Above we see the mangaka Moyoco Anno paying homage to the creator of Salaryman Kintarō by way of a portrait of her husband, the animator and filmmaker Hideaki Anno - and this is hardly the thickest layer of artifice to be encountered in her latest English-language book release through Vertical, Insufficient Direction. We've been seeing quite a lot of M. Anno lately -- the digital media portal Crunchyroll recently made three Anno projects available to its subscribers -- but this one is unique in that it's ostensibly an autobiographical comic, serialized from 2002 to 2004 in the josei magazine Feel Young, and premised on her domestic life with H. Anno, whom she married in '02. Indeed, domesticity is of paramount concern to this book; literally the first words spoken by M. Anno's stand-in character, "Rompers," is a reference to the incredibly long-lived manga/anime franchise Sazae-san, created by one of the most prominent women cartoonists in Japanese history, Machiko Hasegawa, and the title character of which also courts and marries a man, amidst much bustle.
But M. Anno is not simply positioning herself as a player in a tradition: she is also gesturing toward the unreality of her approach to autobio. Of course, it is not uncommon for a mangaka writing about their own life to select a fictional name; Yoshihiro Tatsumi did as much in A Drifting Life, as if to draw a thin curtain across the subjectivity of memory. Anno, however, is self-evidently transforming her life into COMICS: uniform six-page anecdotes fascinated with her goofball husband, "Director-kun," the Dagwood to her Blondie, always building up to zany gag-laden climaxes. I am not a reader of Feel Young, but I have enough experience with manga magazines to suppose that these little stories served as apéritifs of a sort, relaxing the reader with small amusements drawn from the lives of popular celebrities: and H. Anno, the director of enduring mega-franchise Neon Genesis Evangelion, the voice artist star of the $130 million-grossing The Wind Rises, is maybe the last of the great generation of otaku to command a measure of national fascination.
This is not the Harvey Pekar tradition of American alternative comics, and I doubt it will appeal to those who value autobiographical comics primarily for their arrangements of unvarnished life. On the contrary, this is an extremely varnished life; H. Anno, in an afterword of sorts, advises that M. Anno would rearrange events to make them funnier, even allowing her husband to check the finished pages and suggest additional jokes and references. Indeed, the book's English-exclusive annotations run a spectacular 30 pages, so dense are these vignettes with geek speak, at times venturing into Poto and Cabengo territory as H. Anno is depicted communicating in verbalized manga sound effects, apart from whole passages consisting of seemingly nothing but quotes and allusions to/from beloved anime and tokusatsu shows.
The result is a sprightly-yet-faintly-intimidating book, uncomplicated and fast-reading, and totally obsessed with nerd miscellany as a means of communication. Believe it or not, this too is traditional. Certainly it helps to remember that H. Anno, a founder of the anime studio Gainax, was once a participant in an intellectual provocation; the formation of the "otaku" as a countervailing social order in the 1980s struck directly to the heart of the compartmentalization of roles and desires in Japanese society. Expelled from the rigid hierarchies that assured 'success,' otaku focused on the accrual of unimportant knowledge as a means of constructing their own alternative world, one in which they could understand friendship and accomplishment. Likewise, the 'great' Gainax productions, such as the 1987 film Royal Space Force, carried with them detailed social theory; their aim was to close the gap between the media-saturated reality understood by the youth of Japan and the depictions of fantastical 'reality' delivered in entertainment, as a means of inspiring withdrawn viewers to not so much reject 'proper' reality as bunk and live inside commercial media fantasies, but to interface in an active and thoughtful way with the world around them.
H. Anno references this ideal in his afterword to the book; he derides his own Evangelion as a failure, insofar as it merely encouraged viewers to continue embracing fantasies. "My wife's manga," however, "leaves a bit of energy to readers as they return to the real world. Instead of making you want to dwell in yourself, her manga makes you want to go outside and so something, it emboldens you. It's a manga for tackling reality and living among others." Later, he writes of the self-loathing he experienced as an aging nerd, witnessing the "stagnation" of anime in the late '90s, and how his relationship with Moyoco Anno both augmented and rejuvenated his otaku life with non-otaku interests.
This rejuvenation is the heart of Insufficient Direction: ferocious immersion in miscellany as not an excluding force, but the ties that bind lovers tight.

Still, what of the author? Some readers, I suspect, may get the impression that M. Anno is diminished in her own book; she doesn't even get an 'about the author' blurb, while H. Anno enjoys an extensive biographical profile! Moreover, *I* get the impression that certain expectations have built up the idea of josei manga as a grittier and realer thing than the average comic aimed at women, though to be "josei" today, a comic needn't be anything more than aimed at adult women: hardly a uniform body.
And so, not only does M. Anno place her husband at the very center of her work, she gleefully characterizes herself in often-submissive terms: the otaku protégé to her lover/master. "Will I be a good 'wife of an otaku'?" she frets, drawing herself (as she is wont to do in omake sections of her other comics) as a baby in footie pajamas and a bib. H. Anno is the brunt of many jokes, but he usually 'wins' in the end, getting the best of his neurotic, grasping infant bride, in reality about a decade his junior. They are never shown having sex, nor sharing really any physical intimacy beyond occupying the same bed.
Their intimacy, instead, comes from the saliva swapped in their joined mastication of dorky things. Rompers fancies herself a Sazae-san, but it is soon very clear that she has denied her true desire to throw off the shackles of expectation and become an otaku. If Director-kun will not bathe, she too will not bathe. If he's going to smother himself in manga, there's a complete set of Osamu Tezuka out there to read. Do not mistake this for a submission of the self; instead, Anno allows her husband to override her own ingrown suspicions of how she is 'supposed' to behave as a person, and thus her education at his hand coaxes a deeper knowledge of herself. It is the exact opposite of what H. Anno describes at the end of the book, though the final result is the same: two people screaming anime theme songs together in their car, the sound of their voices closed away from the world around them, though you can observe their ecstatics if you know to peer inside.
***
PLEASE NOTE: What follows is not a series of capsule reviews but an annotated selection of items listed by Diamond Comic Distributors for release to comic book retailers in North America on the particular Wednesday identified in the column title above. Be aware that some of these comics may be published by Fantagraphics Books, the entity which also administers the posting of this column. Not every listed item will necessarily arrive at every comic book retailer, in that some items may be delayed and ordered quantities will vary. I have in all likelihood not read any of the comics listed below, in that they are not yet released as of the writing of this column, nor will I necessarily read or purchase every item identified; THIS WEEK IN COMICS! reflects only what I find to be potentially interesting.
***
SPOTLIGHT PICKS!
Stranger Than Life: Cartoons and Comics 1970-2013: Personally, I remember M.K. Brown best from the immortal 1995 anthology Twisted Sisters 2 (the burning core of my early teenage exposure to alternative comics), but probably everyone else associates her with National Lampoon: one of the great, largely untapped sites of lively comics reprinting, which Fantagraphics has been exploring of late via last year's Charles Rodrigues collection Ray and Joe, and now this 248-page, 8.5" x 11" Brown compendium. Tom Spurgeon had a nice interview with the artist up over the weekend, in case you missed it. Preview; $35.00.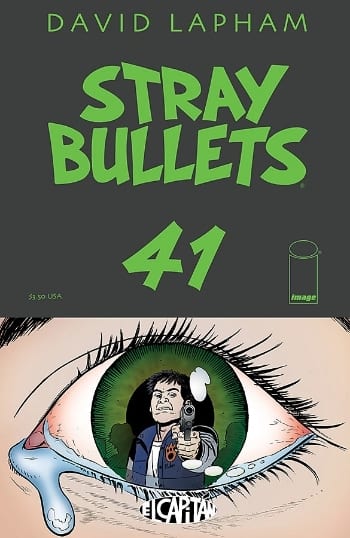 Stray Bullets #41 (&) Stray Bullets: Killers #1 (&) Stray Bullets Über Alles Edition: Continuing Image's recent efforts toward embodying the totality of genre comic books, past and present, here we see the return of writer/artist David Lapham's signature crime series, dropping a new issue almost precisely 100 (one hundred) months after the release of issue #40. But wait - there's actually two new issues, since Stray Bullets: Killers marks the beginning of a more storyline-focused branding for the monthly ongoing, although I understand it will retain the former series' structure of self-contained issues adding up to grander narratives. I tend to associate Stray Bullets with lean times; among self-published genre comics, it was one of relatively few new popular successes of the post-crash '90s, though I suspect it's in better company now at Image, where writers like Ed Brubaker administer similarly longform crime projects. Plus, Image is willing to put out an "Über Alles Edition," i.e. a 1,200-page compilation of every single issue (#41 included) of the original series, so you can catch yourself up immediately. Preview images; $3.50 (comics, each), $59.99 (omnibus).
--
PLUS!
City in the Desert Vol. 2 (of 3): The Serpent Crown: I am not familiar with the works of Moro Rogers, nor have I read the first volume of her fantasy series about the monster hunting economy and ecosystem (if my ill-informed impression is correct), but I saw a preview of this and I think Rogers' animation-trained line is pretty sharp and I like the way her creatures lurch around. A 6" x 9", 152-page Boom!/Archaia release. Said preview; $24.99.
Revolutionary War: Motormouth #1: Marvel continues to release comic books with a #1 on the cover, although this one is not part of their general re-launch strategy, but instead a segment of the publisher's continuing effort at reviving various Marvel UK characters from years back. For our purposes, it is notable for the presence of Glenn Dakin, the hugely talented cartoonist behind Abe: Wrong for All the Right Reasons and other works; he was also, in the '90s, a contributing writer to such Marvel UK fare as Motormouth & Killpower and Plasmer, so here he serves as writer for a one-off Motormouth revival, drawn by Ronan Cliquet. Preview; $3.99.
Intron Depot Vol. 5: Battalion: Masamune Shirow is probably never going draw comics of book-filling length again; it's just been too damn long. Eventually we'll get an English version of Ghost Urn, the comic he's presently writing for Rikudō Kōshi, but I imagine what we'll see of Shirow-the-artist will be strictly in illustration form. That said, he does put out a *lot* of illustration books, the most familiar of which are probably the Intron Depot collections, which Dark Horse has been translating since 1992. This is the 128-page newest of the series, tracking Shirow's activities in gaming and animation concept art throughout the '00s - expect comments from the man himself, if the format remains similar to prior installments. An 8.25" x 11.25" softcover. Samples; $44.99.
Ranma 1/2 2-In-1 Edition Vol. 1: You might not know it, but Viz is prepping a huge dvd/blu-ray release effort for the anime version of this Rumiko Takahashi martial arts comedy/gender swap concept, so I guess it's only fitting they release some thicker editions of the original comics. This debut installment should be 360 pages in total; $14.99.
Attack on Titan: Before the Fall Vol. 1 (&) Attack on Titan Junior High Vol. 1: Yes, Attack on Titan is a big, big, big fucking hit, so here comes Kodansha with a shitload of spin-offs! Before the Fall is actually an adaptation of an illustrated prose-format prequel to the original manga, with an American superhero comics-caliber separation of labor going on in the credits box (Story: Ryō Suzukaze! Art: Satoshi Shiki! Character designs: Thores Shibamoto! Original creator: Hajime Isayama!), so I wouldn't really expect it to function on any level above 'more content for people who want more content.' Attack on Titan Junior High might be more interesting, since it's a silly parody version of the original, concocted by one Saki Nakagawa - Kodansha's English version seems to be 336 pages long. There's also a shojo manga spin-off out there in Japan, based on a video game pack-in bonus to one of the home video releases of the anime version of the property...!! That's not out this week, though; $10.99 (Before), $16.99 (Junior).
47 Ronin: Did this get lost in the shuffle? Plenty of books do. It's a non-Usagi Yojimbo project by Stan Sakai, collaborating with Dark Horse head Mike Richardson on a comics adaptation of the revered Japanese tale of undying loyalty, with no less an authority than Kazuo Koike(!) on board as editorial consultant. (Similarly, my entire understanding of pornography comes from Koike's Wounded Man.) This 144-page hardcover comes with a bunch of supplements, so you might want to give it a flip even if you've seen the miniseries version from last year. Preview; $19.99.
Beasts of Burden: Hunters & Gatherers: Also from Dark Horse (and also easy to miss) - a new self-contained 32-page comic book by Evan Dorkin & Jill Thompson, concerning pets who talk among themselves in pursuit of solutions to weird mysteries. It's a fun series. Preview; $3.50.
Minimum Wage #3: Getting back to Image - it's not just crime and fantasy stuff they've got, but slice-of-life comics too, i.e. this continuing Bob Fingerman series. Preview; $3.50.
Airboy Archives Vol. 1: And then there's IDW to pick up a yet-older breed of small-press genre comic, specifically this 1986-89 Eclipse revival of a Golden Age aviation concept frequently associated with artist Fred Kida. The latter-day team initially consisted of writer Chuck Dixon and artists Timothy Truman & Thomas Yeates, although Stan Woch soon took over as penciller, and Truman did some writing too. Hell, Ninja High School creator Ben Dunn shows up at some point, I believe, in these first 16 issues, back-up strips included for a total of 308 pages; $29.99.
Young Romance Vol. 2: The Early Simon & Kirby Romance Comics: On the other hand, here's some actual Golden Age reprints - 200 Michel Gagné-edited pages of Joe Simon & Jack Kirby romance comics, covering the years 1947 through 1949. Samples; $29.99.
Comics Art: Finally, your book-on-comics of the week - an 8" x 10.5", 144-page Yale University Press release of a book by the Man at the Crossroads himself: the mighty editor, publisher, curator and critic Paul Gravett. Here he examines "the vast output of comics culture from the late 19th century to today... consider[ing] lines of influence from around the world and examin[ing] how comics have shifted from supporting the status quo to becoming the voice of alternative subcultures." Undoubtedly worth a look; $35.00.