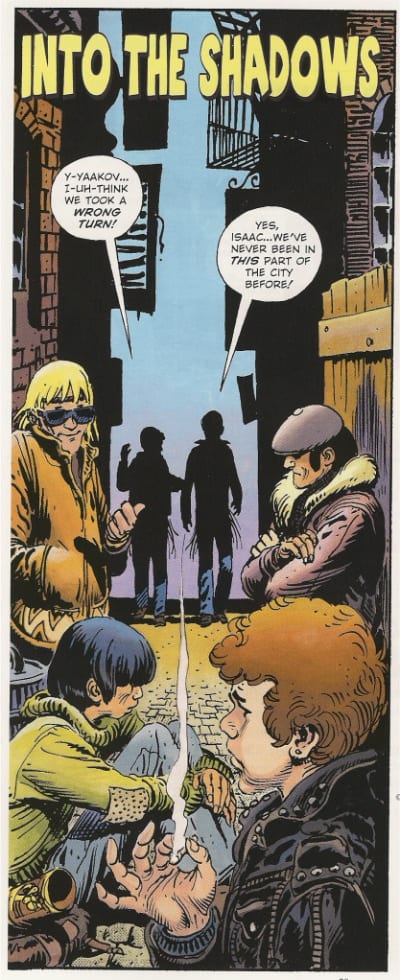 A nice, old-style alley-scape here from Joe Kubert, drawing in 1984 but perhaps channeling a youth from an earlier age. This is from a book a found in a discount box last weekend: The Adventures of Yaakov & Issac, a 2004 hardcover album from the Jerusalem-based Mahrwood Press, providing a 'best of'-type collection for two-page comics Kubert created for a New York-based Jewish religious magazine between 1984 and 1993. They're little educational pieces, the kind of thing I'd used to encounter in the little reading supplements they'd hand out in elementary school (which is actually where I first encountered Tom Batiuk's Funky Winkerbean, in its episodic comedy iteration). Indeed, the Yaakov & Isaac collection -- which bears no price on it anywhere, doubtlessly speaking to the metaphysical value of the comics therein but proving troublesome in an xx% off discount situation -- is situated as an educational project, with each of the book's 15 comics accompanied by learning guides and questions to ponder ("How did you think Yaakov and Isaac felt as they approached the street gang?"). More importantly to my mind, Kubert himself writes a short commentary for each strip, explaining the rationale behind his creative choices in kid-friendly terms, including the philosophical discussions he'd have with his editor, Rabbi Dr. David Sholom Pape. "This story tells us that we must not be afraid when we find ourselves in strange or unfamiliar surroundings," Kubert writes, though the decoration of this Eisnerian episode is familiar indeed to sensations of early comics, in its urban upkeep and its eventual Jewishness as well.
***
PLEASE NOTE: What follows is not a series of capsule reviews but an annotated selection of items listed by Diamond Comic Distributors for release to comic book retailers in North America on the particular Wednesday, or, in the event of a holiday or occurrence necessitating the close of UPS in a manner that would impact deliveries, Thursday, identified in the column title above. Not every listed item will necessarily arrive at every comic book retailer, in that some items may be delayed and ordered quantities will vary. I have in all likelihood not read any of the comics listed below, in that they are not yet released as of the writing of this column, nor will I necessarily read or purchase every item identified; THIS WEEK IN COMICS! reflects only what I find to be potentially interesting.
***
SPOTLIGHT PICKS!
Dotter of Her Father's Eyes: Being Dark Horse's latest release from reliably unpredictable UK comics veteran Bryan Talbot, here setting aside his recent (and very entertaining) forays into funny animal mayhem to illustrate a 96-page hardcover album written by his wife, Mary M. Talbot, daughter of a Joycean scholar, who blends her own autobiographical reminisces with scenes from the youth of James Joyce's own daughter Lucia. Talbot-the-artist appears to be alternating a flat-colored, clear line style (no Grandville shininess) with spot-colored pencil shading as a means of distinguishing between periods, and it looks pretty nice. Preview; $14.99.
Berlin #18: Ah, your comic book pick of the week for sure! Maybe there's people out there who'll only go to the comics store for stuff like a new chapter of Jason Lutes' historical epic, now on part two of its final sequence. From Drawn and Quarterly, of course; $4.95.
--
PLUS!
Jinchalo: Meanwhile, here's D&Q's book release for the week, its second project with artist Matthew Forsythe following 2009's Ojingogo, blending Korean folklore with dreamlike wordless cartoon journeying. Preview; $19.95.
Adventure Time #1: This is the new license obtained by Boom! -- specifically their kaboom! line of kids' comics -- pertaining to the popular Cartoon Network television show. It's notable here for the presence of writer Ryan North, in what I believe is his first-ever full-length published comic book after many years with the continuing Dinosaur Comics clip art pursuit. The art is by Shelli Paroline & Braden Lamb, but note that the very good Aaron Renier of Spiral-Bound and The Unsinkable Walker Bean writes and draws a backup story. Samples; $3.99.
Murky World: Richard Corben! You know him, you love him, and here's a 32-page comic book-format collection of his recent serial from Dark Horse Presents, a b&w fantasy thing all full of discoveries, menace and laid-back humor. Preview; $3.50.
Richie Rich Gems: Valentines Special: Somehow this seems to implicate both the Adventure Time and Murky World sides of the coin, as this Ape Entertainment revival of ye olde Harvey kids' comics franchise will, at least in this instance, feature some new work by Sid Jacobson & Ernie Colón, along with re-colored reprints. Just so you know; $3.99.
Dicks Color Edition #1: Speaking of new hues! I spent a little time the other day chatting with Douglas Wolk about early comics by Garth Ennis, whom I wound up comparing to Chris Ware at one point, insofar as both men have apparently sought to keep their uncharacteristic debut books out of print - Troubled Souls in Ennis' case, an Irish-set suspense drama initially published in the politicized 2000 AD offshoot Crisis. Ennis actually managed to regain the rights to that story in the early part of the '00s by writing some Judge Dredd material, an effort prompted in part to secure the first appearances of two characters that he and artist John McCrea had used as the protagonists of a later, much less serious story titled Dicks (and an interim Crisis serial called For a Few Troubles More). Talk of Troubled Souls always brings to my mind a short essay David Rust wrote for the classic issue #200 of our print edition, praising that early work and lamenting what Ennis had become; Dicks, then, might be seen as one of the tenuous remaining links to Ennis' 'literary' comics side, in the form of a very broad, goofy comedy with a culturally specific outlook most pronounced in these early stories from the late '90s, which publisher Avatar had previously collected in 2003 via a b&w trade paperback that took the better part of a decade to sell through its first printing, as Ennis has happily noted. Now it's a comic again, and in color for the first time, and there will eventually be new stories from Ennis & McCrea when the old stuff's extinguished; $4.99.
The Ninjettes #1: The links here are less tenuous, as this is a straight-on Bad Assassins spinoff of Ennis' super-killer-as-a-suburban-housewife-themed Jennifer Blood series at Dynamite, the scripting of which has recently been taken over by (ah ha!) Judge Dredd writer Al Ewing in his North American comics debut. Ewing -- a funny guy who I can see vanishing forever into Marvel's Deadpool franchise someday, though hopefully not before his Brendan McCarthy collaboration The Zaucer of Zilk can manifest -- is handling this one too, with Ewan Casallos on art. Preview; $3.99.
Conan the Barbarian: Queen of the Black Coast #1: Sword-swinging of a different sort, as Dark Horse's endless line of licensed barbarian comics here begins a new series by Becky Cloonan, of several nice manga-informed works. Adapted from Robert E. Howard by the artist's frequent collaborator, writer Brian Wood. Preview; $3.50.
One Model Nation: What's more fitting for the Golden Age of Reprints (and a comic about '70s German art rock written by Courtney Taylor-Taylor of the Dandy Warhols) than your classic import-edition-that's-more-deluxe-than-the-domestic-release? Hence, Titan Books brings an extras-laden 160-page hardcover update to the 2009 Image release for this Jim Rugg-illustrated project; $24.95.
Torpedo Vol. 4: A more typical reprint effort here, as IDW continues its presentation of Jordi Bernet-illustrated Spanish crime comics classics; $24.99.
Archie Treasury Edition: The Best Of Dan DeCarlo: Never willing to let a format escape with only one crack, IDW here presents a 64-page sample of DeCarlo works in the 9.25" x 14.25" Treasury format last seen with some of Dave Stevens' The Rocketeer material (which appears to be patient zero for several of these experiments, having also kicked off the Artist's Edition line of color scans for pre-coloring original art); $9.99.
GTO: 14 Days in Shonan Vol. 1 (of 9): I'll say this about Vertical - they defy expectations. Joining food manga The Drops of God as the publisher's second present longform project is Toru Fujisawa's hugely popular Great Teacher Onizuka franchise, a comedy-drama about a bōsōzoku tough guy biker who gets into the education field in an effort to lose his virginity, and winds up helping people. TokyoPop released the 25-volume original in English a few years back, and this is Fujisawa's 2009-11 follow-up seeing the title character return to his old stomping grounds at the famous Shōnan stretch of beaches. Vertical also plans to release the artist's Shonan Junai Gumi (aka: GTO: The Early Years), a more gag-driven predecessor series featuring the same character pre-certification, which TokyoPop released about 2/3s of before giving up the ghost; $10.95.
American Splendor: The Life And Times Of Harvey Pekar: Finally, your new-edition-of-something-that's-been-out-for-a-while-of-the-week - Pantheon's 320-page collection of Harvey Pekar's earliest American Splendor stories, including several Robert Crumb pieces. A pretty easy access point to developments in American autobiographical comics, in case you haven't gotten to it yet; $20.00.
--
CONFLICT OF INTEREST RESERVOIR: Of course, there's no need to get Pekar in your Crumb this week if you so desire, as The Life and Death of Fritz the Cat returns one the artist's best-known creations to the comprehensive format, now in hardcover; $19.99. Also hard as nails is Young Romance: The Best of Simon and Kirby's Romance Comics, a 208-page Michel Gagné-edited compilation of turmoil and ecstasy from the pre- and post-Code eras by a pair of genre architects you might recognize; $29.99.