A strange example of visual art's panelization, this - an image from the 2011 Lech Majewski feature The Mill and the Cross, the most vivid bit of art movie kitsch I've encountered in a long while, which probably makes it worth examining in greater detail. Stepping beyond the approximations of painterly aesthetic known to works like Derek Jarman's Caravaggio (1986) or Peter Greenaway's Nightwatching (2007), Makewski posits a mise-en-scène in which 16th century Flemish master Pieter Bruegel the Elder (played by a growling Rutger Hauer) exists inside his own The Procession to Calvery (1564) via the magic of copious digital composting and color correction. This is to say that the 'natural' world, seemingly as viewed and chronicled by Bruegel a la The Draughtsman's Contract, literally becomes the stuff of his work, even as he grumbles to Michael York (as patron Nicolaes Jonghelinck) that everything he's doing carries specific symbolic charges and affirmative choices in framing. The interior, then, becomes a self-evident external artifice as a means of underlining parallels between the Crucifixion narrative and the Catholic abuse of Flemish Protestants at the time.
The scenario's execution is perhaps more intriguing than the film's often garish, rather humorously po-faced images of green screened extras standing agog in period dress against highbrow, high-tech matte paintings dotted with slow-moving human extras reminiscent of the first five minutes of Melancholia while Jesus dies for our sins once again. There is very little dialogue in the picture; only Hauer, York and Charlotte Rampling (as Mary, the mother of Jesus) utter anything more than incidental exclamations, while the rest of the cast pantomime their activities with sometimes awkward deliberation. They are the residents of Bruegel's painting, the characters visible in the finished work, which the film essentially blocks out into zones of activity and extrapolates from, so that the elevated wheel toward the far right becomes the site of a condemned man's death, with his home and life and wife and general situation imagined in some off-frame proximity to this central area of action, generally visible through a window - among the film's motifs is that of the spider's web as the canvas, both in terms of drawing the viewer's eye toward the obscured central image of Christ, as well as 'trapping' the citizenry of Bruegel's locale into a sort of artistic inevitability.
Part of the goal, I imagine, is to explore stylized images of period life-as-lived as a cinematic metaphor for Bruegel's own union of "genre" scenes with classically religious or mythical subject matter, as a means of drawing out the Christian suffering of the people and emphasizing the ephemeral nature of these agonized bits of grace in the course of life; children still play nonetheless, in games seemingly drawn from Children's Games (1560). It's a fannish work like that, though hopeless realist me was less taken with Judas hanging himself on the gallows from, apparently, The Magpie on the Gallows (1568) -- with all the duly contained symbolism re: Protestant executions -- than the '90s Paul Giamatti appearance of the lineless extra filling the role, never seeming more than mildly perturbed at these soul-shattering scenes.
Still, I am reminded of comic book panels when I think about this film. I think of something the ever-pertinent Greenaway did to Veronese's The Wedding At Cana, blocking the painting off into small frames and imagining dialogues between the various characters as a means of encouraging creative and engaged visual literacy. This is fundamentally what Makewski does with Bruegel, panelizing his work into little overlapping zones of reality, each one a small drama, and peering into them as they move, their narratives eventually clicking into place at a crucial, frozen moment to form the still painting, before breaking away into smaller moving details once again. Such invisibly-paneled narrative makes for a more thought-provoking 'comic book movie' than the dominant superhero styles -- be they based on creations by Gary Friedrich & Mike Ploog or not -- even though the movie itself is somewhat silly and odd and awkward. The credits reveal that Makewski and co-writer Michael Francis Gibson (whose 1996 analysis of the painting inspired the scenario) have also made a book of the film, and while it probably reads like the film, I can only wonder how it looks.
***
PLEASE NOTE: What follows is not a series of capsule reviews but an annotated selection of items listed by Diamond Comic Distributors for release to comic book retailers in North America on the particular Wednesday, or, in the event of a holiday or occurrence necessitating the close of UPS in a manner that would impact deliveries, Thursday, identified in the column title above. Not every listed item will necessarily arrive at every comic book retailer, in that some items may be delayed and ordered quantities will vary. I have in all likelihood not read any of the comics listed below, in that they are not yet released as of the writing of this column, nor will I necessarily read or purchase every item identified; THIS WEEK IN COMICS! reflects only what I find to be potentially interesting.
***
SPOTLIGHT PICKS!
Madwoman of the Sacred Heart: Demonstrating that some things are gotten around to eventually, here is your softcover re-release of Humanoids' 192-page complete color English edition for a 1992-98 philosophical comedy project from Alejandro Jodorowsky & Moebius, previously seen (and almost immediately unseen) in hardcover a little over a year ago. It's actually a pretty big stylistic (if not necessarily thematic) departure from the team's prior works, with Jodorowsky providing a dense, perhaps improvisatory harassment of centuries of deep thinking and religious tradition as an aging professor becomes ensnared in a journey of enlightenment and rebirth - a long and rocky journey, eventually necessitating upwards of 18 panels per page by story's end as Moebius adopts an increasingly simplified 'funny' comics look. In other words, we're now 180 degrees away from The Eyes of the Cat, which can still be fairly easily tracked down in its Taboo 4 incarnation, at least until it appears anew again. Samples; $24.95.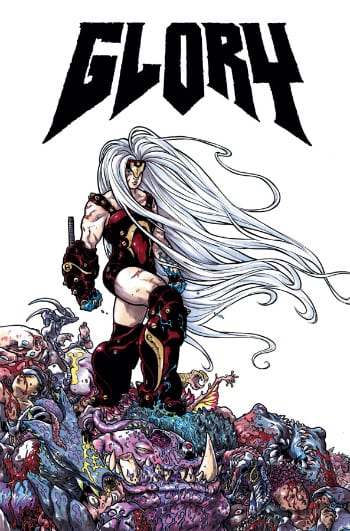 Glory #23: Being Exhibit B in the new revival of Rob Liefeld's Extreme Studios superhero properties at Image, this time a lady warrior scenario from writer Joe Keatinge and Wet Moon creator Ross Campbell, who's got a nice hold on muscly combat licks. The last entry in this series -- Brandon Graham's & Simon Roy's Prophet -- prompted a widespread critical reaction best described as 'dropping to the floor and speaking in tongues' (I liked it fine), and I expect not too much less from this 'secret history' scenario. Preview; $2.99.
--
PLUS!
Whispers in the Walls: This is Humanoids' other release for the week, a hardcover collection for a 2007-11 horror series scripted by David Muñoz, co-writer of the 2001 Guillermo del Toro film The Devil's Backbone; the publisher had previously released it in English as a six-issue comic book series, and it remains their final effort in that format. Art by Tirso Cons, colored by Javi Montes. Humanoids has some eye-catching stuff coming up, including an all-in-one release for Nicolas de Crécy's 1994-2002 The Celestial Bibendum (!!!WARNING - EXPENSIVE LIMITED EDITION!!!), a first-ever English version of Dupuy-Berberian's 2000 The Singles Theory, and, most importantly, a complete edition of Jodorowsky's & Fred "Why Not Recolor the Incal" Beltran's migrane-inducing CGI bonanza Megalex, notable for dropping the whole 'CGI bonanza' thing in its heretofore untranslated final third. DC/HUMANOIDS ALLIANCE CLOSURE COMING SOON; $19.95.
glamourpuss #23: This is Dave Sim's continuing evocation of 20th century 'photorealism' comic strips for newspapers, at the moment halfway-beholden to a minute account of the final day in the life of Alex Raymond. What's interesting, though, is that the other half of the comic -- in which Sim applies his own rendition of period drawing techniques to mostly preexisting photographic material -- appears to have shifted away from the parodic fashion magazine concept of the series so far to accommodate the continuing adventures of "Zootanapuss," a glamour girl parody of DC's fishnet-clad Zatanna, who stars in one-page chamber comedies/visual experiments with her beloved rabbit. Think Giardino's Little Ego, but shorter, and without actual nudity. And, y'know, Stan Drake instead of Winsor McCay. And with the occasional Spawn parody. In commemoration of this paradigm shift, variant covers offer the reader the choice of purchasing glamourpuss or the discreetly-numbered (and less-common, and apparently higher-priced) zootanapuss, of which this is issue #2; $3.00 (more for the variant).
B.P.R.D. Hell on Earth: The Long Death #1 (of 3): Yeah, that's a lot of comics. I kind of wonder if there's a system of promotion going on among the various side-series, since this newest B.P.R.D. monster-hunting joint is drawn by one James Harren, last seen a few months ago on an Abe Sapien solo series, The Devil Does Not Jest. Ostensible primary artist Tyler Crook is working on another, presumably more expansive B.P.R.D. series (The Devil's Engine) for this May. Amusingly, all of this content frames Hellboy itself as not only the 'main' series, but the 'prestige' series as well, which comes out when its good and ready (particularly now that creator Mike Mignola is preparing to return as writer/artist). Preview; $3.50.
Slam Dunk Vol. 20 (of 31): Viz has almost as many items out as Marvel & DC this week, and while I'm sure one circle of acquaintances will gravitate toward vol. 9 of Death Note creators Tsugumi Ohba's & Takeshi Obata's creation-of-genre-manga-as-genre-manga Bakuman while another will opt for the sure-to-be-lovely new Studio Ghibli behind-the-scenes tome The Art of the Secret World of Arrietty (in theaters this Friday!), my heart's gonna remain with Takehiko Inoue's name-making '90s basketball series, particularly now that the artist has returned to serializing his swordsman opus Vagabond after a year and a half's hiatus out of health concerns; $9.99.
Comics on Trial Vol. 3: The Kirby Estate vs. Disney/Marvel: A collation of public documents relating to the title, I'd guess. Not so much your book-on-comics for this none-too-crowded week than a helpful reminder of things that go on in the wake of comics, and also their more prominent imminent cinema iterations, whether based on things created by Gary Friedrich and Mike Ploog or not; $25.00.
--
CONFLICT OF INTEREST RESERVOIR: A whole lot of Fantagraphics books are dropping at Midtown NYC this week -- if you see a book of Joost Swarte: no, it's not a mirage -- but all Diamond will list is Athos in America, the newest 196-page hardcover collection of original color work by the fabulous Jason, and that'd be enough for me; $24.99.