Last week I had the privilege of sitting on a 2011 in Review panel for Robin McConnell's Inkstuds radio show; I was filled with delight at the time of the gig, and now I am filled yet again with the sweet anticipation of revealing terrible secrets of broadcast best kept from the public. For example, I was actually not on cocaine at any point during the episode, even the part where I deliver a page-by-page synopsis of Chris Cilla's The Heavy Hand without stopping to (a) breathe or (b) acknowledge in any substantive manner that the book was, in fact, quite inescapably published in 2010. EVEN BETTER: around 1:25:00, as that Bobby Vee song is playing, we're all still talking. About Batwoman. And BatWING.
There wasn't any superhero chat that made it on the air, however, so I figure it'd only be right to abuse my position here for the purposes of announcing my personal favorite superhero issue #1 from this mighty year of myriad relaunches.
I am of course referring to Indigo Prime: Everything and More, from writer John Smith and artist Edmund Bagwell, a 24-page story split into six-page bits over the course of one month's time with the venerable UK action comics weekly forum 2000 AD, Progs 1750-53. And while I realize that I just covered Judge Dredd Megazine last month, it would be a terrible shame to let petty temporal concerns stand in the way of a twenty-years-later revival of Smith's Indigo Prime concept - a means for its writer to cannily sew some identity from the patched fabric of freelance thrills-for-hire, i.e the same knitty straightjacket cozied around each and every one of those New 52 and most of the damned corporate remainder.
Smith, as I've mentioned a few times before, is maybe the most fascinating of the veteran 2000 AD writers to have worked primarily for UK audiences - his longform projects for the US market are few and ill-regarded by the man himself, consisting of the 1993-94 Vertigo series Scarab ("a fiasco from beginning to end") and a 12-issue run on the early '00s incarnation of Harris' Vampirella ("fucking shite"). Beyond that, Smith has seemed to blip in and out of American view at odd times: a 1987 issue of Eclipse's Tales of Terror (#11) with Carol Lay on art; a well-regarded one-off Hellblazer (#51) in the midst of Garth Ennis' run; a back-up story in Warren Ellis' doomed, Marvel-owned iteration of Malibu's Ultraforce (#2); a random issue of X-Men Unlimited (#35) flickering over the odd environs of Bill Jemas' time as Marvel president.
This, fortuitously, is also the essential premise of Indigo Prime, which from its 1986 crypto-debut via an installment of Tharg's Future Shocks was never so much a series at 2000 AD -- though stories eventually came to carry its brand -- as a presence in Smith's work. The Indigo Prime organization, you see, concerns itself with corporeal, temporal and psychic issues that tend to crop up across the multiverse: it exists outside of any continuity, its agents drawn from the ranks of the deceased, their minds copied and given fine new bodies since death hardly means anything when a trillion or so similar parallel human worlds are constantly churning and burping, their populations notable only for their capacity to become collateral damage to some really big chrono-disaster.
That's the 'story.' The meta-story, however, concerns the tendency for Indigo Prime representatives to appear in Smith's various and sundry works, be they the mostly unrelated reptilian action woman narrative of Tyranny Rex or the properly Prime-branded penny dreadful horror show of Killing Time (an occult-flavored Jack the Ripper scenario running concurrently for a while with Moore & Campbell's stateside From Hell). Crucially, operatives even made a thinly-disguised appearance in the final two issues of Scarab, despite the Indigo Prime brand having been set aside by then in 2000 AD -- "Christ almighty... I thought we were retired," moans an operative -- and indeed the whole Scarab project and its component parts being trademarks of DC Comics (if copyright Smith and artist Scot Eaton). And while the final issue of a troubled comic book series is dangerous enough, by that time -- to devoted readers -- it would be clear that the real hazard facing Dazzler & Creed was the meta-peril of toxic shock from exposure to another publisher and subsequent legal paralysis: a risky mission with its worst case scenario being as real as death gets for fictional characters.
But that's life when you're above it all.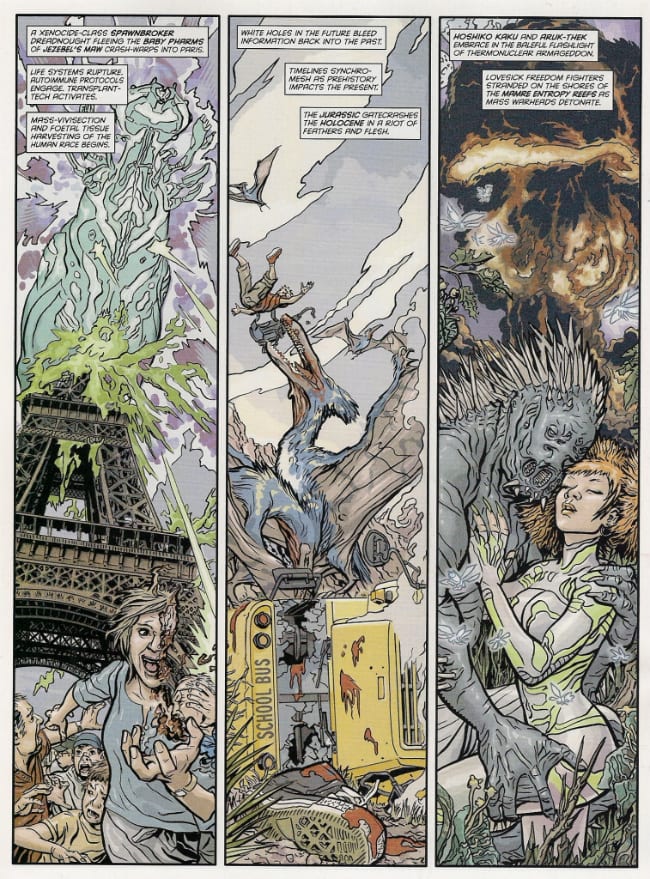 Indigo Prime operatives again appeared in Smith's 2008 2KAD serial Dead Eyes, plucking out the protagonist for their own present revival in Everything and More. I've made this all sound a bit complicated, but Smith has a new mission for the new Indigo Prime - it's now been visualized as a formal science hero super-team series, not unlike the kind of sci-fi show you'd see on television (naturally, characters profess on-page to having never heard of that aberrational obscurity Doctor Who). Inevitably, this is also to say it mimics the big beats of contemporary action comics, close as they tend to play it to Hollywood simulacra; gone are the crawly textures of Mike Hadley or Chris Weston, replaced by Bagwell's sparkling clean take on future shock psychedelia, smartly costumed in slightly muted digital color. Rarely a segment goes by without some double-page gape at high technology or grand destruction, accompanied by a potential best-ever apportioning of Smith's playful, purple narrative captions and non-stop technical speak. It's a real hundred-ideas-per-minute kind of comic, whisking the reader through a dozen or so characters presented just intriguingly enough in media res to suggest their personal histories, as well as the shared history of Indigo Prime, which the newcomer might be forgiven for thinking is actually detailed in some clump of back-issues, though it's really all a matter of imagination.
I love this kind of stuff, and Smith does it incredibly well here; one would be tempted to say he's outdone the likes of Grant Morrison at their own game, if Smith's outlook weren't so comparatively sinister. No, Smith is a bit closer to Peter Milligan, currently trying to say something about relaunches himself from his Red Lanterns perch in the middle of the DC explosion. But while that particular book is tethered to the Geoff Johns family of superhero action titles, Indigo Prime looks to the big picture: the implications of high-stakes action storytelling that can't help but kick off with the detailed destruction of millions of human lives as a means of turning us on to the dangerous life of science heroes. Semi-protagonist Danny Redman -- who, remember, has been plucked out of an entirely different comic -- spends much of the comic's space flipping out and committing suicide in reaction to the sights he sees, only to be re-built yet again by his supportive, controlling science team. The story of his evolution to hooting inter-chronological hero -- as much as Smith is willing to slow down to observe, at least -- is marked by tactical memory blockage and a general willingness on everyone's part to emphasize the big, big, BIG picture over the petty moralities of basic human survival on the micro scale of, say, humanity going extinct in one timeline, or laying dead in another.
This bitter aftertaste continues into a subsequent serial, Anthropocalypse, which just wrapped in last week's Prog 1763 after eight chapters (Progs 1755-56 and possibly more should be arriving in North American comics stores this week, although it's a lot faster to avail yourself of the publisher's digital library). It's pretty much a continuation of Everything and More's introduction, following assorted characters around in breathless vignettes while a big crisis steadily builds in the background to eventually dominate the final few segments.
Through it all, you might be tempted to view Indigo Prime as a distinctly non-violent unit, dedicated to saving talented people from catastrophes and tending to the health of the multiverse. But just as Smith's older stories often turned on his characters erasing people's lives wholesale in the service of a potentially obscure higher purpose, the central 'joke' of the relaunched Indigo Prime is that the characters have been relaunched so much -- killed and reborn, exposed to so many rollicking focusing events and universe reboots across so many continuities -- that none of them particularly subscribe to any sort of conventional morality anymore. It doesn't even really enter their minds that non-talented, non-super human lives have any especial value, which is a logical enough conclusion to arrive at if you think for a second about actually living in, say, the Marvel Universe, where cities are torn to pieces and mass killings are pulled off so regularly you can't help but question the place of the average life in this blockbuster schema.
Smith is firm and grim on that issue: there is no place. The climax of Anthropocalypse turns on Our Heroes snuffing the final glowing embers of yet another alternate human race in what amounts to a fit of pique, for the sin of ripping off chrono-tech they don't understand. All for the greater good - all for a more exciting relaunch! Yet my favorite character is maybe where the writer of this lovely corporate repositioning tips his hand - it's the series' new arch-foe, a stony supervillain type known only as the Nihilist. He does absolutely nothing at all but sit around for the entire relaunch, though we know he's a constant threat. Maybe he's the sum at the far right of the equation. Certainly that's where Smith leaves us at the end, with Danny Redman happy and energized and a real Super-Hero at last, singing in the shower and staring in the mirror at the end of this frolic, and suddenly there it is.
Nihilism itself.
And pointedly, there are no immediately scheduled plans for more Indigo Prime, despite all the fuss put into this fancy reboot.
It would be oddly yet rightly fitting if this really was all there was supposed to be.
***
PLEASE NOTE: What follows is not a series of capsule reviews but an annotated selection of items listed by Diamond Comic Distributors for release to comic book retailers in North America on the particular Wednesday, or, in the event of a holiday or occurrence necessitating the close of UPS in a manner that would impact deliveries, Thursday, identified in the column title above. Not every listed item will necessarily arrive at every comic book retailer, in that some items may be delayed and ordered quantities will vary. I have in all likelihood not read any of the comics listed below, in that they are not yet released as of the writing of this column, nor will I necessarily read or purchase every item identified; THIS WEEK IN COMICS! reflects only what I find to be potentially interesting.
***
SPOTLIGHT PICKS!
Nelson: This isn't the kind of week that sends me running for the cocaiENTHUSIASM, PASSION FOR COMICS necessary to burn the candle at both ends putting down all the wonderful insights I have to share about books I've anticipated forever - no, this is freeing, in way. It's the capacity for surprise, even with a book as stocked with contributors as this new 252-page color Blank Slate project, tasking 54 artists with detailing 54 days in the life of a woman over the course of nearly half a century, spanning "decades of British history and a myriad of stylistic approaches," per the publisher. Contributors include Posy Simmonds, Paul Grist, Carol Swain, Hunt Emerson, Rian Hughes, Roger Langridge, Duncan Fegredo, Philip Bond, Darryl Cunningham, D'Israeli, Sean Phillips, Andi Watson and others. Edited by Rob Davis & Woodrow Phoenix; $37.99.
Streakers: I have absolutely no idea what this is, but the cover made me laugh. The artist is Nick Maandag and the publisher is Mean Dog Comics. The project won a Xeric Grant in 2010. The entirety of the solicitation reads: "Three friends who run a local streaking club strive towards achieving the 'perfect streak.'" Hell, I'd check it out. Interview with the artist; $7.00.
--
PLUS!
Dark Horse Presents #7: Some nice-looking one-off material in this latest 80-page chunk of glossy comics, including new pieces by Mike Mignola, Stan Sakai and Brandon Graham, among the usual group of contributors. Samples; $7.99.
The Last Battle: Entirely random Image Comics selection for 12/21 - an ancient Rome battle comic with painterly art by Dan Brereton of The Nocturnals, whom I know some of you keep an eye out for. Written by Tito Faraci. Preview; $7.99.
Batman Incorporated: Leviathan Strikes: Unless a cyan alert has been issued regarding the present continuity, I do believe this 80-page whopper from writer Grant Morrison and artists Chris Burnham and Cameron Stewart is intended to wrap up as many of the plot threads left dangling in Batman, Inc. by the meticulously planned and not-at-all abrupt decision to reset the DC Universe, so as to set up a forthcoming second 'season' of the comic that will presumably conclude Morrison's ongoing Bat-thing apart from the promenade of current shared universe events. Winwood! Cord! Where are you?! Preview; $6.99.
Officer Downe: Bigger Better Bastard Edition: Speaking of Burnham, here's a new hardcover album format(-ish) edition of a violent cop one-off he did with writer Joe Casey and publisher Image, now expanded to 96 pages; $17.99.
Dorohedoro Vol. 5: It's down to this and vol. 2 of the wine manga Drops of God for Japanese choice this week, but in most situations I'll side with Q Hayashida and her weird fantasy world characters in an ambling series like this, from Viz in English and already up to vol. 16 at home. Many samples; $12.99.
Blondie Vol. 2: From Honeymoon to Diapers And Dogs, Complete Daily Comics 1933-1935: And here's your reprint choice, a 328-page IDW volume continuing to study the evolution of Chic Young's story-based flapper strip into a gag-based domestic comedy; $49.99.
The Quality Companion: Finally, your book-on-comics for the week - a 288-page TwoMorrows production in which authors Mike Kooiman & Jim Amash assemble all they know about the superhero wares of the titular Golden Age publisher, with commentary from surviving artists and nine color stories. Preview; $31.95.
--
CONFLICT OF INTEREST RESERVOIR: What the hell, a pair of comic books? Yes, your holiday-battered pockets may rejoice at the prospect of Jason Conquers America, a 32-page fan-fest dedicated to the Norwegian cartoonist in the title on the occasion of his 10th year in American publishing, with unseen strips, a checklist, interviews, tribute art and more included; $4.99. And then there's Tales Designed to Thrizzle #7, which is simply the newest thing from Michael Kupperman, about which you've likely made up your mind; $4.95.