It's the time of year when a lot of media outlets are releasing their Best of lists, and I admit to feeling a little perturbed that I haven't seen more of this work: Rosalie Lighting, a St. Martin's Press release from the artist and educator Tom Hart. I think it's the best comic of 2016. Maybe it wasn't helped by its January release, though I mean this strictly in terms of retrospective list-making; we are talking about a work with a #1 New York Times hardcover graphic books placement with five consecutive weeks in the top ten, warmly reviewed by the generalist book publications that concern themselves with comics from generalist book publishers.
Still, there's a depth to Rosalie Lighting that I don't feel has been addressed in reviews of the book, which (understandably) tend to focus on the specifics of its story - it is a memoir about Hart and his wife, the artist Leela Corman, mourning the sudden death of their young daughter. Know however that on its title page Hart credits both Corman and Rosalie, his subject, as co-authors, along with various residents of the places they visited and several dozen additional cartoonists, filmmakers, musicians, painters, and miscellaneous creatives, all of which are mentioned somewhere in the story itself.
This is not an affectation, or a simple gesture of kindness. Above we see what I consider to be the most crucial page in the book, where Hart describes the process of creating the book as an act of violence, of pounding the mountain - what he is getting at is a crucial metaphor underpinning his book's map of grief. Its tree.
The image of a tree appears on the cover of Rosalie Lighting; there is no other drawn object, just the title. It is quickly explained that the image of a tree comes from the 1988 Hayao Miyazaki film My Neighbor Totoro, which Rosalie enjoyed watching, and which features a magical sequence where characters grow buried acorns into trees by sheer force of will. This is what Hart does with his book, his grief. The child, Rosalie, becomes a tree, its branches explored in significant part through the media Hart encounters. Significantly, this is a book of re-drawing. Miyazaki's films, Osamu Tezuka's manga, the comics of the Scottish duo Metaphrog, the American newspaper strips of Frank King - all are incorporated into the book by Hart's redrawing of certain sequences, and these appropriations are accompanied by Hart's detail of the meaning he came to take from them, given the situation of his reading.
Most striking to me is a series of brief evocations of Jack Davis and Johnny Craig horror comics from the famous E.C. titles of the 1950s. Removed from their original context, the menace of isolation drawn to the surface from the elements of their construction: rolling masses of ink; sharp lines. A blade drawn across the surface. Violence; there are many drawings elsewhere in the book where Hart himself seems a living corpse, his vehicle barreling through the same rain - to read a comic's art is to accept the basis of the world it creates, and thus to incorporate parts of one comic into another in this matter, the original becomes the stuff of visual subtext. Ironically, so much of the E.C. 'influence' on new art comics is tied to the specifics of their historical place: the controversy, the transgression character. Hart does something deeper and more interesting - to my mind restoring the value these works can have as potent inspiration.
Know however that Hart does not stop there. Later in the book, he observes that he has begun, by chance, to 'collect' stories of children who have died from the people he meets. This ties into another of the book's primary concerns: the value of community, and the means by which grief can be negotiated by commiserating with others. Much of the second half of Rosalie Lighting finds Hart and Corman traveling from place to place, unstuck from the New York home that's become too expensive to maintain - this is also a book about the economics of living in this decade. It is not a book of tight A-to-B-to-C plotting, instead choosing to hover and circle its settings, its author darting back and forth in time, obsessing and reflecting. But what he is doing is pounding the mountain, and from the pebbles dropped from the works he has read and the narratives he has collected, he wills the rise of the tree that is Rosalie, that is his memory, and the drawing of the tree is his drawing of the book.
He does not, cannot escape the grief in its pages. He is not here to triumph; this is humble work. He is here to understand, and in drawing he can begin, though the ink is black, black.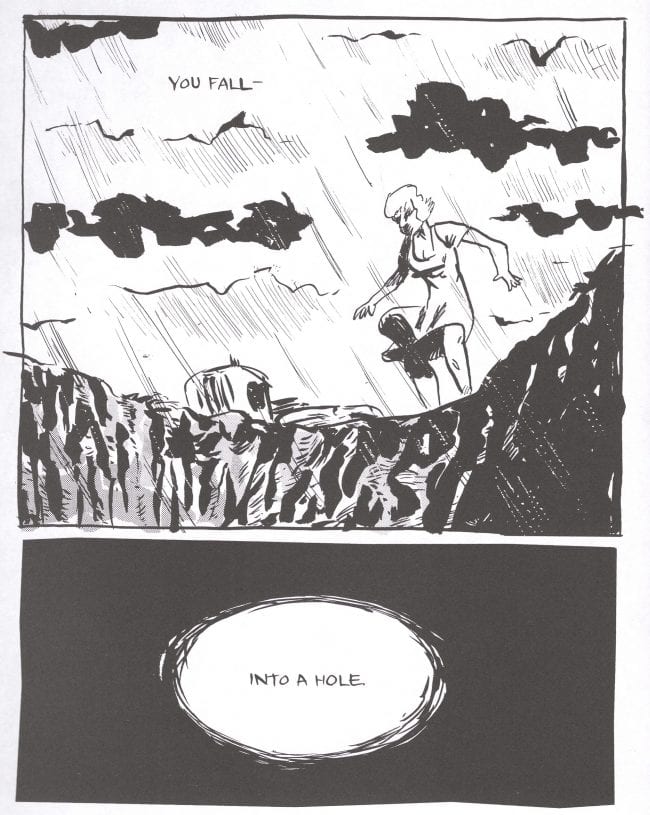 ***
PLEASE NOTE: What follows is not a series of capsule reviews but an annotated selection of items listed by Diamond Comic Distributors for release to comic book retailers in North America on the particular Wednesday identified in the column title above. Be aware that some of these comics may be published by Fantagraphics Books, the entity which also administers the posting of this column, and that I also run a podcast with an employee of Nobrow Press. Not every listed item will necessarily arrive at every comic book retailer, in that some items may be delayed and ordered quantities will vary. I have in all likelihood not read any of the comics listed below, in that they are not yet released as of the writing of this column, nor will I necessarily read or purchase every item identified; THIS WEEK IN COMICS! reflects only what I find to be potentially interesting. You could always just buy nothing.
***
SPOTLIGHT PICKS!
The One Hundred Nights of Hero: This is the new book by Isabel Greenberg, an ascendant talent of UK mainline book trade comics; it was a Jonathan Cape release overseas a few months ago, and now it arrives in North America via Little, Brown. "[A] beautifully illustrated tapestry of folk tales and myths about the secret legacy of female storytellers in an imagined medieval world," the 224-page hardcover looks to continue the emphasis on built history from the artist's prior The Encyclopedia of Early Earth (2013), but purportedly with more emphatically feminist and queer interests; $25.00.
Brighter Than You Think: 10 Short Works by Alan Moore: And this represents an earlier generation of UK-born talent, though it is not just a collection of brief comics. Rather, each piece is accompanied by an essay from Marc Sobel - a Journal contributor and author of 2013's The Love and Rockets Companion, among other endeavors. Indeed, the whole 160-page affair is formally part of the "Critical Cartoons" line of writings-on-comics from Uncivilized Books, though I should emphasize that all of the stories will be presented in their entirety. Artists include Stephen R. Bissette, Rick Veitch, Melinda Gebbie, Mark Beyer, Peter Bagge, Oscar Zaraté, John Totleben, Don Simpson and Bill Wray. The title comes from one of two included Gebbie collaborations, on which Sobel has written before - you can check a full list of contents here (big fan of "Love Doesn't Last Forever"); $22.95.
--
PLUS!
Georgie: The Story of a Man, His Dog, and a Pin: Pretty relentless week of veterans down here, so I'll start with a new Dover reissue of a story from longtime cartooning and animation presence R.O. Blechman - it was previously seen in Drawn and Quarterly's 2009 Blechman collection Talking Lines, but now has been oriented as a standalone 112-page hardcover, I *suspect* in line with a 2011 French-language release from Delpire. Not having read the story, I trust it will be as emotionally complex a tale of parenthood and pet ownership as the publisher suggests; $16.95.
Art & Beauty Magazine #3: Speaking of excerpted reissues, this 40-page collection of life- and photo-drawn images of women from Robert Crumb was first released earlier this year as part of an omnibus volume from David Zwirner, though only now is the individual publication available via Fantagraphics to anyone who already has the other three magazines. Ruminations from the artist and quotes from learned and venerable sources accompany these often highly-detailed, yet very 'Crumb' images; $7.99.
Shadows on the Grave #1 (of 8): Continuing on the underground kick, here is something all-new from writer/artist Richard Corben, whose horror and fantasy stories have long populated anthologies from the head shop likes of Fantagor and Slow Death to popular magazines such as Creepy and Heavy Metal. This Dark Horse series finds Corben returning to black and white for a potpourri of short shockers and a continuing serial featuring "Denaeus", a Grecian warrior patently evoking the artist's Neverwhere series of past years. Samples; $3.99.
Goliath: Speaking of contributors to Heavy Metal and the Warren mags -- but with a far more mainstream genre path diverging into '70s Marvel -- here we have a new illustrated book from Mike Ploog, presumably connected to a 2012 Kickstarter campaign (which, judging from the comments, went somewhat awry) and written by Michael Friedlander, head of the Pittsburgh-based fantasy art book publisher FPG. An 11.5" x 11.5", 88-page hardcover, the all-ages story of a prehistoric clan getting into trouble seems to heavily emphasize Ploog's painted color art, its comparatively scant text looking more like scene-setting comic book narrative captions. A long time in the making, this; $24.99.
New Lone Wolf and Cub Vol. 11 (&) Showman Killer Vol. 3: And now we have a pair of concluding volumes from recent-ish series by writers now in their eighties. New Lone Wolf and Cub is Kazuo Koike's 2003-06 follow-up to his signature '70s swordsman serial with artist Gōseki Kojima. Since Kojima died in 2000, however, the sequel is drawn by Hideki Mori; the show closes across 232 pages, published by Dark Horse. Showman Killer is a 2010-12 series from writer Alejandro Jodorowsky and artist Nicolas Fructus - an interstellar assassin scenario with not-unfamiliar-sounding parental and mystic themes, published in English by Titan; $13.99 (Lone Wolf), $16.99 (Showman).
Night of the Living Dead Vol. 1: Sins of the Father (&) The Attack: Two unexpected Eurocomics releases from Firefly Books, an Ontario-based purveyor of mostly nonfiction and educational material; both books seem to slip neatly into popular categories for a non-specialist publisher. First there's a greater media tie-in: Night of the Living Dead, a Jean-Luc Istin/Elia Bonetti album from 2014, presented as a 56-page, 9" x 12" hardcover. Note that the colors appear courtesy of Digikore Studios, the Indian FX outfit that handles many titles for Avatar Press, itself a former rights-holder with this seminal zombie property. Second, we have a work of literary pedigree on a political topic: The Attack, a 2012 comics adaptation of a Yasmina Khadra novel by Loïc Dauvillier & Glen Chapron. The plot concerns a Palestinian-Israeli surgeon on a journey to discover the reason why his wife apparently executed a suicide bombing. It's a 152-page hardcover at 8.25" x 11", translated by Ivanka Hahnenberger, who's also worked on various IDW French comics releases; $19.95 (Dead), $24.95 (Attack).
We Told You So: Comics As Art: Finally, your book-on-comics and consummate conflict of interest for this withdrawing grip of seasonal shopping days could only be a 696-page(!!!!) oral history of Fantagraphics, storied publisher of comics and criticism, and, as if you don't fucking know, the entity behind the website you are looking at right now. Long in the making, this 8" x 10" all-color bone-breaker comes from former Comics Journal print edition editor Tom Spurgeon, he of The Comics Reporter, "with" subsequent Journal editor Michael Dean, chatting up all sorts of people involved somehow in the great eon. I was an irregular contributor to the Journal print edition in the '00s, even running a column for exactly one issue (#276, please don't everyone rush your copies to CGC) before I flaked out and disappointed everyone -- Dirk Deppey, I'm sorry!! -- but Spurgeon nonetheless asked me for an anecdote during the preparation of this book; my understanding is that I was cut at some point, perhaps due to the story being completely inessential in every way. Nonetheless, in the interests of perfecting the historical record, I will recreate my exciting tale below - payment will be necessary for better content; $49.99.
--
My 21st birthday was in July of 2002; I was working an unpaid internship for the summer in the hopes of gaining valuable experience for the working world, but my employers knew better and told me to just leave early and enjoy the day. I walked straight down the road to a Japanese restaurant and ordered a sake for my first certified legal drink, but to my great frustration I wasn't carded, despite looking all of 16 years old. I tried again to no greater luck, but before long I felt a lot better about myself.
Stumbling out into the city, knowing I couldn't drive for a few hours, I made my way across town to a fabulously shitty comic book store with which I was familiar. It was not my usual Wednesday place; the selection of new titles was slim, the organization of back stock was lacking, and in general the place seemed less a functioning business than a hangout for cliquish regulars. In other words, a 'classic' comic book store.
I remember two of the comics I bought that day, plucked from a pile of recent releases strewn across the open tops of yellowed longboxes, because both of them were third issues. There was issue #3 of The Dark Knight Strikes Again, a Frank Miller/Lynn Varley superhero miniseries of some notoriety, and issue #3 of Mystic Funnies, a Fantagraphics spotlight series for Robert Crumb, not unlike the various ad hoc titles he'd employed for his various works throughout the years. I'd read The R. Crumb Coffee Table Art Book, so I knew a little about him. I'd also started reading The Comics Journal roughly eight months before, having plucked it off a rack at Borders, diligently parsing its esoteric script of references to unfamiliar traditions until I felt damn near an expert.
So I took my selections up to the clerk. DK2 went over pretty well, Varley's controversial digital coloring notwithstanding, but Mystic Funnies got me eyed up. I was pretty visibly buzzed.
"How old are you, kid?" the clerk asked.
"Twenty-one," I replied, to immediate laughter. Not a single member of the Eltingville Club believed me, which made perfect sense given their source was an obviously drunken child.
"Do you--" the clerk began, waving Mystic Funnies #3, trying to stifle his mirth, "--do you know what's in this? Do you know what this is?"
"It's Robert Crumb," I said, and the clerk's laughter stopped.
My heart leaped. Comics were going to succeed where booze had failed; I was finally going to get carded.
But the clerk just smiled.
"Hell," he told me, "if you're old enough to know who that is, you're old enough to read him!"