The beautiful scene above is from mangaka Shuzo Oshimi's The Flowers of Evil, quite an eye-catching recent series. Still ongoing in Japan, it's seen four of its seven extant volumes released in English by the Tezuka experts at Vertical, while a television anime adaptation is forthcoming from no less a 'quality' name as Hiroshi Nagahama, director of Mushi-Shi and Detroit Metal City. And why not - the title's a reference to Baudelaire! Surely this is a highbrow project of rigorous formal inquiry and supple literary intent.
Or, alternatively, The Flowers of Evil is a magisterially fucked depiction of teen romance tropes gone haywire, the sort of ostensibly youth-targeted comic the Journal's own Shaenon K. Garrity once classified as "the thinnest of thinly-veiled porn for teenage girls," except this is a shonen manga, ostensibly targeted at junior-high school boys, in the inadvertent form of a gender-reversal take on Fifty Shades of Grey, with a classroom weird girl spying a milquetoast lad semi-intentionally snatching a pretty classmate's used gym clothes and thereafter inducting the poor boy into the unspeakable rush of humiliation: stripped nude in front of his crush; forced to wear her stolen uniform as his underthings on a date; getting called a "shitbug" and coming to like it.
Vertical puts lie to the notion that The Flowers of Evil is original on the back cover of vol. 3; there are other manga about wilted boys bossed around by ultra-tsundere girls, but I suspect those comics lack the passion of Oshimi's work. He is coy about the autobiographical character of the series, but the bookworm Kasuga is plainly based on himself as a boy, while the malevolent Nakamura was a real girl he knew back when. They are risible characters, nearly intolerable - Oshimi clads 'himself' with self-loathing in a manner that betrays a distinctly adolescent self-regard, a disgust with the mainstream of society that indirectly serves to elevate the suffering mind above the rabble that rejected him for reading French poetry and being too fucking good for pop culture. Nakamura, meanwhile, is a creature of consumptive boredom, unwavering in her disgust at virtually every single soul around her, except for the novel pervert that is, latently, Our Man.
Oshimi does little to upset this schema; his heroes are annoying -- borderline loathsome -- but fundamentally right. In a short statement of intent included in vol. 3, the artist expresses a desire that his comic would convey the post-adolescent discovery of "a value system of one's own," which is to say a rejection of the typical moralities and the dictated social missions. Naturally, the kids eventually take their simmering frustrations out on that most evident locus of external authority: the classroom.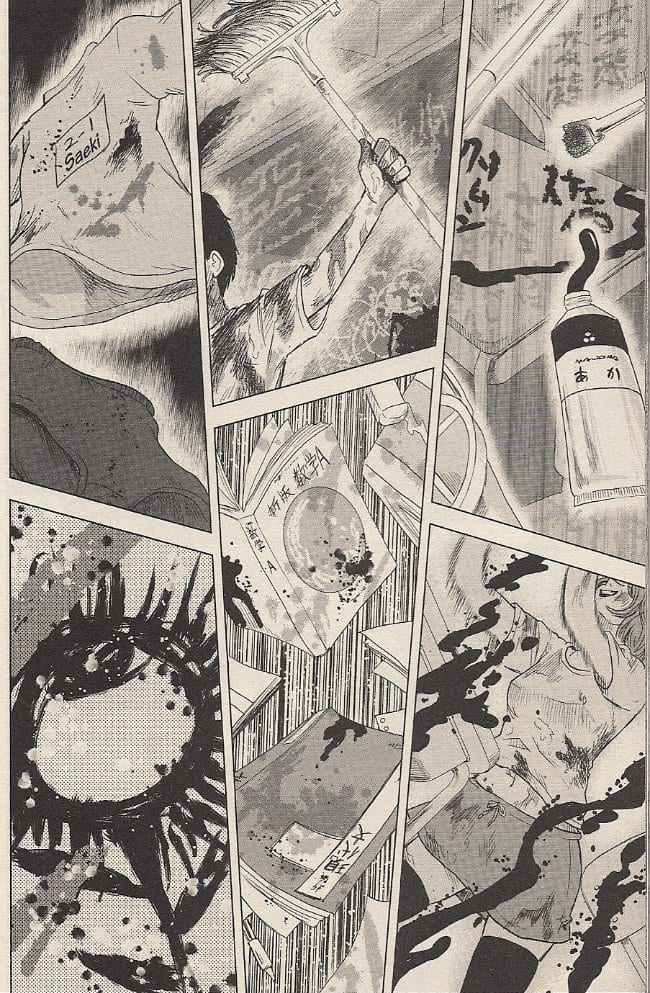 Do note the sexual dynamics in play - the girl may be shouting "More! More!" but it's her pumping a goosh of black ejaculate onto the boy's face. All the while, Oshimi's art luxuriates on the curvature of her breasts and the cling of a skirt to her thighs. Often, scenes will break away a bit to hone in on a female character's bust, or her crotch, always to the POV embarrassment of young Kasuga - more than anything, The Flowers of Evil adroitly conveys a true-to-life sensation of high school life, a simultaneous desire for sex and a blind terror of actually engaging in the act, liberally dolloped with gobs of disgust. Sex, after all, is so common a pursuit - to Nakamura and her devotee, it's preferable to construct an aesthetics of perversion devoid of natural consummation. Truly they are subsequent to Baudelaire, as they are textbook Decadents.
Alas, I have come to doubt the purity of Oshimi's mission. To understand my concerns, you must know that shonen manga are no more the exclusive province of teen readers than superhero comics are aimed firmly at minors. At the top of the charts, you can presume genuine wide appeal -- One Piece is like Asterix, everybody grooves -- but a monthly Bessatsu Shonen Magazine serial like The Flowers of Evil may well seek some following from the reliable adult otaku market. It is no coincidence, I expect, that Nakamura is a veritable doppelgänger for storied anime nerd dream girl Rei Ayanami, of Neon Genesis Evangelion, an ultimate avatar of the mysterious, the sexless, and the beautifully inaccessible.
What if she came to you, banal reader, and exposed the dirty feelings inside you as proof of how you're special? Taken this way, the new morality of Oshimi's teens registers as more a justification for the purchase of strippable hug pillows - isn't geek culture an alternative culture, after all? And haven't they rejected the mess and normalcy of sex by preferring drawings, cartoon women - a gorgeous idealism of youth?
The proof is in the pudding. For all the talk of young Kasuga as a pervert, his deviations are often tiresomely cliché. At one point in the fourth and newest volume, the boy sets out to impress Nakamura with his terrifying capacity for lechery. His plan? Steal the panties of every girl in class while they're swimming! Yep: panty raid. Thank heavens there wasn't a nearby hot springs, or he might have peeped over the wall to the ladies' side.
Yet the artist stages this episode with all the transgressive gravity of a black mass. The normal girls cower and tremble, wearing windpants under their skirts for coverage, while liberated, enlightened Nakamura sits bare-legged and commando, soon finding her way to a shack, a shrine Kasuga has built in the woods, in which he has ritualistically hung every pair of undies, lit by a burning copy of Les Fleurs du mal. The boy plucks down Nakamura's own underpants and burns them. It's a good sacrifice. She sits before him. She'll let him be with her.
And if otaku culture is a cul-de-sac, a senseless, purposeless, exitless lonely alley of over-consumption and sexualized cartoon teens, well, I'm relieved a bit, nonetheless, that someone has seen fit to capitalize the Decadence of the scene, rather than merely capitalize on it. That's worth a horselaugh and a conspiratorial nod from one dork to another.
***
PLEASE NOTE: What follows is not a series of capsule reviews but an annotated selection of items listed by Diamond Comic Distributors for release to comic book retailers in North America on the particular Wednesday, or, in the event of a holiday or occurrence necessitating the close of UPS in a manner that would impact deliveries, Thursday, identified in the column title above. Not every listed item will necessarily arrive at every comic book retailer, in that some items may be delayed and ordered quantities will vary. I have in all likelihood not read any of the comics listed below, in that they are not yet released as of the writing of this column, nor will I necessarily read or purchase every item identified; THIS WEEK IN COMICS! reflects only what I find to be potentially interesting.
***
SPOTLIGHT PICKS!
The One Trick Rip-Off/Deep Cuts: Of course, what I fail to consider with Shuzo Oshimi is his own influences in earlier manga - in vol. 3 of The Flowers of Evil he readily cites to formative work by the likes of Tetsu Adachi, Masahiko Kikuni and Haruko Kashiwagi. Of those, Kashiwagi is totally absent from English translation, while Kikuni is known entirely for his gross-out gag strip Heartbroken Angels, and Adachi -- whose Song of Cherry Blossoms Oshimi declares "a masterpiece" -- is represented solely by his erotic satire Weather Woman, back issues of which can be easily found in your local retailer's porn box. To some extent, the monoglots always fly blind.
Really, it's been that way for decades. I remember reading Paul Pope's introduction to the 1997 Dark Horse collected edition of The One Trick Rip-Off -- a zippy crime serial of backstabbing and pure love initially presented in Dark Horse Presents -- and finding myself mystified by his references to Junichi Nojo and King Gonta, names still entirely absent from English translation today. Pope was working on various manga projects of his own for Kodansha at the time The One Trick Rip-Off was serialized, though he would later declare the Dark Horse story a more successful fusion of Japanese techniques with Western interests - this 288-page Image hardcover seeks to encapsulate the spirit of that time, pairing The One Trick Rip-Off (newly colored by Jamie Grant & Dominic Regan) with samples of the manga Pope created (including the THB variant SUPERTROUBLE), alongside various short stories and HEY - Rimbaud! See how it all comes together, folks? Samples; $29.99.
The High Ways #1 (of 4): Otherwise, it's not a very busy week for interesting new comics. I did want to post this cover though, because damn - this might be the most 'late underground' comics image I've seen in the 21st century. Like, I'm searching for the Kitchen Sink logo right now, and I *know* IDW's the publisher. Anyway, cruisin' the High ways is writer/artist John Byrne, one among a small league of veteran artists still working on their own concepts in the classic comic book format. Exploits amidst our neighbor planets are promised, with certain ties to Byrne's Next Men timeline; $3.99.
--
PLUS!
Al Capp's Li'l Abner Vol. 5: 1943-1944: Continuing IDW's re-publication of Capps's popular 20th century strip for another 272 pages, with Fearless Fosdick and all the rest. Your reprint choice; $49.99.
Elephantmen #45: I don't think anything of the sort is scheduled for this issue, but one of the more oddly under-mentioned aspects of this Richard Starkings-led sci-fi Image series is that Dave Sim had been doing interior art for a few issues - not full interiors, but dream sequences, in which he'd employ the multiplication technique he used in Judenhass, taking a single 'master' image and arranging overlapping details from that image to create sequential panels, with narration placed on top. Anyway, this is a continuation of that storyline. Samples; $3.99.
Jormungand Vol. 10 (of 11): Yeah, not a lot catching my eye this week. Often, that creates an opportunity to catch up on some series you've been missing, although it might be a little late in the game for that here, as Keitarō Takahashi's arms-dealin', moral strugglin' seinen series nears its conclusion from Viz. I've heard this thing mentioned a few times, though, so call it your manga pick in lieu of anything I can address with authority; $12.99.
Batwoman Vol. 1: Hydrology: I have this theory about Batwoman - DC tends to get a lot of flack about their inability to appeal to women, and deservedly so, for the most part, but at the same time there's sometimes a lack of close examination as to what some of its comics are doing. For example, this J.H. Williams III-led Bat-family project -- despite its obvious ties to one of the big, crossover-prone success stories of recent superhero comics -- has kept itself almost entirely out of the path of shared-universe concerns, instead choosing to pursue a myths & legends-focused sort of 'urban fantasy' vibe, a genre subset not especially well-explored in comics, but quite friendly to an established female readership, at least in the prose realm. I don't know if anybody else sees those influences in play with Williams' work here (issues #0-5, written with W. Haden Blackman, with some art by Amy Reeder), but there does seem to be a slightly wider perspective on things active in the series; $14.99.
Black Kiss 2 #6 (of 6): Not actually on Diamond's list for the week, but some sources seem to think it's showing up, and I'd hate to miss it - the grand finale to Howard Chaykin's crazy-rude follow-up to his famed b&w scuzz noir, a series that multiplied the explicitness of the original three or four times, and -- be it through the sheer amount of stuff on the stands or the shifting priorities of a dispersed readership or the simple cooling of Chaykin's prominence -- thereafter existed as just another accessible portion of a balanced comics diet. I think we're gonna look back at this one in a few years and go 'what the fuck,' but that's just me. Preview; $2.99.
Faust #15 (of 15): And finally, something else I couldn't find on Diamond's list, though I'm taking the word of my Comics Comics compatriot Jason T. Miles as a weighty omen demanding of some action. Here, finally, is the very last issue of the notorious capes 'n horror hybrid from David Quinn & Tim Vigil, near the occasion of the series' quarter-century jubilee. The time seems right for this, given the proliferation of genre-spattered b&w young alt-comics and the ascendency of the superhero/gore approach to an arch-'mainstream' throne of power over in the Batman line, but nonetheless -- mindful, no doubt, of readership expectations -- Faust will remain the only selection on the New Releases rack this week to feature a demon's erect penis on the front cover, unless Savage Wolverine #1 proves more adventurous than expected. Clawed dudes vs. horned beasties, burning apparitions, snakeskin, music, damnation, musculature and at least one adverse pentagram feature prominently across 36 pages in diabolical black & white, lowered from spirit to matter just for YOU; $5.95.
And remember -