It was with great interest that I read Paul Gravett's recent Top Ten Manga of 2015 list (scroll down), not just because he pulls the ultimate polyglot dick move and names a French translation number one -- and yeah, Minetarō Mochizuki has developed a damn interesting style; he had a previous series, Tokyo Kaido, that appropriated the images of western comedy performers to unique effect -- but because his number two pick is Kodansha's release of Hiroya Oku's Inuyashiki, thereby making it his default #1 manga in English.
And I ask you: who can resist?
"This swept me up," Gravett says, suggesting a certain involuntary aspect to his enjoyment, and I'll gladly cop to the same. Though the caprice of marketability, Inuyashiki stands right now as sort of a sinister counterpart to VIZ's popular One-Punch Man on bookstore shelves; both can be read as, essentially, superhero comics, but what they evoke in their proximity to American superhero works is very different. A work of sprawling, muscular comedy and hard-thrusting action, the Yūsuke Murata-drawn One-Punch Man (not to be confused with an earlier, less-glossy iteration drawn by pseudonymous franchise progenitor and scriptwriter "ONE") both fits in nicely with the action-driven traditions of popular shōnen manga, but also evokes the perilous early years of Image Comics - visually-driven, decadent costumed combat, now done 'right,' with adequate attention paid to narrative clarity and character development, and tongue plugged just far enough in cheek. In this way, it inspires a youthful and even nostalgic pleasure, despite its notional publication as seinen manga in Japanese, under the umbrella of Shueisha's Young Jump, which serializes the space combat series Terra Formars and Takehiko Inoue's wheelchair basketball drama Real.
Inuyashiki, in contrast, hails from Kodansha's biweekly seinen magazine Evening, home of, among other things, the lattermost chapters to Yukito Kishiro's Gunnm ("Battle Angel Alita" if you're nasty), an MMA serial by Hiroki Endō of Eden: It's an Endless World! and various prequel installments of the Shima Kōsaku salaryman soap opera. I think the magazine skews a little older in seinen terms, and I think Inuyashiki panders good and hard to that sort of demographic, presenting an aging man, disrespected by all, who is accidentally annihilated by powers from beyond the stars and hastily rebuilt using weapons technology fit to obliterate the Earth. However, the old man is a good man, and sets about defending the helpless from rapacious younger persons by embodying the qualities of courage, sacrifice and honor so often absent from our low and selfish contemporary age.
This is classic reactionary superhero stuff, but the way it's mounted suggests a very particular association for English superhero readers. Avoiding any suggestion of costume or genre glamour in favor of an icily sensational 'cinematic' approach booming with wide splashes, Oku's approach is remarkably close to that of the millennial Marvel comics associated with the executive tenure of Bill Jemas. Most specifically, the work's blending of out-of-age idealism with huge doses of lurid violence and dubiously satiric shock tactics readily brings to mind The Ultimates, as fronted by Mark Millar & Bryan Hitch; I'd felt Oku's prior series, the hugely popular gaming action fantasy Gantz -- at least in the ten or so volumes I managed to read -- was pretty Millaresque in its cocksure sense of sexual, violent and 'meaningful' indulgence too, but by the time the old fellow in Inuyashiki discovered the ability to fly and broke out into the (Japanese) Astro Boy theme song, I realized we may have a genuine cross-cultural coincidence of aesthetic on our hands.
And yet, I like Inuyashiki quite a lot. We are no longer encouraged to call things 'guilty pleasures,' but it is with some guilt, yes, that I admit to feeling a real glow of nostalgia from its clanging emotional button-pushes and first-principles exploration of age-old tropes. I even dig Oku's steel-cast art, which (in the spirit of charity) seems extraordinarily apropos for a tale of humans dying, and then being recreated as simulacra with the artificial memories of their evaporated forbears. From this perspective, the nonstop manipulations and stilted expressions of Oku's emotional outlay truly seems the work of an alien computer spitting out "pathos" on a 3D printer - and this, somehow, is poignant to me. "Manga really know how to make you feel," Gravett remarks, and I agree, though for me the education comes from the distance forced by Oku's designs - it's more about feeling as a device to be activated than anything else to me.
And then, of course, there is the series' villain - an already-sociopathic high school boy who views his copy/paste reincarnation as a super-robot as a very natural and pleasing development. Approximately 40 pages of vol. 2 -- the newest in English, though subscribers to the Crunchyroll digital manga service can read right up to the latest Evening if they want (I haven't) -- are devoted to following the young man as he saunters through a random house, murdering every man, woman and child inside with gun fingers, pausing only to express his unyielding appreciation for Eiichirō Oda's shōnen superhit One Piece or anything related to same. Oku is a movie buff, so there's a deliberate allusion to A Clockwork Orange, and I presume the Mary Harron film adaptation of American Psycho looms large, though the boy's uneasy teaming with a timid, bullied classmate perhaps inadvertently evokes an American tradition of paired killers from Leopold & Loeb to Harris & Klebold - the volume concludes with a school shooting, the model-hot boys perched on a rooftop like errant angels.
But it is irresponsible to drench this work in provincial flavor. In truth, I suspect Oku is toying with Japanese nerd culture (again, not unlike Mark Millar and American superhero fans), both in taunting poor, rich Eiichirō Oda, and also in contextualizing his villain as a specific type of fan. In an early scene, we're told the boy identifies more with manga characters than real people - after all, fictions are powerful things that affect you, touching you profoundly and directly, inside of your very being, so it's not too far a push to conclude that 2D people are actually superior to biological living beings, which cannot be so easily understood, and therefore prove themselves laughably irrelevant to the everyday perspective of living. Monkey D. Luffy is with you all the time - can your shitty fucking classmates claim anything so real and close?
In this way, the character parodies the type of otaku who obsesses about fictional characters, purchasing figures and hug pillows and all the rest, to the dismissal of the outside world. This is not just sad to Inuyashiki, but a symptom of society-wide madness, exchanging selfish forays into immediate gratification for the values of community. We must reject these wrong ways -- Oku's young killer, through his poisonous support of the bullied classmate, presents a twisted variation on the classic Shōnen Jump themes of friendship, perseverance and victory -- and return to the broad humanism of Tezuka, cleansing our media and our minds of ill modernity.
And along the way, there just might be a schoolgirl panty flash in the midst of a dramatic massacre, 'cause dammit, we're still flesh and blood, eh boys? Er, men?
***
PLEASE NOTE: What follows is not a series of capsule reviews but an annotated selection of items listed by Diamond Comic Distributors for release to comic book retailers in North America on the particular Wednesday identified in the column title above. Be aware that some of these comics may be published by Fantagraphics Books, the entity which also administers the posting of this column, and that I also run a podcast with an employee of Nobrow Press. Not every listed item will necessarily arrive at every comic book retailer, in that some items may be delayed and ordered quantities will vary. I have in all likelihood not read any of the comics listed below, in that they are not yet released as of the writing of this column, nor will I necessarily read or purchase every item identified; THIS WEEK IN COMICS! reflects only what I find to be potentially interesting. You could always just buy nothing.
***
SPOTLIGHT PICKS!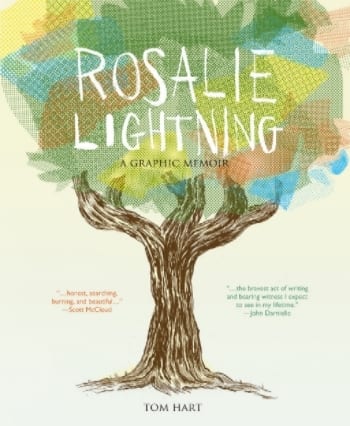 Rosalie Lightning: A Graphic Memoir: A few chapters of this were released as minicomics (titled RL) over the past few years, routinely startling whomever they encountered. It's Hutch Owen creator Tom Hart working toward a granular perspective on the death of his young daughter, encompassing familial autobiography, the counsel of art and literature, and the relentless pressure of economics on households outside the American middle class. Now totaling 272 pages, the St. Martin's Press hardcover edition is likely to prove much-discussed on both ends of 2016. Preview; $19.99.
A Girl on the Shore: Your manga pick of the week is an all-in-one Vertical edition of a 2009 series from Inio Asano, from the pages of the famous (and now-defunct) Manga Erotics F, which published everything from the genteel drama of Natsume Ono's Ristorante Paradiso to the high-toxicity sentimental agony porn of Hiroaki Samura's Bradherley's Coach. Being an Inio Asano comic, some degree of agony is surely on the menu here too, as a pair of teens try to engage in a desultory sexual relationship, for the pain of feeling, I presume, is too much to bear. I've avoided unofficial translations of Asano's magnum opus, Goodnight Punpun -- a formal release begins through VIZ in March -- so I won't front a devastating command of his catalog, though I tend to split between work I find narratively and atmospherically impressive (Nijigahara Holograph) and work I find utterly cloying in its pretense to emotional depth (Solanin). Nonetheless, to deny Asano is one of the renowned manga auteurs in English today is to deny the color of the sky, and few will object to 408 new pages; $18.95.
--
PLUS!
Spirit Leaves #1 (&) From Under Mountains #4: Here are a pair of new fantasy comic books driven by women. I am not familiar with the work of Scottish cartoonist Rossi Gifford, but Spirit Leaves comes with some notable recommendations; it has origins in a 'degree show' for this young artist. A Chapter House release. From Under Mountains is a continuing Image series from artist Sloane Leong and writers Claire Gibson & Marian Churchland; pretty unique feel to this one. Spirit samples; $3.99 (Leaves), $2.99 (Mountains).
The Swords of Glass: And here is a fantasy album series driven by women, doubling as your Eurocomic of the week. The work of French writer Sylviane Corgiat and Italian artist Laura Zuccheri, this 2009-15 project involves a magic blade and a young girl on a quest for revenge. Interesting Euro-Japanese fusion style going on with the visuals, wedding post-Ōtomo cartoon realism (Ōtomic Realism?) with lush, animation production art-like color created in partial collaboration with Silvia Fabris. A 212-page Humanoids softcover. Preview; $19.95.
Ian Fleming's James Bond - SPECTRE: The Complete Comic Strip Collection: Big days for Bond reprints. Last month Shogakukan reissued a quartet of stories Takao Saitō headed up directly before creating Golgo 13 (Japanese-only at the moment, somebody bug VIZ), and now Titan Books presents 272 pages of British '60s newspaper strips, all of which involve the titular organization familiar from a recent hit film. Scripts adapted by Henry Gammidge and Jim Lawrence, with art by John McLusky and Yaroslav Horak; $39.95.
Aquila (&) ABC Warriors: The Mek Files Vol. 3: Two from 2000 AD, on opposite ends of the magazine's reprint program. Aquila is a mythic-tinged historical violence comic from writer Gordon Rennie and artists Leigh Gallagher and Patrick Goddard, released to North America via Simon & Schuster. I tend to enjoy this series when it comes around. ABC Warriors, on the other hand, is an import from Rebellion in the UK - a 272-page hardback compiling robot war comics from 2000-06, written by Pat Mills and drawn by Henry Flint, Carlos Ezquerra and others; $24.99 (Aquila), $36.99 (ABC).
Archer & Armstrong: The Complete Classic Omnibus: Finally, if you were reading any Valiant comics back in the early '90s, you probably took a look at whatever Barry Windsor-Smith was doing with the publisher, and Archer & Armstrong -- a mismatched adventure team concept launched out of a line-wide crossover -- represented the majority of his participation, writing and penciling close to a dozen issues. I recall them being fun and witty things, well-drawn, though I did not read beyond BWS's departure into the Mike Baron/Mike Vosburg run that followed, the latter inked at times by the likes of Pat Boyette and Stan Drake. This 736-page hardcover aims to collect everything, along with some scattered additional stories, and while I suspect the back issues are less expensive to obtain on their own (particularly if you're just after BWS), completest options can be attractive; $99.99.